"Why are people so f***ed up?" D. asked me, climbing up on a scooter with a tear in her eye.
"I have no idea." I replied, and headed downhill.
We were going back from a short trip to the great monument of Buddha over our little village. Top of the hill, lots of tourists, a monument to a modest man, a couple of monkeys on the nearby tree branches, a sweet lost baby boy.
On the way back we stopped by the road because D. saw three elephants. She stepped off the scooter, made a couple of steps toward them and paused. They were tied to the chains, surrounded by a few tourists who fed them and took photos.
She just turned around and came back with the question that I had now, as I rolled back to our hotel by the winding road, tried to asnwer in my head.
I immediately remembered Jaipur, a city in India I visited long seven years ago. It was there where I met for the first time with the elephants held by locals for needs like these here – that tourists can feed them and take photographs with them. Sometimes they rode them too.
And I remembered my first reaction to that – to give some money for elephant food and a photo seemed to me as a win-win-win situation: the elephant would get some food that he might not otherwise get, his owner will make some money that he will (at least partly) use to take care of that elephant, and I will get a nice memory and a wonderful photo.
Only a little later I questioned humanity (or elephanity?) of the whole situation. Would the elephants be better off if they were not held in captivity so that tourists could take photos, feed and ride them, even though it meant that they had to take care of themselves in the often cruel wilderness? Do I support inhumanity of these huge animals by donating couple of coins?
I thought about the same thing every time I saw photos of people petting a drugged tiger, with various wild animals on the streets of some distant cities, whenever I saw dogs who were in cages and/or on a chain or someone that simply visits circus. And I think I knew the reason.
"I do not think people are f***ed up," I said to her as we waited for the traffic light. "They just don't think these things through."
"Well, maybe not all of them are f***ed up," she said. "But then they're stupid."
I didn't know what to think, because I'm sure that I was stupid in many situations. I'm not a vegan/vegetarian, and because of my food habits animals suffer and die in often horrible conditions. I'm also buying clothes made by kids in inhumane conditions. Should I quit this practice that might cause some kid to lose that poorly paid job or continue with it so that same kid can keep his poorly paid job and inhumane conditions that might be better than no work or life on the street?
I had no answers to these questions.
But I had the answers to the questions I was given on final exams at EBS, the very reason I came to Phuket.
First, there were questions about the theory – about the role of a bartender, the history of alcoholic beverages, the ways of their production, the characteristics of a particular types, and so on. There were questions about the recipes for all 72 cocktails we learned in the last few weeks, the way of making them, the ingredients, the proportions, the garnishes.
Along with two exams from the theoretical part, we also had three practical ones.
The first was free pour, which consisted in pouring 40 measures with different styles, different volumes, from 10 to 80 ml. Right hand, left hand, reverse grip, with both hands, with four bottles at once. Then there was a flair exam, in which we had to make two drinks under three minutes, in specific order and using all sort of tricks, bottle throwing and catching. For the end there was an exam that was the most difficult and most important – the one behind the bar. It consisted of making 12 cocktails in 10 minutes, not forgetting the order of making them, the ingredients, the proportions, and everything else we learned in the theoretical part.
"It is my pleasure to announce the best student of this generation, with 98% of the total score," Marco said at the graduation night. "Tomislav!"
I went to the stage, shook hands with my instructors and took my diploma.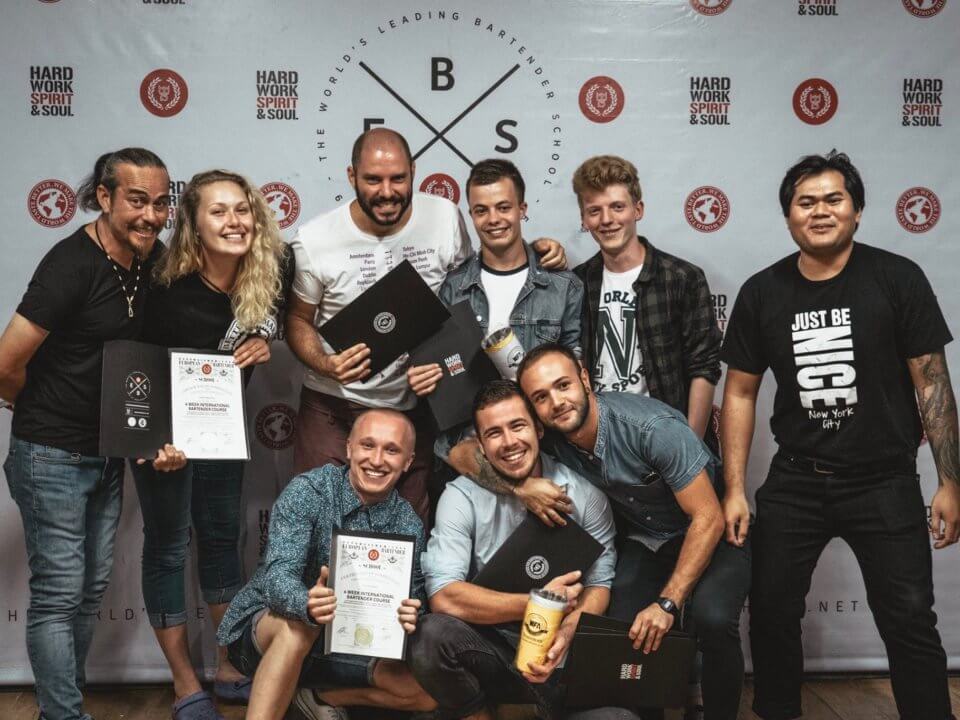 I photographed with some of my colleagues and went with the rest of the crew to the final party on the roof of our hotel. People drank, ate, drank some more, danced, jumped into the swimming pool. And I was, as always during these roof-top parties, sitting on the bar with a Chang beer in my hand.
"Good job, Tom," Danny, one of the instructors, congratulated me. "What are your plans for the future?"
"I'm not sure," I replied. – "In couple of days D. and I are returning to Croatia so we will see what will happen next. But I intend to work in hospitality. If things will turn out the way I want them to turn out, maybe we open our own bar."
"What kind of bar will it be?" he asked curiously.
"It's a long story, but I have an interesting concept on my mind" I said. "I'll tell you all about it in some quieter environment."
This interesting concept of mine was born more than a year ago, I have no idea exactly how or where. But I knew why.
After going broke and ending a career as a stock broker, back in 2008, and before embarking on my first journeys, I worked as a bartender in a juice bar in Zagreb. I adored that job, far from the office and negativeness that had accumulated there, surrounded by fruits, vegetables, healthy food, and the most important – positive people who were truly happy when I made them a juice or a smoothie.
At that place my love for working behind the bar was born, although I did not know it yet. I was cleaning the toilets and wiping the floor almost every night, thinking about how one day this would be a cool story, that I was cleaning the toilets and wiping the floor. At the same time, that thought prevented me from being depressed because, realistically speaking, I had a college degree and work experience as a stock broker – and now I was cleaning the toilets and wiping the floor.
Then I started traveling: Europe, Asia, Australia, Africa, South America – and after all of that, the path lead me to Wellington, the capital of New Zealand. I walked around the city and looked for a job. The first places on the menu were, of course, juice bars, but I was trying out my luck in bars, pubs, and restaurants.
In one of them, some fancy tapas bar, I bumped into the owner and said I was looking for a job.
"Do you have experience working behind the bar?" was her first question.
"Of course," I replied immediately. I didn't mention that that experience was related solely to juice bars.
"Come in tomorrow at 5pm for a test shift" she concluded our brief conversation.
I ran home, and I went to watch the videos on YouTube. How to be a bartender, which glass is for which drink, how to change the beer kegs, what are the recipes for most ordered classic cocktails. It was a bartending-for-dummies video marathon.
The next day I did a test shift, and got the job, but in the end I got an offer for a completely different job and accepted it. I left working behind the bar for some other time, but looking at the hours and hours of those videos about bartending and work behind the bar…there was something that really attracted me to it. Love started in that juice bar in Zagreb just grew bigger.
A couple of years later, I was making cocktails at the street festivals in Zagreb, together with the former owner of the juice bar from the beginning of the story, and got even more in love with this job.
I suppose around that time I thought of an idea. Simple and logical.
I wanted to open the juice and cocktail bar, all in one.
Behind the idea was primarily my love for making natural juices and creating cocktails. It was something I thought I would definitely enjoy.
Economist in me was also behind the idea – the fact was that juice bars make a most of their profit during the first shift, up to 4-5pm. Many juice bars around the world close at that time. On the other hand, the fact was that cocktail bars made most of their profits in the second shift, after 4-5pm. Many just then opened their doors at that time.
If juice bars, working only the first shift, are being profitable, and if the cocktail bars, working only the second shift, are being profitable, the combination of these two concepts should definitely be a recipe for success.
The idea was born. But the upgrade of it was that something.
The idea was to make a total transformation of the bar at a certain time of the day. Around 4-5pm, everything changes – from the look of the bar itself, to the bartenders/waiters clothes, to the kind of music, lighting, menus, absolutely everything. If the guest arrives in the morning and later in the evening, he should think it is a completely different bar.
I did some research, and found nothing similar to my idea. And I decided that one day, when I find the right space, I will be the one who will open it.
"Danny, I have one question," I said after a moment of recollection.
"I'm all ears," he said.
"Is there a chance that I get behind the bar and make a couple of cocktails?"
"Anything for our best student!" he replied and took me on the other side of the wooden bar, in front of few of my thirsty colleagues.
I spent the next two days in the classrooms again, attending the mixology class. In it we went a few steps further than in the previous classes and learned how to make syrups, shrubs, cordials, infusions and other ingredients that can be prepared before making our own cocktails.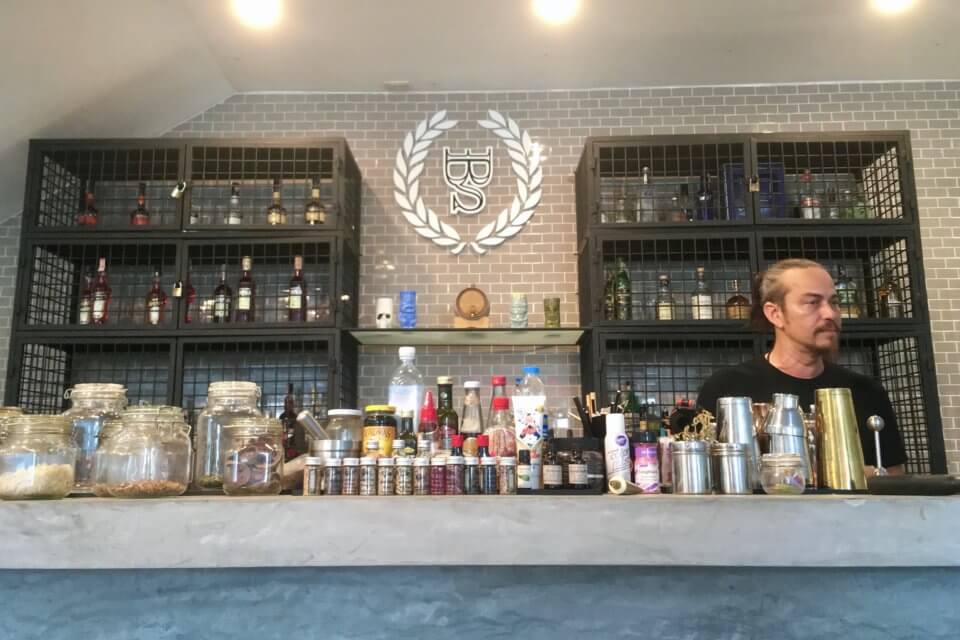 I wrote all these recipes, watched what I had once saw at one of those bartending marathons, and contemplated the idea of ​​opening a bar. What did I need to make it a reality?
Idea – check. Work experience behind the bar – check. Bartending education – check. Some capital, thanks to sales of my books and over 300 lectures held in recent years – check. Marketing potential, thanks to all the people who have heard about me and my travels, and who are following me through social media – check.
There was only one thing missing. A location. Some place where this bar will be located.
A couple of days later, after I came back home from Thailand, I walked through the streets of my home city. I was observing them, thinking of an ideal location, reading ads, studying state tenders for lease of business premises.
And it lasted for weeks. Unsuccessfully.
Up until one, apparently unimportant message from my friend Luka.
Young man, all the best in 2019!
I hope you enjoyed yourself and learned to make some cool cocktails.
Do you have time for a drink sometimes soon?