"Am I doing the right thing?" was my first thought when I woke up.
Above us there was a noise of some balls/bottles/stones dropping to the floor constantly – I had no idea what was going on. The loud music was coming from the roof, and everybody was screaming: EBS! EBS!
I check the clock. 9:34 PM.
We landed on Phuket some twelve hours earlier, after twelve hours of flying around. Without any major problems we found ESB headquarters in an hour's distant Kata beach, checked in to the reception where we were welcomed by the manager, lovely Julian, who took us to our room that will be our home in the next month. Large bed, private bathroom, little fridge and a balcony. All we needed.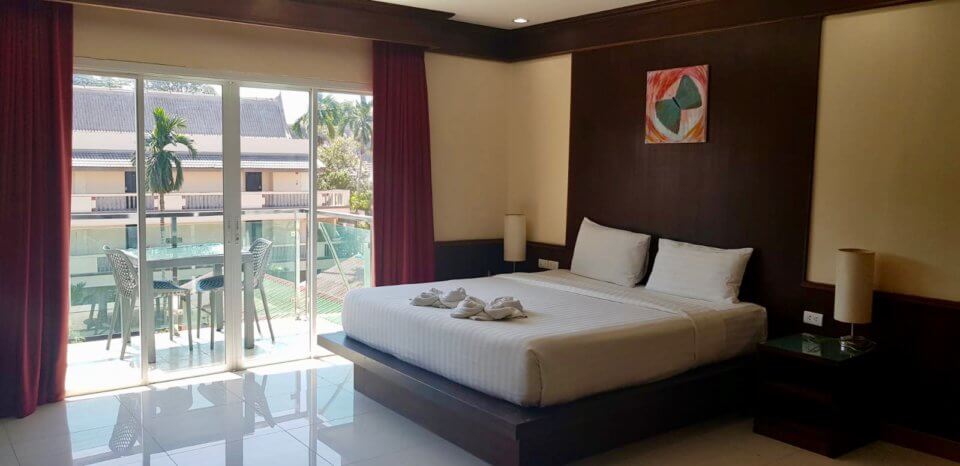 We went to the roof and found one pool and one jacuzzi, as well as a cocktail bar. On the ground floor there is a small bar/restaurant, where we sat to have our first drink in Thailand. About twenty French students were sitting around, average age was maybe twenty-one. Maybe. If we understood well, today is their last day of the course I'm going to start in couple of days. Today is their final exam. Some are in panic because they are going in for their exam soon, some are in the next room where they are pouring drinks for that same exam, some are happy because they passed, and some are not – we assumed they were leaving this place without a diploma in their hands.
I feel old. I remembered the sentence I heard one week earlier from a bartender in Zagreb after announcing he is going to London at the invitation of a famous cocktail bar:
"If I don't leave now, when I am twenty-four, when will I? I'm not going to go to London when I'll be thirty!"
I feel old. I'm sitting at a bar in Phuket, I'm thirty-three years old, in couple of days I start a bartending course. Around me there are bunch of twenty-year-olds that just finished the same course. Bartenders in Zagreb are all younger than me, with much more experience than me.
I feel old. I feel like I don't belong.
It's hot. We came from +3 to +30 degrees. We went on a walk around our neighborhood – we walked on the narrow sidewalks watching exchange offices, scooter rentals, massage saloons, souvenir shops and restaurants with the identical menus. Locals were outnumbered by tourists. And pretty much every tourist came from the same country – Russia. A person realizes that after two minutes spent on the street – everything is in Russian. The signs and menus are in Cyrillic. Sellers welcome us in Russian. The other Russians are addressing us in Russian thinking that we are their fellow countrymen.
"Damn tourism!" a thought passed through my mind.
"But you're also a tourist." another thought said.
"Yes, but there is a big difference between them and me" third one replied.
"Its all the same" concluded the fourth.
The story of tourism is everywhere the same, with probably a few exceptions.
There was once a beautiful place where some people lived and gave this beautiful place that something. That nice place was discovered by some other people, and they began to visit it. They told their friends and acquaintances about some wonderful place and people who live in it, so their friends started to visit too. Over time, people in this beautiful place stopped doing their regular jobs and focused on one – tourism. Providing services to visitors. After a while, visitors began to buy the homes of these locals or build their own because they were convinced that they would better serve the visitors than the locals. Locals sold and moved because they suddenly got offered little fortune for something they did not even know had value. Number of locals was getting smaller and smaller, and number of visitors bigger and bigger. A beautiful place was left without a lot of people who gave it that something – and the place itself was overbuild and not that beautiful anymore. There were visitors who provided services to other visitors.
At the end, people stopped visiting this place because they simply missed that something.
I cursed tourism, and I'm a tourist myself. I would like to experience that something, and I'm not aware that that something is no longer here because of me and me alike. I'd like to experience some place in the original form, but the only way to get some place back to its original form is – that I am not in it.
On the other hand, tourism is responsible for bunch of wonderful things – from the benefits to the local population (in terms of new jobs), the preservation of nature (many places were actually dirty and neglected by locals until tourism arrived), well being for visitors who could learn something new about destination, local culture, and ultimately – about themselves. The world, in general, has become a better place to live in – thanks to tourism.
Tourism is pretty complex.
We bought a mango. We went to one-hour massage for 7 EUR per person.
The beach is not far away. The sea is warm, there is a small island in the distance, a bunch of girls are posing with coconut in their hands and duck lips on their faces. The sand is soft under our feet.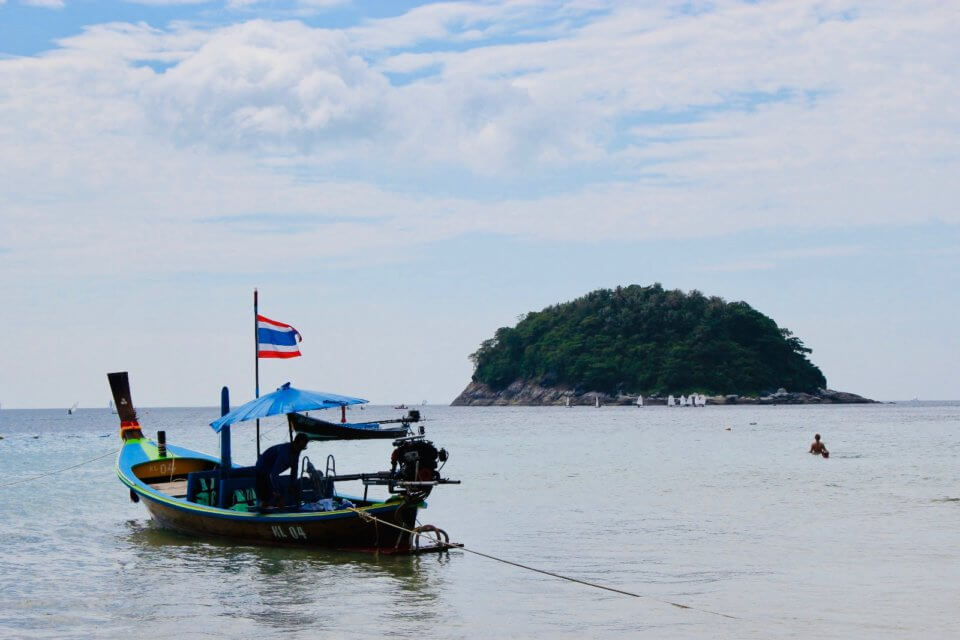 We came back to the room and tired of the flights and jet lag, fell asleep. Until I woke up hearing these balls/bottles/stones and screaming on the roof.
"Am I doing the right thing?"
"Am I doing the right thing?" was also the thought that followed me on my travels. Especially on a thousand-day journey around the world. The first one was there somewhere in Eastern Croatia, on day one, before I even crossed my first border. For hours I waited for someone to stop and thought about the move I just made – I started my trip around the world, by myself. I had no idea where I'll go, what I'll see, whom I'll meet, what I'll learn. And that first black thought stayed in my head until the moment the first car stopped and drove me to the border, and later to Belgrade, my first destination.
Now I'm in Thailand, and I'm asking myself the same question. It's 11:12PM, I'm typing words on my laptop, looking for an answer. And I find it in my previous experiences. Because I know it will be all good in the end. Because I know that all the worries will disappear as soon as the first car stops.
And until it stops, my thumb should be high in the air, and a smile on my face. Nobody's going to stop for a grumpy hitchhiker. Happy things will not happen to the frowned thirty-three-year-old wannabe bartender.
Balls/bottles/stones are no longer dropping above my head. I didn't even notice that music and noise had long been gone. I closed my eyes and smiled. Everything will be okay. I've been convinced at least a thousand times so far.
——
"You mustn't be pessimistic," she said as she woke up and read what I wrote last night. "You know that's my job."
She was right. For breakfast we ate another mango and a little watermelon, right next to the beach. We visited the roof of our accommodation and swam in the pool. Everything was much quieter than the night before. I saw two of the EBS instructors – they really seemed like a cool crew, and as someone I will have a chance to learn a lot from, no matter how old I am. I found a local SIM card left by someone upon departure. I got a fat booklet that will serve me for learning for the next month. I found the place and the team I'm going to play badminton three times a week. We had a delicious pad thai for 3 EUR. We even found my favorite dessert ever – mango sticky rice. We hired a scooter for a couple of days for easier moving around the island.
Things were quickly coming to their place.
For dinner we went to nearby Patong to visit Nikola Lesar, winner of the Croatian MasterChef few years ago, who with his girlfriend, according to online critiques, owns one of the best restaurants in this part of Thailand – Rustic Eatery & Bar.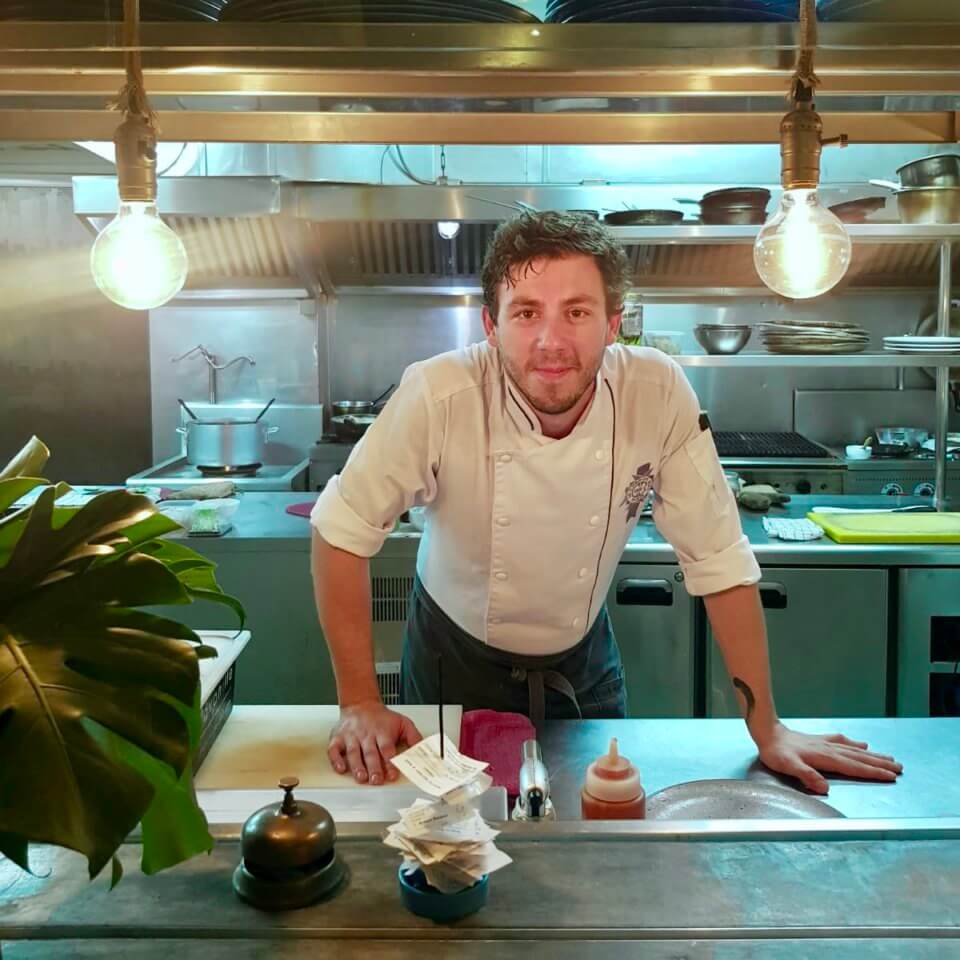 We've spoken few times in recent years, mostly about travel, and when I learned that I was coming to Phuket, he was the only person I notified. Also, his younger brother had just finished EBS course, so I was counting on some insider information.
"This is our fourth year in Phuket," he began after we greeted each other like old friends. "We've been in Bangkok for two years before coming here. My girlfriend's parents had an old restaurant, so we were wondering whether we would continue their work in our way, or perhaps move to Croatia. The decision was made when a Croatian official was asking money under the table for her work permit.
Unfortunately, a well known Croatian story…
"At the end you will talk me into staying in Thailand and opening up a cocktail bar," D. said after a phenomenal dinner and a couple of tasty cocktails.
"Why not?" I said, winking. "We could ask Nikola if he need volunteers – you will learn the secrets in his kitchen, I'll be behind the bar, and in no time we'll have enough experience to open something of our own, anywhere in the world!"
She didn't say anything, just took a bite of our dessert.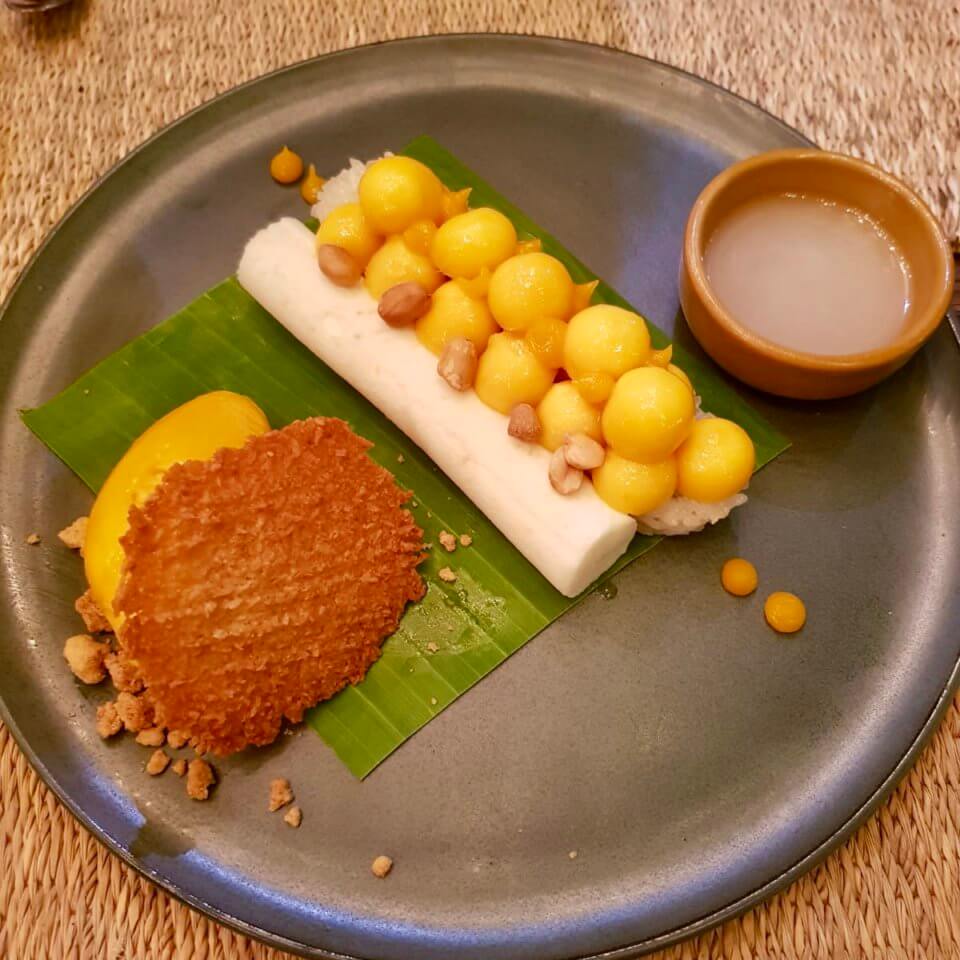 ——
The school started. 60 students, divided into four groups – international (where the lectures are in English), Swedish, German and French. After introductory lecture and introductions with our three instructors, we learned the schedule for the next four weeks, which wasn't easy at all.
There are five segments we learn in the school – theory (alcohol history, production process, etc.), cocktail recipes (in which glasses we serve which cocktail, in what way, what ingredients go in each cocktail, which garnishes we use, etc.), free pour (how to pour drinks accurately and quickly), flair (performance in front of guests) and work behind the bar (making and serving cocktails). We have 6 hours of lectures or practice every day, each day we have a six-recipe exam that we learned a day earlier, and at the end of the week is a theory exam.
Even after the first day, it was clear to me that I would not be able to relax much here, even though I was in Thailand. And that fact, frankly, suited me perfectly. I got to know Thailand in 2012. when I was here for almost two months. And I knew why I came here – resting was not one of the reasons.
As I expected, I was the oldest in the group. The instructors were also younger than me, apart from one of them. I already had some experience about the things we learned, but I was studying hard every part of the day when I was not in the classroom and in exercises.
The theory was, surprisingly, quite interesting. The instructors really tried to describe the story behind the drinks which we will work with. The recipes were challenging to remember, but behind many there was a logic and a link to other cocktails. Free pour seemed to be the hardest because it had to be both timely and precise at the same time, and I often messed up both of them. The flair was probably the most interesting part – every new move I managed to make was the incentive for another one. And work behind the bar embodied all that – and there I felt like on my own.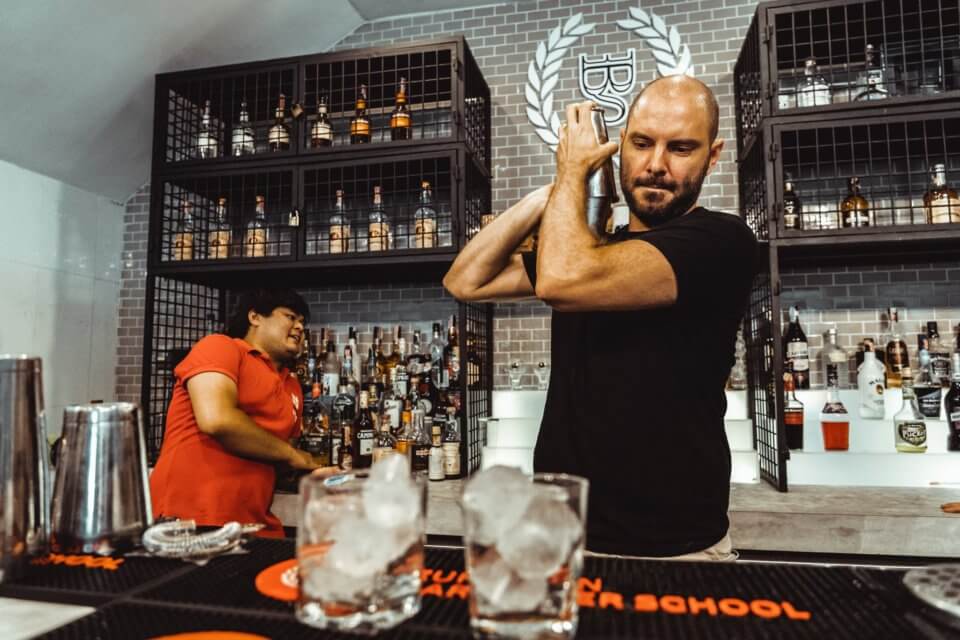 In addition to work and learning, the EBS also concentrates on additional activities – in the first week we had a welcome dinner on the roof, bungee jumping, a beer pong and a pub crawl on the famous Bangla road, trip to one of the islands – and today we just finished one of many pool parties.
Two of us avoided most of these events. The explanation was always the same – I came here to learn, and this is my number one priority. Time to have fun will come when the diploma will be in my hands.
Then I'll probably be one of those who will throw balls/bottles/rocks on the roof at 9:34 PM screaming: EBS! EBS!