Writes: Maria Kobic
– Hi, how a' ya? – my thoughts were interrupted while we were boarding a ferry that will take us to South Island.
South was here a bit colder, but much more deserted than the North. If you know that fact that there are more inhabitants in Auckland than on the entire South Island, you get the picture where we were heading. Large spacious valleys surrounded by massive mountains, plants and animals. At least that was the picture in my head.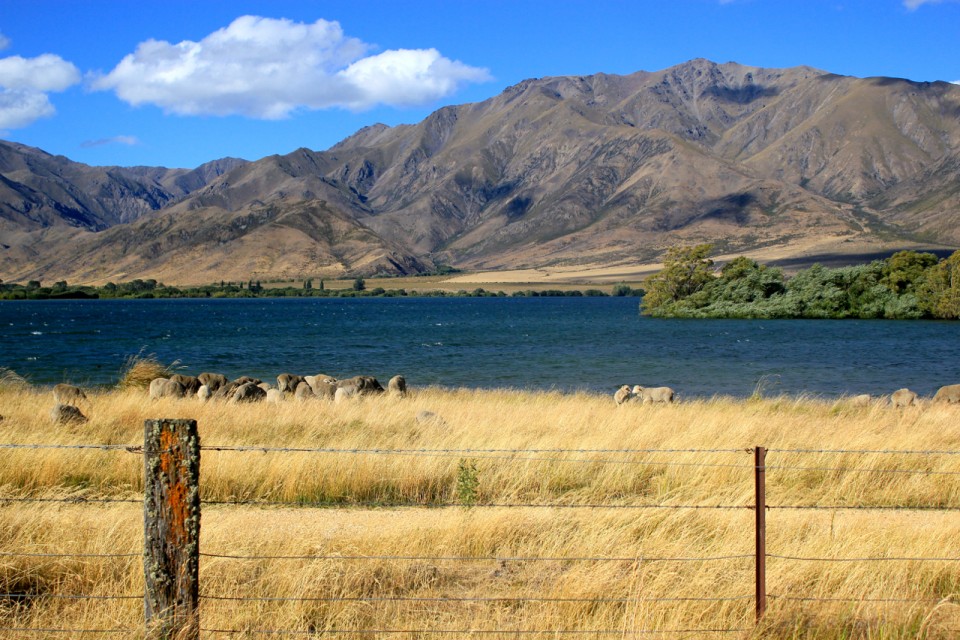 Into the wild and stuff like that. Only with happier end.
And then another "Hi, how are you?" while we were looking for a nice little spot to sit down.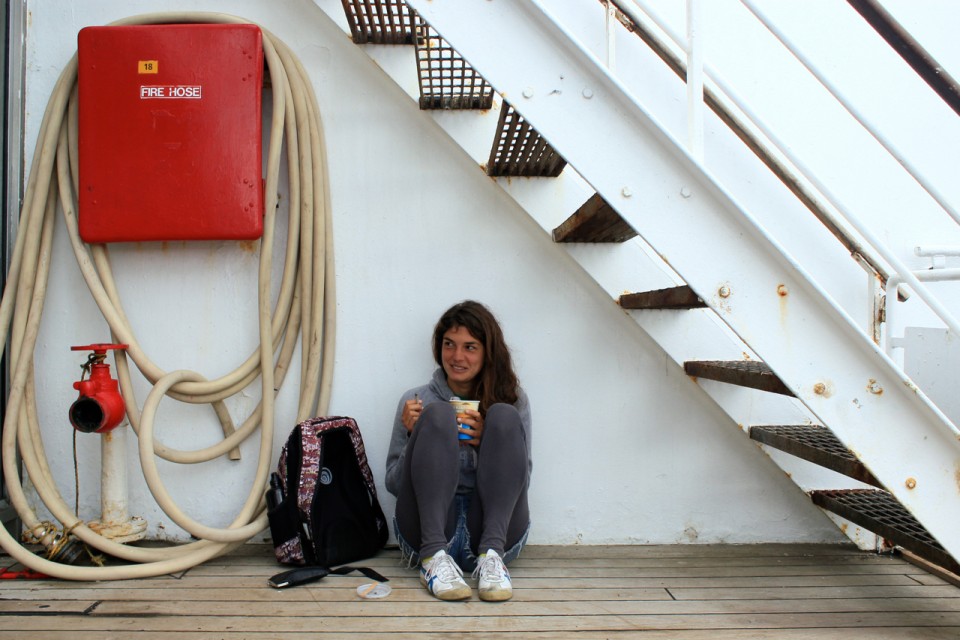 Definitely the most common sentence in New Zealand.
– Do you think they really care how we are, or that "Hi" is just too short for them?
– Oh Maria, relax…
– I  am relaxed, I am only curious why ask something if you are not interested in the answer?
And, is there an overuse of words? Some secret measure when they start losing the meaning and become only phrases?
Yes, I still take things too literally.
Lately things have taken place quite quickly. Adrienne and Scott returned from Nepal and rewarded us, no less, with two white iPhone's. The cat probably told them we took good care of her. Or maybe they just saw our phones and felt sorry.
Tomislav gave a lecture in Central Library, sold some books, and saw that his story is interesting even to the people on the other side of the world.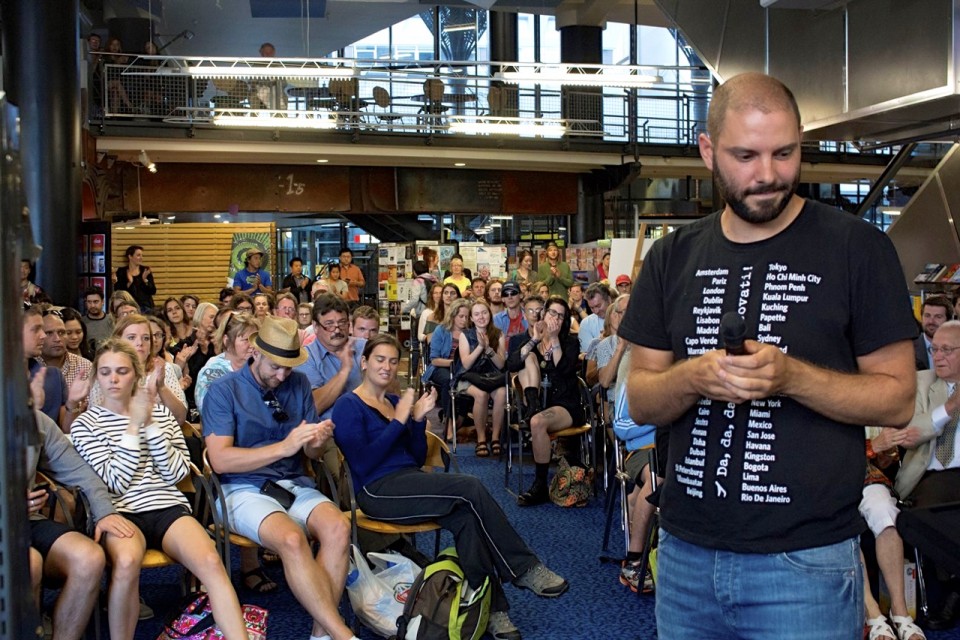 photo: Francoise Padellec
Also, few weeks ago, he became a New Zealand ambassador for HomeExchange.com.
After five weeks hanging out with construction workers, mostly teenagers or former prisoners, working for minimum wage jobs that nobody else wants – he will be a representative of a large company, working on PR and marketing. After years spent on the road using alternative ways of traveling, he will focus on one of them – home exchange – and be well paid for it.
Basically, life was going on, but we were still not tied to a place. Left without accommodation in Wellington we have decided to move on. Since we do not have contracts, loans, nor strict liabilities, we were free to go wherever we want.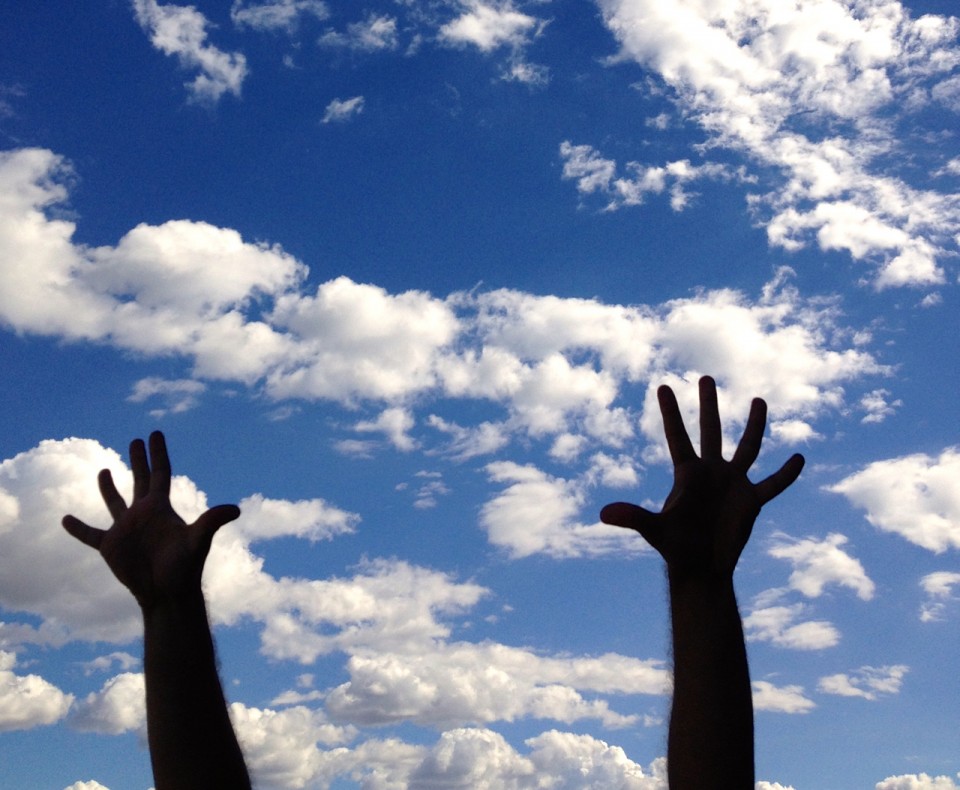 Within the endless possibilities we chose Queenstown. Experience has shown that it will not be difficult to find a job in New Zealand, so resolving free accommodation became our priority. Tomislav had some contacts there, and a good hunch. And I really did not care. Which is really a rare case.
We played with car relocations, extending out trip for some 1,300 kilometers, all in the name of savings. It was a crazy (ad)venture. From Wellington we relocated a van to Auckland, just to take another car all the way to Christchurch. The biggest hobby (of my driver) in all these rides was stalking hitchhikers. Only upon leaving Wellington we picked up and brought joy to a young German (and my driver) who kept us company all 600 kilometers to Auckland. That was his first time hitchhiking, ever. Not a bad start.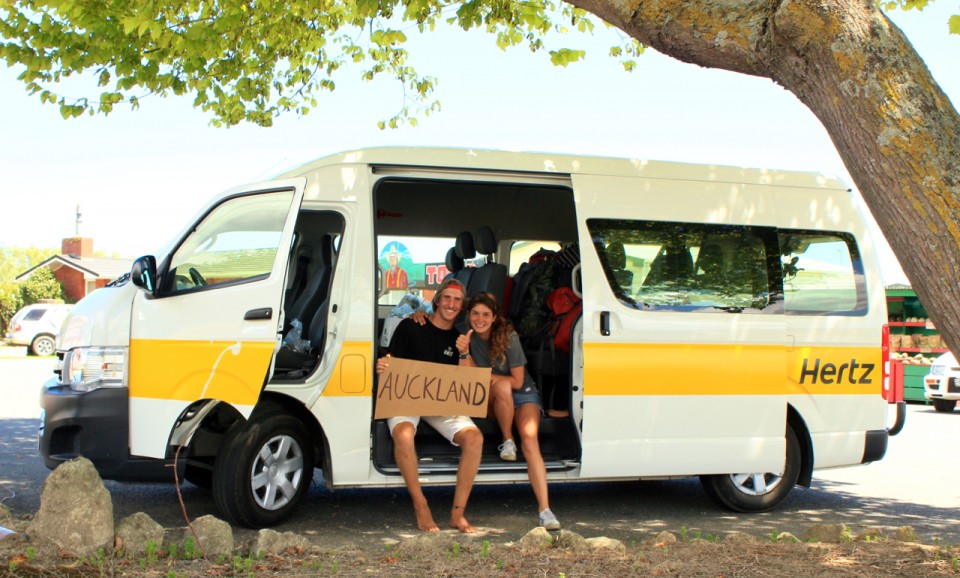 We took a smaller car in Auckland which we filled with our stuff, and realised we will not have room for hitchhikers so we apologised to everyone by the road with their thumbs up.
"We are about to enter French Pass, it could be rough, do not move until you hear from us that we came out of the channel" – we heard through the ferry loudspeakers.
The ferry rocked, the wind was blowing tirelessly, and I thought about the story I read recently. Pelorus Jack, dolphin, which at the beginning of the last century navigated ships through this channel. Since it is full of dangerous reefs, and currents and winds are extremely strong and almost unpredictable, many ships without his help were lost. Jack was so well known that even New Zealand government protect him by the law after one sailor tried to shoot him.
After a few hours we arrived at the destination. Picton, the first town on the South Island. It was raining while we were watching the road markings not to miss our direction and extend our trip for another few hundred kilometers. With nostalgia we remembered those old days when we had heavy backpacks and wandered through new places. Now, like gentlemen, reclining in a car, with heaps of stuff (and even two new bikes) we defied all weather conditions.
And it's not better, just easier.
– What are we going to do when we arrive to Christchurch? – my chauffeur asked.
– I have no idea. We can always sleep in the van. – Or not, I realized when I saw his face.
I didn't want to couch-surf, and he didn't want to sleep in the car.
– Maybe we could get a room? – said Tomislav like he discovered America.
Yes, we didn't even count that as an option. Thinking how expensive NZ is, and that we came here to work and earn, saving has become our obsession. Each receipt is carefully recorded and stored in the excel document on Tomislav's laptop.
– You could write to some hostels in Christchurch, say you're a writer and offer them an exchange – they give us free accommodation, and you some kind of promotion for them?
– I never did that before, but we can try.
In an hour, his cell phone rang.
– Yes, I wrote you that email… – he spoke while as every conscientious driver parked along the road. – Two nights?! It would be more than perfect… – he looked at me as I ran out of the car refraining my laughter. – Of course, studio apartment will be perfect. Send me your address and we are there in an hour.
We were looking at each other half a minute in wonder.
– Are you aware of how lucky we are?
Today everyone is thinking about happiness. Various newspapers and countless articles with recipes on how to be happy. Is it only about achieving a feeling that today is, and tomorrow is not? Not at all, happiness has to be something much more, larger, more permanent.
Coming to NZ it was hard not to notice a warm smile from the woman at the bank counter. Or the conductor on the train who whizzed entire album of your favorite band while doing his job. Coincidence or not, these people have been telling us that they live happily here.
A higher standard? Better quality education? Healthier life? Untouched nature? Education? Who knows…
Maybe happiness is contagious, like a yawn? Maybe staying in an environment of happy people and make us (stay) happy…
As predicted by Google maps, we arrived to the minute in front of our motel, greeted by a cheerful and smiling Asian. Tomislav took out his book, signed and gave it to him. I hugged him as a lifelong friend whom I have not seen a good deal of time. We go to the front desk, and perform the classical procedure: passport, information, keys, rooms, towels…
– You pay now or on departure? – with a smile the receptionist uttered when we wanted to go up to our room.
One of the most unpleasant situation, for him, and us. It turned out that he did not carefully read the mail, but concluded that we just want to book a room. But as he already promised, he pitied us and allowed us to spend the night in a beautiful apartment.
Still under stress we rode our bikes and headed to see where we are.
Christchurch – the largest city on the South Island, and the second largest city of New Zealand. Because of the many parks and gardens which occupy a large part of the city center Christchurch was nicknamed "The Garden City". He is one of only eight cities in the world that have antipodes. If we started digging below Christchurch with the desire to get out on the opposite side of the globe, we would end up straight in Spain, more precisely Coruna.
Unfortunately, the city is best known for the great earthquake that had occurred in 2011. Although four years have passed, the consequences are visible everywhere. Cinema, church, and a number of houses without walls, allowed our eyes to come in, to see the horror that befell many families. In spite of all human achievements this was a reminder of how weak we are and small, and that only one unexpected moment could end our easy lives.
There was no reason to keep us in this sad city, especially when we miraculously managed to fix another relocation on the same evening, directly to Queenstown.
The grey BMW enter the parking lot. Proud chauffeur got out of the car, barefoot. Luckily, I'm not falling for cars, only bare feet. We spent the whole day on the road, but didn't get to our destination.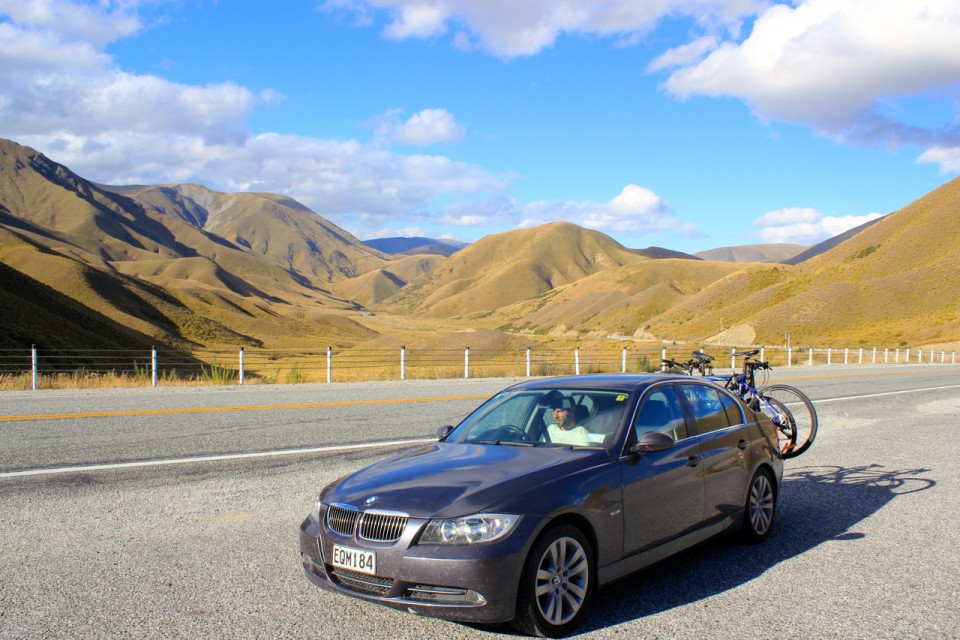 A small unknown town Waimate was the first place in NZ where we paid accommodation. We made a "healthy" soup from the bag and finally completed never-ending watching of Gone With the Wind.
Early, with the rain, we continued the journey. But not for long. We heard a sound, and one sign lighted up in yellow.
– Maria, see in the booklet of the car what does this yellow sign mean, looks like a boat at sea.
While I was digging through the booklet, the colour changed to red, we stopped by the roadside, and turned the engine off.
The problem with the temperature of the engine. If the sign is yellow, slow down. If its red, stop the car, and call BMW Service.
We waited a few minutes and tried again to start the car, but that move resulted in smoke under the hood. We screamed and rushed out, fearing that it will explode. It did not explode, but neither could drive again.
– Are you aware of how lucky we are? – he asked me after he called a tow truck. – This is the fourth car we relocate, and the only one I didn't have to sign any documents. Otherwise, the driver is responsible for any damage that may occur to the car. But this was the first time that they just gave me the key and that was it.
Lucky, again.
The towing service arrived, and soon we were back in town from where we started this morning.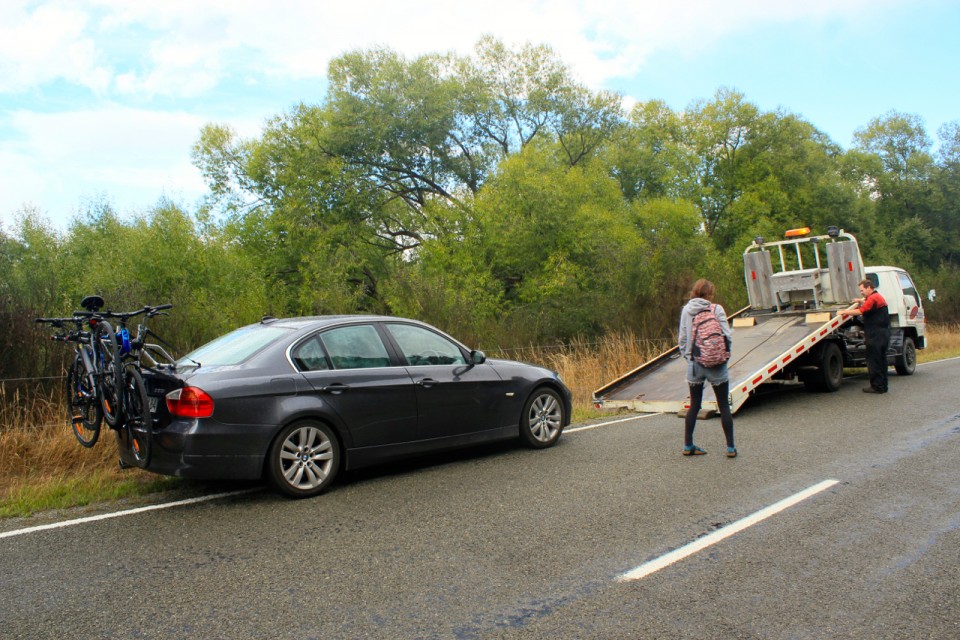 Now we just had to wait. So many times we waited while traveling. It is always an interesting game always uncertain results.
This time I won, while someone next to me wanted to move on.
But move on to where? – it was bugging me all the time.
Sometimes I realise how tiring for me is the fact that nothing of our own. We permanently depend on other people and overwhelming coincidences which we do not even know will they happen. Sometimes I just wish to have my own lair where I can hide and lick my wounds as much I want. Not to talk when I don't feel like it. Not having to be smiling at all times. Probably thats why people have their own homes. And children their own rooms inside those houses.
We all need time alone. And time for yourself.
Time passed, the car got a new tube for the engine that came all the way from Auckland, the cost was covered by the rent-a-car company, they even gave us one overnight stay at their expense.
As we walked through the insanely beautiful parts of the South Island and approached the Otago region, we found out where our home for next couple of weeks will be – a lady we contacted through HomeExchange was interested in our story, and since she had no travel plans, she told us we could come, help around the house and garden, and that we can stay as long as we want.
And so it was – next weeks we spent on the beautiful estate ten kilometers from Queenstown.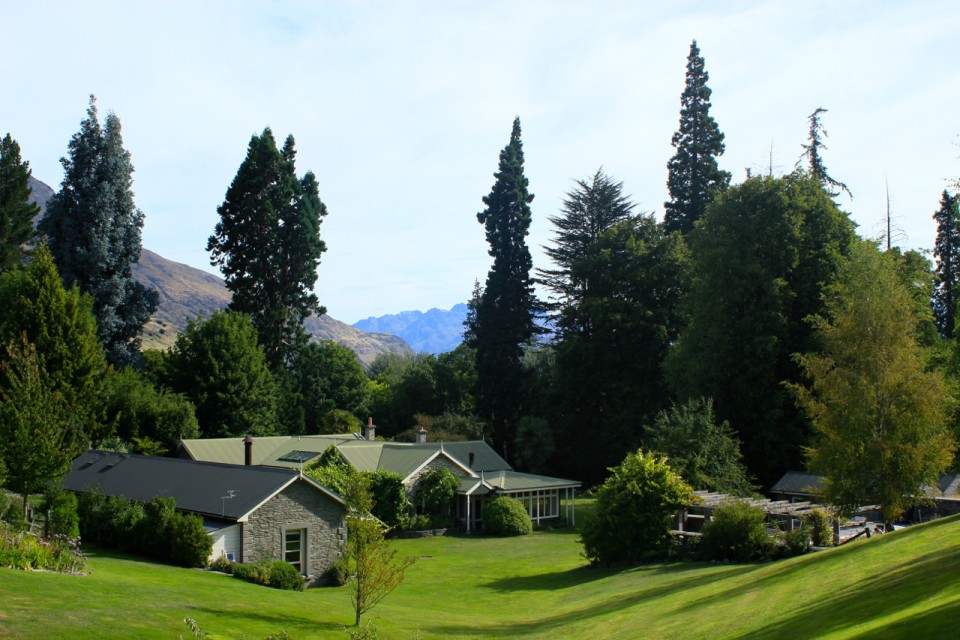 We were right next to Lake Hayes, deservedly declared the most photographed lake of New Zealand.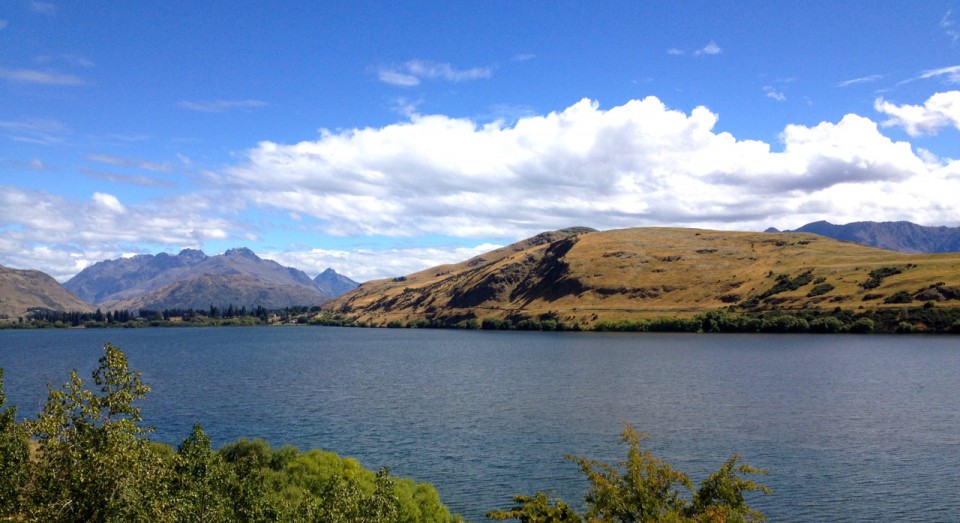 It is surrounded by mountains of Wakatipu region and is home to many animals – rabbits, deers, chamois, colorful birds, and fish. Also, it is part of the Queenstown Trail – popular sports paths 110 km of length linking Queenstown, Arrowtown, and Gibbston Valley.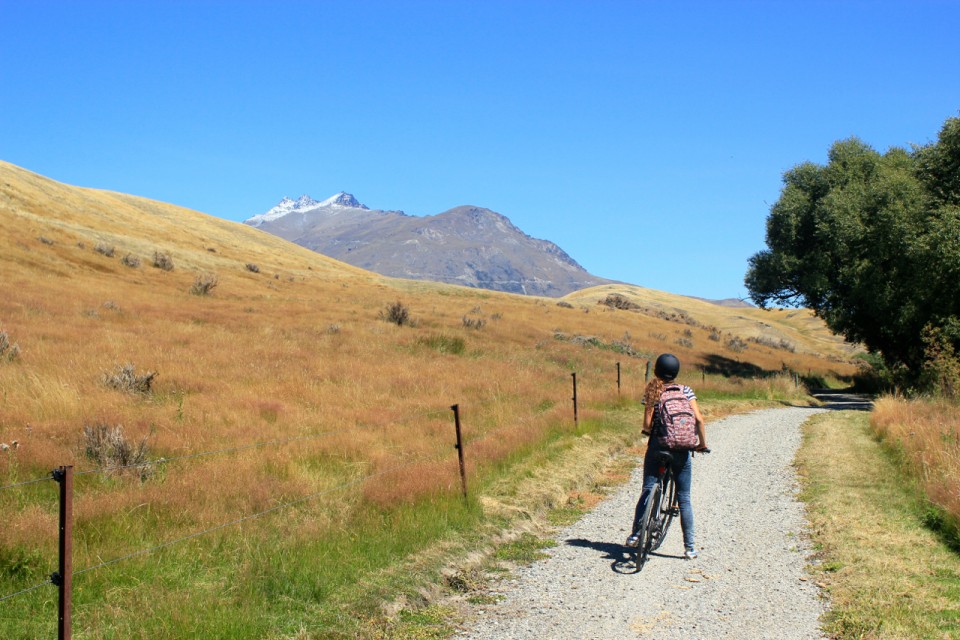 We helped a bit around the household and garden, played pool, tennis, and enjoyed.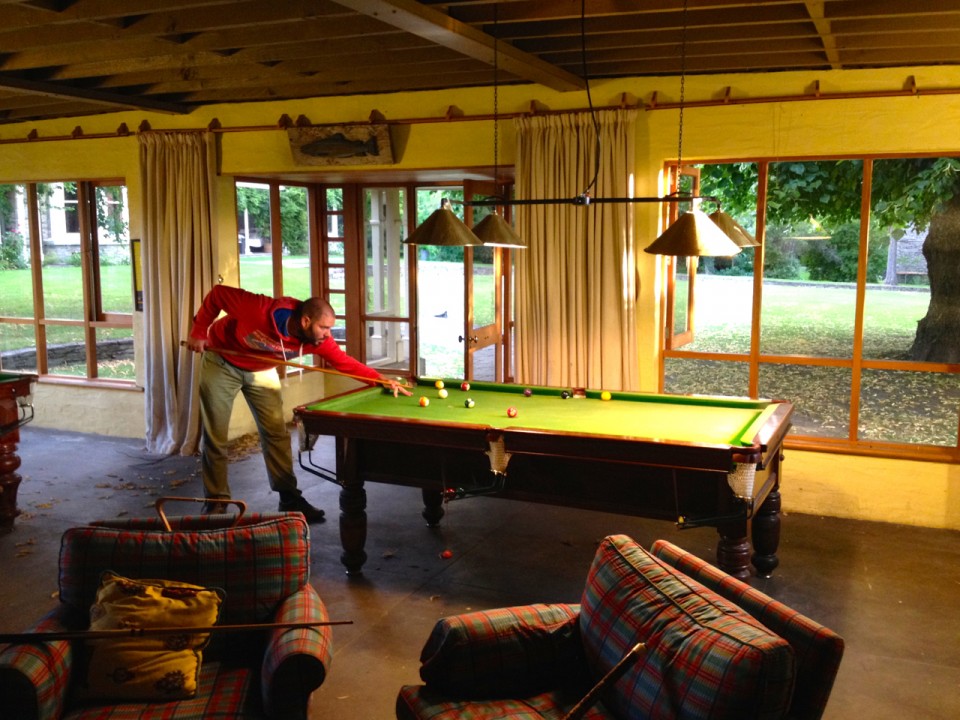 At night the stars dotted the sky, and like a great glittering mesh stretched over us. Then awakened where we are – in the midst of beautiful nature, surrounded by mountains, not far from the sea, on the island, away from it all, and connected with everything…
I got a job in a cafe in nearby Arrowtown and realised that the hardest part of the job is – the language. It will take me some time until I get used to that their shortened version of English. Tom spent all his time working on his new job, and soon informed me that in a few days we're going to a very important dinner – with one of the directors of Lord of the Rings.
– These are my bosses friends, and we may be in their house while they stay for a month in the USA.
The story continues…