Uluru was amazing, wonderful, powerful and full of energy: something to remember.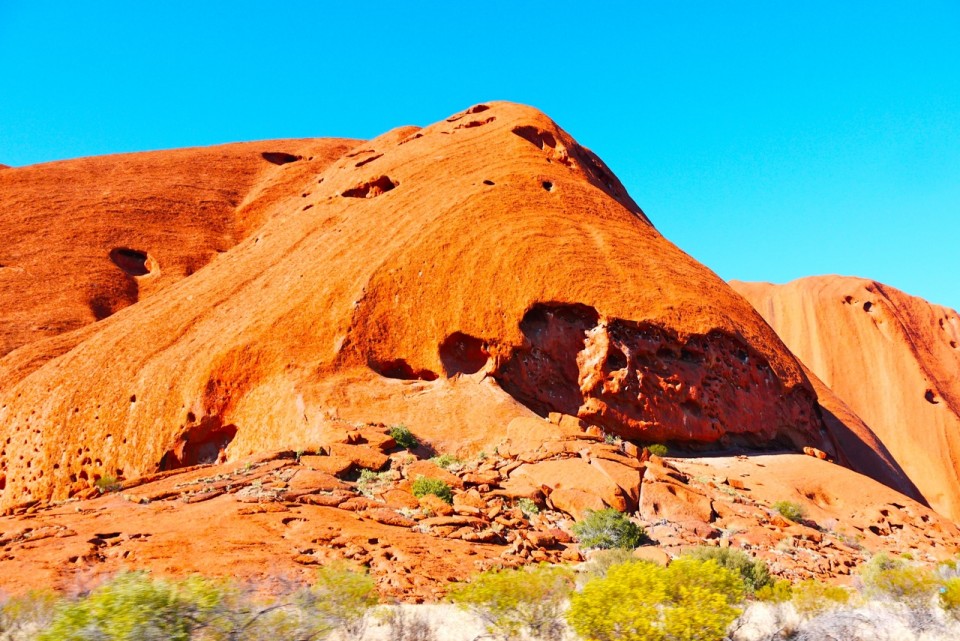 I met up with my French friends: Simon showed us his panoramic photos he had taken from the top of Uluru, but for some strange defiance I didn't even want to take a look at them. We jumped into the car, drove to the place where all the tourists would go to observe the amazing change of color of the mountain in the twilight.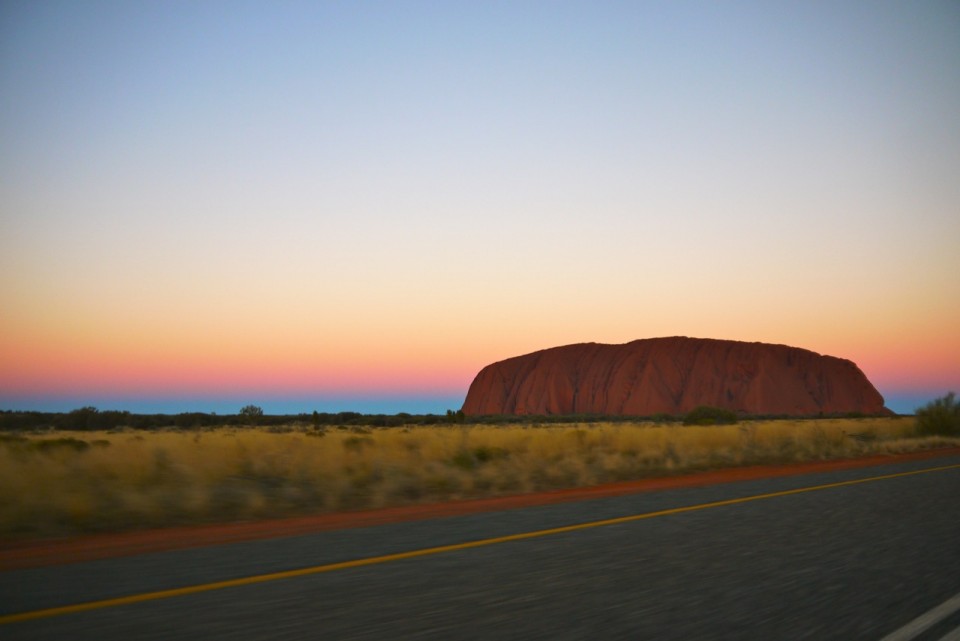 We took some photos, and went to a free camping area, some thirty kilometres away, where we spent the third night in a row sleeping by the road. We bumped into Grey Nomads again and we shared our camp fire with them, while they treated us to toast bread for breakfast.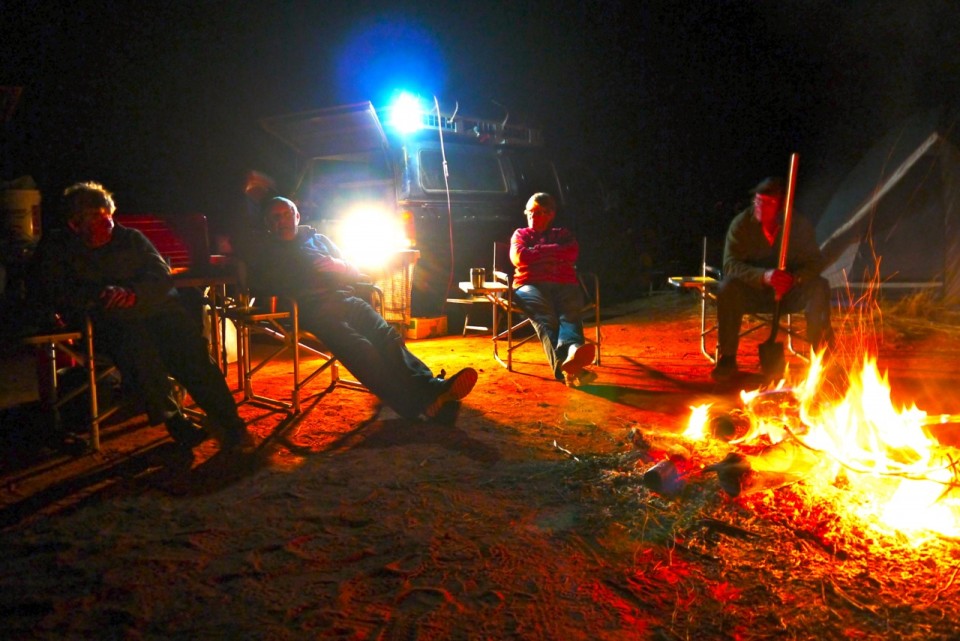 Since the ticket for the national park where Uluru was situated was valid for three days, we decided to visit Kata Tjuta, too: an enormous rock formation 25 kilometers westward from Uluru. Many people thought that it was much more attractive than Uluru. Unfortunately, we didn't manage to see whether it was true or not since, just as we passed the road which leads to Uluru, our car broke down.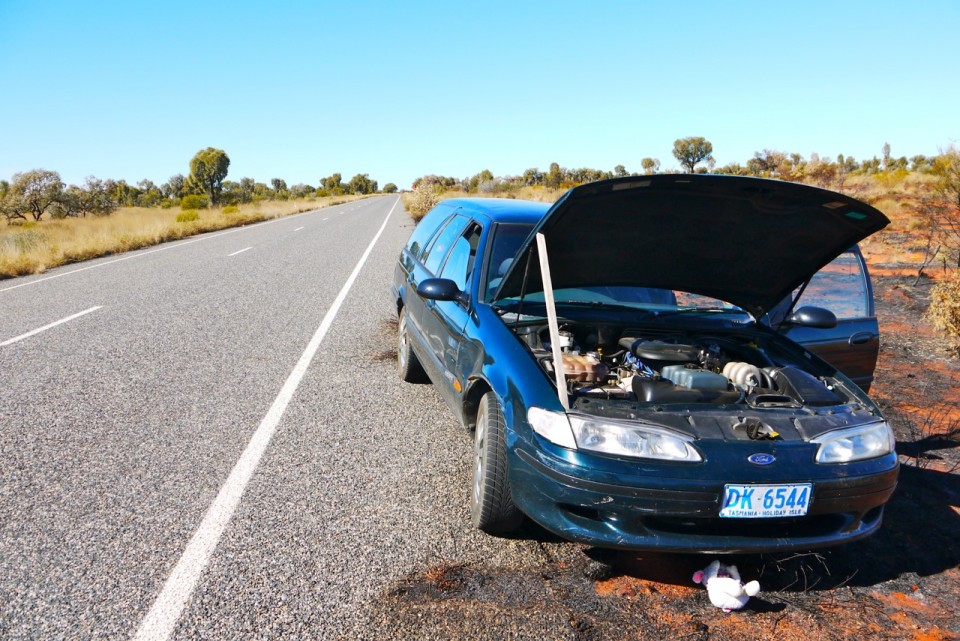 Simon, the owner of the car, was desperate and tried everything in his power to make it start, but despite all the effort and help of the good people who would pull over to try to help us, we couldn't do anything so Simon had to go to a car mechanic, some 30 kilometers away. In the meanwhile, JB and I kept watch by the car and talked. After a while, the conversation led us talking about karma and trying to guess why the car broke down. At one point we simply looked at each other feeling dumbstruck, read each other's thoughts and burst into laughter. The day before Simon climbed Uluru, the holy mountain, even though he had been asked not to do that.
Right then I remembered Nimbin and a story which Deck, one of my friends from that heaven on earth, told me. He told me about his friend who had visited Uluru and, as a souvenir, took one rock which she had found near the mountain even though she knew that it wasn't allowed. The following day, she was informed that someone from her family had fallen ill, and she had to go back to England. On her way from the airport to her house she had a car accident so she had to spend an entire month in a hospital. During her stay at the hospital she remembered the rock she still had in her backpack. The rock that was, by the way, of a rich red color had turned grey in the meantime.
She called her friends in Australia and told them the whole story. After having it heard they said to her that she had to go back immediately to Uluru and put the rock where she had found it because that was the place where it belonged. They didn't even want to hear her suggestion that she would send the rock by post. So, as soon as she could, she returned to Australia, and the moment she left the airport she took a look at her backpack and there was quite a sight inside – the rock was once again of a rich red color.
Feeling rather dumbstruck, she put the rock back in the backpack, went straight to Uluru and put the rock where she had found it the first time. She told everything about her unusual story to a girl who worked in an info center; the girl simply smiled and told her to follow her. She led her to a room where she discovered a bunch of rocks all sent by people who claimed that the rocks brought them bad luck.
Maybe I should have told the story to Simon before he climbed Uluru. This way he had to pay 300$ just to take the car to the mechanic, and some 700$ for repairing the fuel pump.
That night, which we spent in the official camping area of the national park (17$ each – that was the first time I had to pay an accommodation in Australia), Simon shared his thought with us over a glass of beer – maybe I shouldn't have climbed Uluru. JB and I simply exchanged looks and burst into laughter admitting that we had already concluded the same thing while he was gone. A strange thing, life is; karma too.
The same evening another two things happened: I met the father and the son from Colorado who told me that I would have to stay at their place in case I ever happen to find myself in the USA; and I witnessed a sin which is being committed everywhere, all the time – wasting food. There is a restaurant within the national park which serves food and drinks. Since the kitchen is being closed at 9 p.m. I asked the guys who worked there what they would do with all the leftovers. They said that they would throw it away. I asked them if I could do something, that is, if the food could be given to me, instead of being thrown in the trash, but their answer was expectable: if I do it, I could lose my job. A minute after 9 p.m. I saw a guy throwing away the food in a dumpster, and there was enough of it to feed at least 30 people.
Do you know that more than 40% of food is being wasted, all around the world? Helloooo! Wasted! Ends up in a dumpsters. Do you see any logic in it? Where is the consideration for all the hungry ones out there? Where is the common sense? Yes, I have a degree in economics, so I can understand the economical reasons of wasting food. If the food was given for free, maybe everyone would want it for free.
Since we didn't know for how long we would have to wait for the car to be repaired I left the national park and, once again, I started hitchhiking towards north. Also, knowing that he had learnt his lesson, I left some money to Simon, so I could at least help him a bit with the costs about the car. I decided that that little good deed wouldn't be a part of my budget. Go ahead and sue me!
—
YT VIDEO – AUSTRALIA (2):
—
In less than an hour I was on my way to Alice Springs. A guy from Taiwan picked me up, which was a nice coincidence given that my hosts in Alice Springs was from Taiwan. However, they weren't related.
I arrived to Alice Springs, met with my host, cooked him a dinner (one doesn't cook nachos, right?), slept on his couch, and in the break of dawn walked to the exit from the town, and stuck out the thumb, for the 39752626th time. It would be interesting if I actually had kept the score.
Not much cars were passing by. I guessed the reason was the distance to the next populated place – nearly 500 kilometers. In one moment I spotted the Canadian guy and his girlfriend who, two days before, had helped us with repairing the car. However, that time they passed by me as if I weren't there. Maybe they didn't see me. That's it; that must have been the reason for their not pulling over. Nevertheless, they did stop two days before; stopping for two times would be simply too much.
And then He pulled over. Someone might think that I'm talking about Him, the Almighty, or someone like that…but no, it was only Alex. With a broad smile on his face and a surfing board on his back seat he asked me where I was headed. Once I said that I was going to Darwin, he said that it was my lucky day since he was going there, too. Is there even a day that isn't lucky for me?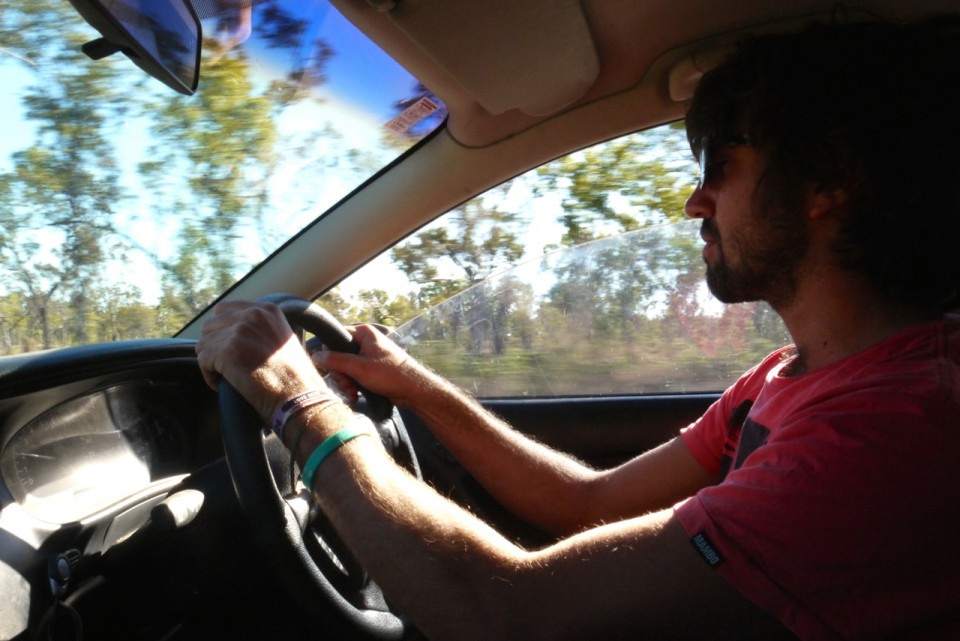 Alex rules. He's cool. Alex is my best friend. Do you know why? Well, there are two reasons. The first one was that while I was writing this post under a slight influence of rum just before casting off in a boat on which I would spend the following two months on my way across Indian Ocean all the way to South Africa; and the second reason was that Alex simply was all the things I'd mentioned. I'd even say that the second version was even more probable, even though the rum wasn't that bad, after all, despite its price of 8.50$.
The man was of my age, and he had already made a trip around the world during which he'd sailed across the Atlantic (yeah, a fellow pirate), was robbed in Nicaragua (under a threat of a knife – he had to give all the money he had: 150$) so he was forces to sell banana cakes on the street in order to survive. Best banana cakes of all time, people say.
So, Alex picked me up and drove me all the way to Darwin, which was 1.500 kilometers away. On our way there we exchanged our travel stories, but we also alternated in driving – at the end I drove for some 70% of the way, despite the fact that I still wasn't sure whether my driving license was valid in that part of Australia. We spent one night in the middle of a forest, saw a great number of kangaroos during the night ride, and stopped by in Katherine, a small town some 300 kilometers before Darwin, in order to refresh ourselves on a natural spring. In the very same place I met four Croatians, who had been enjoying themselves for some forty years in the Australian life, and, already retired, travel around in their camp-houses all over the country.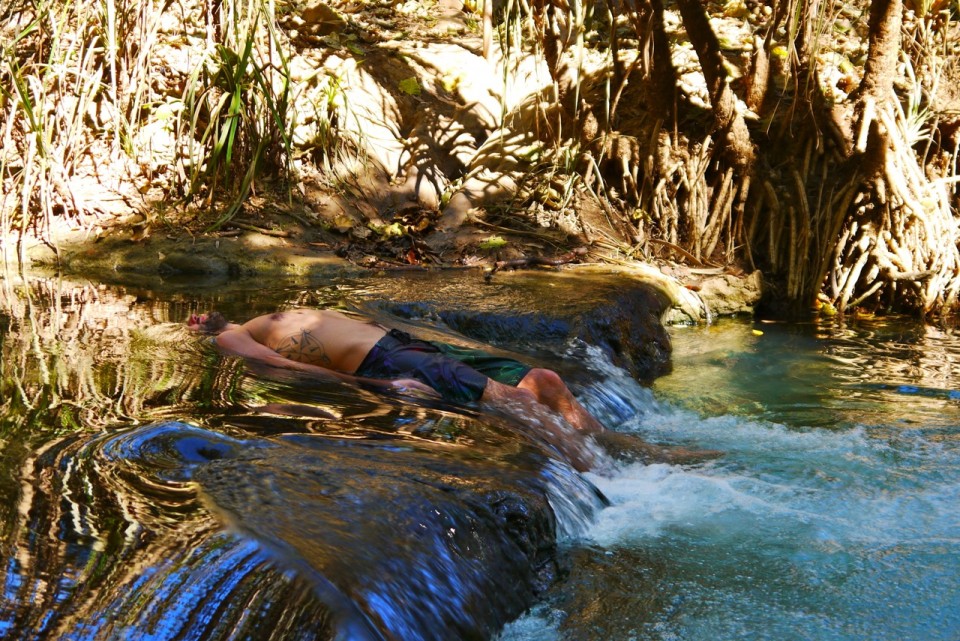 After a refreshing bath and a couple of more hours spent driving we were finally in Darwin. Alex stayed at his friends from elementary school. He struggled a lot so that he would convince them to let me stay there, too, but I ended up on a street. That's ok, all happens for a reason, right? That is how I found myself in a center of Darwin, in a hostel, asking for the price – 30$. Too much. The girl at the reception subtly mentioned a park where all the homeless slept every now and then, so I decided to give it a try. On my way out she added that the reception was closing at 10 p.m., so if I did decide to spend a night in a warm bed, I should come before it was too late.
I explored the park a bit and I didn't see any homeless people there. However, I did see a guy jumping over a fence; I approached him and asked him for a suggestion where it would be the best place to spend the night. He showed me the way to the beach, but he warned me about the cops who may cause me troubles by charging a fee for sleeping there. When I asked him for the place he was sleeping in, he simply told me that there wasn't any room for me. Okay.
I wandered through the streets of Darwin, considering my options. And then, one of those miracles on a journey. I passed by a girl who gave me a look, smiled at me and asked: how are you? I looked at her feeling quite perplexed and simply said: I've been better. I told her that I was travelling around the world and that I was looking for a place to sleep. While she was observing I could recognize compassion in her eyes. She herself was a backpacker – that I found out after a few minutes of the conversation. I asked her if she asked all the passers-by about their feelings on which she replied that she was in a really good mood: she had just found her credit card (yes, it was a MasterCard!) that she lost couple of hours ago. A few moments later she was studying my CS profile and calling her roommate to ask him for a blessing to bring me in his apartment. This was how I found myself – a new home!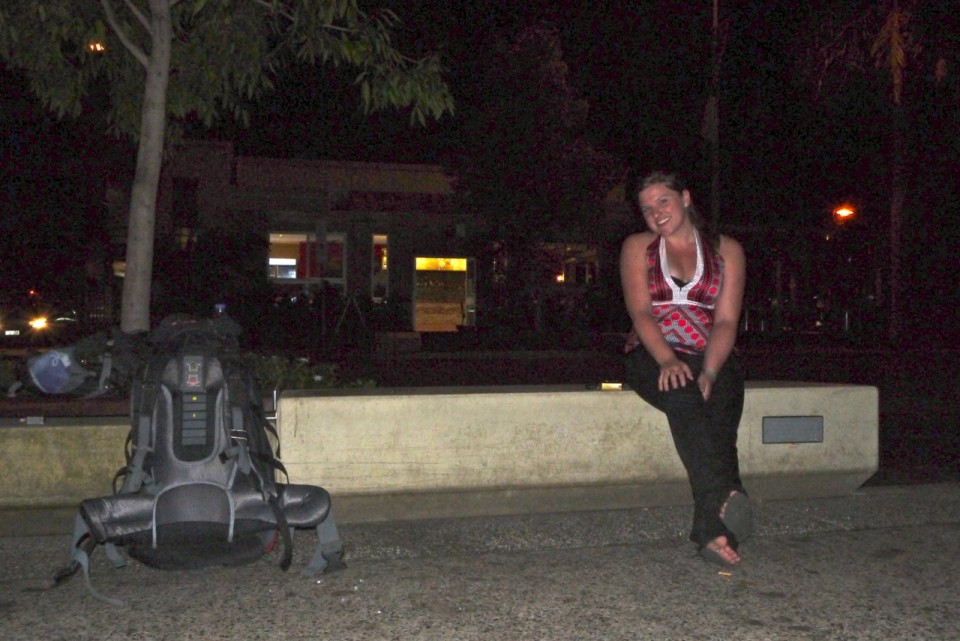 Quite unbelievable, right? Kindness of strangers at its peak.
We went to her house, stayed up late talking; I spent the night on the cosiest couch I'd ever slept on, and the following morning I was awaken by the most colourful breakfast I'd ever seen! I really do love my journeys. I spotted a massage bench in one corner, but Hayley told me it was broken. If you managed to repair it, you will get a massage. A challenge! I do love challenges. Even though I'd never repaired anything in my whole life, I was lucky to repair that bench: in two simple moves I saw what the problem was, took the tools and the bench was as good as new. That was how I earned myself a free massage.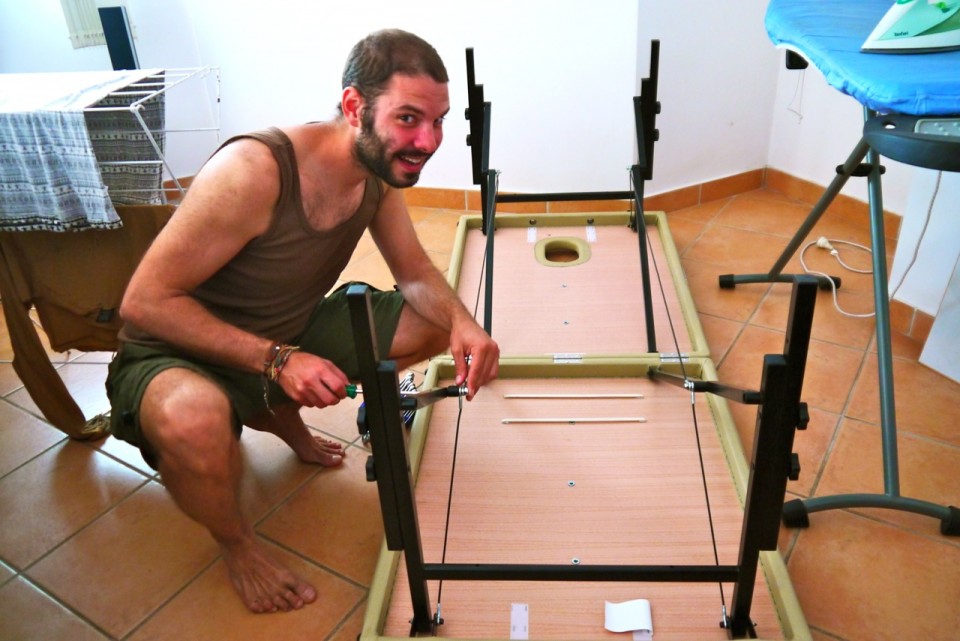 I paid her back in the same way, of course.
Apart from a colourful breakfast and a free massage, Hayley also treated me to a tour around the town: we went to the local beach, hung out with her friends during that evening, and she gave me a lift to the exit of the town the following morning.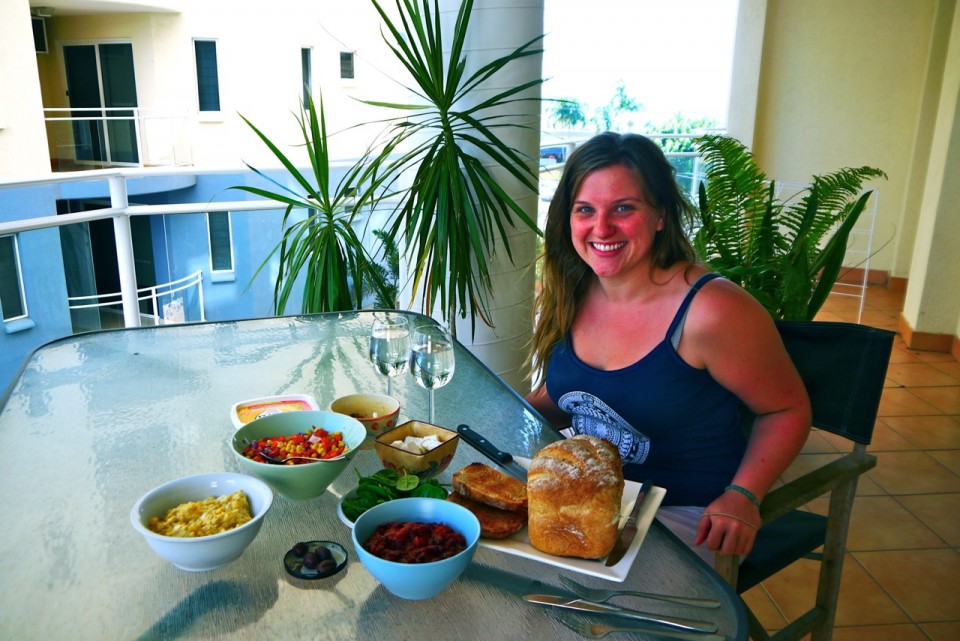 So I spent two wonderful days with Hayley, and started with my hitchhiking towards south. Hitchhiking at one gas station I got myself a beer and a sandwich from a crew from a full van apologizing for not being able to give me a lift. I drank my beer, ate my sandwich and moved on. A few rides after, I was at a crossroads – the main road led to Katherine, my destination for the day, and the side road to Litchfield national park. The couple who dropped me off there, for some strange reason, gave me the address of their small house in the village nearby in case I got stuck and I needed a place to spend the night.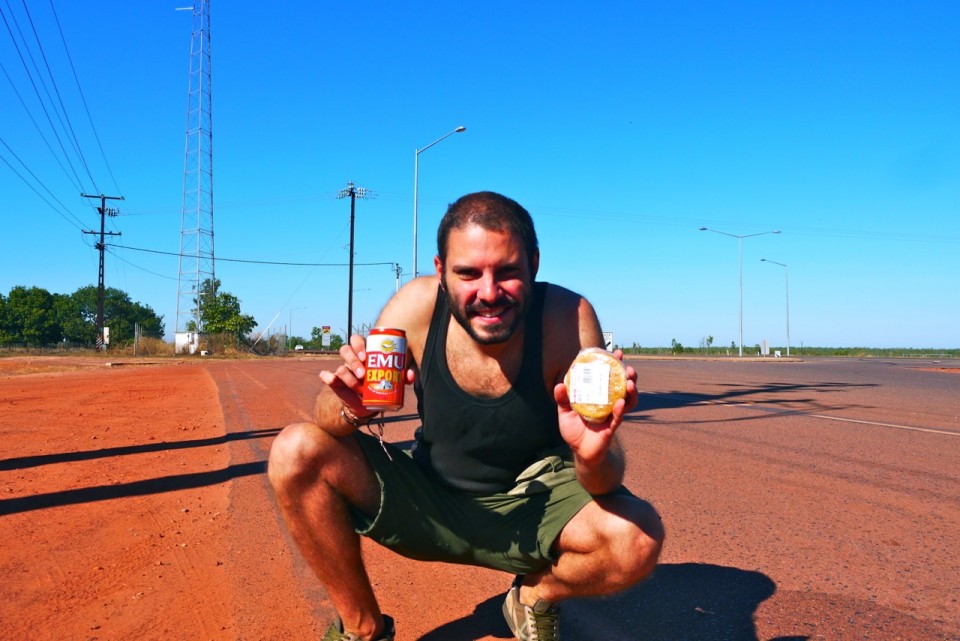 After only a couple of minutes a bike pulled over, and a 60-or-70-year-old cyclist started preparing a lunch on a cooker. The man was from New Zealand, his kids were all grown-up, he was divorced, thought about the things he should do before he dies, sold everything he had, bought a one way ticket to Australia, and he had been cycling around for the past couple of years. He made a stop in Indonesia, Thailand and some other nearby countries. He was full of energy, full of life, full of stories, and yet so simple.
I got so carried away while talking to him that it slowly started to get dark so I decided to accept the offer of my last drivers and spend the night at their place. There was no rush.