As we approach the border, its time for Tanja to cover herself. She covers her hair with the scarf, putting on the shirt with long sleeves and we cross the border on foot without any problems. But we have problems explaining taxi drivers what is hitchhiking. Finally one taxi driver decides to take us for free to the first city/village – I guess he wanted to practice his English.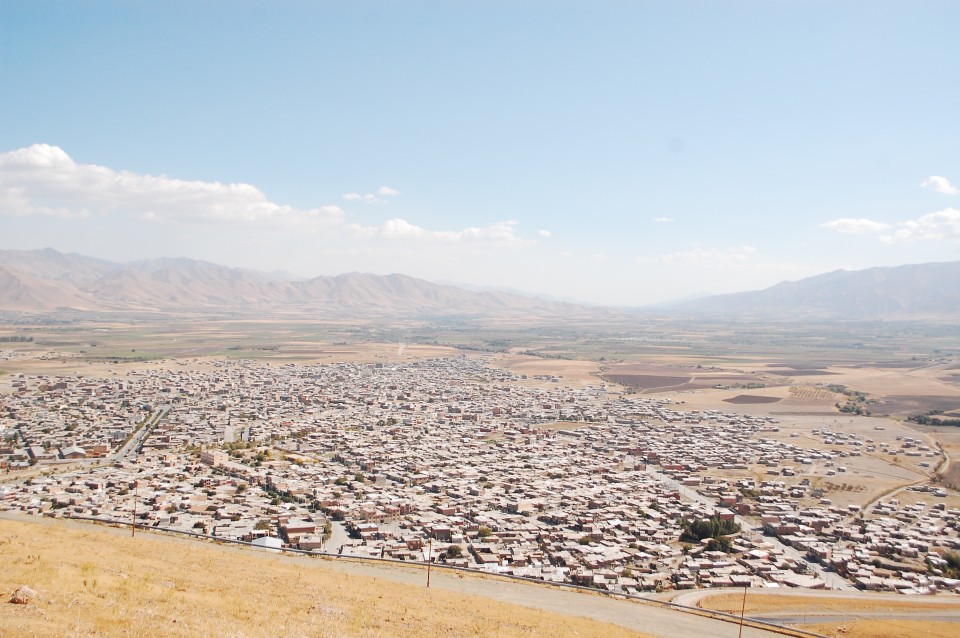 When we got to Piranshah, he calls his friend who speaks English too, and he accepts to meet us even though he was on his way to the gym. He is trying to convince us that it will be impossible to hitch in this part of the world, because nobody knows what it is. But no. We know better! We're at home here. We came all the way from Croatia to here with no buses or trains. Its  a piece of cake for us! So he gives up, writes Tehran on Farsi language on a piece of paper and we leave towards the busiest crossroad in the town.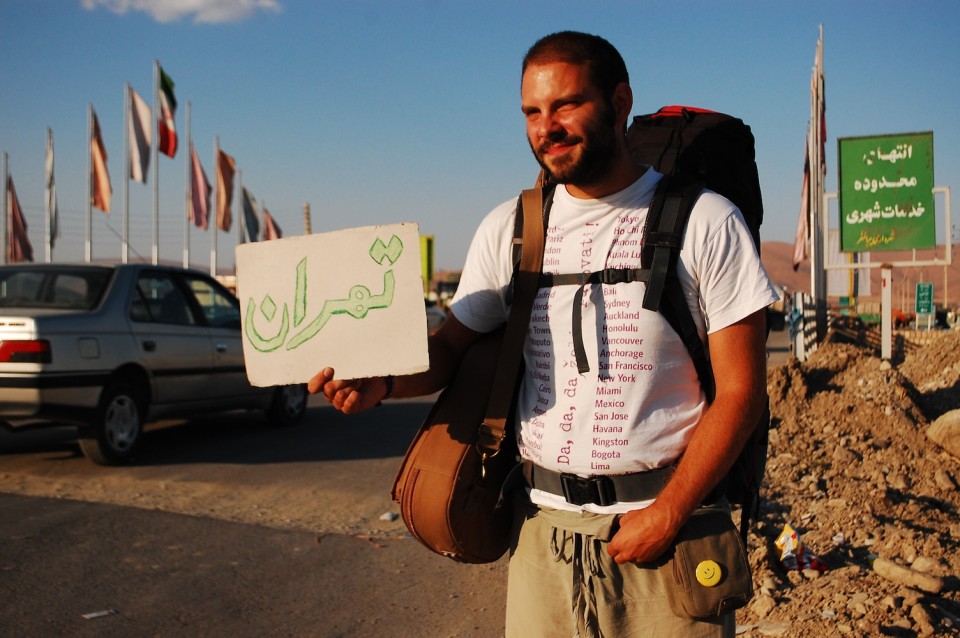 After 5 minutes, we have army of people all around us, tell us to go to the bus terminal, or take a taxi. After few of them offered to pay bus tickets, we glance at each other, remembering the situation from earlier today when a guy paid for our ride and we just gave up. Went back to the bus terminal and bought tickets to Tehran, with a hitchhiker discount.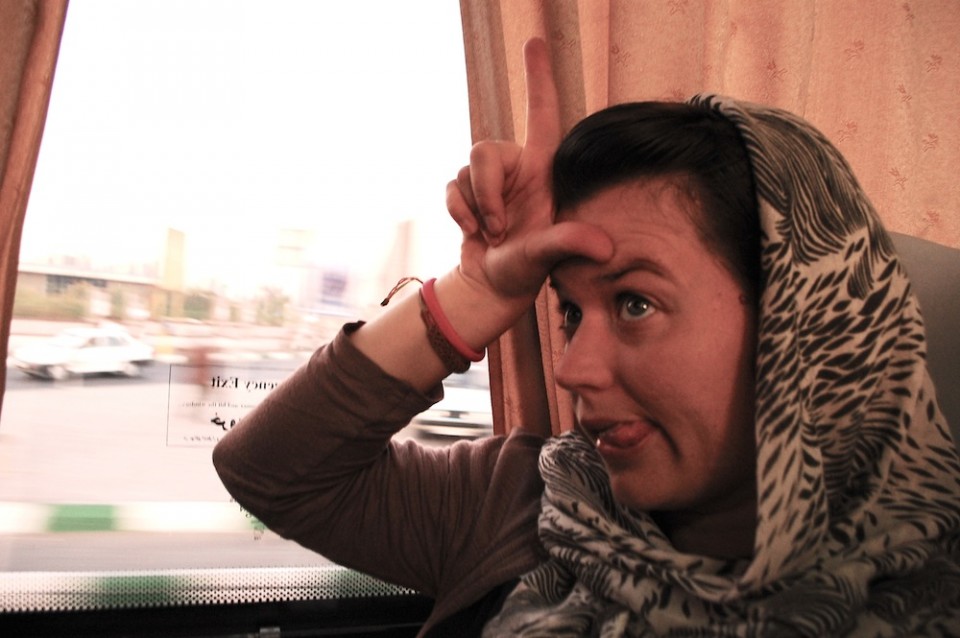 We board onto the bus dead beaten and realize that we spent 8 out of 9 last days on the road. Adding to that our concerts and posing for pictures, its no wonder we're tired. From now on, we'll slow down, stay longer in some cities, maybe learn a few words.
Taxi! Taxi! Taxi! – we didn't even got a chance to take our backpacks out of the trunk and we had 15 taxi drivers offering us their service before the dawn at the bus station in Tehran by yelling and pushing each other. After 13 hours of driving and half awake that was the last that we wanted to hear or see, so after 20 or something refusals and a lot of patience we managed to get rid of them.
Maybe because of the first stress impression, but probably because of the fact that Tehran is a huge city and that we didn't want to wander around it, we just caught the next bus and went to a five hours away Esfahan, of which we heard a lot of nice things before. Local taxi drivers were probably contacting Tehran colleagues so these here, very strangely, were letting us be.
We got onto a bus for the center of the city, politely entering the front door. First me (as a gentlemen) and then Tanja behind me. While I was trying to buy us tickets, the driver and the rest of the people in the bus were looking a bit strange at us, trying to explain something. Soon we realized – women do not belong in the first class. Tanja is fixing her hijab (head cover) and moves away few steps from me and goes to the back door, together with the rest of the women. In the middle of the bus is an obstacle, I guess so we wouldn't mix accidentally in the crowd. I mean, I would understand if Tanja was black or something, but like this…we're gonna have to get used to Iran a bit more, on their laws and customs. I secretly take a look at the department of the second-class citizens and I realize that all the eyes of the women covered in black in the bus were looking towards Tanja's different colors. She was talking and smiling with young girls from Iran….I wasn't looking for long, I didn't want to brake some kind of a rule with forbidden looking.
In the center we do what we always do first when coming in to the new city with no idea where to sleep – we find Internet cafe and send a couple of CS requests hoping that the quality of our funny e-mails will work better than sending tones of copy/paste requests to entire Esfahan. At the same time we are checking our good old Facebook and we find a surprise – it's blocked. I mean, I would understand that they blocked the pages for the "adults", like in Turkey (as some of my acquaintances said to me), but hello, how can you block Facebook?! It's my life, my job, my friends are there, even my parents…everything.
But luck is that in every Internet cafe there's is a little hacker who can make a few clicks and remove the blockade that the state has on every social communication network with the west world, and gives us a free access to the wonders of Internet, even if they still have to work on the speed of surf. I'm not surprised with the fact that Iran has one of most notorious hackers – forbidden fruit is the sweetest one. We're sending mail home that we are alive and healthy in the heart of Iran and we are off to explore famous Esfahan, third biggest city in Iran.
We're wandering the streets, observing people, although we are the ones who are being observed. Just like that in passing, people with a smile from ear to ear are asking questions like: "Where are you from", "Do you like Iran?", " Will you come to us for dinner? ", etc. Actually, they ask me; with Tanja noticeably avoiding any conversation. She is just a woman.
All the major streets are leading to the impressive Esfahan Naghsh Jahan, the main town square, which according to some information is the second largest square in the world, just behind Beijing's Tiananmen. The whole square is on UNESCO's world heritage list, and is surrounded by Shah Mosque, Ali Qapu Palace, Sheikh Loft Allah Mosque and Estefan's Grand Bazaar. It is a central meeting place of the Esfahan, especially in the early evening when the sun goes down, and a spacious square assumes very different, bright colored lights play over the colorful facades (this part was written by Tanja, I am not so poetically minded :p).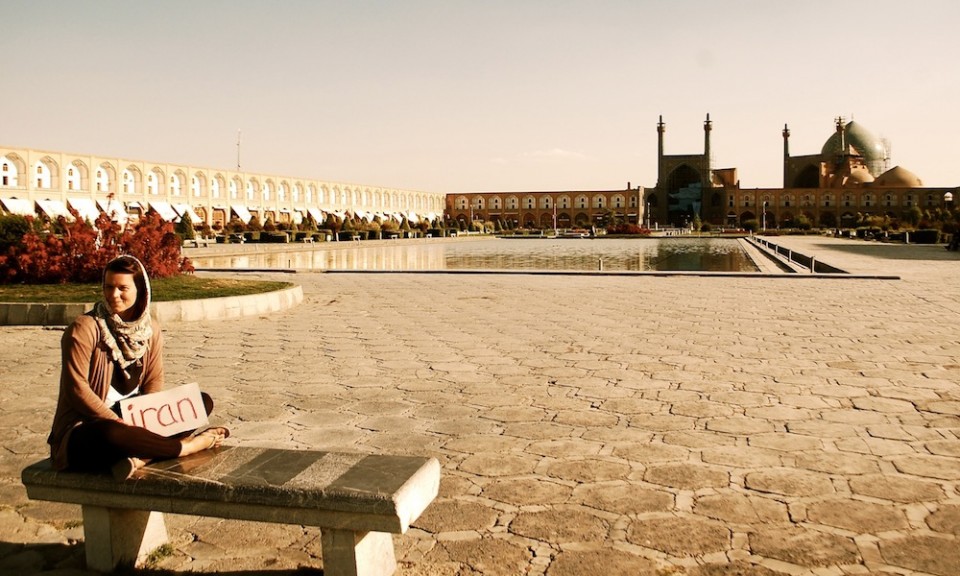 We put our backpacks and the rest of the equipment on the grass; I take out the toothbrush and go to the public toilets while Tanja is looking after the stuff. But as I returned, I had an interesting thing to see – Tanja was surrounded by "Batman's", or maybe better to say "Bat-women", 5 or 6 of them. I push the crowd and try to enter the center of the assembly, and I realize that women are just curious because they saw that we have the instruments, so they wanted us to play them a few songs. We had to ask is it allowed because we were warned that playing on the streets is also illegal (unless you play the accordion – their national instrument, and sing patriotic songs of Iran), but they just waved with their hands and told us not to worry too much about it because we are strangers.
We liked their interpretation of the law, so we performed two songs (the American patriotic songs :p), rewarded with a great applause, the audience increased by 200%, gain some money (although we sang "we do not need money, money, money"), and one of the girls went to a nearby store and bought us some typical sweets which we saved for later.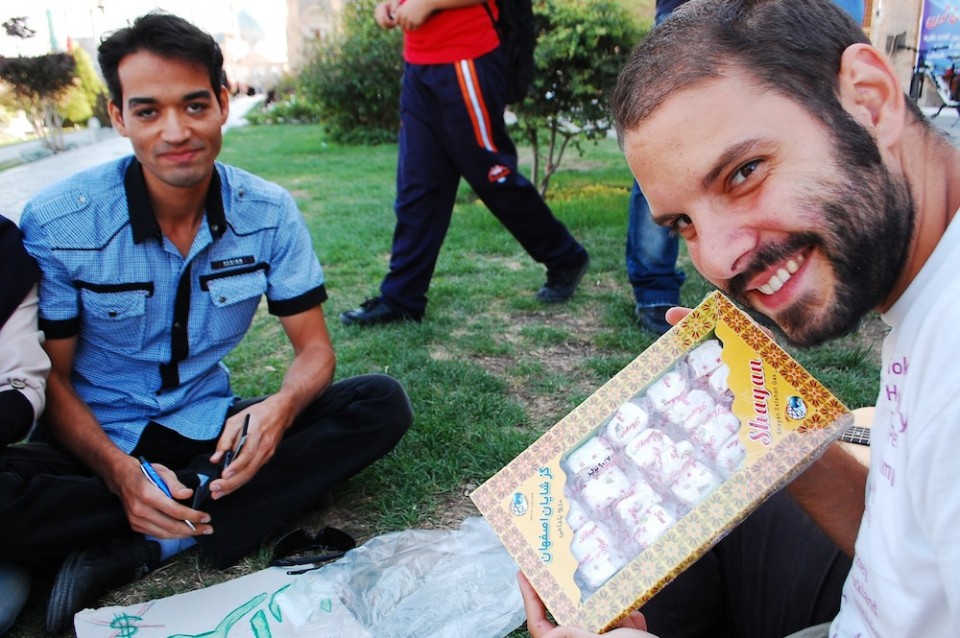 One young couple enthusiastically invited us for dinner and to spend the night at their place, and typically us – we quickly accept and we took their address and phone number. We agreed to talk later about the details. They were laughing at us when Tanja gave her hand to greet the boy who had invited us to dinner. Laughed and looked down. Off course, in Iran and most Islamic countries, men give hands to men, women to women, there is no cross touching. Even the eyes of the men during the talks are mainly focused on me, maybe here and there is some modest, almost smuggled look at Tanja. Here women talk to women, men to men.
A guy from a nearby workshop invites us for tea, shows his hand made stuff and we casually talk about the issues that bother him – mainly political topics. Frankly, we did not expect that people will be so open in criticizing the current political situation, but this was actually just the first talk of many that will follow over the next couple of days/weeks. We mentioned even the rights of homosexuals in Iran, which of course don't exist and for such an offense they are punished – by death. Just like drug dealing, murder, rape and ect.
As it was close to the dinnertime, we contacted our new friends, but they canceled saying that there were some higher powers. Only later we heard about Tarof, a common gesture in Iran, where person A offers something to a person B purely out of politeness, expecting the person B to politely refuse and allow a clean slate for both sides. It's visible that they were not a lot in contact with us from the Balkan who say "yes" for everything. They will learn, and so will we.
While we were playing our guitars and fooling around the square, it was already dark. Sprint to the Internet cafe, typing a message for a last minute couch in Esfahan CS group (we have not received any response to emails that we sent earlier). Before we could have time to log out, Yasser called and offered to host us tonight. Although he cannot accommodate us in his home, he can do it at his – office. We look at each other, realizing that we have never surfed in someone's office and accept the offer.
Soon we meet with him, and he, like in a bad joke, picks the two of us (and our two large backpacks and two guitars) with – a scooter. While Tanja and I discuss who will go with him first he puts us both behind him on the scooter and we have the wildest and the slowest ride ever.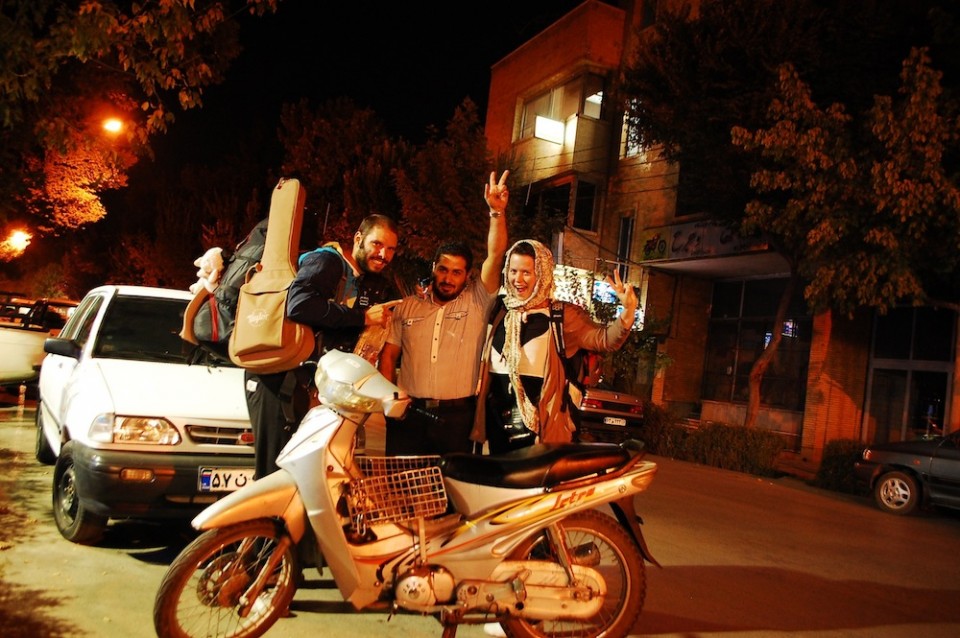 Esfahan is a city of magnificent bridges so our host takes us to visit them. Although, the river Zayande has dried out four years ago so now bridges connect two sides of the river that doesn't exist. Where there was a river once now young people gather under the bridge and discuss about some better world where they will be able to listen to music in the open and be free to talk with whoever they want without fear of ending up behind bars or worse.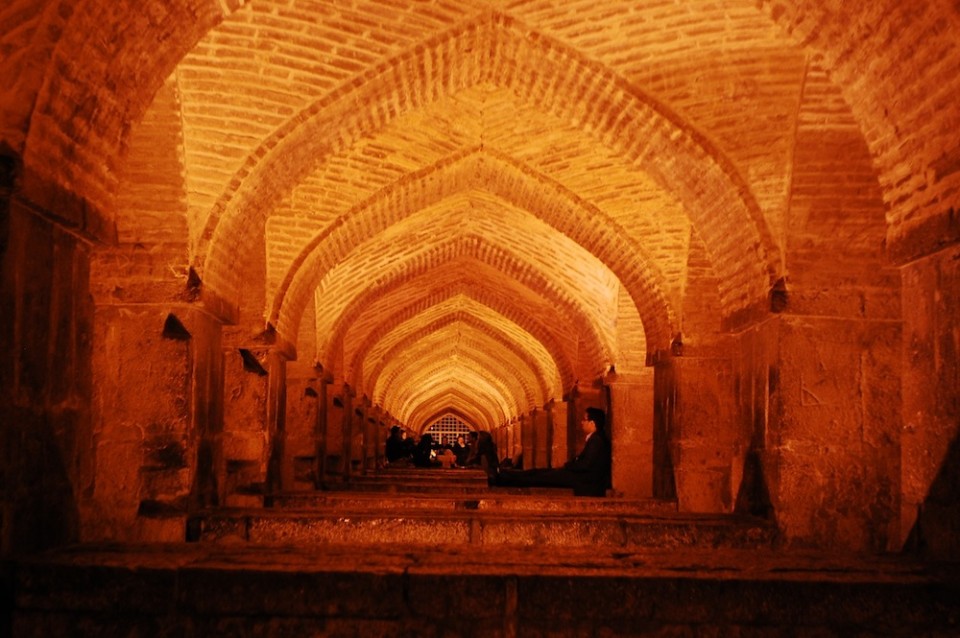 Bridges without river is in any case an unusual sight. Same as the so-called couch in the lobby of Yasser's office. But it will serve it's purpose.
In the morning we quietly left the office building. It is interesting to play hide and seek in front of the businessmen who were not allowed to reveal that two homeless people spent the night there. Outside, it was another warm and sunny day. 30ish degrees, the ideal temperature for a covered head, arms and legs. I'm glad I'm not a woman here. We went to a small park where we wanted to stretch a bit on the grass and rest from the uncomfortable couch. Not even five minutes went by, and three policemen approached showing on Tanja's dress and in the same voice repeated – "Haram, Islam, Islam"! At first we thought they were thinking about a song of Cat Stevens after the conversion, but it is most likely what bothered them was that Tanja's dress moved and discovered 1cm of the ankle on his right leg. Oh, Allah!
We pulled the dress down and went to explore the city. One of the main attractions in the city is Jameh mosque. We were not in the mood to pay for the tickets for a tour inside the mosque. We have already seen quite a number of Islamic places of worship. We turn towards Mecca and position ourselves into a large inner courtyard of the mosque and enjoy the silence and meditation with a view at the dome. We have not even sat down, and we have already received a pomegranate as a gift from local visitors. We eat it with pleasure not caring too much for the historical and artistic values that are in the neighborhood. I wonder if there is a penalty for it in Iran.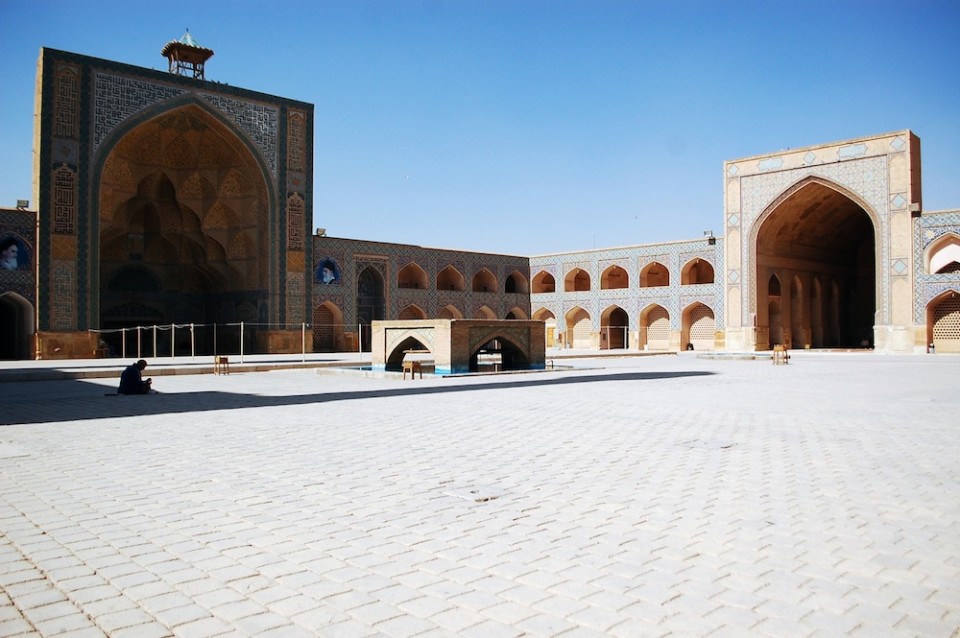 Another guy from CS crew contacted us and offered to sleep at his place tonight, but in his home, not office. We were thinking about it a bit because he lived a good 20 kilometers south of the city, but then we realized we are going to hitchhike south tomorrow to Shiraz anyway, so it is the perfect location for us.
Our new host came to pick us up in his father's car and soon we were at his home, preparing dinner. Even if we were the ones who promised to prepare dinner for our host, he was faster. And handier. And probably less sleepy.
With dinner we talked about all kinds of things, but somehow, each topic led to the same – politics. He told us that he was recently arrested at the Liberty Square (isn't it ironic, don't you think?) because he took two strangers sightseeing in town, and he is not a guide. CouchSurfing is semi-illegal in Iran, so that both hosts and guests must be careful of the police and have to have prepared answers in case someone asks something.
He told us that he spent his entire youth in the fear of the police because they used to drink on the student parties and the punishment for drinking alcohol is 80 hits with the whip on the back. Or ten hits with the whip which has 8 endings. In the whole story, the good side is that the police can be bought in most cases and on that way they saved their skin. Literally.
He told us that he protested against the government, but gave up when the soldiers allocated on the surrounding buildings and killed the protesters with snipers without warning. Although the only weapon of the protesters was a patch on the mouth with which they wanted to show that they have no right to say their opinion, among other things.
He told us that 70% of women do not want to respect the laws of covering their head, but they have to. The rule is, as soon as girls turn nine years old, they must dress according to certain rules. Sleeves to the ankles, covered heads, hidden body and similar. Nine years is also legal limit for marriage. Great!
I have a problem with Iran…
He makes us breakfast in the morning and drives us few kilometers close to a traffic police on the highway, next to which all cars must go by, and because of few bumps on the road everyone needs to slow down. Perfect place for hitchhiking. We also had printed a big sign for Shiraz, in Farsi, of course.
We again avoid trucks, and cabs. Cops came to us and pointed us to a nearby bus, but we just smile and say pul nadaram – which means that we don't have money. They let us be and a couple of minutes later, white and fast car stops. Guy with a lot of gel in his hair, shirt and Diesel jeans comes out of the car, says he is going to Shiraz, but first he asks to show him my passport. Although it was the first time in my hitchhiking career someone asked me my passport, I give it to him without hesitation. When he saw that we are well cultivated Croats, he just showed us to jump in. He says there are some locals faking to be foreigners in order to get a free ride somewhere, so he wanted to be convinced where we come from.
Obviously, hitchhiking is only privilege of the foreigners in this country. We had 466 kilometers in front of us, the second longest ride ever. (The first was on my first trip, returning from Sofia, Niš – Zagreb, 650 kilometers in one car). And although the ride in a fast, comfortable, new car should be divine and lovely, I had some stomach problems that started the night before. So I had to ask Hassan, our driver, to stop for a couple of times so I wouldn't mess up the car, even I was not sure where actually the danger comes from. He takes us to have a tea, buys us lunch (in any case, the menu is always – but always – equal. Waiter asks: chicken or meat? Paradise for vegetarians. Rest comes by default – rice and bread.), Hassan talks with us in perfect English, which is still rare in Iran. Although, 90% of people with whom we came into contact were highly educated.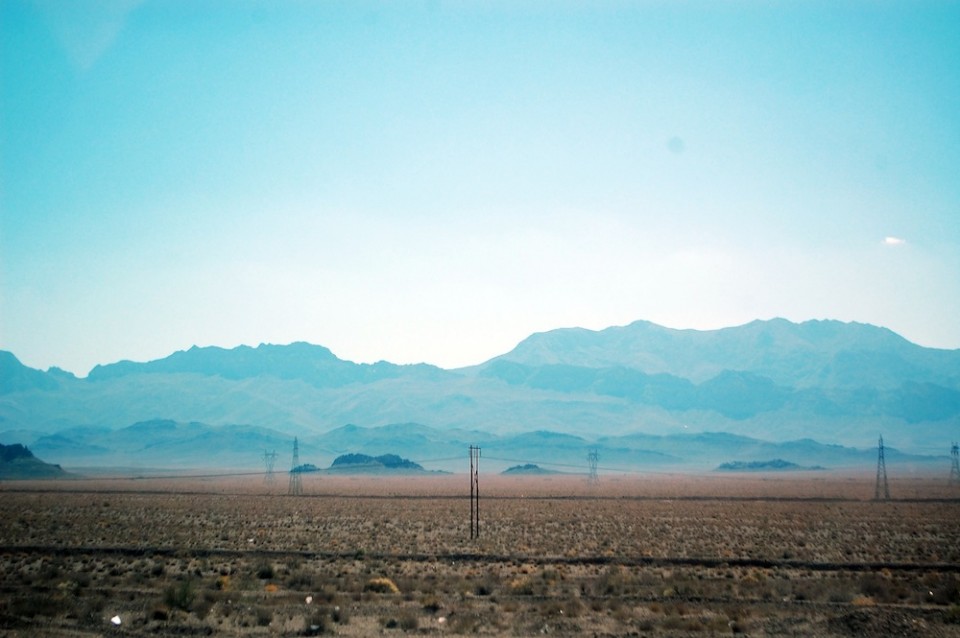 Shortly before Shiraz Hassan calls Saeed, a guy who contacted me when he saw at CS that I came to Iran and negotiated hand-over. We just transferred backpacks from one car to another and headed to Saeed's house. Huge house, he lives alone, but for some reason he couldn't host us, so in few hours he will be moving us at his friend, also CS guy.
And in the house there was a small music paradise – a room equipped for the band! Right away we allocated, Saeed on drums, me on guitar, and Tanja humming and banging on some percussion, so in the loudness of the home we played the good old American hits. So let them arrest us. Saed tells us how music can be taught only privately, at home. There are no concerts, just hidden gigs in basements that can be heard of just through mouth-to-mouth. But this doesn't prevent young people to be against it and even put more effort to educate and inform. Saeed is a real small musical encyclopedia. As soon as he discovered that he can talk with Tanja on Radiohead language, the decibels jumped for 20%. Tanja switched to drums, and Saeed couldn't stop smiling. I pulled back then and left them to outvote. Again, my acoustically sensitive ear.
After the gig Saeed says that he is sorry he cannot host us because we are the best guests that he didn't host, and takes us to his friend Shervin in whose house we will spend the next two nights. Shervin (34) still lives with his parents, brother and sister. I tell you, although we are far away, we Croats have much more similarities to the Iranians then we think. His parents, even a bit older, speak relatively good English, so we could all together laugh and talk about various topics in the yard of the house. Shervin's father, a retired attorney, although older, he is being self-taught French and English from the books. He says it's his version to prevent Alzheimer, so he transformed the whole basement into classroom and the library where he daily invests in his knowledge. He asks us some facts about Croatia, even he knows more about Tito and Yugoslavia then us younger people, and in that he reminds me horribly of my dad (not because of Tito and Yugoslavia), who has always done the same thing when I brought my guests from all around the world on the family Sunday lunch. Only, Shervin is a much better son and without objection, with a lot of patience and incredible humility and respect, he translates our every word simultaneously to his father.
The family is numerous. The older brother, engineer of biochemistry, also lives under the same roof. Two sisters, both as engineers of something, one lives in Sweden, one in Tehran, and both were visiting at the same time when we were in Shiraz. We find out that they had another son/brother who was killed thirty years ago during the Iranian revolution, but we saw that that subject was too painful, so we didn't ask too much.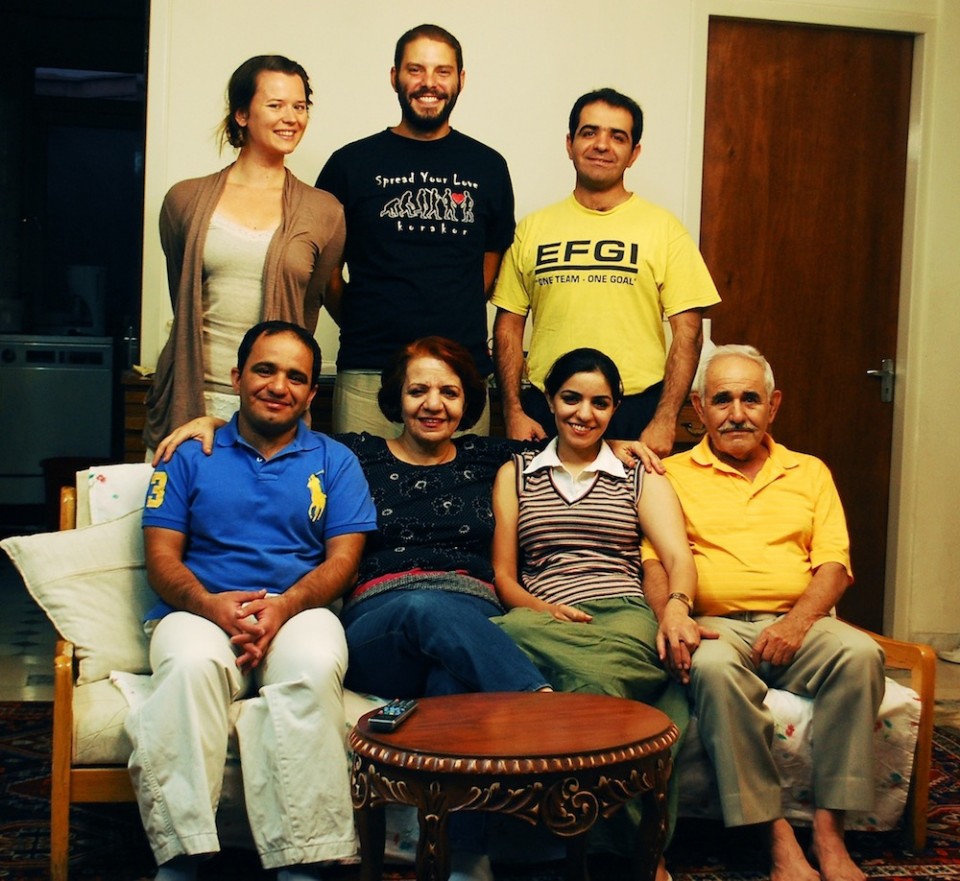 Shervin's mother, a wonderful strong woman, a retired chemistry professor and an excellent hostess who made us all kinds of grains and vegetables, so finally – with the famous chicken and meat, we eat something green.
The next day we went sightseeing. Again we had on the menu various mosques and bazaar, and the latest developments was that I was not tortured by my stomach anymore, but the pain moved to the head, so I was just wandering around Shiraz with a huge headache (It's great that I write these blogs a couple of weeks later, so my parents do not have to worry about the pain that is already gone). Tanja tried to comfort and heal me, what on the Iranian streets on which contacts are prohibited, is not an easy job.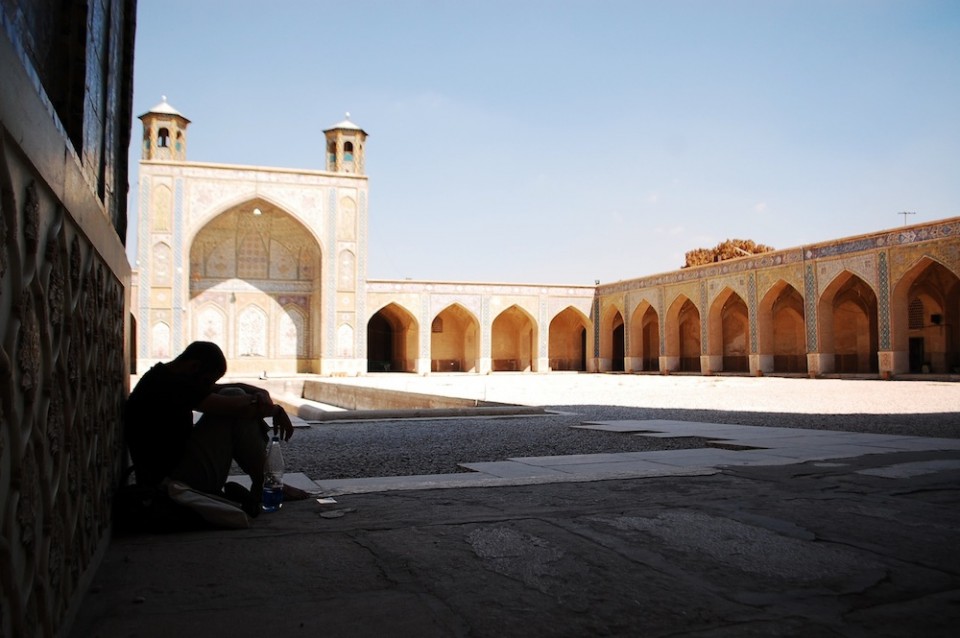 We returned home for yet another delicious homemade lunch prepared by Shervin's mother, and in return Tanja and I sang/played a couple of our songs, and then Shervin's sister took things in her own hands, sat at the piano (also as little she had private lessons in her home – the only way to learn the western instrument) and made her mom sing. Admiring we watched a mother and daughter singing. Beautiful atmosphere.
We finished the day with another sightseeing of the city directed by Sherwin, who is a travel guide. He took us to mosques, tombs, we saw a theater performance in the open, and we even noticed that some of the girls put up their sleeves to the elbows – an obvious example of courage in the Iranian way!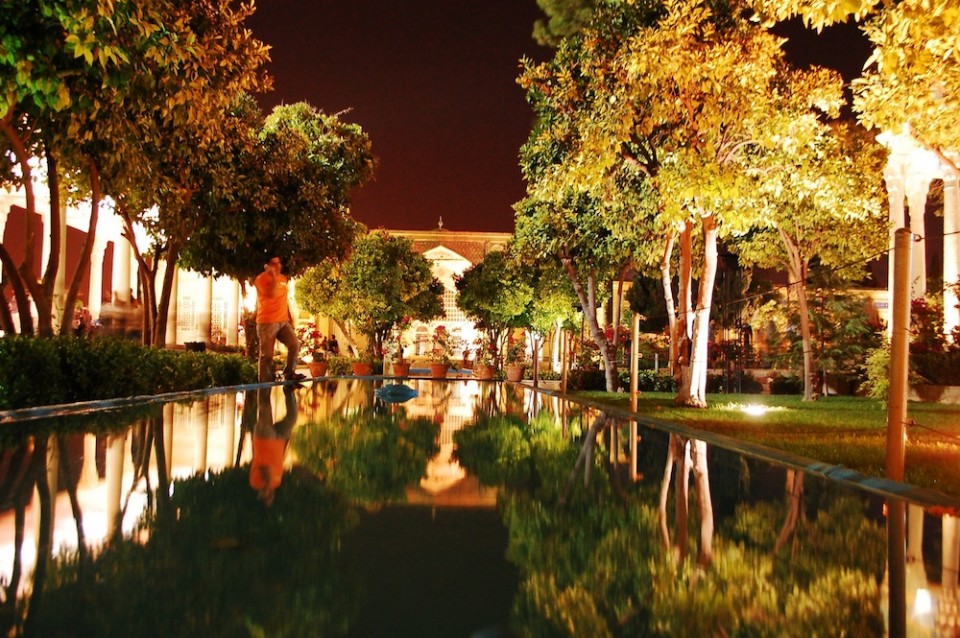 Our mom from Shiraz prepared us breakfast in the morning, supplied me with the pain killers who have done their job and we took the local bus to the Persepolis complex – the remains of the Persian royal palaces and one of the most famous tourist sites in Iran…