Early in the morning, convinced that we'd found the cheapest way to get to Machu Picchu, we sat in a local van in Cusco and got to Ollantaytambo.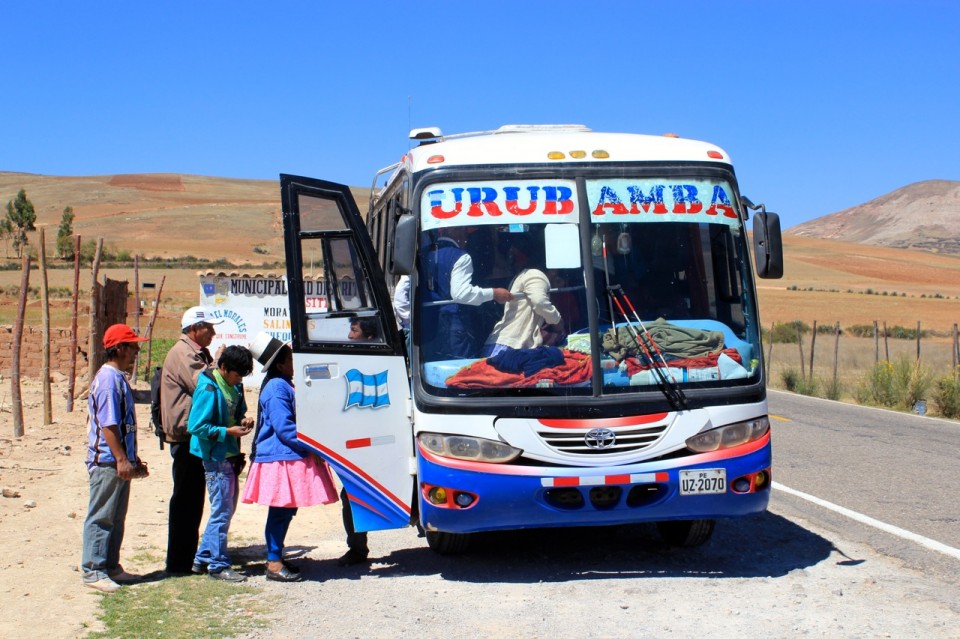 Just like always when it comes to local (cheap) transportation in Peru, we had to squeeze in with a huge bunch of people, make a stop in every village to pick up even more people, but we really enjoyed the view of the magnificent nature. Snow-caped mountains, green valleys in the feet of the mountains…it was splendid.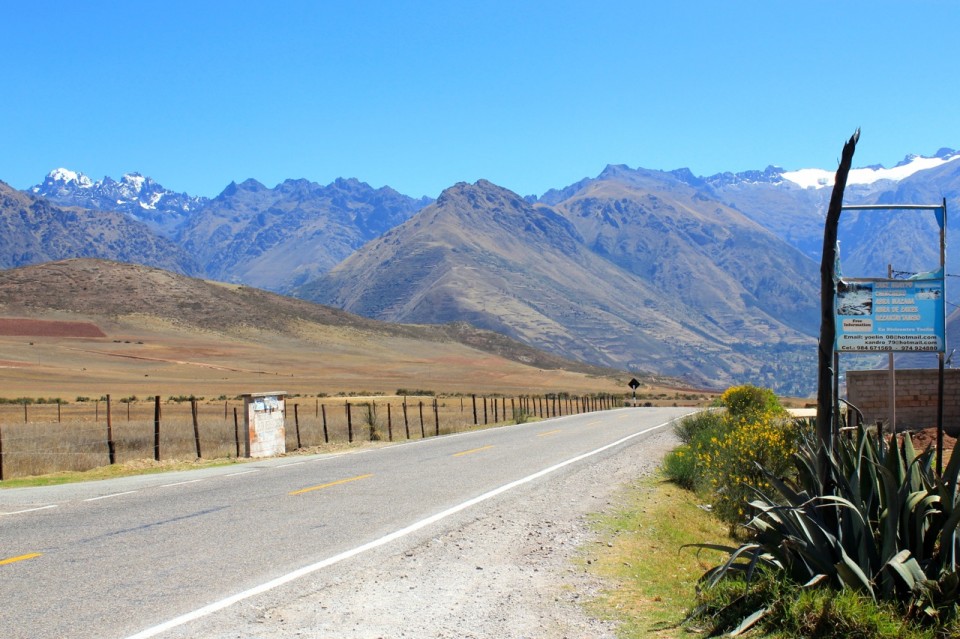 Ollantaytambo is a cute little town made in stone. Masses of tourists pass every day because there is the last station of the train that leads to Aguas Caliente (aka Machu Picchu village) from where you star climbing to Machu Picchu. You can also get in the train in Cusco but it would cost you twice the price you pay for the ticket from Ollantaytambo – which is around 70 bucks. One way. That makes this relation one of the most expensive ones in the world, especially when you take into consideration that the distance from one place to another is around 30 kilometers.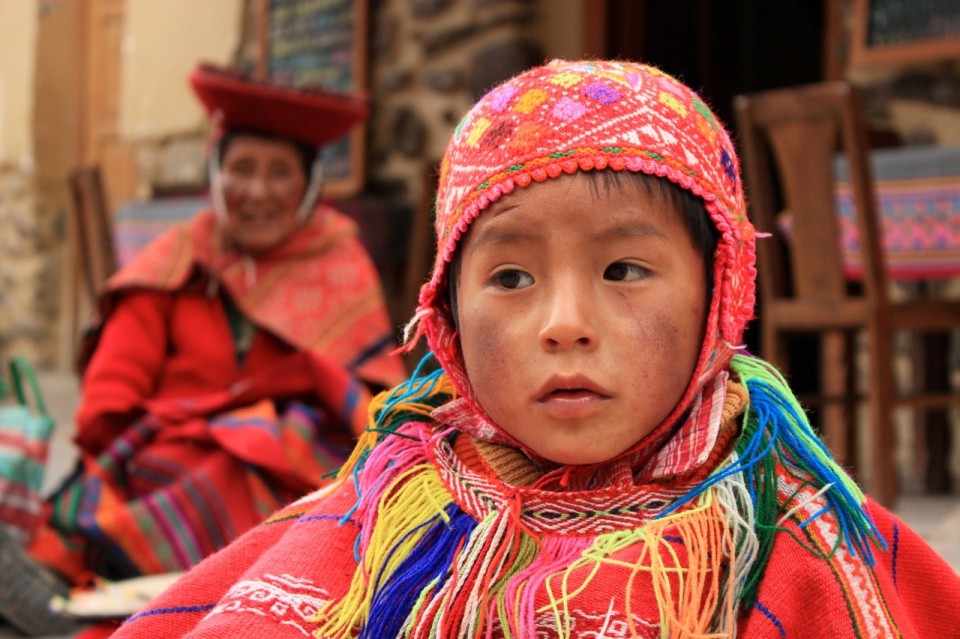 Besides being a regular stop for all those headed for Machu Picchu, in the very town you can find a lot of ancient ruins from the era of the Incas: terraces, mines, ancient walls and things like that. It was definitely worth visiting if you have time, of course. We, unfortunately, didn't have it.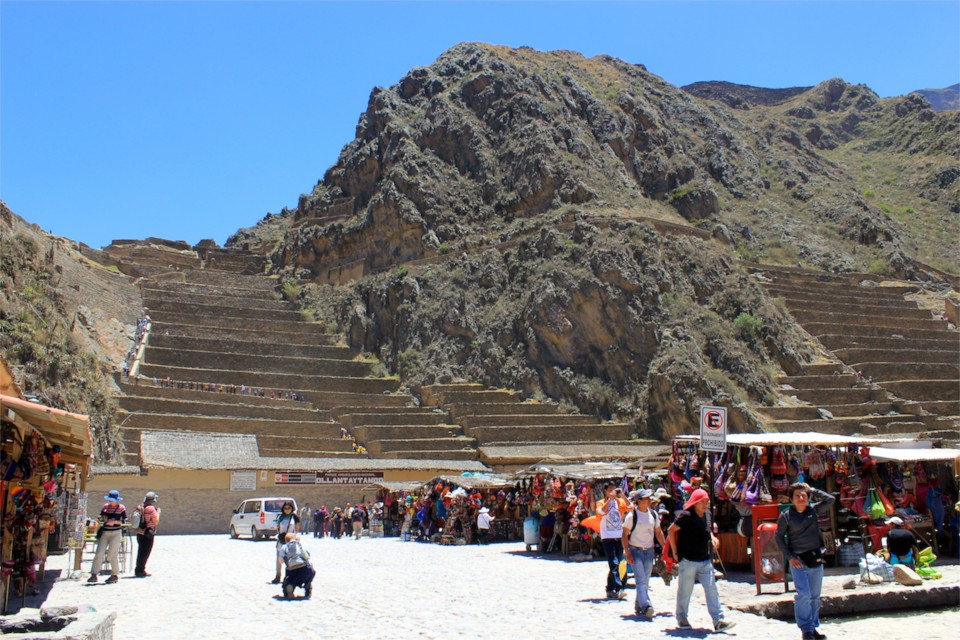 Our plan was to get to Aguas Caliente by foot, even though we didn't find anyone online who had tried to do the same thing and despite the fact that the lady who worked in the tourist office scared us with stories of the security people that will chase us away and that they wouldn't allow us to walk on the train-tracks, which was the only way we could go if we were to do what we planned to.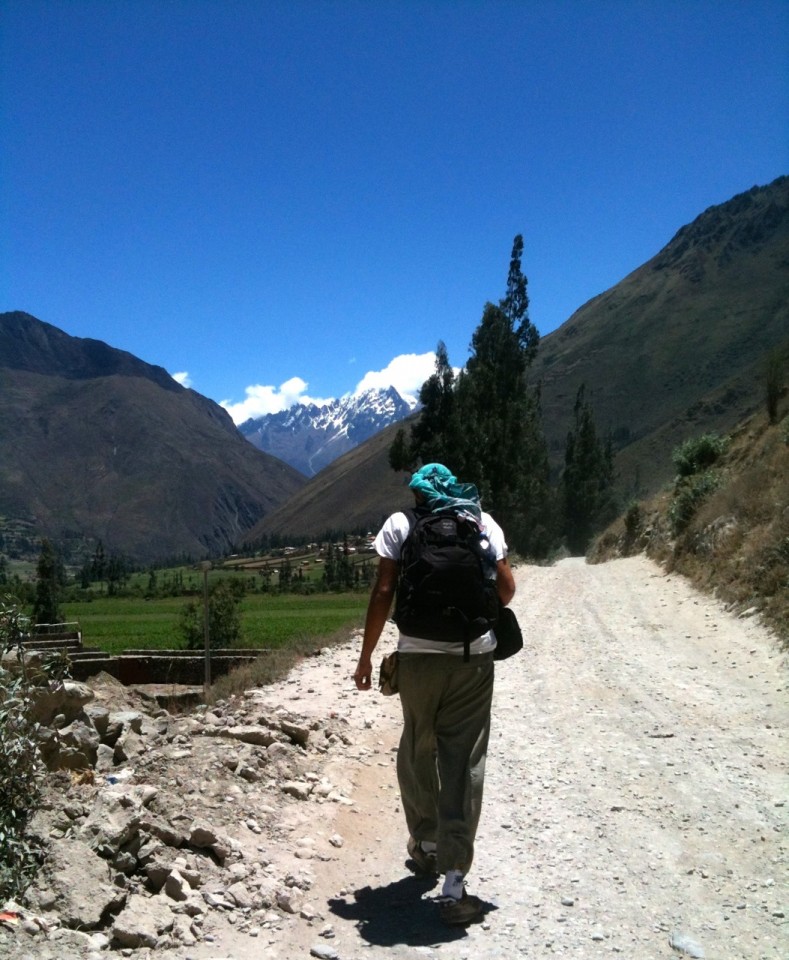 We hitchhiked a van going to Piscacucho, the last place next to the rail-line accessible by a road. It was located at the kilometer number 82 and, according to the information we'd been given, we had another 32 kilometers to Aguas Caliente which was at the 114th kilometer mark.
Kilometer No 82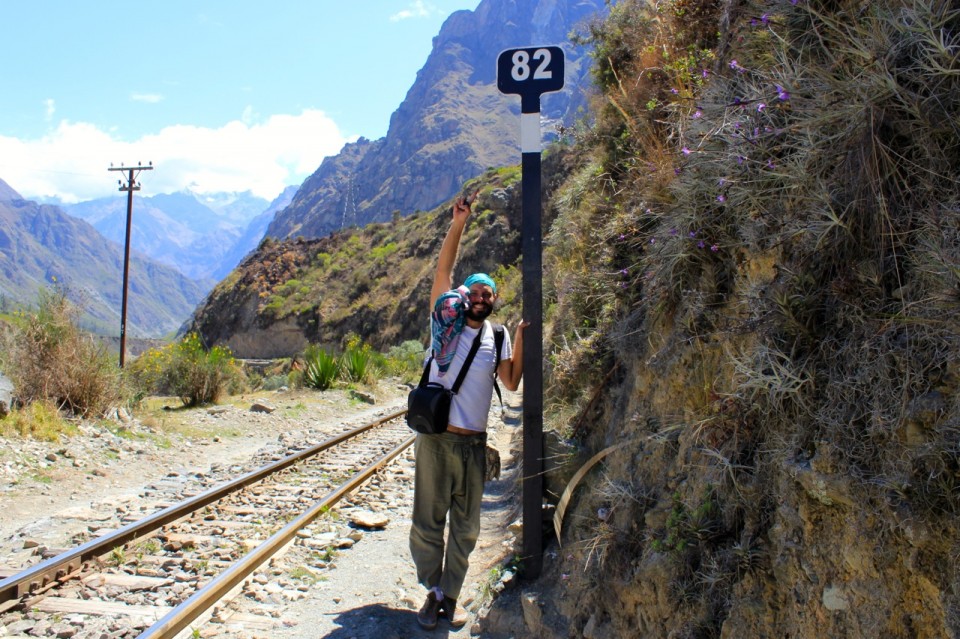 There, next to the end of road, was the beginning of the famous Inca trail, which was a path undertaken to get to Machu Picchu by foot in 3 or 4 days. However, you had to be prepared physically for such a mission and you had to be very organized: since the number of the visitors was restricted you have to make all the necessary reservations a few months before and the minimal cost was 500 dollars.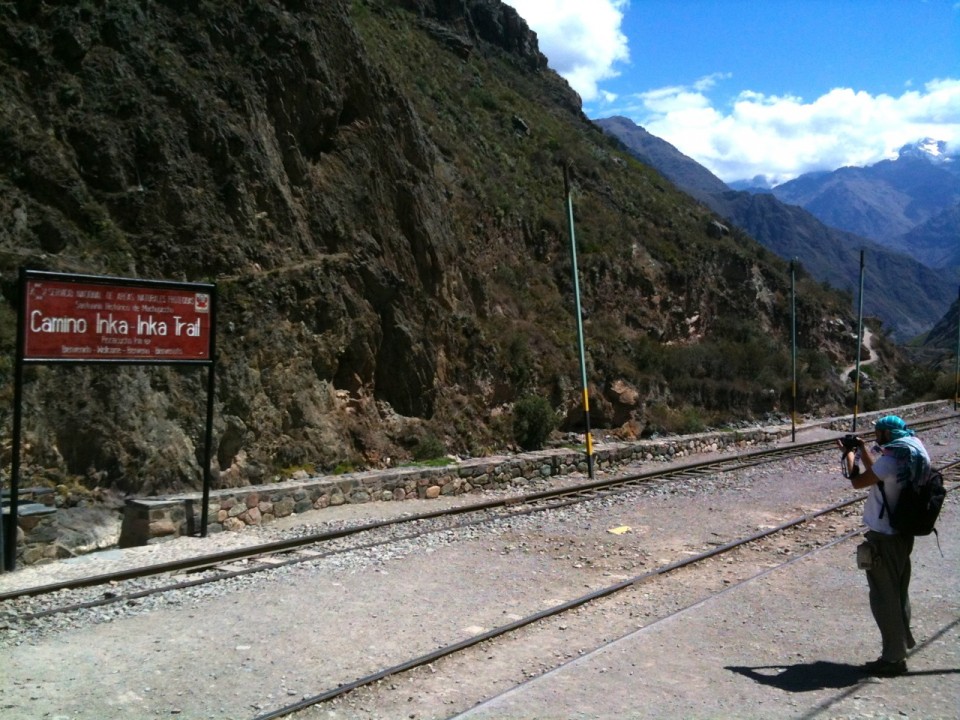 We were slowly walking on or by the railroad track while making a short break every twenty minutes when we heard a train approaching. We also tried to hitchhike a train, but it didn't work. We carefully passed through the first tunnel, at a constant look-out not to find ourselves facing a train in the middle of a dark and narrow tunnel. There was a small and strange railroad vehicle that passed next to us, but we didn't even notice it, let alone try our luck and try to stop it.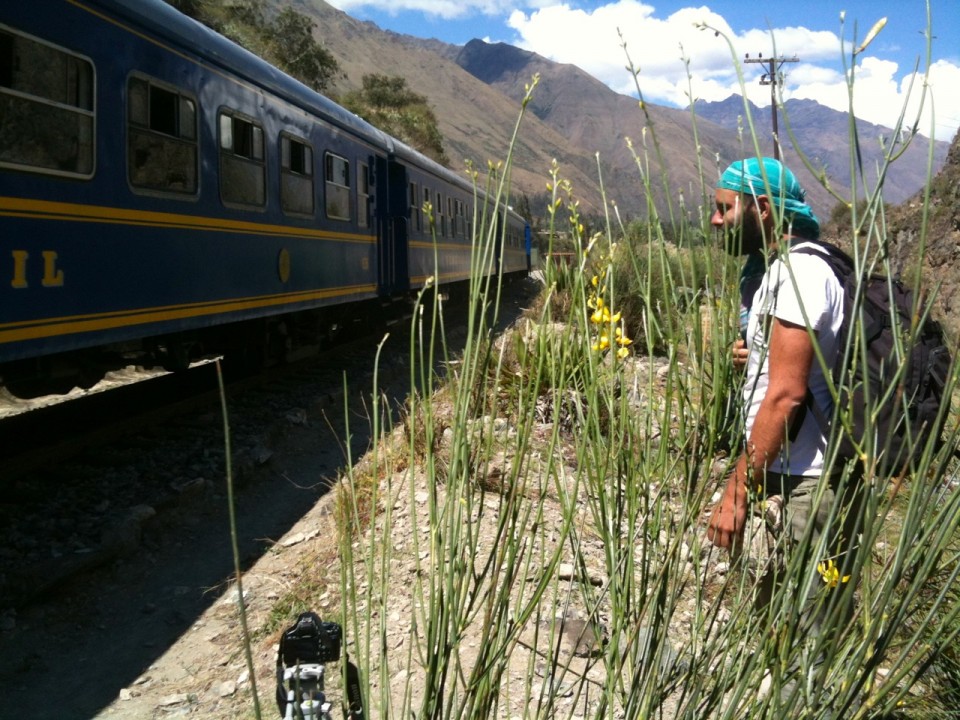 The nature was magnificent. A big and fast river was running on our left, we saw a number of donkeys and horses while they were pasturing and the tops of the mountains in the distance. The peace of the nature, far away from the noise of the big cities.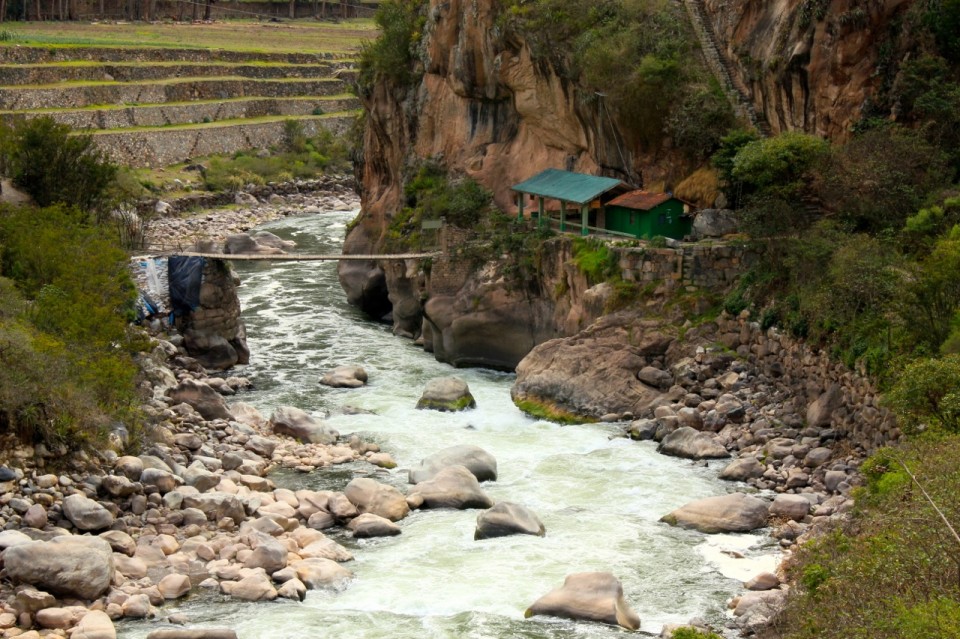 Kilometer no 88
After an hour of walking we took a lunch break. We met a local teacher who wasn't very optimistic about the continuation of our little adventure.
You've started your journey too late – we could sense the worry in her voice – you do not have either a camping equipment or a lamp that would help you to walk through the dark.
We know, we know – we said – but we're planning to spend the night at some people we encounter on our way.
I think that will be an impossible mission – she continued pessimistically – people in this area aren't that nice to the strangers. Also, a lot of people died while walking on the railroad in the night: it's pitch dark, there is a lot of tunnels and a lot of caved-in parts of the rocks and stuff like that. Listen to me, get back to Ollantaytambo or at least to Piscacucho, spend the night there and start your journey in the dawn in order to get to your destination before the dark.
Thank you for your advice – we said with a polite smile, and said goodbye to her.
She did shake our self-confidence a bit, but she didn't crush it. We were convinced that we would find a place to spend the night on our way to the destination. After all, we were accustomed to the Peruvian hospitality we'd witnessed for the past few months.
We got up and moved on.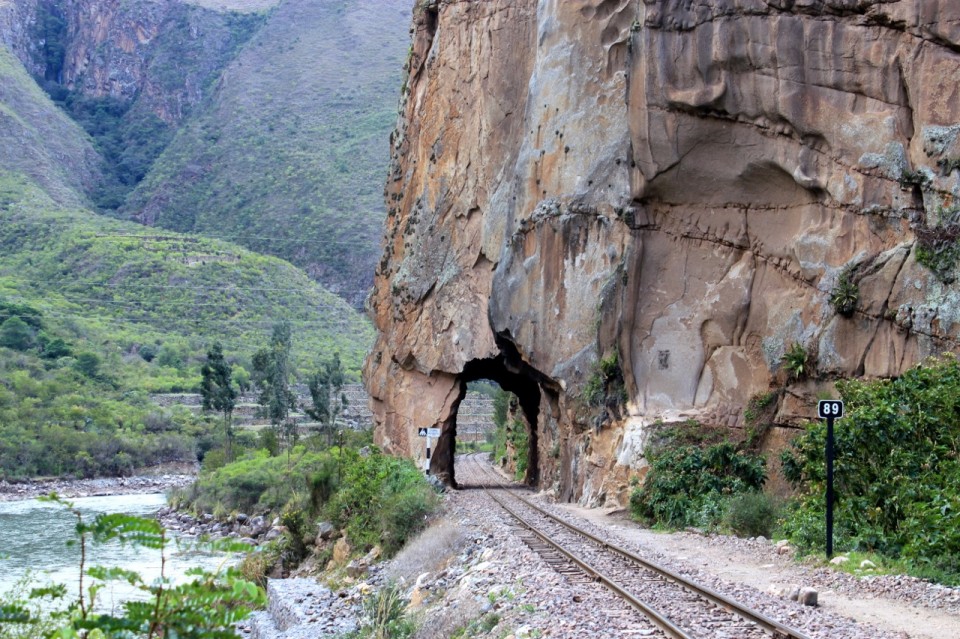 Kilometer no 90
We met two groups of people who were on their way back and who did nothing less than bum us out even more. They seemed very surprised at seeing how disorganized we were since we didn't have any camping equipment, not even a single torch-light. They didn't have a single nice word to say about the people who lived by the road: they wouldn't even give them a glass of water when they asked them for some. Also, they ran into some dangerous dogs along the way and advised us to arm ourselves with rocks to defend ourselves.
At that moment we'd spent at least two hours walking. We had to walk at least another five hours to our destination, and the sun was to set down in three hours.
What we were going to do?
Kilometers no 91-94
We did see a couple of houses very distant one from each other. We got closer to them and tried to talk to the people who lived there. Some of them simply said no while a bunch of dogs were barking at us (luckily, they were inside a fence), while the others were nowhere to be found. We kept on searching. We could feel the hope to find a place to crash was slowly, but surely, beginning to abandon us. It was already too late to go back: it was getting darker and darker.
We came to a house on a beautiful estate. There was a small spring, ducks, a garden, and greenery all around us. We yelled, we shouted but, apparently, there was no one. We decided to get inside and snoop around a bit.
Hola! – we said the word after we made a few steps walking very carefully – Buenos dias!
We passed next to the stable and behind the corner we saw two women as they were plucking the chickens. They didn't notice us, however, the dogs that were right next to them did. They notice us and jumped up very quickly and were getting closer, all six of them, barking their hearts out.
It only took them a few second to come to us and we were scared like hell. Even though our guts were telling us to turn around as quickly as possible and started running, our common sense was suggesting that we stayed right there where we were, not moving a single inch backwards and not giving the slightest hint that we may be scared: if the dogs had sensed our fear they would've instantly attacked us.
The women finally noticed us and, without getting up, with half-plucked chickens in their hands, started to gesticulate something very rude to us saying something that we couldn't understand given the deafening noise that the dogs were producing. We could already spot that they were foaming at their mouth: they were obviously very frustrated that there were some strangers in their yard. The strangers, on the other hand, were scared by the dogs and, trying very desperately not to make them aware of that, looked at each other and slowly walked out of the yard and closed the fence behind them.
We're not doing this anymore – we said to each other, wiping the beans of sweat from our forehead.
What are we going to do now? – we asked ourselves.
Our options weren't very great. We could've tried at another house, in case we'd run into another house, but after that close encounter with the dogs that were in front of every house we didn't feel live taking a chance. Also, we could've returned following the same path that had brought us there but it would've taken us at least three hours to get back. The sun was going to set down in two hours. We could've spent the night out in the open but we didn't have the camping equipment.
So, our last option was to continue for another twenty kilometers and during the last ten kilometers the night would caught up on us. We couldn't even count on the moon since it would only show itself after midnight. We had two mobile phones, our batteries were low, and our torch lights were nearly dead.
Let's hurry up and try to do as many kilometers as possible before it gets dark and then we'll take it slowly  – I said after a few minutes of thinking about it – we have no other choice.
Ok – Maria agreed but I could tell that she was feeling down.
I didn't even want to think if she could tell how down I was by the expression on my face.
We set our pace at the maximum speed possible given the fact that we were walking over rocks and all kinds of obstacles every hundred meters.
Kilometer no 96
We were approaching another house. We couldn't actually see it, but we knew it was there as soon as we heard the barking of the dogs that were guarding it. We armed ourselves with some rocks. We passed by them without having any problems but they did come closer to us snarling and barking at us.
What will happen with the dogs when the night comes? – Maria asked me walking a few meters behind me.
I didn't say anything. I kept asking myself the same question.
Kilometer no 98
We were half way there. We managed to do sixteen kilometers in four hours from the total of thirty two kilometers. That fact bummed us out even more.
Kilometer no 99
The dogs were barking again. We'd never seen dogs as mad as those especially in an atmosphere of despair and desolation as we found ourselves into. We were holding as many rocks as we could in our hands. We were afraid of the dogs, we were afraid of the dark that was slowly, but surely, approaching. And above all, we were afraid of the combination of those two things.
Kilometer no 101
Our tempo was quite good so in an hour we did at least five or six kilometers. We didn't dare to look at our watches. The day was slowly fading away. We could hear the dogs barking, but they were on the other bank of the river.
Kilometer no 102
That was it. The night was there. We clinged one to each other, took our mobile phones only to feel disappointed by the lights they emitted. We went on, step by step.
Another train passed by.
The trail was awful: we couldn't see more than two meters in front of us; there were bunch of holes we had to jump over and we had to cross over a bridge treading carefully on the worn railroad tracks. The forest surrounding us was so thick that, in one moment, we found ourselves in a tunnel without even noticing it. The sheer luck saved us from bumping into a train.
A bunch of dogs was in front of us, once again – we even stopped counting them. Our spirits were down and the situation grew worse with every new bark we heard since the sounds they produced seemed even worse in the dark.
Hey! – Maria exclaimed – we have your laptop.
At first I didn't know what she was getting at, but then it hit me: the light of the screen of my laptop was much stronger than that of our mobile phones. Yes! It was an excellent idea! I wanted to hug her and kiss her, but we didn't have time for that.
I took my laptop, put away my phone, set the luminosity of the screen and we moved on.
I contemplated over our situation. The two naive fools had started a journey of 32 kilometers following a path that didn't actually exist, next to a railroad. Although they knew that it would take them seven or eight hours to get to their destination they started walking only after noon. Although they knew there was no "official" place to spend the night they didn't bring any sleeping bags or camping equipment: they were convinced that the luck would be on their side and that they would witness the Peruvian hospitality. And, finally, they barely managed to stay alive given the number of aggressive dogs they encountered on their way. It was getting darker. They didn't even have a torch light to help them see in the dark.
So, there they were, more than ten kilometers until their destination with the laptop in their free hand while the other hand was occupied with the stones intended for the dogs in case the came after them.
Great.
Kilometer no 104
More dogs. Where were they coming from, for God's sake?
Maria took the laptop, she was walking next to me. I was very attentive, ready to fight the dogs if necessary. The dogs were barking and snarling, they were very close, right after us. We only thought of moving forward.
We encouraged each other talking to each other, but it didn't help much. You could tell by our voices that we were exhausted, worried and depressed as never before.  The time was passing very slowly, and the kilometers we were passing even more slowly.
Kilometer no 105
We were tired. We were cold. My shoes were disturbing me. By the sound of Maria's I assumed she was limping, but she didn't want to say anything so I wouldn't get more worried. I didn't dare to ask her anything not to make the whole situation worse.
Look, there's  some kind of a light behind that turn! – I said to her excitingly and a slight sight of hope was born. In the dark a light was always a good sign.
Kilometer no 106
Our first impression was that we were in a village. Everything was illuminated and there was a lot of houses on our left. The only barrier that divided us from it was the big river. We reached the bridge and crossed it, but at the end there was a lock. We couldn't get further.
We noticed some people. They approached us.
Through the closed door we called the ones who were the closest to us and explained to them our situation. I asked them where we were. We were informed that it was some kind of a hydro-electric plant and that was inhabited by the workers that worked there: it wasn't possible to spend the night there. We didn't manage to soften them no matter how hard we tried, and one of us is a famous soap opera actress. You get the point.
At the end of the entire complex we bumped into the workers that were loading that weird vehicle on the railroad we'd noticed when we started walking. We knew that was our last chance. We approached them and asked if they were going to Aguas Caliente. They were. Could they, POR FAVOR, take us with them? No. We told them that we didn't have any torch light, that we were exhausted and scared of the dogs… the chief said no because it was forbidden.
Our hope was killed once again so we moved on.
I don't think this guy has ever walked by night here. If he did, he'd know the situation we're in and would give a ride without hesitation.
I didn't even manage to finish my sentence when we heard the sound of the engine getting started and the little thing started moving in our direction. We stopped, out down our laptop and with our heads bowed down we waited for them to pass us by. They were slowing down. They were stopping.
Get in! – the engine-man told us.
All the stress we'd been through for the past few hours was quickly forgotten. A giant relief. We were the happiest people in the world. The happiest!
Not being able to believe, holding our hands, we observed the easiness with which we were gliding down the railroad. The light of the engine was lighting up the worn railroad we tripped over so many times and which inspired us for many curses. And now they were behind us in a blink of an eye.
Kilometer no 107
Kilometer no 108
Woof! Woof! – the biggest dog we'd seen was running and barking next to us. If we'd been on foot it would be our greatest test.
Kilometer no 109
We noticed the lights in the distance.
Kilometer no 110
The vehicle was stopping. The driver murmured us to get off and we didn't know what was going on. We expected that we would stop when we reach the kilometer no 114. Taking our backpacks we asked him where we were and he said: Aguas Caliente. We got off, thanked him once again, said good bye after which the vehicle disappeared in the darkness.
We were finally there!