Writes: Maria Kobic
Dinner went better than we expected. And not only because we will take care of villa with a swimming pool – it was one of those dinners that charge you with energy and new ideas. Bunch of laughter, philosophy, and great NZ Pinot Noir.
We made new friends. I didn't matter that they were double our age. Michael and Kaye, who behaved like we were their kids, and introduced us to John and Suzanne, their friends since their arrival in Queenstown.
That was actually one of the dinner topics – nobody is born and raised in Queenstown, you choose to come and live here. Town where bungee jumping was born, world centre for extreme sports. Season is all year round, with accent on winter when the mountains are white and filled with skiers. It was the most visited and most expensive town in New Zealand.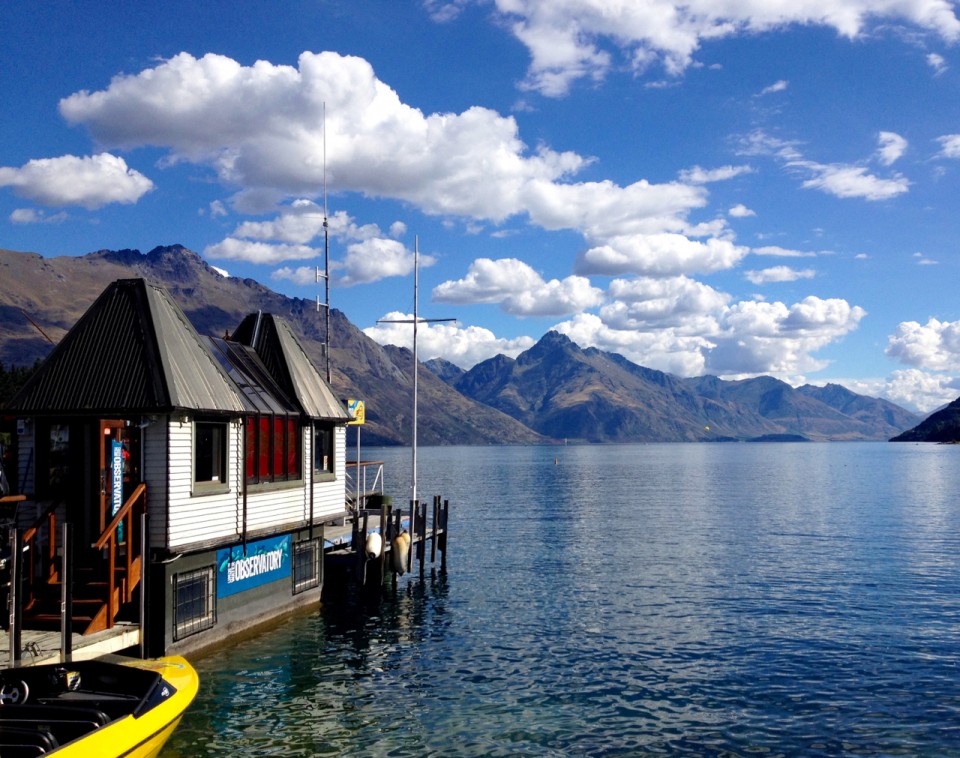 But sport activities are not the only reason people visit Queenstown. Beauty of entire Otago region is something that even we noticed, after so many traveled countries. Lake Wakatipu, third largest lake in NZ, and "Remarkables", big mountain chain around it, with the highest peak of 2319 meters..
The mountain got its name from early Queenstown settlers, when they saw the  mountain range during sunset. Coldness and dryness of air makes grey and rainy days rarity, so sunsets are almost everyday sensation. People of all races and nationalities come out with their cameras to steal those moments and memorise their beauty.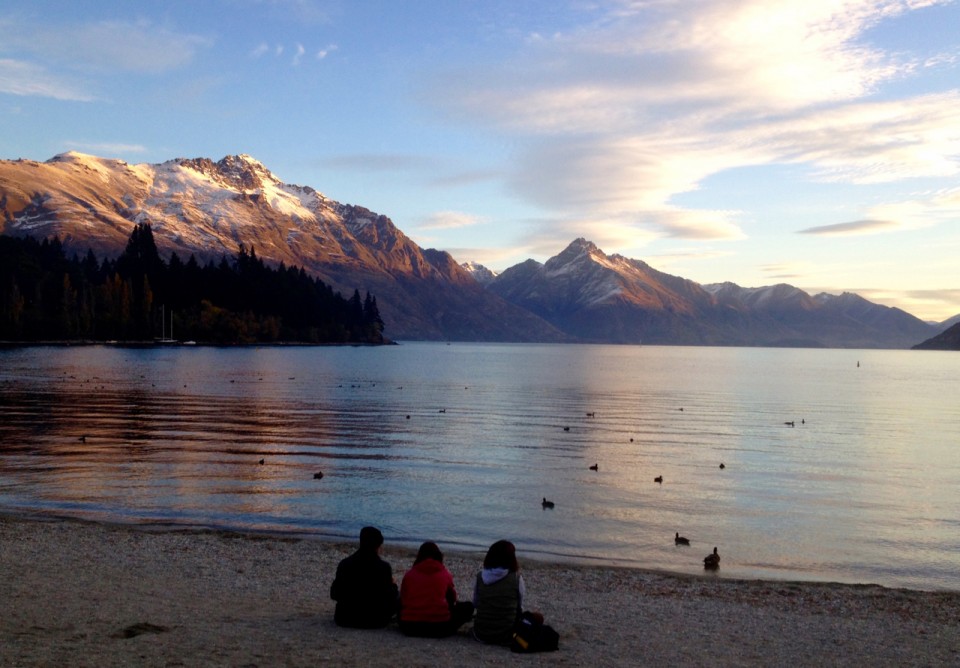 Sometimes, somewhere, travelling through our planet, Tomislav heard that Kiwis are the most hospitable people in the world. Kiwi is a funny night bird native to New Zealand, that doesn't fly. She didn't got its name by the fruit, but its cry that sounds like "kee-wee". Usually they have one life partner. Its a national symbol of NZ, and everybody who is born here is called a Kiwi.
New Zealand is a young country, it was founded only 150 years ago. It has 4,5 million inhabitants, and 70% of them are European descendant (British, Irish). Maori form around 15%, and the rest are Asian and people from nearby islands (Cook Islands, Fiji, Vanuatu). Maybe the reason of their hospitality lies there. Young country is like young people – unspoiled, eager for all, open to new, cheerful, positive, optimistic. No one has burden of years nor the distant past, with which most of the people all around the world are closely linked and ready to defend and protect at all costs. Here even the politics and religion do not play a major role in everyday life.
People travel around Europe to see old churches and castles. They visit the remains of the Inca and Maya in Central and South America. They go to Asia to admire the mosques and Hindu temples. In New Zealand nobody comes for these reasons, because there aren't such a things on offer. But there is something that is recognised by many as an invaluable – untouched, beautiful nature.  Spectacular glaciers, picturesque fjords, rugged mountain ranges, vast plains, small hills, crystal clear lakes, subtropical forest, volcanic plateaus and miles of coastline with beautiful sandy beaches.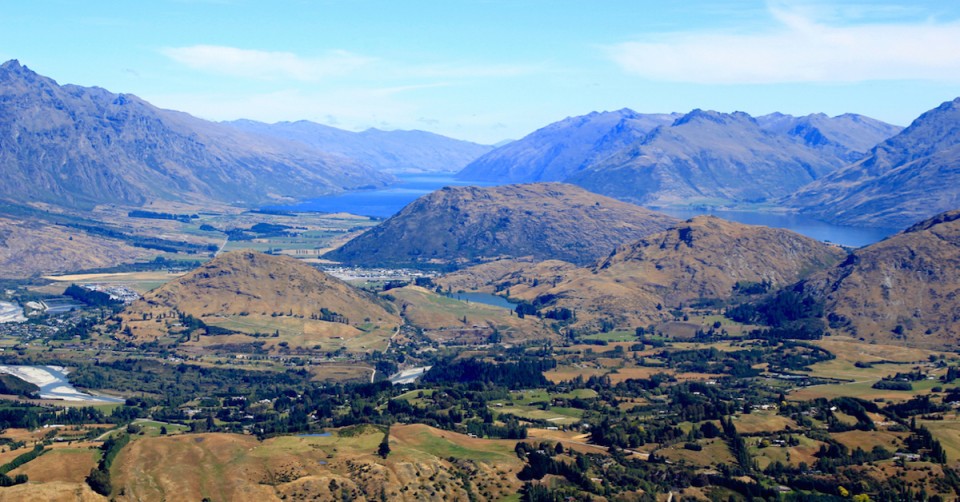 Kelvin Heights Peninsula became our new address. A couple of days at Kaye and Michael's were just a beautiful introduction. With their help we finally met the wishes of our mothers and tried different delicacies of New Zealand. Salmon, lamb, all sorts of cheeses, cherries primium classes (each has to be perfect, the same size and colour, and is exported to those who pay the most), and finally the most expensive ice cream ever. Patagonia. Our little dependence and one of the largest expenses in New Zealand – even $8 for two scoops. Now multiply it by two, and, God forbid, days of the week or month…and you go bankrupt.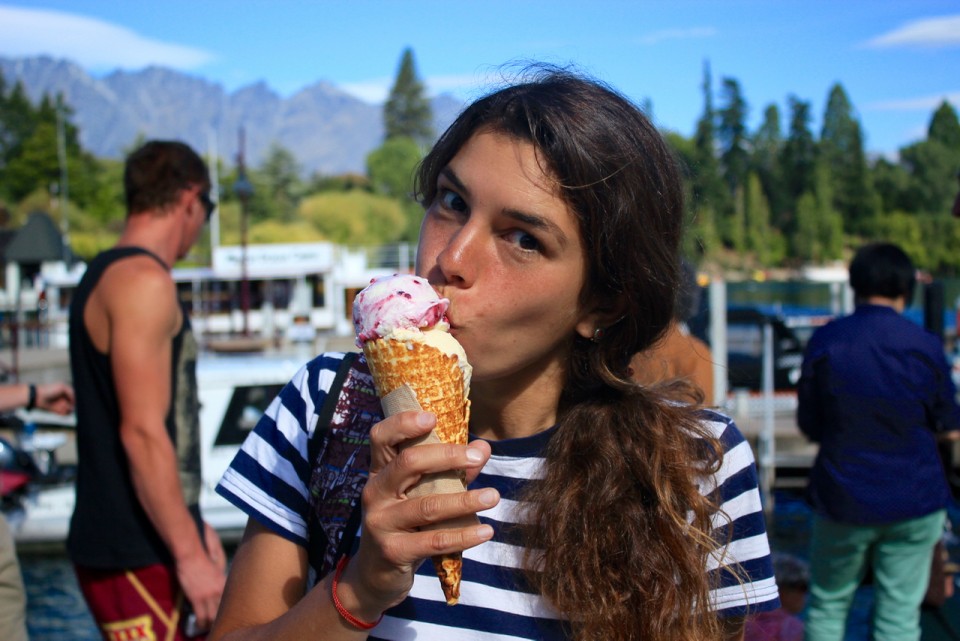 Soon, the Cricket World Cup began. Boring full day sport that tied the male part where they like to be – in sofas with beer and remote control. While they were thrown on the track of these tense and terribly important events, I managed to come up with a song that entertained me those days:
Cricket, football or tennis,
its all the same
While its being watched by someone
with a penis.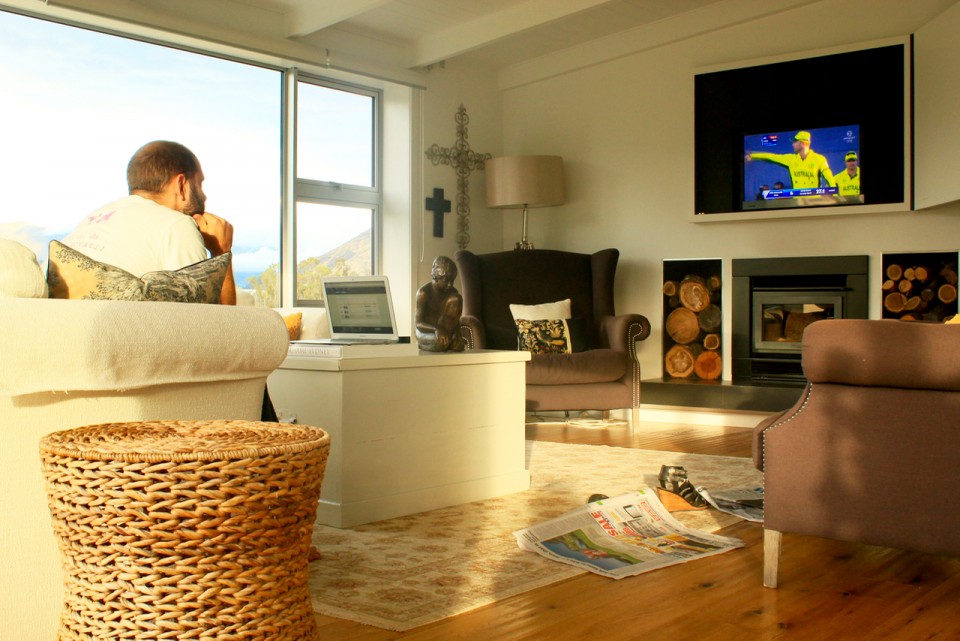 Going shopping with our dear Kaye we left the doors of the house unlocked.
– Are you aware of what part of the world you live in? I leave the lights on my bicycle in Zagreb and they get stolen, and you do not lock your homes full of valuable things. – She looked at me in amazement. Incomprehensible for both sides.
When we were at Miranda's we learned that there is no need for a key. Most of people have maids, gardeners, workers walking through the unlocked homes to do their duty.
March 21st came, a date that we most of our lives tied to the beginning of the favorite part of the year. Warmer and longer days, putting winter clothes in our closets, and returning of the life to the street. Here we were unfortunately witnessing the opposite – beginning of autumn. The days are noticeably shortening and the temperature slowly descended. The leaves were almost overnight painted in autumn colours, and the sky intensified its blue-ness.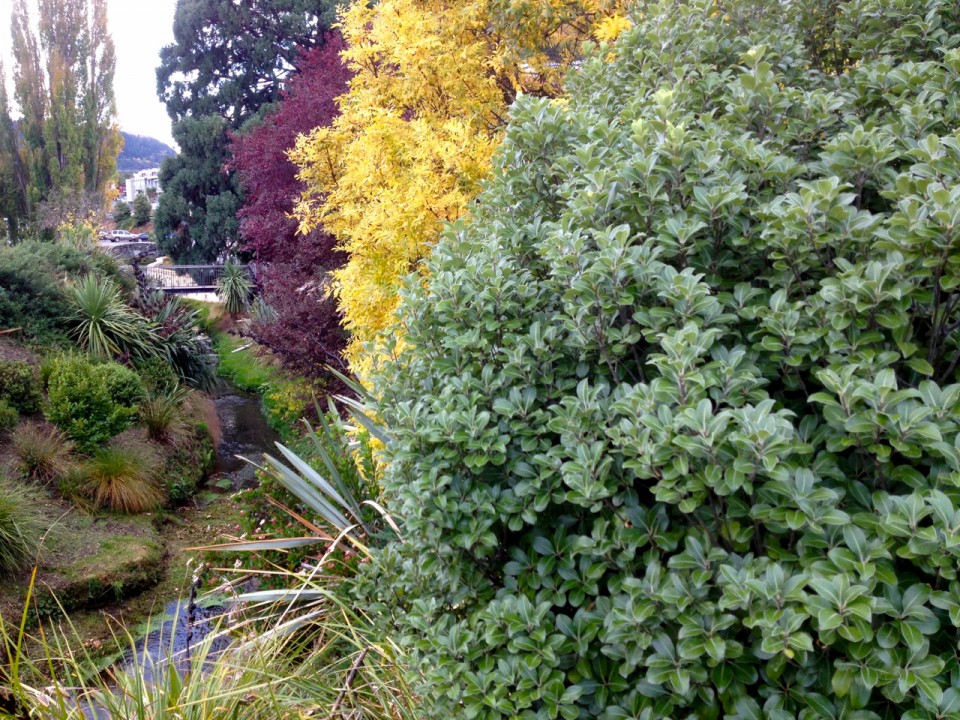 – You see that mountain in the distance? – Kaye asked us. – It is Coronet Peak. Next weekend you will go behind it. It will take you far away, in the middle of nowhere. You will need a tent, hot clothes and a bottle of wine. This is one of the best places to watch the stars. And remember, it is an honour is to be a volunteer at Motatapu race.
Mota (river) Tapu (sacred) is a river that runs through the valley of the same name between Lake Wanaka and the lake Wakatipu. In the past, this route was used for the transportation of food. Later, in the mid 19th century, during the Gold Rush, thousands of miners looked for gold in that same area. Recently they organize an annual 55-kilometer-long off-road race attended by thousands of participants from around the world. Mileage is not what makes it special, but the environment. Many ascents, crossing mountains and rivers. Some of the contestants walk, some cycle and some run.
We did not compete, but we had only slightly easier job – along with hundreds of volunteers we were deployed to 4 checkpoints with water, energy drinks, medical, technical and moral support. The only thing that did not promise was weather – they were announcing the rain and low temperatures.
We arrived at our position a day earlier. Station number two, located somewhere on the 27th kilometer of the route. While we were driving at a speed of barely 10 km/h in an SUV, we went through crazy beautiful areas. The power of nature was at its peak. These are the moments when one feels how small and unimportant we actually are. Moments when we understand that most concerns we have are imaginary and irrelevant to this world. Everything will be the same after you, as it was before you.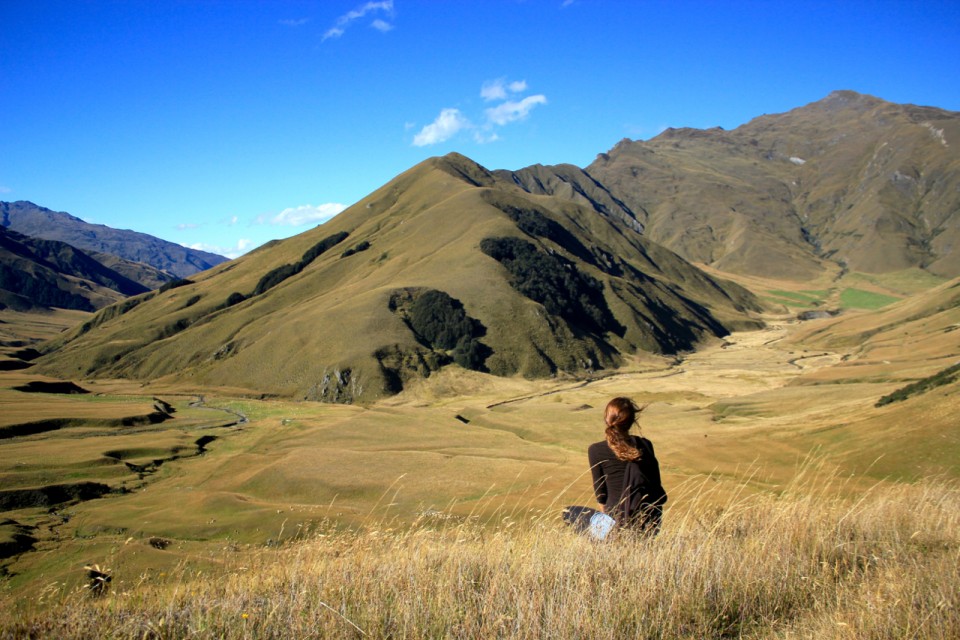 The day was beautiful. And the night also, with a full moon. Too bad – it took away the shine of the stars.
Morning came while it was still dark. Far from the reception for mobile phones, walkie-talkies were the only means of communication with the organizers and other volunteers. We got a call, the race began.
All this time we encouraged more than 4,500 participants, gave water and energy drinks to these jaded and frozen human creatures, and I wondered – why? Why did they do it? Rain, wind, ice. What is it about people that are looking for such an experience? Was someone forcing them to do it? No one, except themselves. No one except the desire to feel alive, to breathe with full lungs. To get out of the comfort zone and explore their limits. And even more, that they move them. Because they do not exist.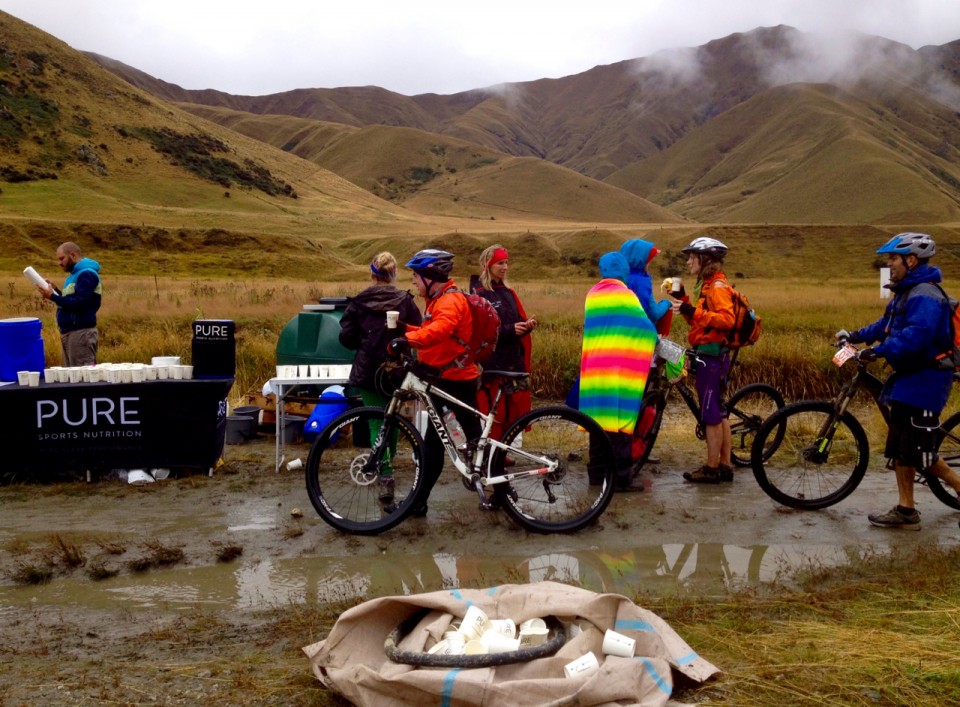 From Motatapu we came back to the most beautiful house we every stayed in.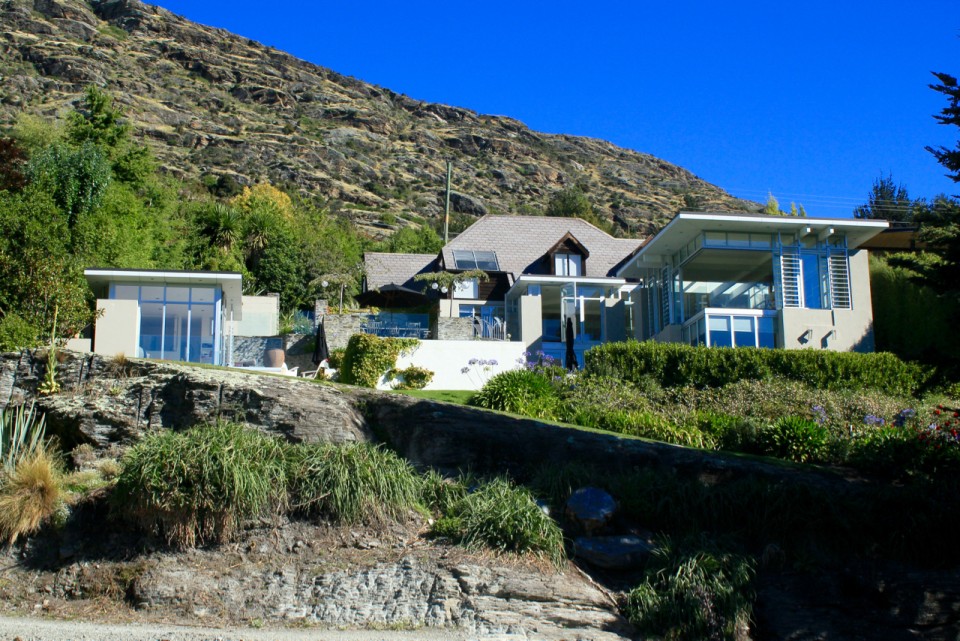 We opened a hot-tub cover, put temperature at 36 degrees and kept silent. We observed the lake and the mountains, while the air smelled of pine.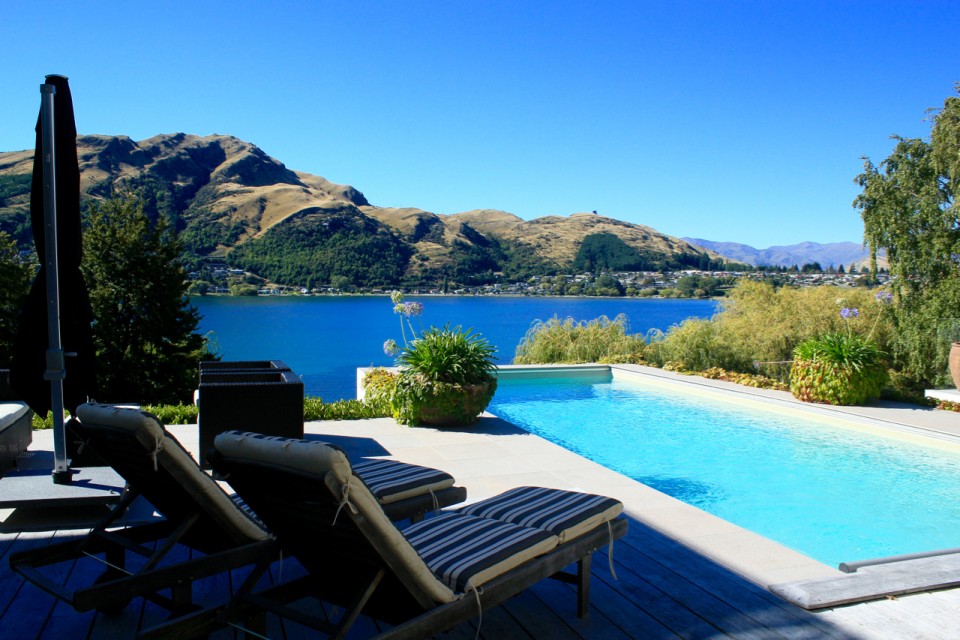 And now what?
Will New Zealand be a country where we will finally stay? Settle. Grow roots. We did not know. But there was so much that was inviting us. What was promising. Everything seemed settled and arranged in the right way. Nothing asked where you're from, or where you're going, it only asked whether it worked for you.
Time is relative. Especially when it nice, it goes by in an instant. So our month of easy life came to an end. It was replaced by well-known uncertainty – where next?
But not for long. A message came from our dear Kaye: "I found you a new house just a few kilometers down the road. The dog and two cats need love and attention while the owner and her daughter will travel through Vietnam."
Bingo.
New house, also too big and flashy for us, became our new home.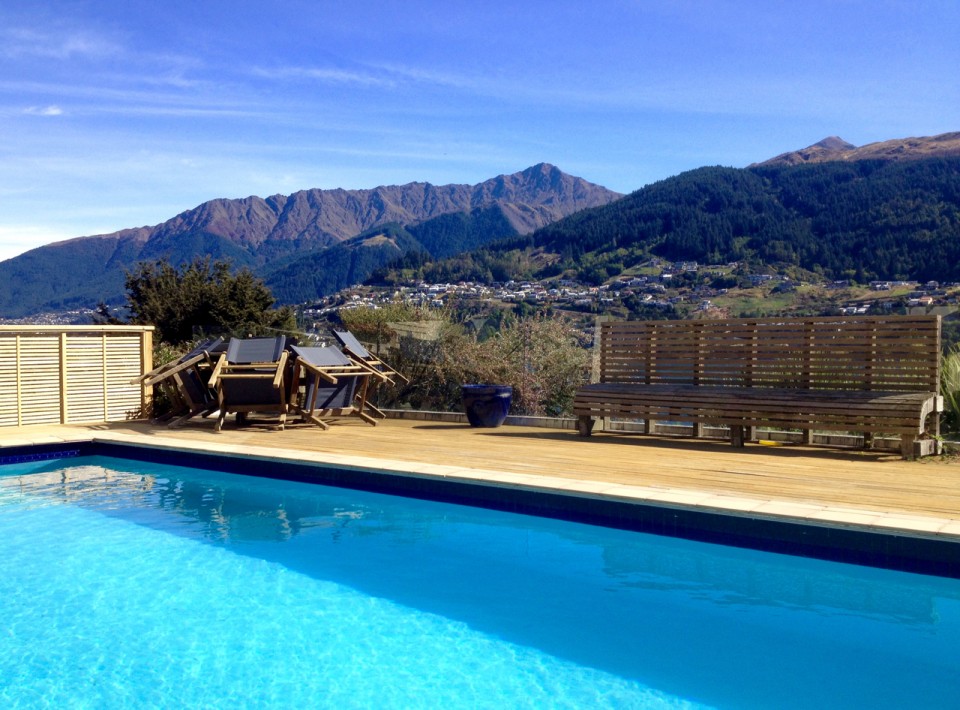 We carried our rags and immediately felt like home. We become experts in that. Changing cars, beds, kitchens it became our professions. The great thing is that in expensive countries like New Zealand things like home exchange and house sitting exist. It saved us a lot of money.
This time we were not alone, we had two cats and a dog to take care of. Never before have we spent so much time with the animals, nor had a chance to figure them out. The fact is that each animal is different. It has its own character, needs, habits, just like humans. Yet the dog remains a dog – playful, eager for attention, doesn't like loneliness and should be walked on a daily basis, and the cat stays cat – independent, loves to watch, sleep, and eat. Thus, our activities were interwoven with theirs, and the two of us had time revealing to reveal our canine and feline sides.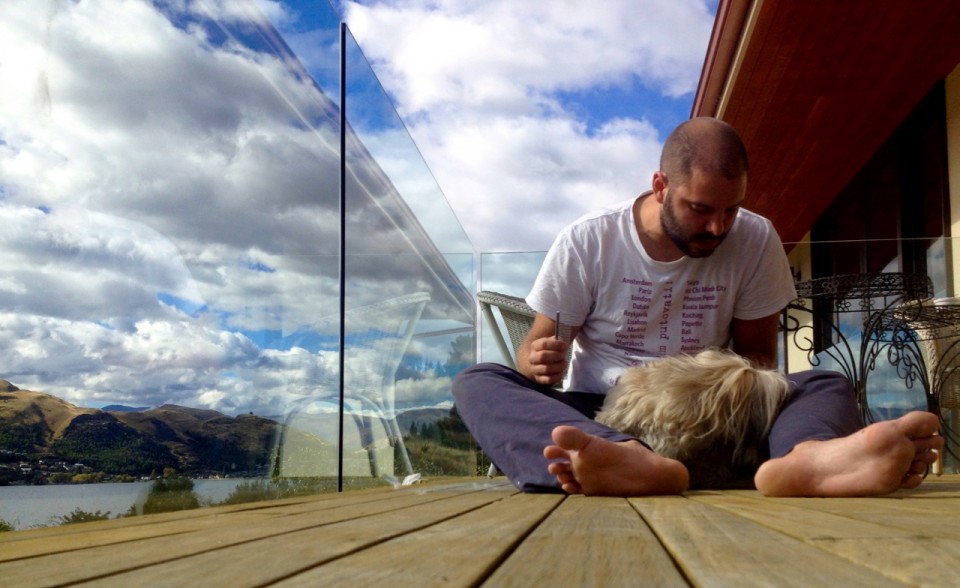 As far as work was concerned, Tomislav's story with HomeExchange was going great, and he showed good results. They offered him a contract extension, and rewarded with an invitation to their annual gathering – in France! As for me – my turn for employment was on hold. The downside of our wanderings was the inability to obtain a normal job. Although in Queenstown its easy to get a job, no one will hire you for a short period, and lying on the interviews about how long we intend to stay in the city was still not my strong side.
So I focused on writing, photography and video editing, creative things that always make me happy.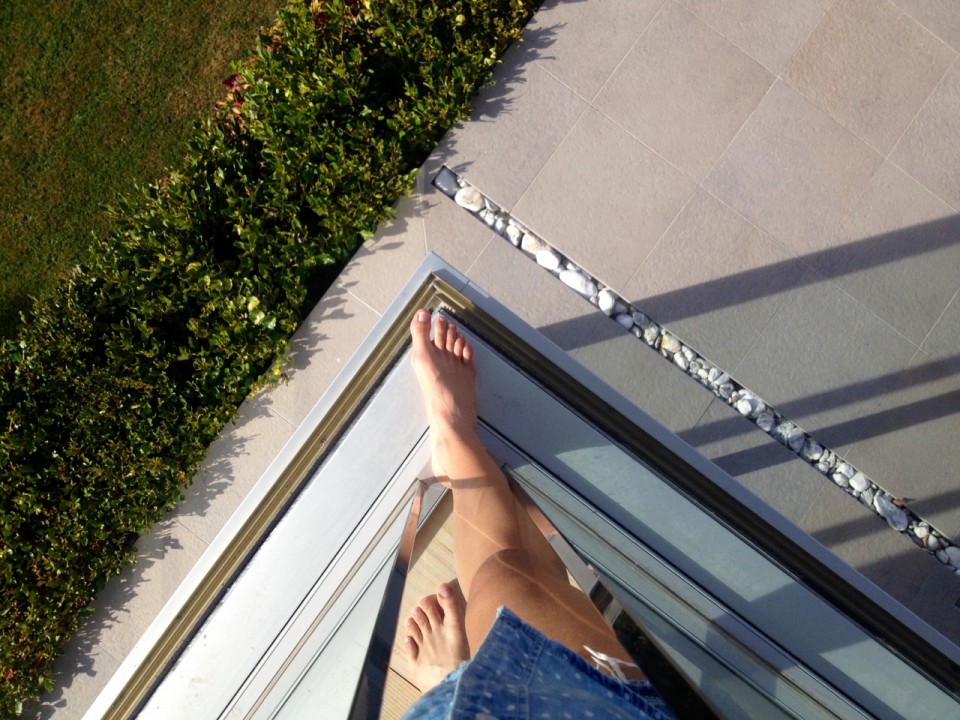 Early snow helped me with that, and gave the whole area a mystical touch.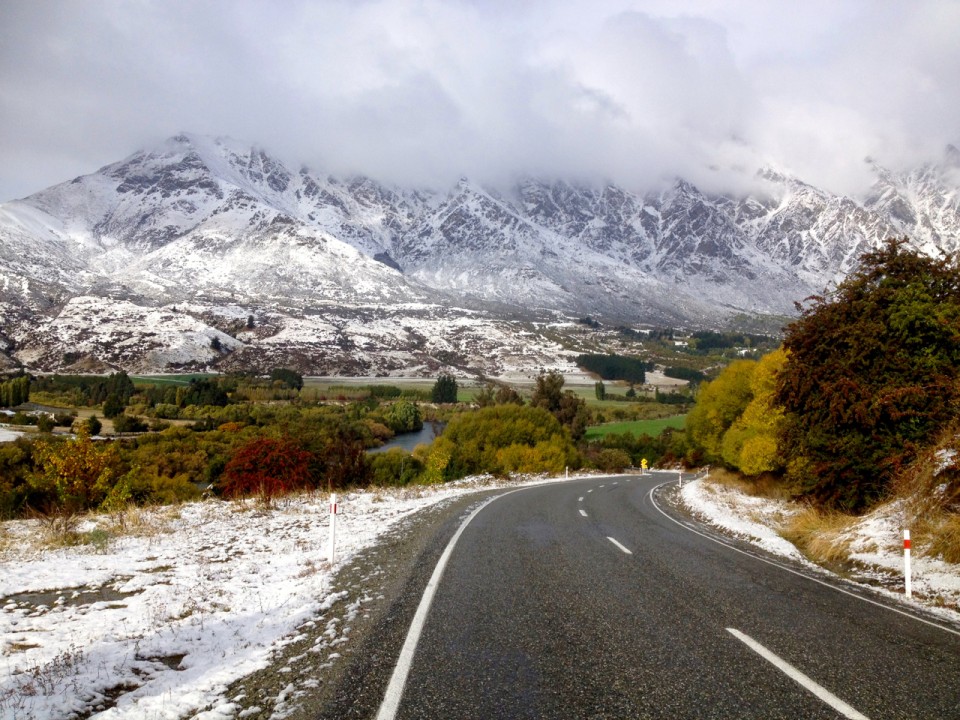 TEDx conference in Queenstown was approaching. This time our great speaker switched the sides and took part as one of the partners, representing his new company. Even though, the atmosphere was far from serious, as you can see.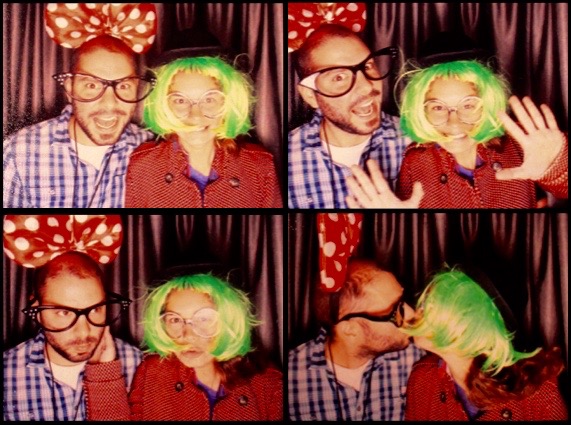 Not sure was it because of the photos or not, but the organisers honoured us with a trip to one of the top destinations in the world – Milford Sounds, national park on the south-west coast of the South Island. Since we didn't have time to tour the island, this was an opportunity that we decided not to miss.
Milford Sounds, according to some, the eighth wonder of the world, is actually the most famous fjord in New Zealand, and the only one who can be reached by road. Riding in buses to the destination and are not always fun, but this was the exception. Someone said that the scenery here just make you applaud of admiration – and that was not far from the truth.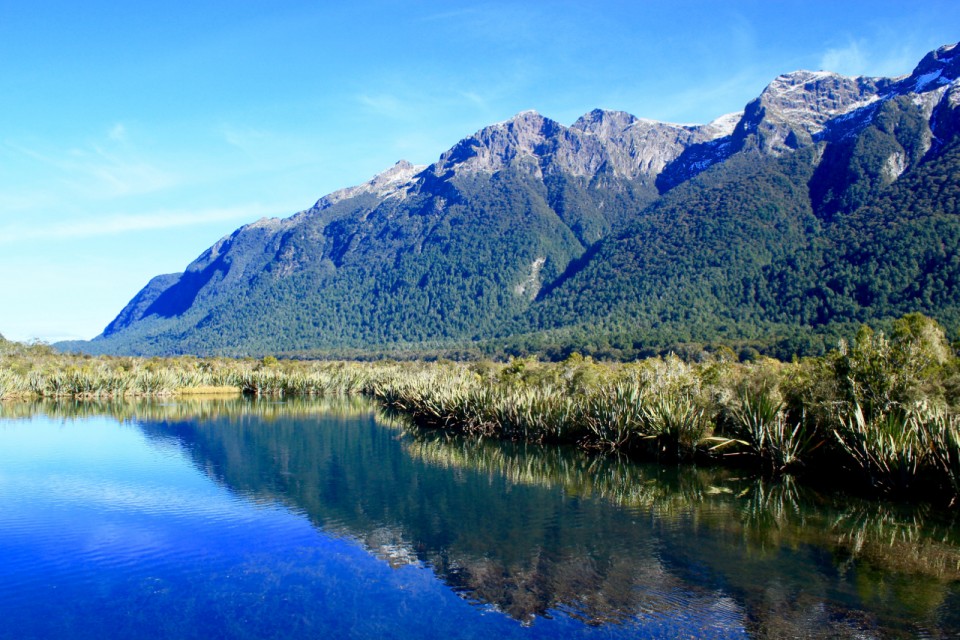 Upon arrival at the destination we moved to the boat, playing real tourists – we listened carefully to the guides, photographed designated places and enjoyed in our free day trip.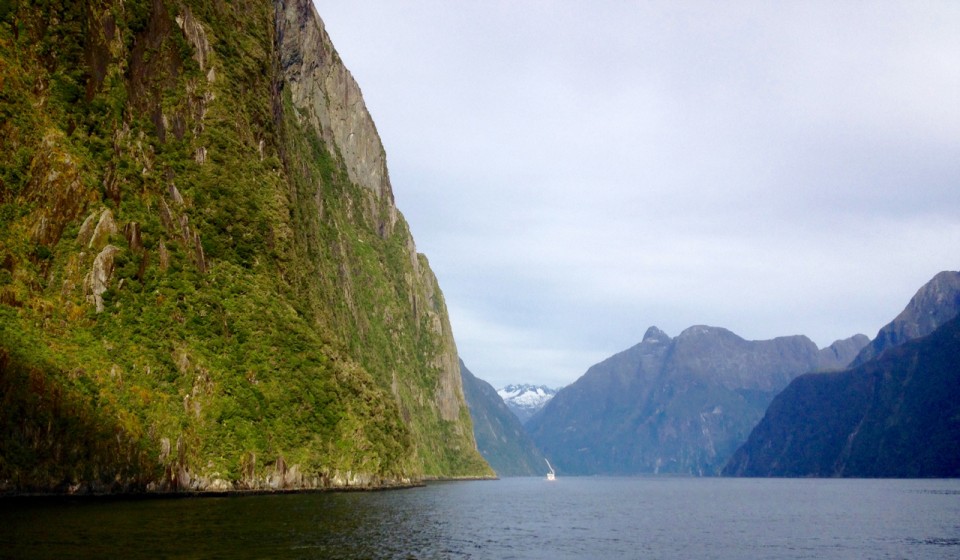 It was our last day on South Island. Tomorrow new adventure starts.
To the north, with a campervan!