It turned out that grandpa from the last story went, slowly and insecurely, towards Slavonski Brod, a city between Zagreb and my destination for the day – Belgrade. He left me on the only place I didn't want to stay, on the west exit of the city (cause almost all cars passing there are going towards west), so I saw that as a bad sign, turned around and got back to Zagreb. I don't need this; my home with warm bed and mom's worry is still there, waiting for me.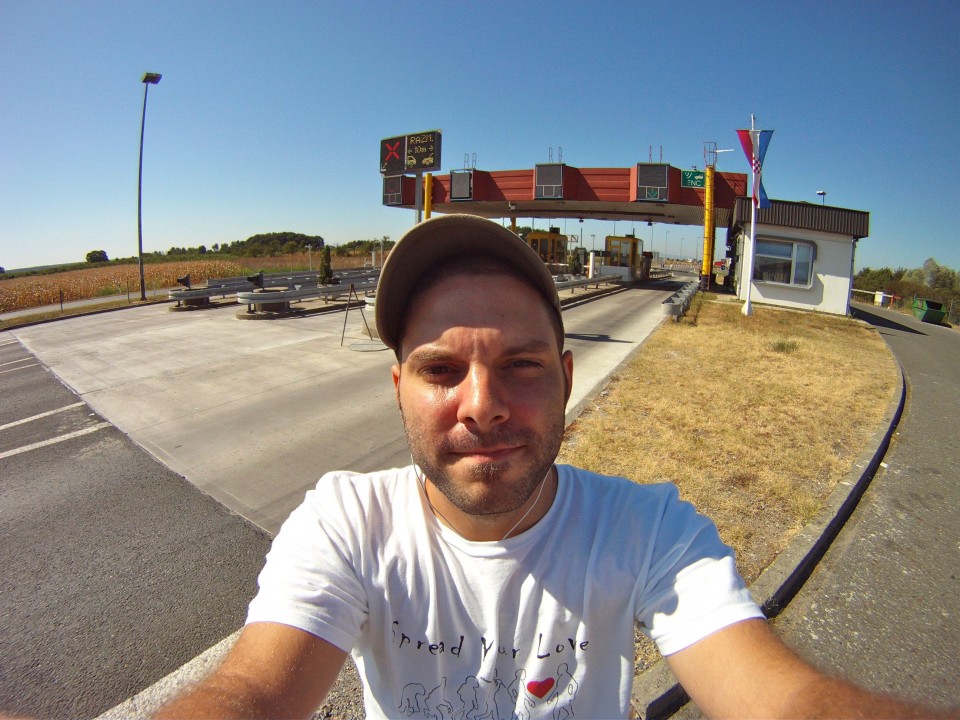 Nooo, I keeeed! But waiting there for two hours I had enough time to think about things. I needed that. With time, cars stopped and little by little, took me in the right direction. I drove with some war general, with an ex drug dealer that suggested me to cross the border on foot so I don't have problems, and with some other people – and eventually got to Belgrade. And there, familiar faces. Friend Marko that I met last year on hitchhiking race from Zagreb to Istanbul and some other people on CS meeting. Chilled-out start.
Tomorrow I went on a day trip to Novi Sad. Didn't take too long, plus I had my first ride ever in a convertible car.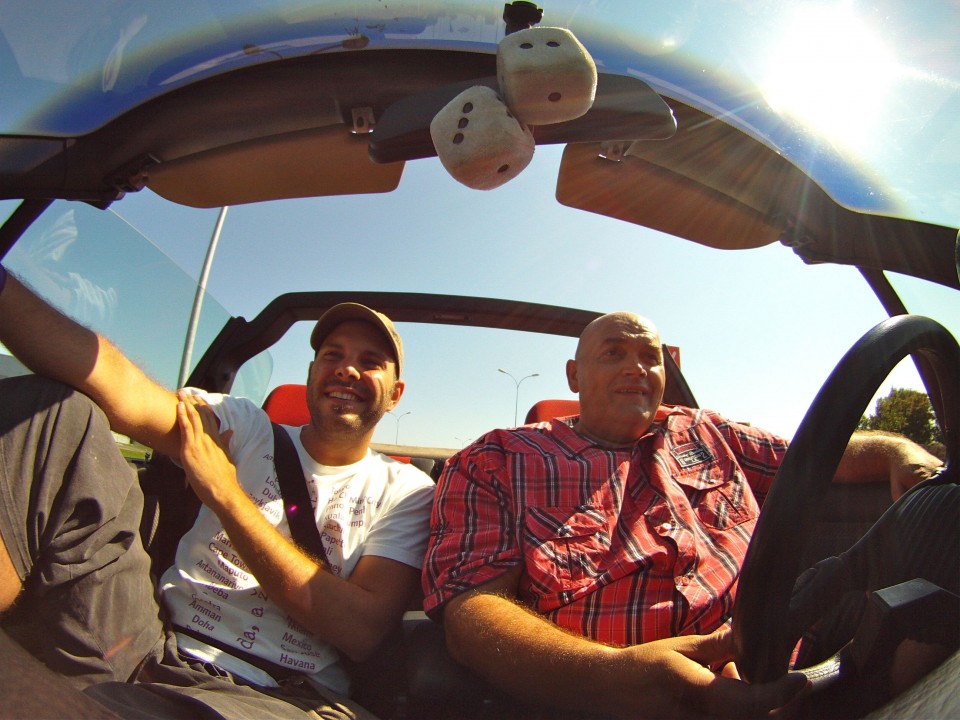 I exchange stories with my drivers, and the most popular topic is war – how unnecessary it was, how it fucked us all up. People lost their friends, on both sides, all in name of politics.
In Novi Sad I'm accompanied by my old friend Emanuela, which I met randomly few years ago on some beach in Croatia. She shows me her cute little city so I turn back toward Belgrade.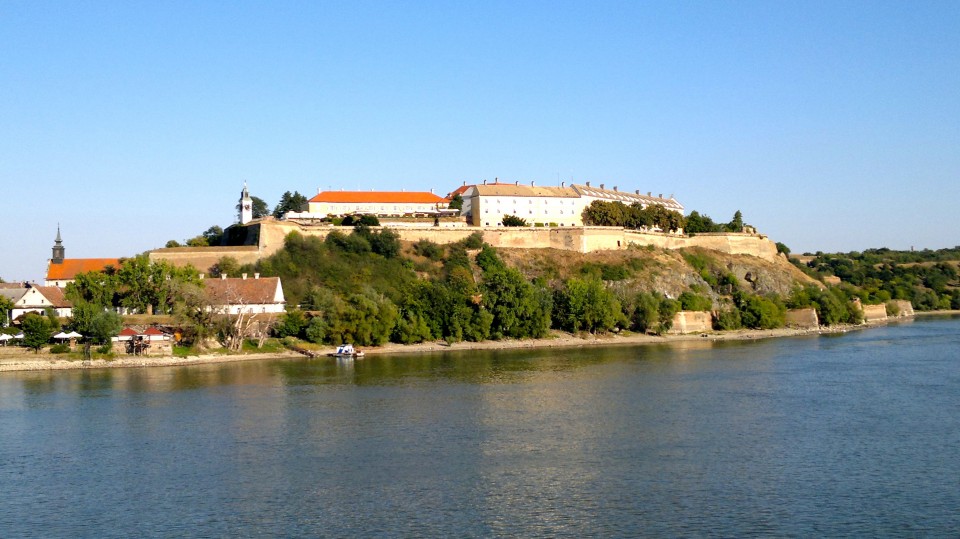 Standing beside the road, few meters away two girls in mini skirts. Trucks pick them up right away, but no one stops for me. And as I reach out to my backpack to pick up a paper and write down that I should get myself one of those mini skirts (my legs are no worse then theirs!), a car stops. Three people inside, they ask me do I know a way to Belgrade. I would say that I don't, but without that damn mini skirt and a little lie, I would be stuck here for a long time. So I say yes and jump inside. I mean, its a big city, what are the chances of missing it? And we found it, after some time! In Belgrade Miroslav is waiting for me, guy that will work on my logo and few other things for "1000 Days of Summer". It seems like Miro is changing my parents on the beginning of this trip so he takes really good care of me. I even had soup. Do you hear, mom?
Next day we hang around thinking about the logo, and in the meantime we talk about childhood stories. He tells me how he feels he lost the nineties because he, with a bunch of others, fought for justice and bringing down Milošević regime. Sanctions passed by, so did the bombings, and so did the nineties. At night I called my parents and talked with them on Skype. Its pretty easy to talk them into using new technologies. You just have to go on a 3-year-long trip and they are immediately Skype experts!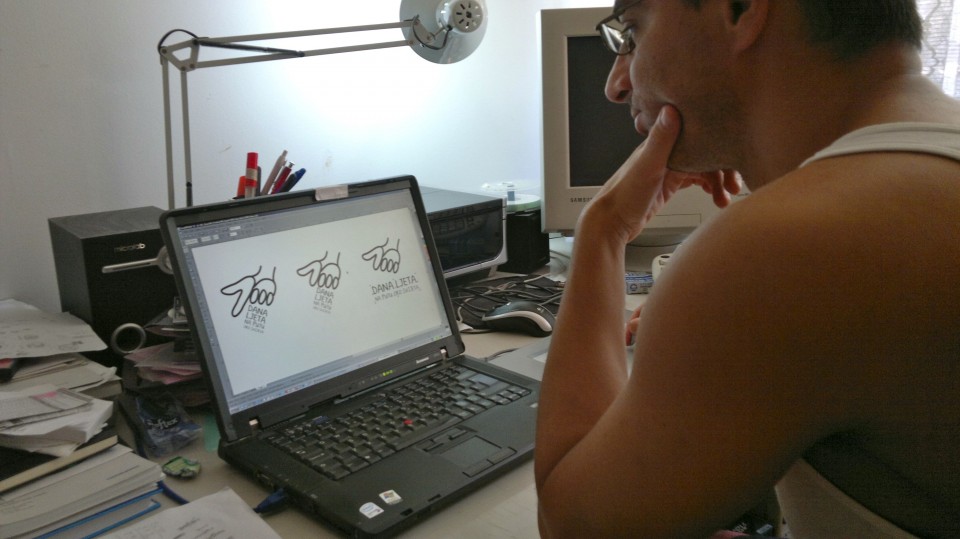 In Belgrade I decided to leave one T-shirt, socks and small towel. First of all, my backpack is too heavy (now I'm on 20kg, want to reach 17, but 15 would be just great). Second of all, if I get lost on the way, Miro will give that to the cops so dogs can find me. I slept a bit longer the next morning, and Miro, like a true mother, prepared breakfast for me, gave me few apples for the road, transformed into a dad, turned the car on and gave me a lift to the pay tolls towards Niš.
"If someone kidnaps you, call me and tell me a secret sentence 'weather is nice'." And now you doubt that he will get the dogs to find me!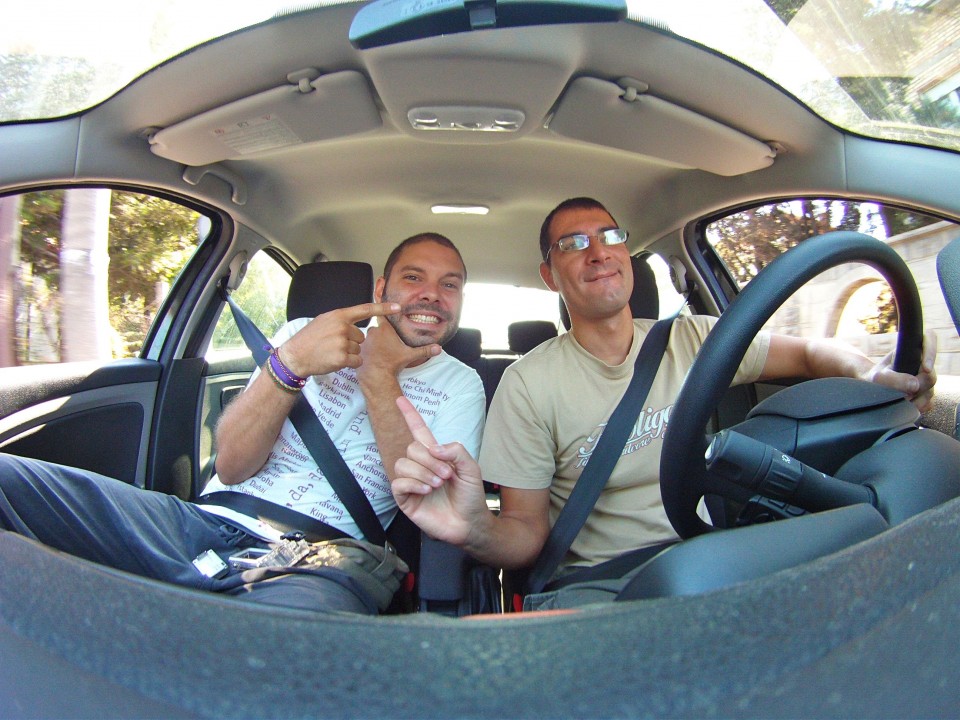 "Back on the road, again", I wanted to say to myself, but I didn't have time cause after 36 seconds a car stops. Driver is Nikola, I reminded him of himself in his younger days. It seems like Gods of hitchhiking are paying me off for that two hours of waiting in Slavonski Brod. Nikola is going to Niš, but he has to stop in Kragujevac (which is not really on the way) so if I could wait a little bit. I was a bit scared because the time is passing by quickly, and I have to be back in Croatia in only 997 days, and he wants to stop somewhere…but if I remind him of himself, maybe he is an older version of me so I said okay.
We drive thru some villages in central Serbia, and he tells me about my generation in Serbia and how they have no happy childhood memories to take them out of the shit they went thru in nineties. We drink beer in Kragujevac, a city famous by production of Zastava car, with his girlfriend, I give 100 dinars to some beggar. I have some left, its hard to spend them with so many generous people around.
I said goodbye to him in Niš, and all I had to do now is to find a ride for the last 200 kilometers to Sofia. After 20 minutes a car stops with the entire family inside, and they accept to drop me off in Sofia. I offer my last 200 dinars to pay the highway, but the father, also Miroslav, refuses and tells me that I can but an ice cream for a little kid when we are exiting Serbia. He deserved it, Miroslav says, he is good in school, but his older sister just doesn't want to study. A kid carefully listened to my travel story, and then on serbo-bulgarian asked me will I visit Santa on my way. I told him that the chances for that are slim, but I promised to tell him to buy him a BMW, if I see him.
With that Christmas wish, we entered Bulgaria.
—
GALLERY – SERBIA.
—
YT VIDEO – SERBIA: