"It's so easy to hitchhike in Turkey" – I remember so many people telling me that sentence. And I have been here in some random border town, waiting for a ride for the past 4-5 hours.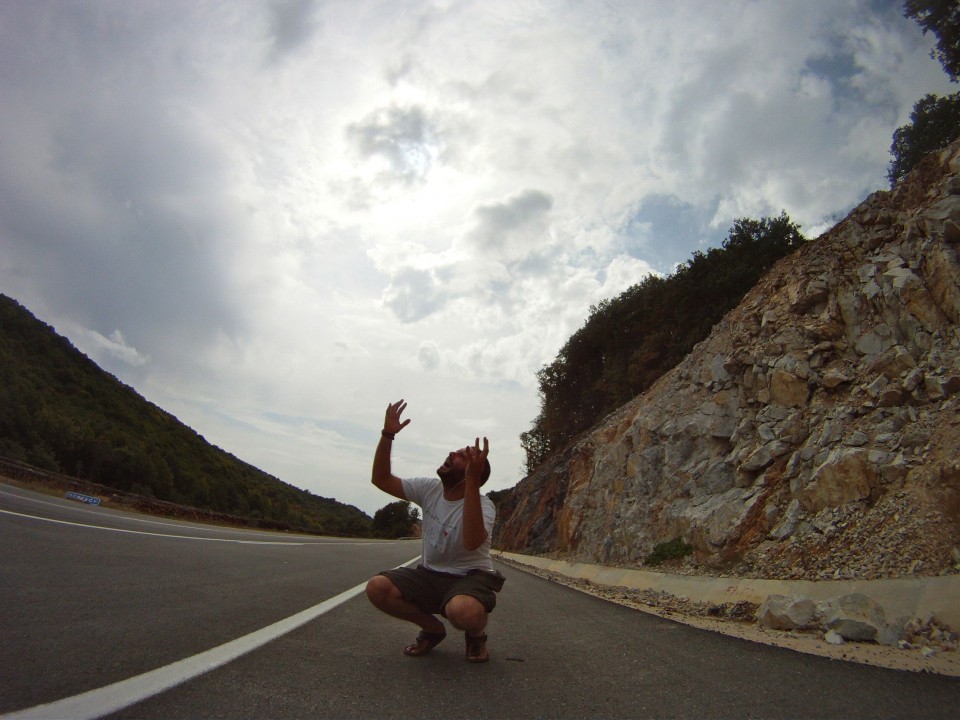 But, after 11-12 hours, I reach Istanbul. And it is not the most welcoming city. First hard rain in my long summer, and as buses to the center don't drive that often – I wait more than 2 hours for that damn 76T. The most important thing is that 76 passed 5-6 times, 76Y three times, even 76C. At the end I give up on letter T and accept just 76. I jump inside, but since I don't have local currency, driver lets me inside for free. When we came to the stop where I have to go off, that same driver stops the bus behind him that goes to Taksim. I don't pay ticket there as well, driver is good when he sees me all wet and tired. It lifts my mood. Again, people won against hostility of cities.
On Taksim I meet with Jorin, German guy I hosted in Zagreb 2008., met in Berlin in 2009. and then again in Zagreb in 2010. Would be a shame if we missed 2011. when we were on a roll. I'm only worried how are we going to continue our winning streak since the even years are reserved for Zagreb, and we know who is not going to be in Zagreb in 2012. Even though, you never know, I heard there are summers in Zagreb as well.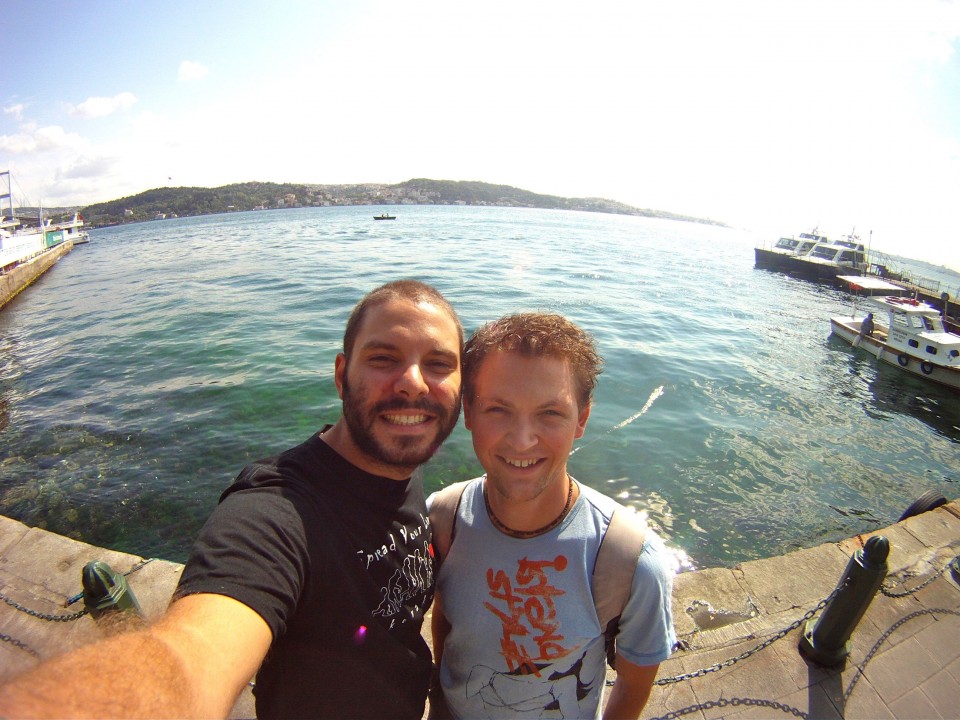 Jorin takes me to a CS meeting where I instantly remember why I don't like to go out – too many people, expensive beer and not so deep conversations because you cannot do it the other way. And we know that I like those about meaning of life. That's why we sat on a bus and head home where Jorin's flat mate awaited us. Similar situation like in my place few years ago, just different roles. But I'm relaxed and I enjoy – much more then when we're out.
Day after I play a detective role. I try to find Marijana, girl from Zagreb that I know thru Facebook and stories of other people – she hitchhiked some time with Tanja and Nina and we have many friends in common. I would be a great detective cause I find a hostel where she works with ease and ask the owner where she is. She is out, walking a dog. So we start our conversation. After 5 minutes, it turns out the hostel owner is from Serbia. It made me think about my detective career a little bit. I leave him my mobile number so she can contact me when she comes back, and in the meantime I meet up with Jorin, we go to some alleys to get some lunch. Only 20 meters away from the main street, and so much cheaper. Golden rule on every trip.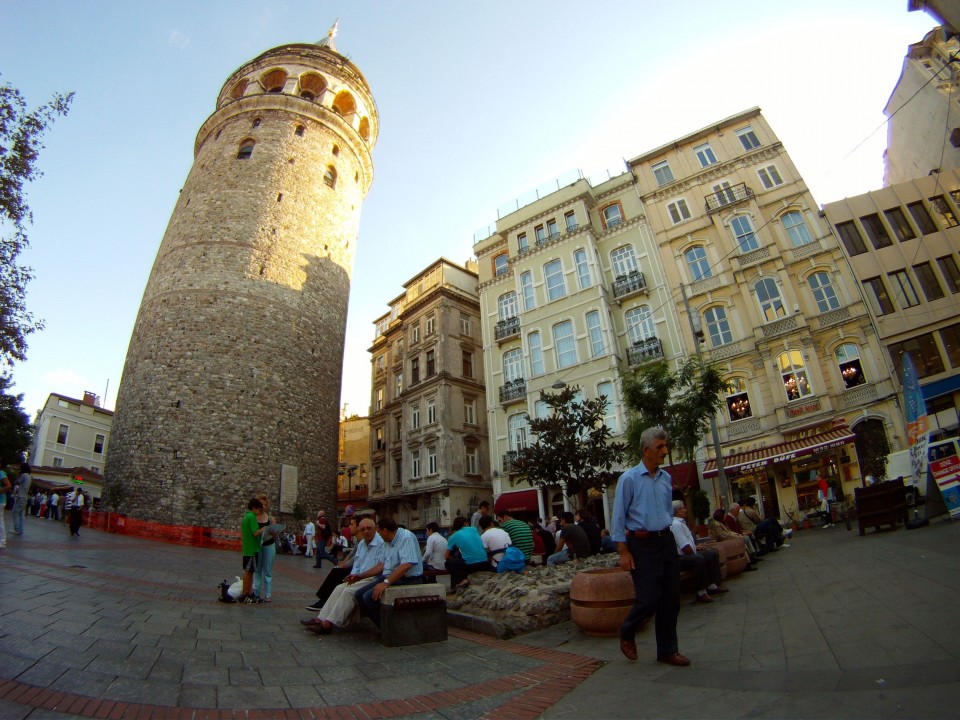 I meet with Marijana after some while, hug her like we go way back, and go on second lunch, together with Ivan, the hostel owner. While we eat I learn that Marijana found a puppy in Georgia, half dead, so she smuggled her hitchhiking into Turkey. And named her Aslan. I hope she won't be bullied in school.
When the night falls, we go out to – drink. We sit on some benches in front of the hostel, people coming and going, the usual. At one point Sara joins us, Portuguese girl that says she ran away from her CS host cause he was playing some music she didn't like. In other circumstances I wouldn't believed her, but after experience with Black Sabbath…you never know. We take her in and then we find out its her birthday. Lucky girl, she got us as a birthday present.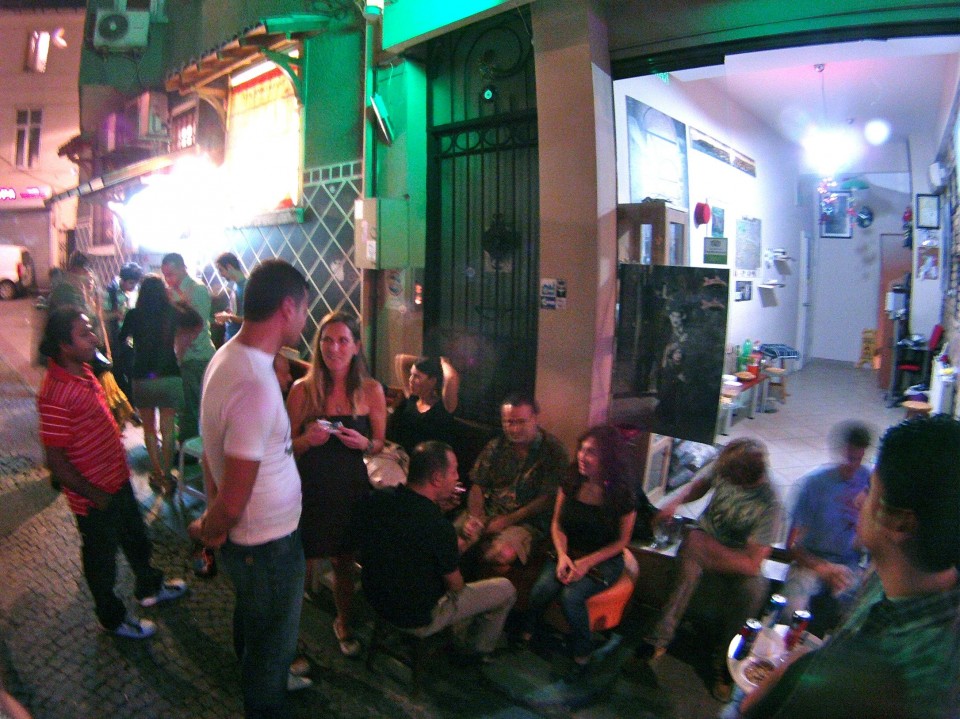 Even though Istanbul was awful budget-wise, I met all kind of people. One of them is Kiarash, Iranian guy that will be helpful when I go to his country. Marijana gives me contacts of her friends in east part of Turkey, and few people tell me which cities I shouldn't miss. Fair trade. I prefer investing in meeting new people then buying guides. Guides don't tell you about people, but mainly about places. And this trip isn't about the places, but a trip where the main part have – people.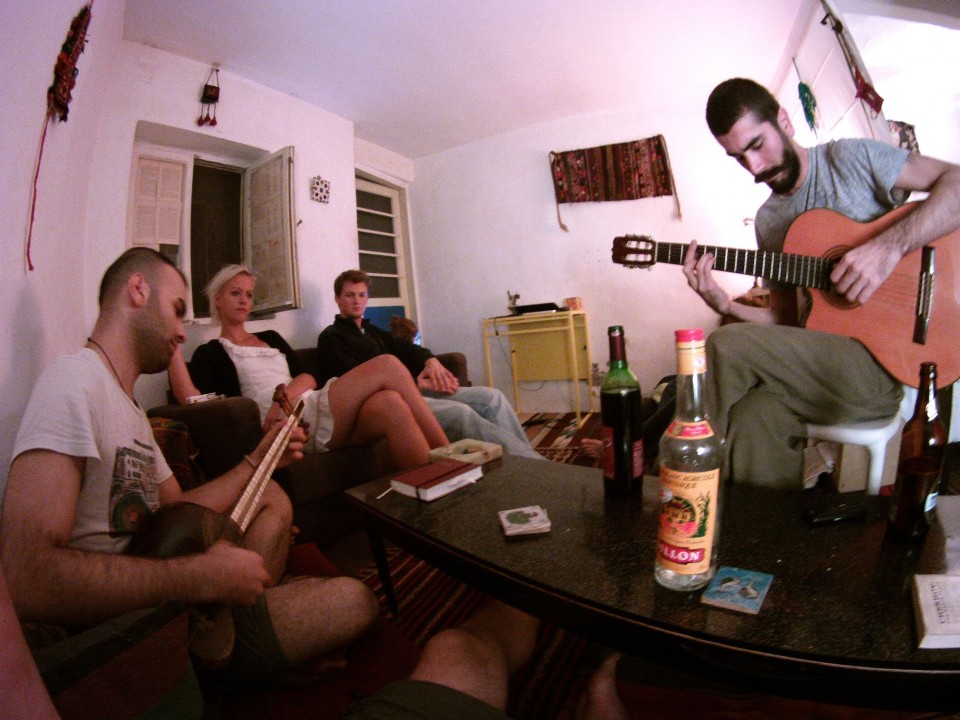 Istanbul is great, but I realized that I can't busk that much to pay for all the partying. What I really came for is to explore real Turkey, and somehow I think that Istanbul isn't all that. So I decided to move on, and since Sara wanted to visit Pamukkale, we joined our thumbs.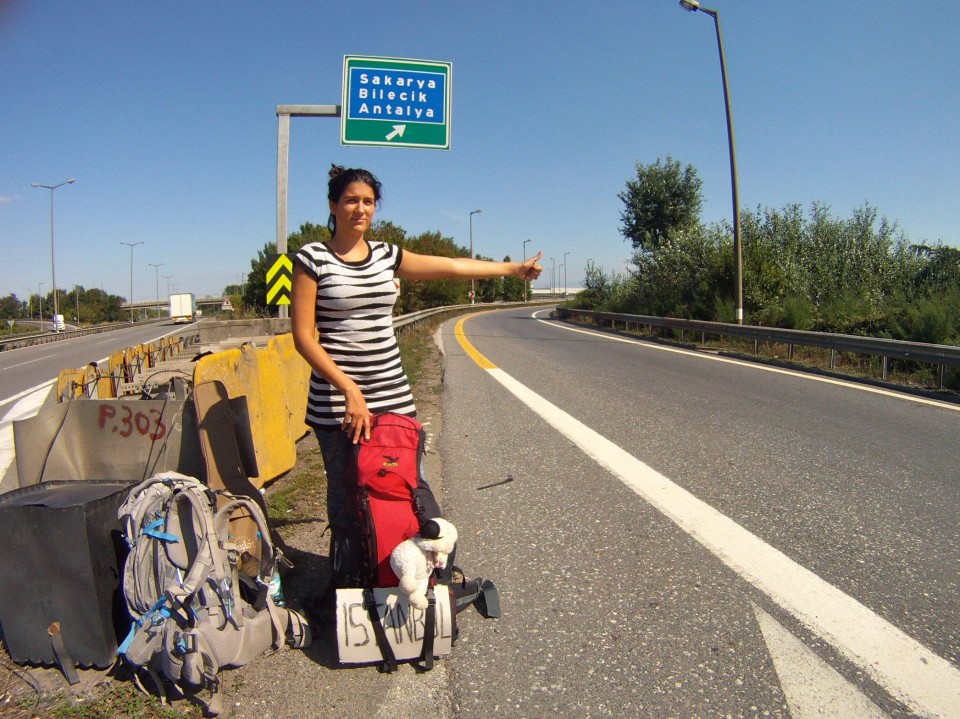 Her backpack was significantly lighter than mine – not only because she traveled longer than me (hitchhiked from Portugal to Istanbul, then went for couple of short trips along Turkey, mostly alone) and had more time to get rid of some of her belongings, but also because she'll be back in Istanbul in couple of days where she will start looking for a job.
The plan was to go to the bridge that connects the European and the Asian side of Istanbul and start hitchhiking from there, but our thumbs didn't listen to us and they lifted just after we left our flat – and one car stopped immediately. It seems that I'm back on the right path (or am I, I wonder, remembering tricky hitchhiking from Bulgaria to Istanbul) and people actually do stop in Turkey, no matter that there is two of us with two large backpacks and a guitar.
Given that Pamukkale is about 650 kilometers away from Istanbul, the plan was to divide hitchhiking into two days. Before Sara joined me, I wanted to spend a day or two in Bilecik, a small town 250 kilometers from Istanbul, because I found an interesting CS host there. But when I mentioned to her that another girl joined me, it became a problem. Visit to Bilecik was cancelled, so we asked the driver, in whose car we were, where is he going. Have you heard about Eskisehir? – he asked. Its called Turkish Amsterdam, two girls from Eskisehir told me in Istanbul, when I asked them where they're from. Sara and I agreed – that will be our next stop.
We arrived there around 4 pm, found the Internet cafe, sent a couple of CS requests, put on the CS group that we have arrived and that we do not know where and what we will do. Within 10 minutes we received the first response from Umut, who will host us. And then we received three more offers in the next 3 hours, all from people who were willing to offer us accommodation. Unfortunately, we had to reject them all. Turkey, it seems, is not only a paradise for hitchhikers, but also for CSers.
We went sightseeing while waiting for Umut – and we soon realize why Eskisehir is called Turkish Amsterdam. No, people do not smoke pot on every corner, but the city has a pair of canals and few boats. Not even close to Amsterdam, but okay. The city is the opposite of Istanbul – not too many people, very clean, quiet, chaos-less.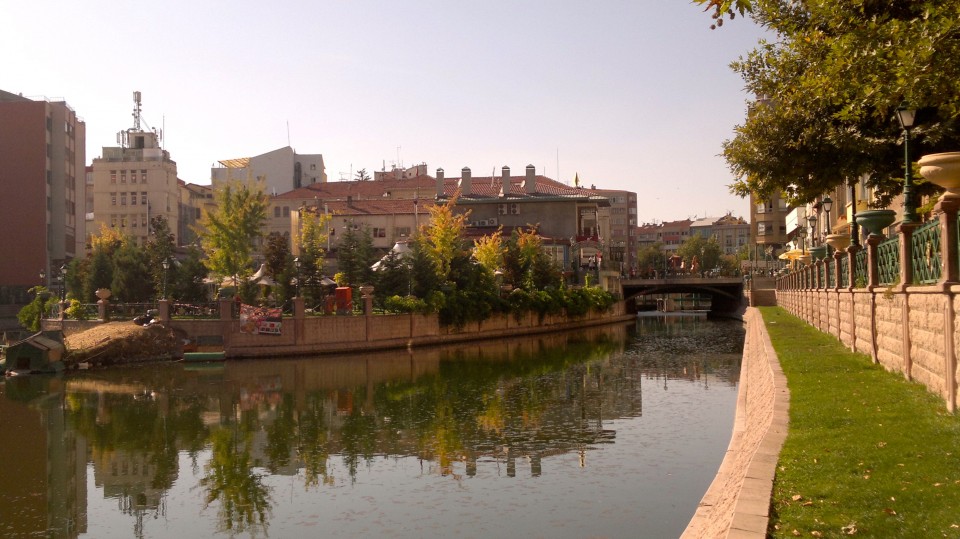 Umut picks us up around 8pm and welcomes to his home with my favorite words – make yourself at home. The same words I told to all of my 150 surfers in Zagreb. Instant flat mates, instant friends. Soon, his girlfriend and the other roommate joined us, and they didn't really speak English. But, they have a good substitute – Turkish Raki. We play the guitar and dig in the dictionary and google translator to see what are we going to have for dinner.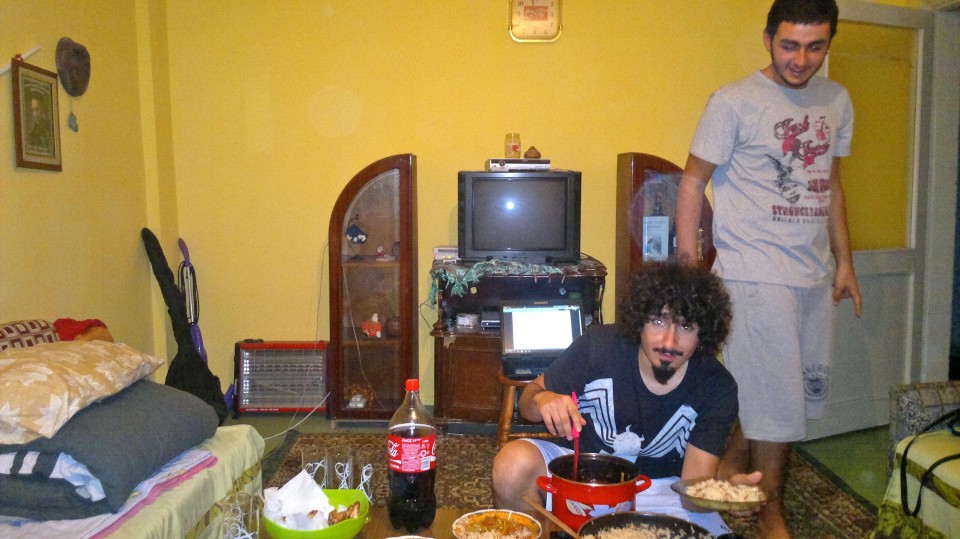 The following day we take ourselves to the city because Umut has a cold. We get lost in the streets, sit on benches, lay in parks from which cops throw us out. We are not sure whether they did that because we were in a place where we weren't allowed to be or because we laid too close to each other, but dictionaries and google translator are back home so we can't ask them.
We drink tea and I lose two backgammon matches from a girl. I didn't want to play anymore so I got my guitar and sign that Umut wrote this morning, to help me with my busking performance – I am Timo from Croatia (he screwed my name a bit, but who knows, maybe his name is Omut, so we're 1:1) and I'm traveling around the world for 3 years, need money for food. Please.
One hour of playing the guitar – 8 Euros earned + a juice that tasted of sweetest chewing gum ever, but gift is a gift. My salary is pretty good, especially if you ever heard me playing and singing. I wonder is it the charm or pity, but I'm not ready to hear the answer, so I don't ask it out loud.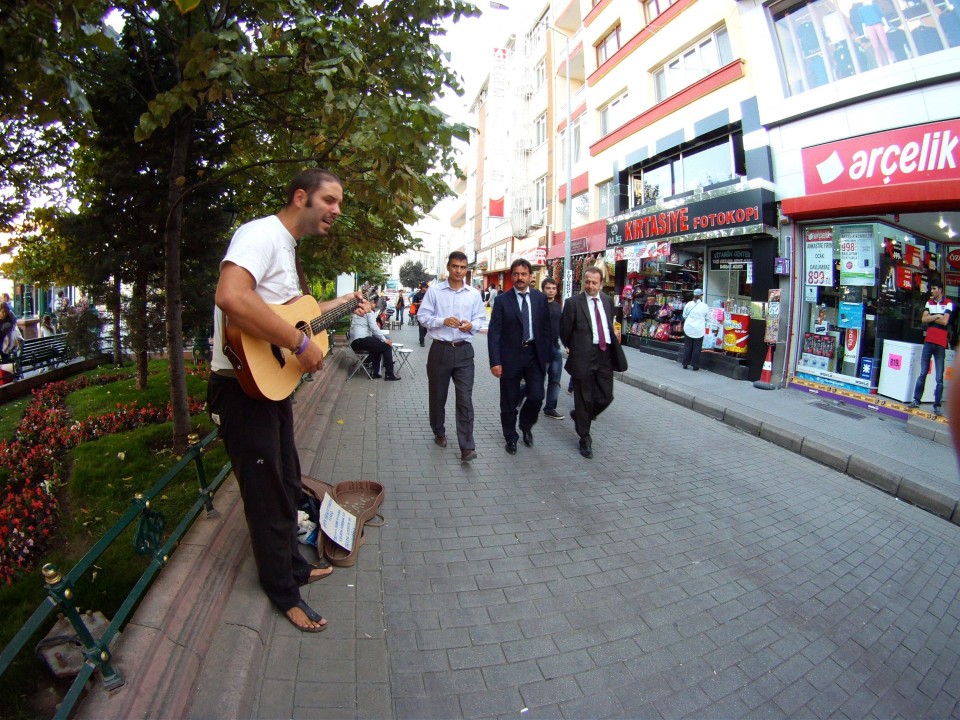 Morning, thumbs up, direction – Denizli. Hitchhiking with a girl is boring – guys stop right away and drive faster then any bus or train. And our last ride was with a truck driver who phoned our Denizli host about seven times, trying to agree on a meeting point. Kindness of strangers.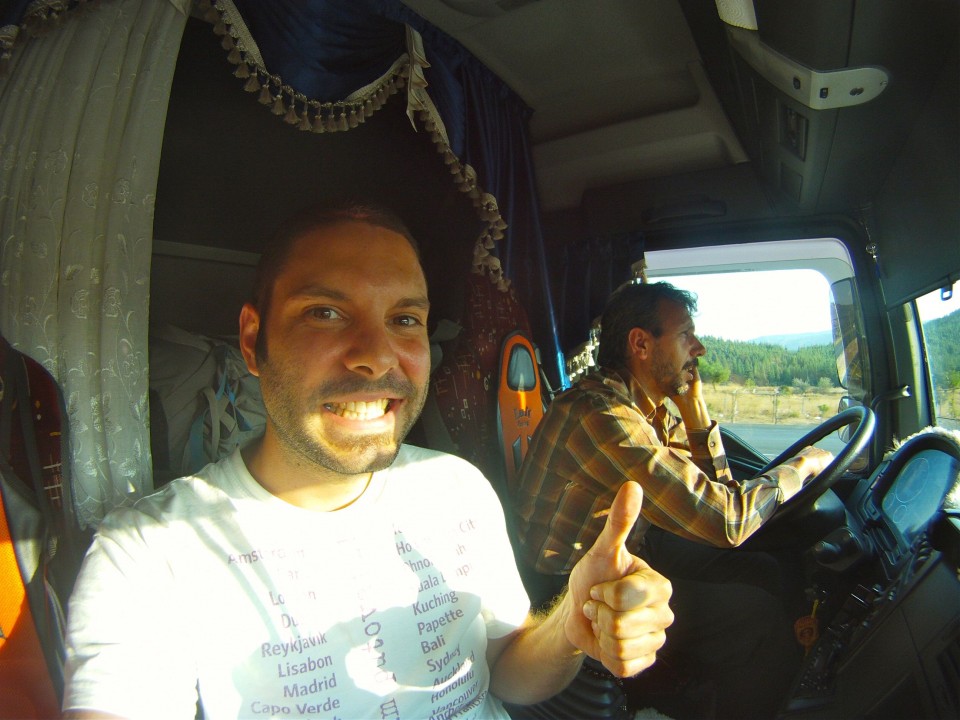 Ufuk, our host, welcomed us somewhere outside of the city and took us home, enthusiastically telling us that we are her first surfers ever, until now she was only in a surfer role. She heats up what her mum made her for dinner – in her freezer there are stock at least until the end of economic crisis – and takes us out for a dinner with her friends. The crew is great, even though they go out to some fancy places. Which is quite okay in the end when they insist on paying the bill.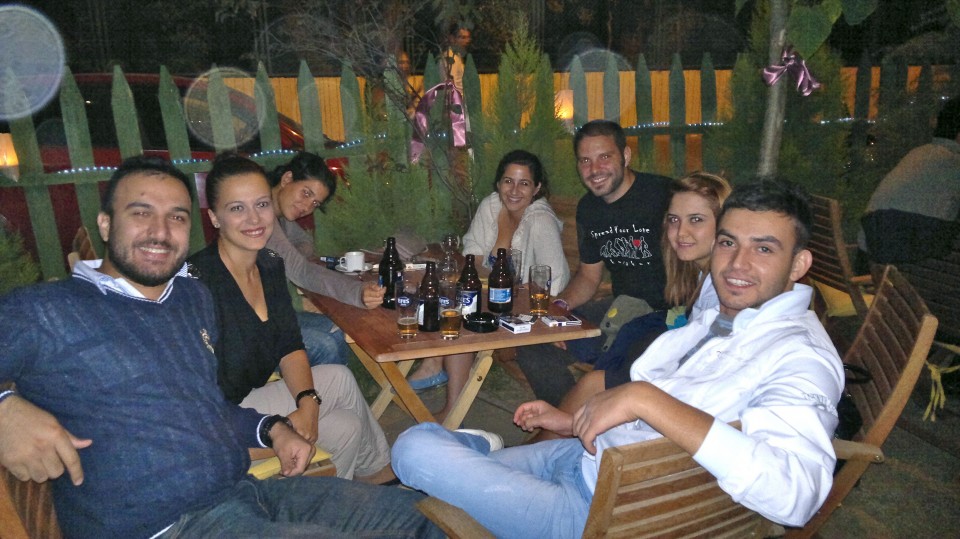 Around 11pm, when they were drinking their last coffee (?!), I wanted a beer. They told me to be quiet because this place doesn't serve beer, they only serve beer. Result was a beer, a real beer, in a glass which says – nonalcoholic beer.
The reason for our arrival in Denizli was to visit Pamukkale, and we went there on the second day. Wikipedia says that it is a natural site which contains hot springs and travertine's, terraces of carbonate minerals left by the flowing water. Looks nice, but there are too many tourists. Me don't like. Everything white around you, hot water, ruins of Hierapolis, antic city. Yes. I have problem with touristy places, I guess. But it is nice. Not like Plitvice lakes in Croatia, but yeah.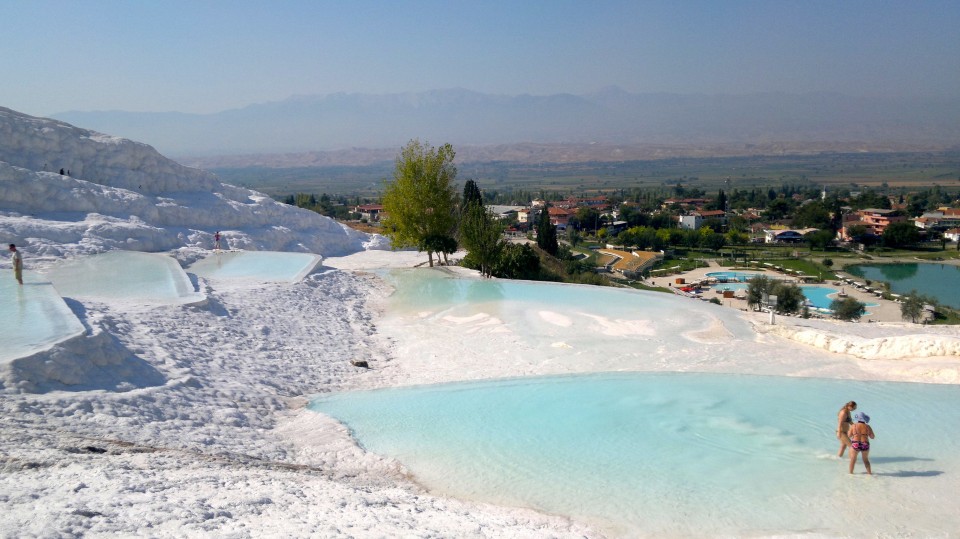 Sara lifted her thumb towards Izmir, and I went back to Denizli, took my guitar out and started busking. After one hour some guy, owner of the shop, whistled and told me it was enough of music for today. How I sang, one hour is a pretty good length. Perhaps it is a pity, not the charm? However, I made 9 Euros, which is 1 Euro salary increase from few days ago in Eskisehir!
I met up with Ufuk in the city center, she showed me some sights and told me some information about them, which I forgot immediately. Was more interested in listening to her life story.
Next morning, I'm off towards south.
I manage to hitch to Uludeniz, even though I don't have a girl as a companion, and then I took a bus to Kabak, little valley on Mediterranean coast, for which I heard is a real paradise. Plus, it is a place I agreed to meet my cousin Ivana with whom I'm in contact for the past couple of weeks, negotiating on where and when can she catch me.
I trek through greenery of Kabak, following beautiful scenery and nature, far away from anything.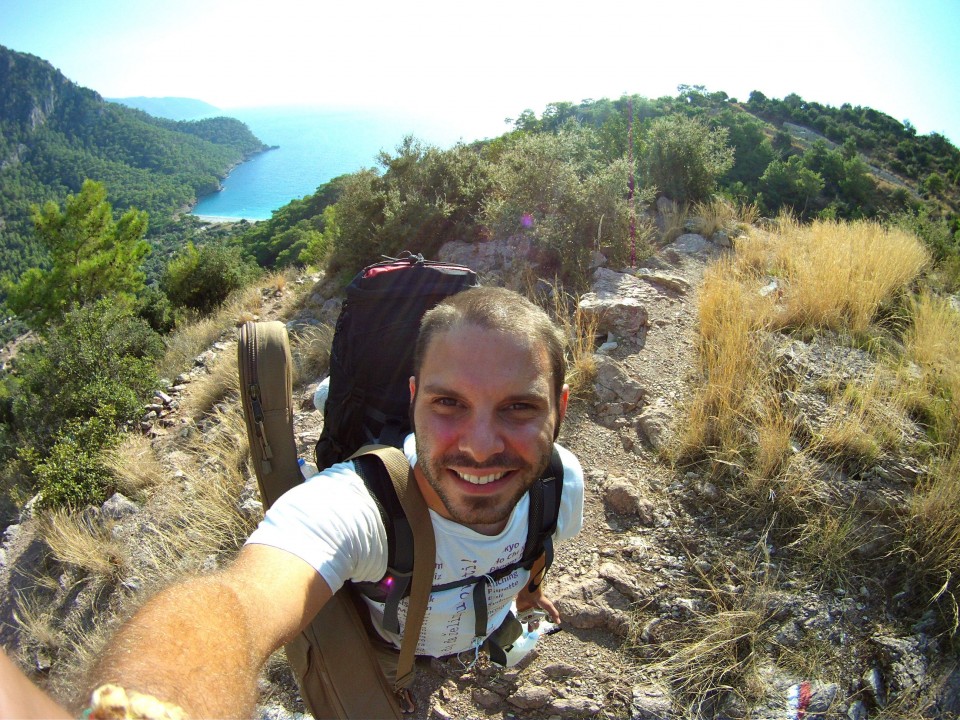 I come to the beach after one hour hike and throw myself into the sea, laughing out loud. Sea is warm, so is my hearth. That feeling of freedom, of accomplishment. Reminds me of my first hitchhiking towards Ričice, small village in south Croatia where my mum grew up. Every year I went there to visit my grandma and the rest of my family, but I have never felt so proud and happy of arriving there like when I hitched. I like not having it easy way.
I had to break away from that freedom feeling because soon the night will come, and I have no place to sleep. I get out of the sea and do a quick scan of the beach. Three hippies drinking beer in a shade, I approach them and ask them may I join. "You are free to do whatever you wish, brother." Hippies, I tell you. Two girls from Istanbul, came here for couple of days, stayed over a month. And a guy from Ecuador, similar story. Meeting these types of people I find it hard to imagine that there are people with regular jobs and career somewhere around the world.
While I ask them is it possible to sleep on the beach, I find out that there was a guy ten minutes ago asking them would they like to work a bit. They said no to him, but after seeing him twenty meters away, I go up to him and ask him is the offer still valid. And that's how I got my first job on this trip. Job description is pretty simple – I work in a restaurant 7-8 hours a day, and in return I have free accommodation and three meals. Plus – one beer a day. But a small one. Doing some calculation and wondering should I stay here for ten days and save up that beers and get drunk on the last day, or get shot-glasses and count on the placebo effect every day.
Since the night is almost here, I get the rest of the day off (nice job, ay?) so I go back to the beach where, together with my guitar, I witness one of the most beautiful sunsets I have ever seen. Would be nice to have someone to share this moment with, apart from my guitar.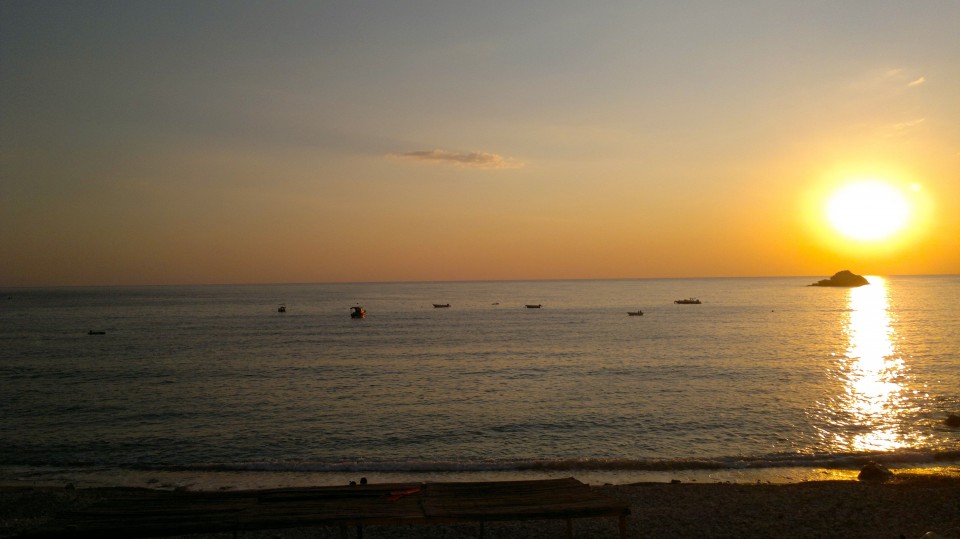 Although crickets are great when you go to sleep, their friends, roosters, are just sometimes annoying, especially somewhere around 6:38 in the morning. I put on my swimmers and head to the beach where I want to see the sunrise, but I forgot that the most beautiful sunset sometimes means the ugliest sunrise. Kabak valley is in the canyon, from the east surrounded by mountains, so the sun showed its face somewhere around 9.30, when I was already on my way to start my morning shift. Someone should explain this to the roosters.
Working hours are easy – I just pick up dirty dishes after restaurant guests, help with washing and that's it. My boss and I await my cousin that should arrive any time soon. I hear the sound of a familiar instrument, and just few moments after that, a familiar face. It's not my cousin, its Tanja. Tanja, with whom I practically spent the last six months before leaving Croatia, with whom I traveled through Portugal, lived two months in London, which was the other T when I sent <3, TT. greetings on Facebook. She explains with a laugh that my photos were terrible so she came to help me out a bit.
It was just shocking and wonderful to see her, two months after a sad goodbye in London. I had some difficulties explaining to my boss about the way I greeted my cousin, but he understood. Tanja has a companion – Istvan, smiling white haired man from Hungary, to which she stumbled upon catching a bus to Kabak. He has been traveling for the past 30 years, 15 of which he spent in India. He has only his guitar with him, no backpack, no clothes, no nothing. He needs only the basics, he says.
Before I ended my first day at work, I resigned. Tanja has a flight back to London in ten days, and we should get to Tehran by that time. The shortest, but one of the sweetest jobs I ever had. Boss told me I can come back any time I want. Who knows…
With Tanja and Istvan around, I could finally show someone the most beautiful sunset. Istvan performs on his guitar – little on Tibetan, a bit on Hindi, then in English. And you should hear him sing…we weren't surprised when he told us that in Hungary people pay good money to attend his concerts. No wonder he doesn't need anything else besides his guitar – he already has everything.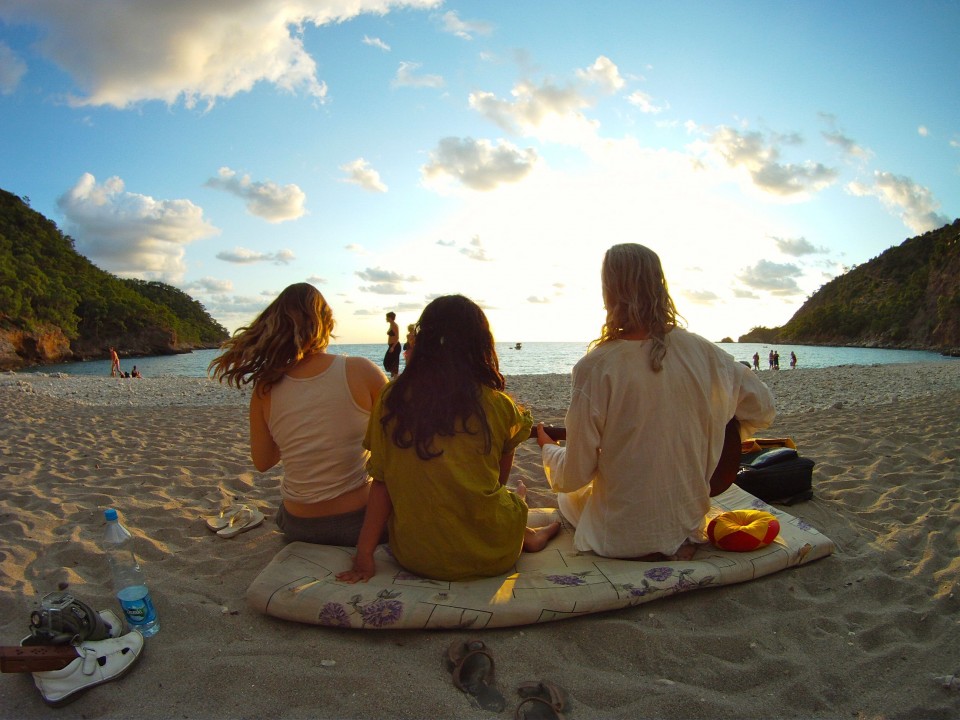 I suggested Tanja that we take his hand and bring him to Iran with us, but she didn't want to adopt him. My plan of giving him a bit of weight from my backpack – not gonna happen.
Instead of Istvan's hand, I take Tanja's small one, take her to the beach where we spend the night on some deserted mattress for homeless travelers like us. Happiness only real when shared.