I survived the night at Wolfe Creek, which is, other than a title of a horror movie, a gigantic meteorite crater with a diameter of 850 meters, which makes it the second biggest crater in the world unspoiled by erosion. It is estimated that a meteor weighing more than 50 thousand tons hit the Earth some 300.000 years ago creating a crater 120 meters deep, but the time and sand drifts had done their job so the depth of the crater is now only some twenty meters. However, this doesn't make it any less attractive, especially in the vast nothingness of Australian bush.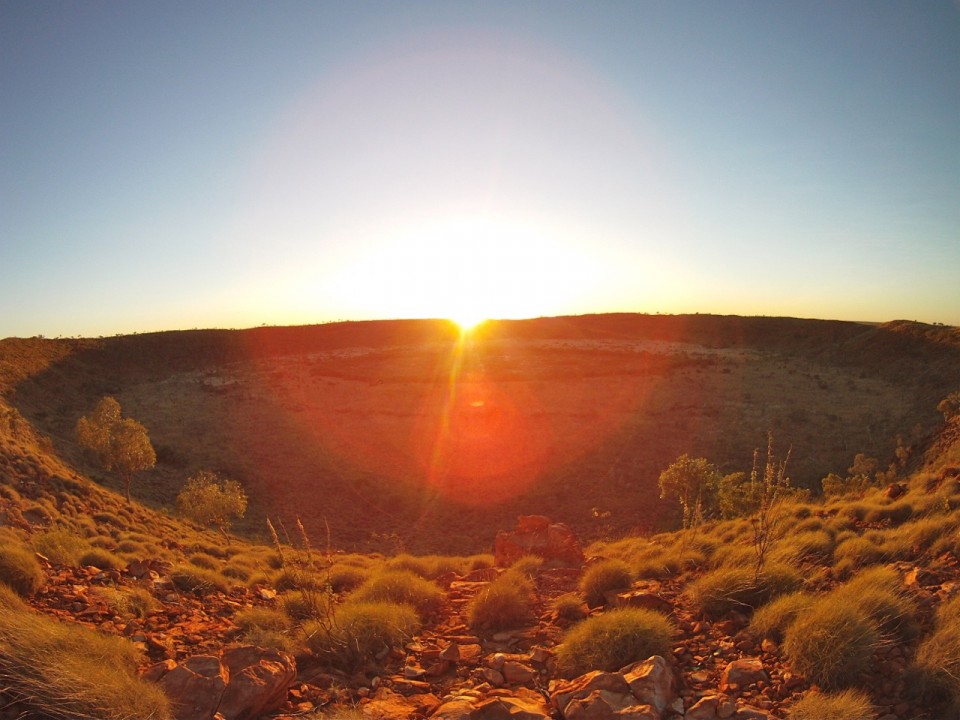 Having had our breakfast, which, in fact, consisted of leftovers of the last night's dinner, I took the dusty road with the French girls back to the crossroads where they went towards east, and I to the opposite direction. On our way there we spotted a few red kangaroos which are the biggest of all the kangaroos, and also, they are the biggest native mammals in Australia. Even though they're pretty hard to miss, they got away every time I tried to take a photo of them. Damn Murphy!
4 rides, 800 kilometers and 12 hours later I was in Broome.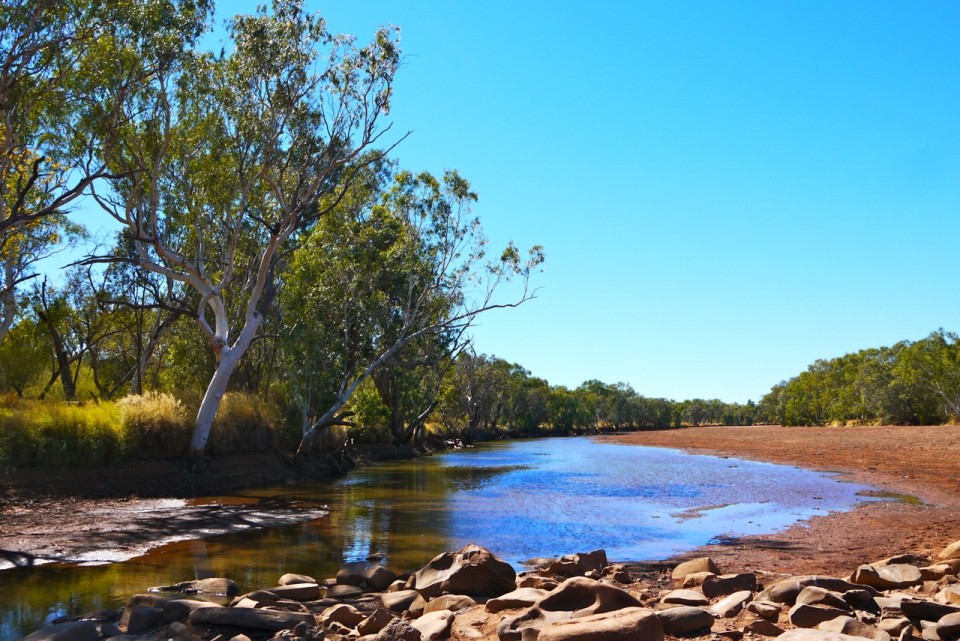 I managed to find the cheapest possible accommodation in the town – camping for 17$; and that was the second time in my three months in Australia that I was paying the accommodation. Beside the fact that I had to pay for the sleeping in my own tent, it was really depressing to see that there wasn't any local guy to welcome me, have a beer with me, and show me around the town. I was definitely spoilt by so many hosts, and I didn't feel like meeting random people on the street, even though I cold work a bit on that.
Since I got there during the night I decided to spent another day in Broome, and in the evening visit Cable Beach, known for its sunsets and camels which tourists often ride on. Still, first I had to find something interesting to do during the whole day. Idling away in the main city park in a company of a one-liter ice cream was my first move. Not far away from me were a couple of Aborigines which were idling away just like me, except they didn't have an ice cream. During the worst heat I decided to take a stroll to a couple-of-kilometers-distant beach where I would be till the sunset.
Walking down the streets, I noticed NO GAS! posters on the houses which was a clear sign that the local community was against mass exploitation of the Australian natural resources.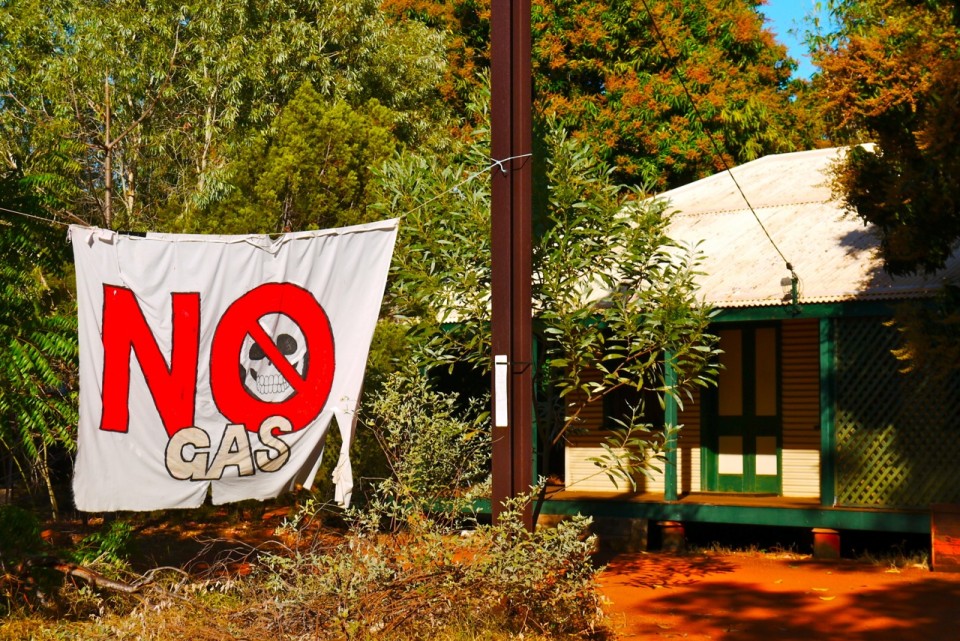 The mining boom has had many positive effects in the country: if we are to talk about the finances, avoiding the crisis, it has elevated the life standard, but, at the same time, it has had devastating consequences on the environment. That was, of course, put in the background, as long as the money was made. So, the local people were doing all the possible to fight against it with the posters, protests, different kinds of events…sadly, with no big results. Travelling across Australia, I passed several times by the mines, and once I even noticed a giant hole in the ground, at least 50 meters deep, covering a surface of a couple of football fields.
It all reminded me of a saying:
Only after the Last Tree has been cut down,
Only after the Last River has been poisoned,
Only after the Last Fish has been caught,
Only then will you find that
Money Cannot Be Eaten.
 —
By the sunset I killed time wandering through the town and idling away on the Cable beach.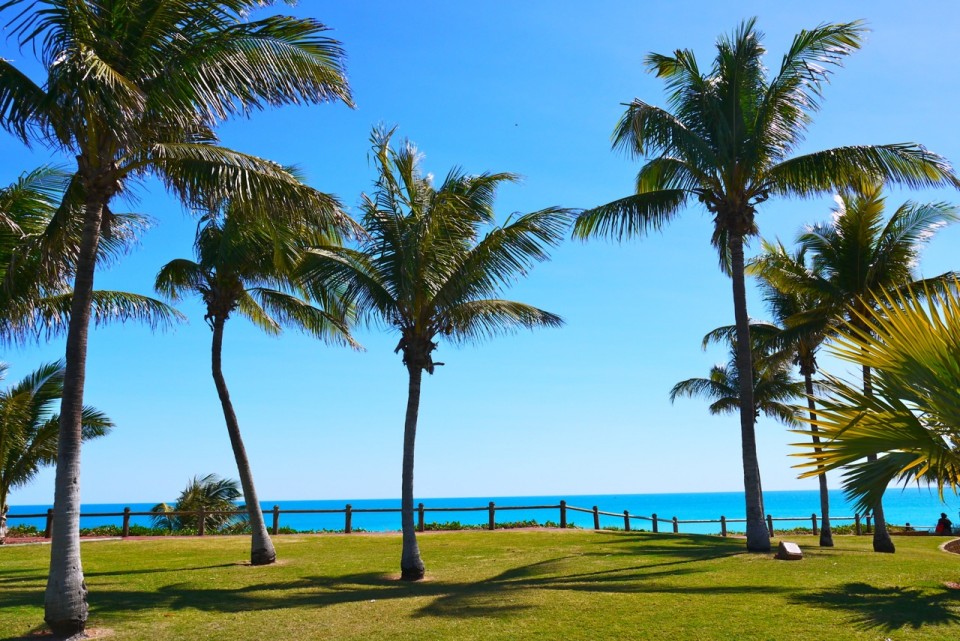 At the end, I managed to see camels and their romantic walk during which they carried tourists on their back.

This is, at the same time, the reason why I came to Broome: I wanted to witness the magnificent sight and the game of colours, took some photos and filmed it with my camera. I also thought about the position of the camels in the Australian wilderness, and I found out that they had been mostly imported form India and Pakistan in the second half of the 19th century. It was with their help that the telegraphic connection and mines were built: they carried supplies to the far-away cities and things like that. With the motorization which arrived in the 20th century the camels were let free and today they are running around the vastness of Australia. It is estimated that there are between 150 and 200 thousands of camels. Some 50 of them were working on the Cable beach.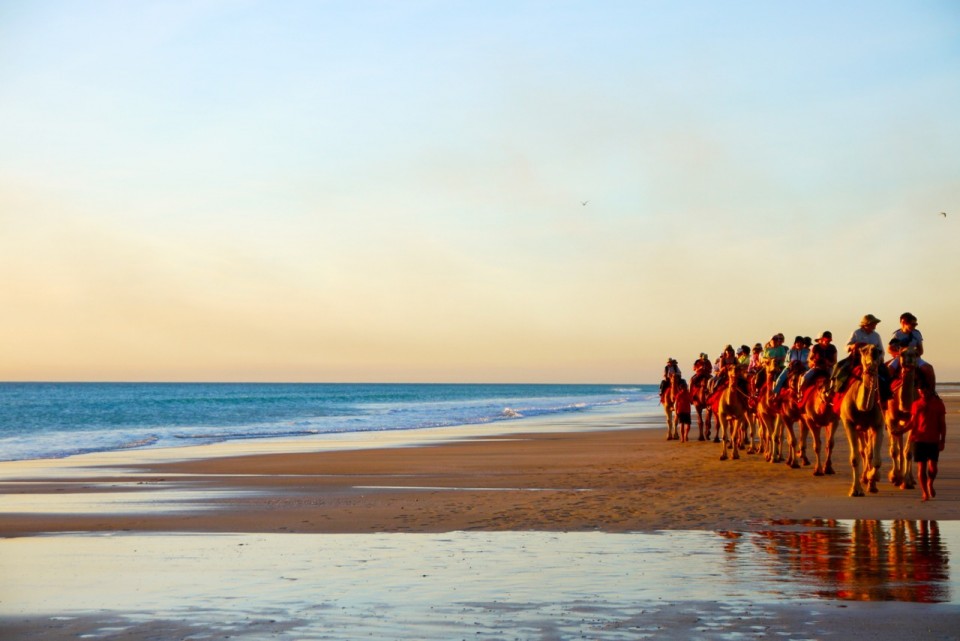 When the camels were done with their work, I took a closer look at the sky.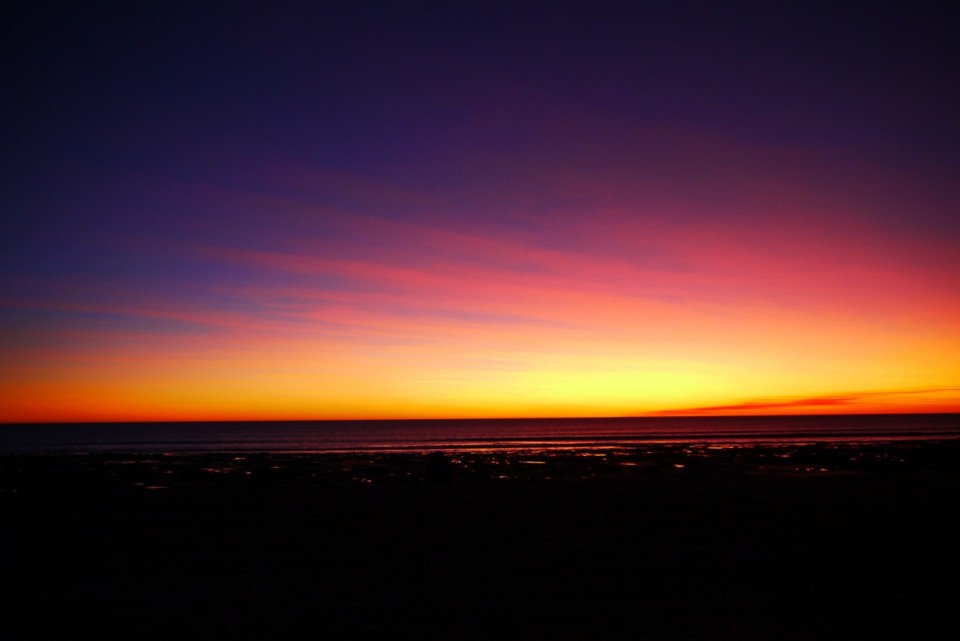 Pretty impressive, I've got to say. Broome is known for the great differences between high and low tide, which can go up to 5 or 6 meters. Sparkly-humid grains of sand, in that way, make way for a gorgeous mark of the sunset. Anyway, in the future, I will try to look for a more beautiful sunset than this one. It won't be easy.
The following morning I put down my tent and I was off towards west. All the way to South Hedland, where I managed to find a last-minute host, I drove with a 50-year-old guy and a mutt of a dingo and some badass sort of dog. Given his origin, it was relatively peaceful dog.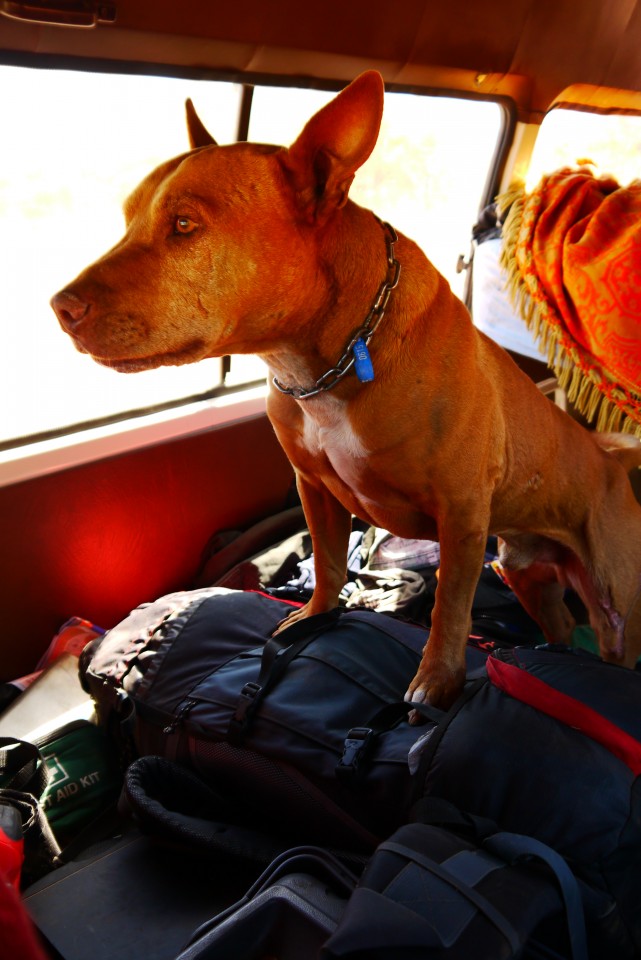 I didn't get to meet my host in South Hedland since he had to go urgently to the south of Australia, but he had informed his flat mates on my arrival and told them to let me have his room to sleep over and the following day move on. The point of CouchSurfing is not only in a free accommodation, but despite everything I readily accepted a cosy bed and in the morning moved on. South Hedland is, just like many towns in Western Australia, a mine town. If you didn't come there for business you had nothing to do there.
I stuck out my thumb, a truck pulled over. There were three crashed cars on its trailer. The driver was going all the way to Perth, which was, also, my destination, even though I'd planned to arrive there via different route. He was cutting the distance by driving through the inner part of the county, while I'd been hoping for a ride by the coast. I got a one dollar coin and asked the driver if he was going to give me a lift all the way to Perth, if the coin said so, on which he simply nodded. Head – I would get out of the truck after a few kilometers where the road was splitting in two and take the ride by the coast. Tails – I would stay in the truck all the way to Perth, some 1600 kilometers.
Tails.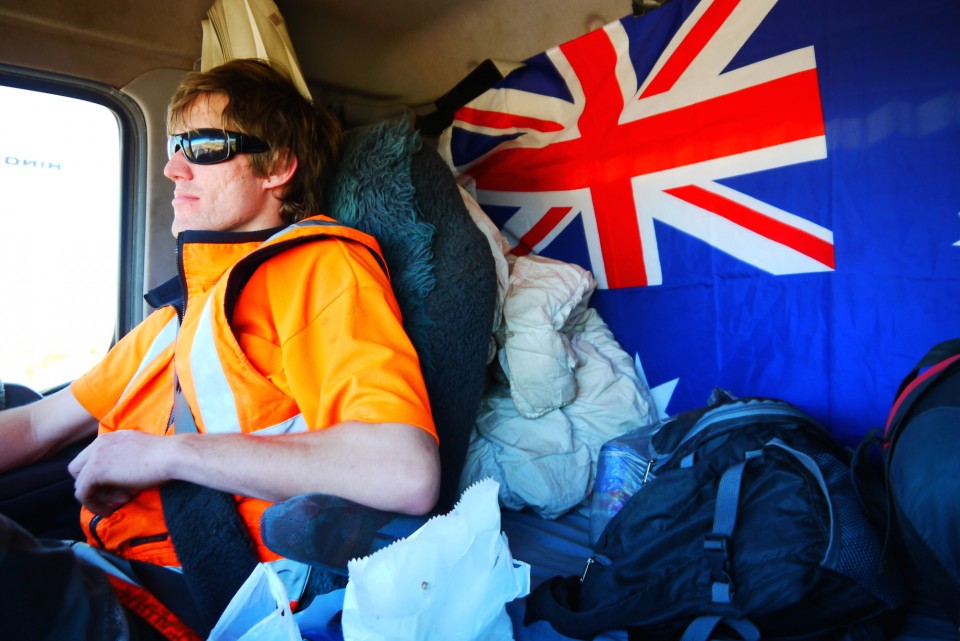 And that was my last ride on my around-Australia trip during which, from the moment I'd started hitchhiking, crossed some 12.000 kilometers with the help of 60 drivers who'd picked me up somewhere on the way. The truth be told, my last ride could've been better – I lent the young truck driver 200$ so he could pay for the gas to our destination. I didn't see that money ever again. After all, it was only money; a daily wage in Australia.
—
YT VIDEO – AUSTRALIA (3):
—
In Fremantle, which is situated south from Perth, my KORAKOR friends Keveen and Gina welcomed me. The last time I'd seen them a half a year ago in Kuala Lumpur, and before that, at the beginning of my journey, in India. Gina, whom I'd encountered also in France in 2009 is, in fact, the second person I've run into on three different continents.
Tired from hitchhiking, Freo was a great place to take a rest. Journeys do make you tired, sometimes.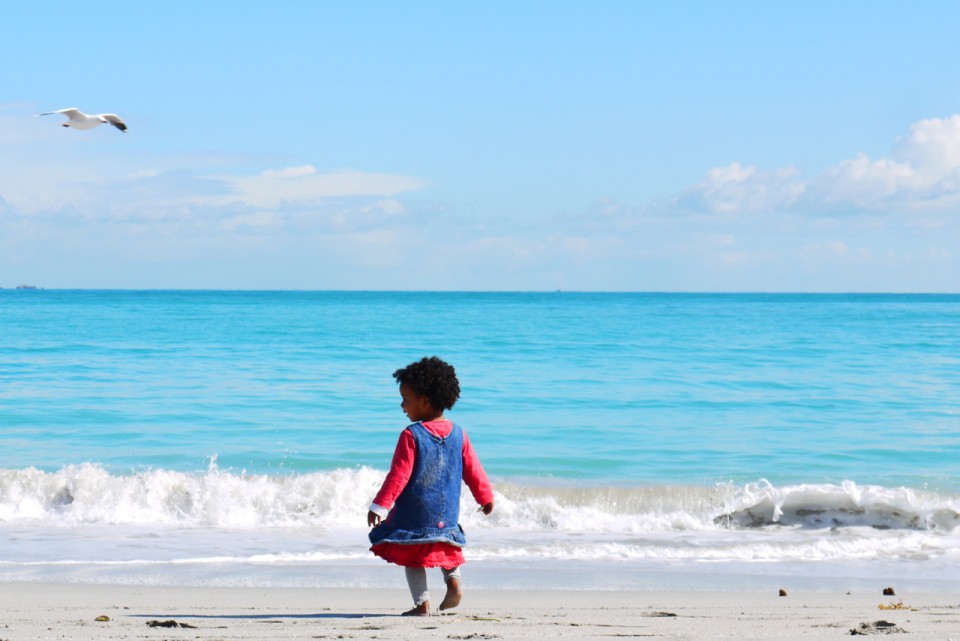 Kev and Gina arrived in Australia a few months before, had found themselves a job, and they had run across an elder couple on Internet who had been looking for someone to take care of their house while they were in Europe. In that way they started earning money for their IT'SKOOL project in Mexico with which they were planning to start at the beginning of the 2013. Their hourly wage was decent (20$), they had a free accommodation, and they got all their food in a supermarket. In fact, they got it from a dumpster in front of a supermarket. That dumpster, just like many dumpsters all over the town/country/world was the place where the food which wouldn't be sold the very next day ended up – groceries that would soon expire, fruit/vegetables which wouldn't stand a chance on a beauty pageant, and stuff like that.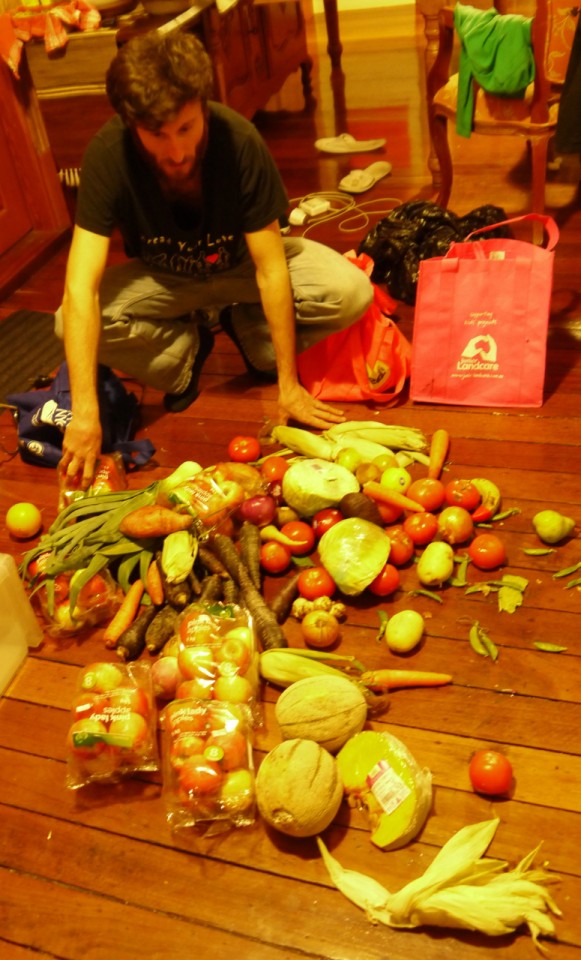 In the previous few months, Kev and Gina spent only a couple of hundreds of dollars on food – once a week they would go to the supermarket when it was supposed to close, and equipped with some bags they would put inside all that was edible, and would simply go home. Once at home, they would disinfect fruit and vegetables (a dumpster-food is mostly vegetarian), and that was it. Another day they would go to the other part of the town, where there was a bakery whose workers would throw away bunch of bread every day.
This is how the life of those two looked like: with their priorities clearly defined, focused on a higher cause.
At the very start of my around-Australia tour I'd bought a plane ticket from Perth to Kuala Lumpur (with only few clicks on the Internet to submit my data from my MasterCard) since my Australian visa limited me to a three-month stay in the country. I flew to KL, and for the third time, stayed at my brother Henry's, this time only for four days when my plane to the east of Australia was due (I was going back to the east hoping that my employer from Brisbane would call me again to help him for a couple of weeks with his work).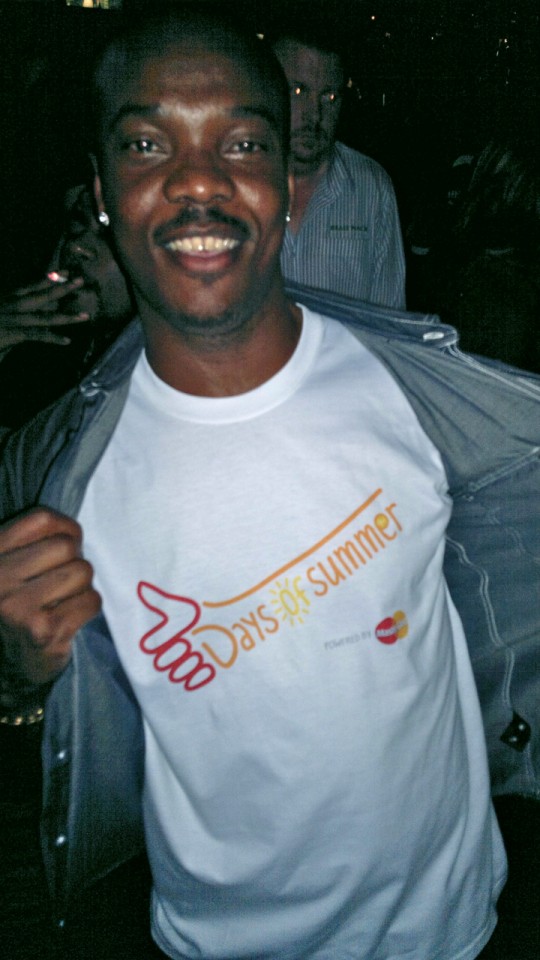 In Kuala Lumpur something apparently insignificant happened which, during the following few weeks, would change everything, just like dominoes – I met a girl from Botswana. Feeling rather curious, I took a look at the map to see where exactly Botswana was. Since the map was the one with the countries for which I (didn't) need a visa; I noticed that most of the countries on the east/south of Africa were good for the Croatian citizens: most of the visas could be acquired on the border. The only problem could arise with the visa for South Africa.
At that precise moment it hit me that I had no idea where I would go after Australia. New Zealand was off because of the visa, sailing across Pacific was virtually impossible since the route to Central/South America wasn't a very popular one, and flying to the Americas was too expensive.
Africa. Why not?
Poseidon was very benevolent – in that time of the year the sailing boats were crossing the Indian Ocean from South-East Asia/Australia to Africa. If I failed to find a boat which was looking for an inexperienced crew member I would stick for a while in Australia, try to earn some money and fly to Africa: plane tickets to Africa were twice as cheaper than those to the Americas.
I returned to the east of Australia, but there was no sign of my former employer. I also visited a man who had a hotel for dogs, and who had given me a ride a few months before mentioning that there was a possibility of him needing a worker. However, at that time, he didn't need anyone.
I decided to go to Melbourne. I'd heard so many stories about it, I knew a bunch of people who were living there, and I didn't have other plans.
On my way to Melbourne I jumped out of a plane.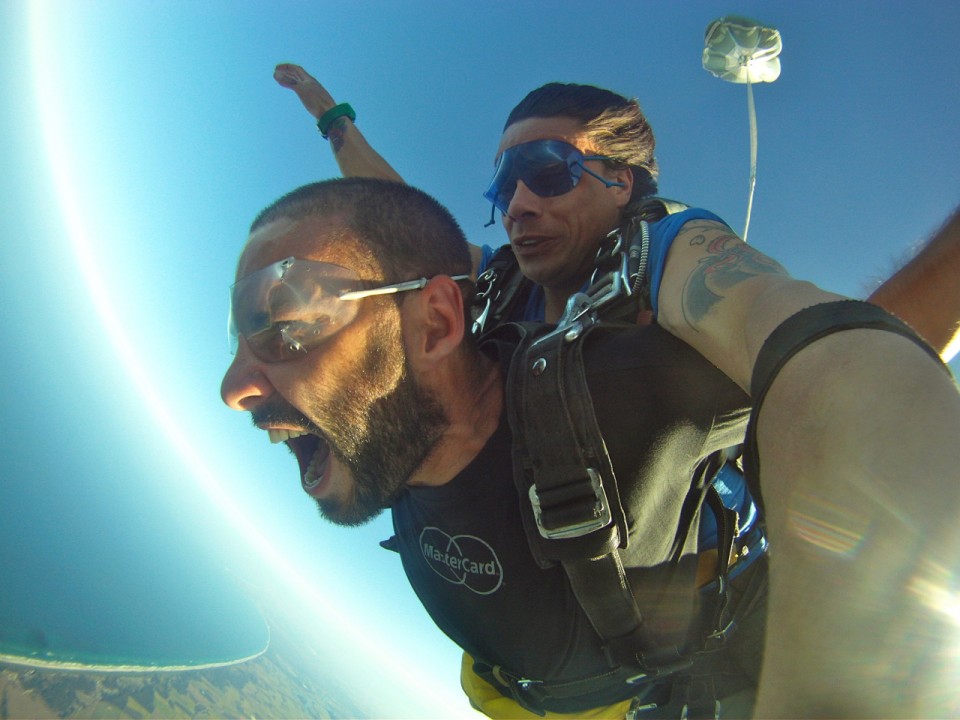 Since at that time it was the first birthday of my journey, my dear sponsors from MasterCard decided to treat me to skydiving, which was my long-time wish, but I was also very afraid of it. And fears only exist to be defeated, right? Among other things, I experienced something that I'd remember for the rest of my life.
I somehow managed to get myself to Melbourne, with a few short stops. During one of those stops, at my cousin's place in Sydney, I contacted a guy named Michael through findacrew web page. Michael is a 60-year-old from Texas, and for the past few years he had been sailing around the world in his 45 feet sailing boat. He was in Bali, where he was looking for a couple of crew members who would give him a hand with the sailing and keep him company during this two-month journey to South Africa. I sent him an e-mail, hoping for a bit of good luck, and that I would be the very person Michael would choose among all those received forms written by people who surely, just like me, would want to be a part of that great adventure. Another important reason was that the journey would be for free, except for the food costs which would be shared among the crew.
In Melbourne I met Josh, whom I'd hosted in Zagreb in 2009, and whom I'd met in Prague and Dresden a few months after that, and who had given me a place to stay in Berlin. In 2010 we met in Istanbul, and at the beginning of the 2012 in Kuala Lumpur. The moment I saw him in Melbourne Josh became the third person whom I'd seen for the third time on three different continents. (btw, Josh has a great travel blog – Go Travel Your Way, check it out!) He offered me his place for a couple of days. During those days I got to know the city a bit, hang around with friends I'd met in Europe and waited for a response from Michael.
Waiting is one thing I don't like. So I decided to find myself a job. If the captain was to take me in I would have to take a plane to get there, and I needed to earn money to buy myself a ticket. Josh suggested me the gumtree web site, and I would have a lot of difficulties since I didn't have a work permit, and government in Australia were pretty strict as far as cash work was concerned.
I got myself a seat in McDonalds where I was stealing Wi-Fi every day, and came across an ad, published just a few minutes before: kitchen hand work. full hours. good wages. apply asap.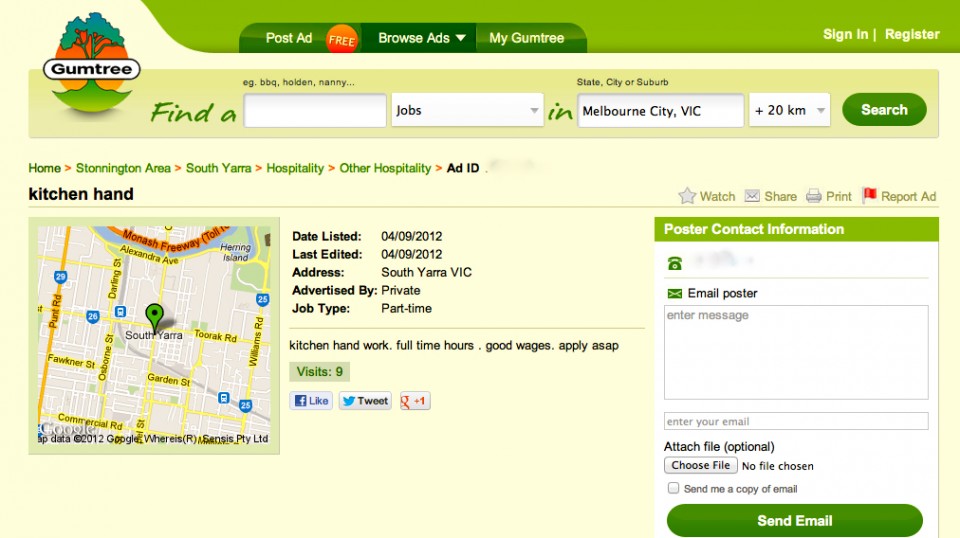 According to the address the restaurant was pretty close to the apartment I was staying at, I sent them a text to the number stated in the ad, saying that I had some experience in working in Croatian, Turkish and Indian kitchens and that I was ready to start working the very same day. The response was quite straightforward: come as soon as possible.
It took an hour by foot to get to the restaurant. I got there in 24 minutes. All puffed I entered the kitchen, introduced myself to the head chef. He smiled at me, asked if they could try me out right there and then passing a rubber apron and showed me the way to the space for the dishwashing guy. I accepted the challenge, and without mentioning that I had no work visa, tried to find my way around the kitchen which was at least five times bigger than any kitchen I'd previously work at. It was the first time I was operating a big dishwasher, guessing where certain things belonged, and helped around with preparing the dishes. Three hours later the job was mine. The head chef, just like the rest of the crew, left the kitchen at 4 p.m. and quickly explained to me the procedure of cleaning the kitchen, and gave me authorization that, in case someone ordered the fries or soup, I pretend to be a cook, prepare and serve the dish. Luckily, there were no orders.
Returning home that night I grew to love Melbourne. The magic was there. I arrived to an unknown city, and in just few days and I had a job. Unlike most cities I felt comfortable. I felt at home.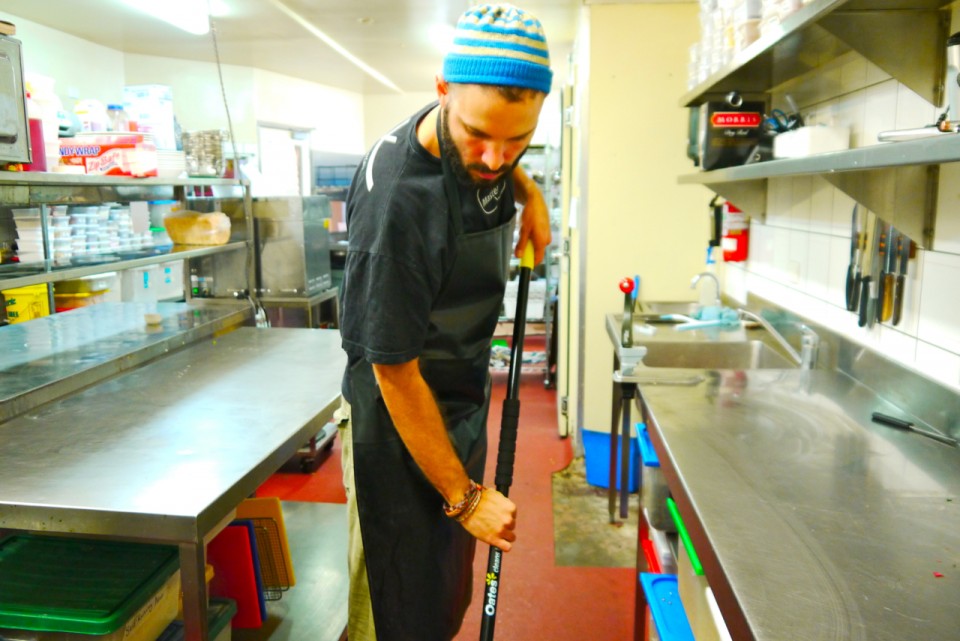 New chapter of my life could begin.