My new life in Melbourne was quite good.
I mentioned to my boss in the restaurant that I didn't have work permit and that, if I stayed working there, I'd have to work under the table. He only sighed upon hearing it and replied with a sentence: we'll work something out. Finally we did that very thing – since he was satisfied with the work I was doing, we made an arrangement that I'd stay working for him until my visa expired (in approx. two months) with a possibility of prolonging it. I worked five days a week, eight hours a day. I had minimal hourly wage which was 16$ in Australia. Awful; especially when you think that my job was doing the dishes, pealing the potatoes and cleaning the kitchen.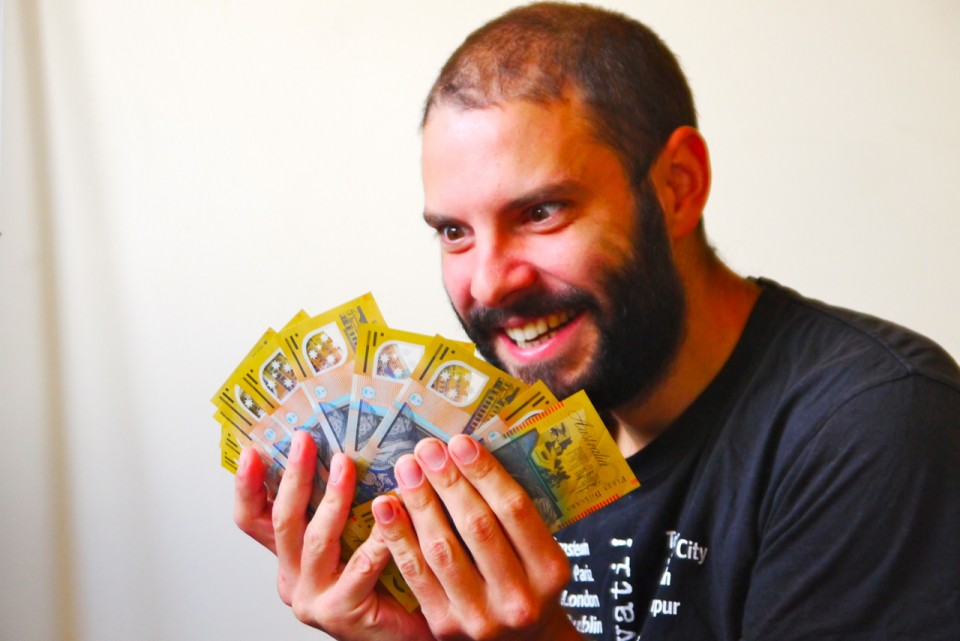 As I was working in the kitchen I had free access to the food, which was my biggest expense, not only in Australia, but also during the whole journey. I noticed that some of the unused food was being wasted so I told the staff to put aside all the leftovers: at the end of the day I would take them home and I had a dinner, and sometimes a breakfast for the following day. Also, a couple of times I snatched some leftovers that seemed untouched from the guest's plates. It had been some time since those things stopped giving me nausea.
I also got a word from Mike, the captain of the ship that was soon to head off to South Africa; he had to turn me down. Unfortunately, he'd found all the crew members he needed but I was to be put on a waiting list in case there were some last-minute changes.
Josh, my roommate, flew to Africa for a couple of weeks leaving me homeless. This is where Kiarash, my friend from Iran whom I'd met in Istanbul at the beginning of my journey, stepped in. He offered me his home straight away: his home was, in fact, a house which he shared with another eight people. When he arrived to Melbourne for the first time he found that house with a help of a friend, and for the first couple of months he lived in a tiny projector room. That room was now mine. Even though the doors couldn't open when the mattress was on the floor, I had my own little spot.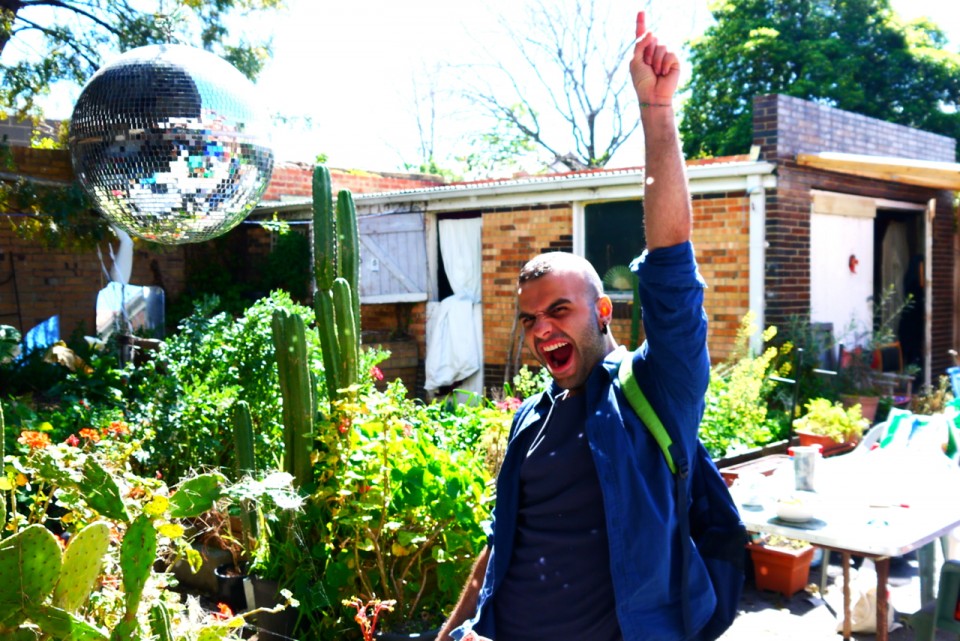 And that was it – Melbourne was my new home. I visited its every corner, drove in trams, without buying a ticket, just as I would do if I was back at home. During one of my rides I witnessed one of the biggest problems in Australia: the animosity between Aborigines and the white guys. A couple of Aborigines entered the tram and started talking loudly. As one of the girls among them had a lighted cigarette one of the passengers told her off so they started arguing. She responded with curses suggesting him to embark on ship and go back to where he'd come from. He didn't keep silent: he told her that if there wasn't for his ancestors she wouldn't have anything to smoke or a tram to drive with. And so they went on and on.
I looked for some information about prolonging my visa for another three months, spent hours in cafe bars, went out with my old and new friends. I spent most of the time with Ozren, who had come to Australia from Croatia as a kid, and he was spending the days tattooing people and getting me drunk with rakija (a Croatian poison) in a nearby bar. Just as I was looking up some ads searching for a affordable bike to get me around the city I received a mail:
Tom, you lucky guy.
By pure coincidence, one of the crew members changed her plans, so I can offer you a position on "This Side Up" on her journey to Africa. Are you still interested? If yes, join us in exactly two weeks when we'll be casting off from Bali.
Captain Mike
Mike was right. I am a lucky guy. I had two incredible options in front of me: the first was to stay in Melbourne, work, save money and in a couple of month's time I'd save up enough money to go on a journey around the world, even twice if I wanted to; the other option was to leave it all behind, work for another two weeks, buy a plane ticket to the place where I was supposed to meet the captain and the rest of the crew and start off a long and free journey to Africa.
As always, first I made the decision and only after that I thought about the consequences: I was going to sail across the Indian Ocean. The adventure was coming back through the big door!
Walking down the streets of Melbourne and thinking about what I had to do in the following two weeks I remembered the dream I had that night/morning: I was in the open sea on some kind of a raft when the wind started blowing like crazy carrying around all the boats around us. In one moment I found myself in a life-boat and, as a true travel-writer I first put my camera and laptop on a safe place and only then thought about what to do next. During the whole time I was surprisingly calm even though the dream was quite intensive and scary. I hoped that the meaning of the dream wasn't that deep, except the prediction that the boat-man would get to me a couple of hours later with the incredible news.
We arranged the place where we would meet: the ship was casting off from Bali in exactly two week's time, and since the procedure for getting an Indonesian visa for Croatian citizens was a long process I was to wait for the ship on its first stop – Christmas Island. I had to go there by plane because I had no time to look for an alternative. However, I could've found an alternative – Sharna, who was working in the Immigration office, gave me the number of the coast guard, which was sailing quite often on that route, but it was too late anyway. The plane ticket to Christmas Island would cost me as much as a ticket to the Africa, but the experience of sailing across the Indian Ocean would be – priceless. This was the very reason why I took my MasterCard, and after a few clicks I got myself a plane ticket.
The following two weeks flew by really quickly, and during that time I didn't really spend much time thinking about the journey that was ahead of me – I was too busy trying to get the visa for South Africa and Mauritius, where we would be stopping for a few days on our way to the final destination. Although the whole process of trying to get the visa was awfully stressful (I got the visa for South Africa exactly 24 hours before my flight), on one hand the fact that I was so busy kept me away from thinking about my over sea adventure. If I had had time and put some effort to studying how crossing the Indian Ocean on a sail boat truly looked like, I might have given up the whole thing.
This way I worked for another two weeks and with the money I made covered all the expenses I made during my first year of travelling, took a ride on Great Ocean Road with Anna and Sharna, visited 12 amazing apostles, and flew to Christmas Island.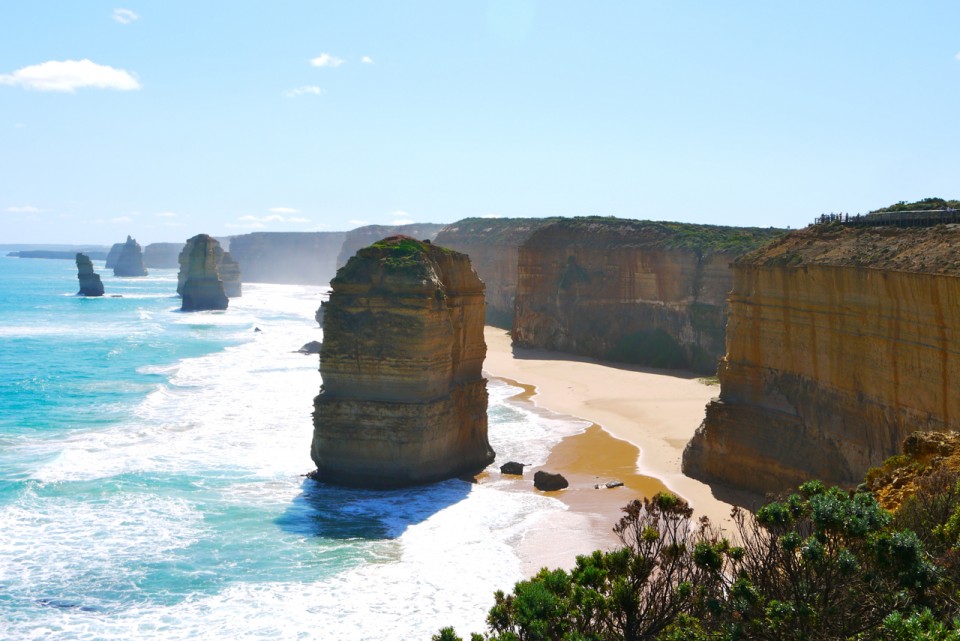 On Christmas Island, where the cheapest accommodation was 120$, I was supposed to spend a couple of days waiting for the boat and three-member crew – my new family. I hitchhiked a car which took me from the airport to Flying Fish Cove, the main harbor on the island, and the driver informed me that there were some abandoned military barracks on the hills nearby the harbor, and it took only ten minutes on foot to get there. I occupied one immediately, put my inflatable mattress inside. And I got myself a new place to stay.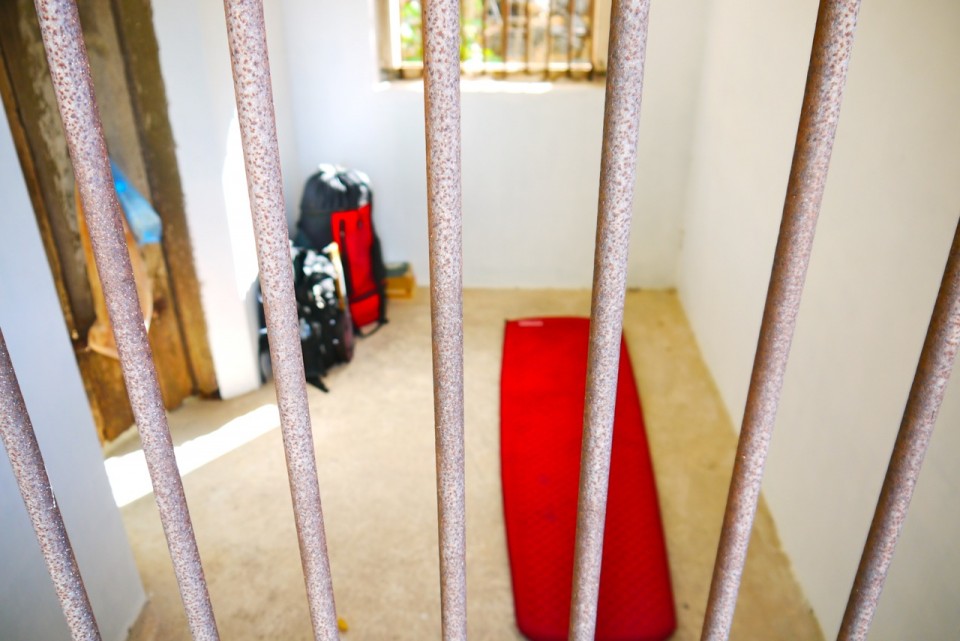 There were showers, free public toilet, supermarket and…in fact, that was it. That place wasn't that big despite the fact I'd heard so much about it: as a matter of fact lately, in Australia, a lot of politicians talk about illegal immigrants who come to the Australian territory, on the ships from Indonesia, seeking asylum. Most of them end their long journey exactly on Christmas Island, and in 2010 one of the ships ended up crashing in the rocks that surround the island, killing 50 people. The memorial was placed some 50 meters away from my barrack.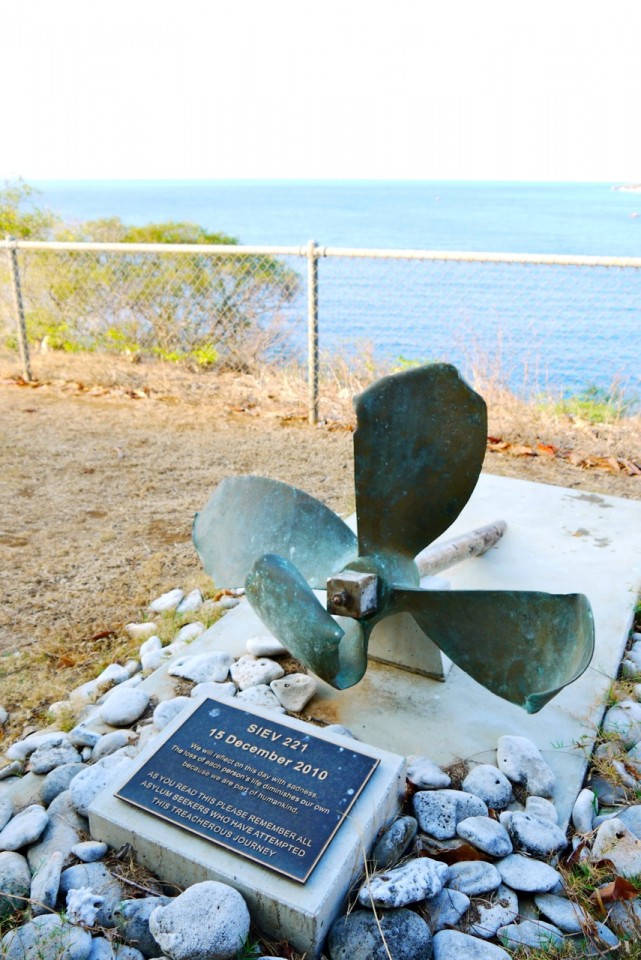 The following morning I myself had the opportunity to see how it all looked live: nearly disintegrated fishing boat with 50 people wearing fluorescent vests accompanied by military ship was docking in the harbor. The refugee were mostly from Sri Lanka, and not that rarely also from Iran/Iraq/Pakistan/Afghanistan and had had to pass thousands of kilometers only to arrive from their country to Indonesia from where they continued their dreadful journey to Australia. In most of the cases this way of cross cost a lot of money, so the passengers were sponsored by their families who would sacrifice everything just to enable one member of their family to embark on that exhausting journey searching for a better life.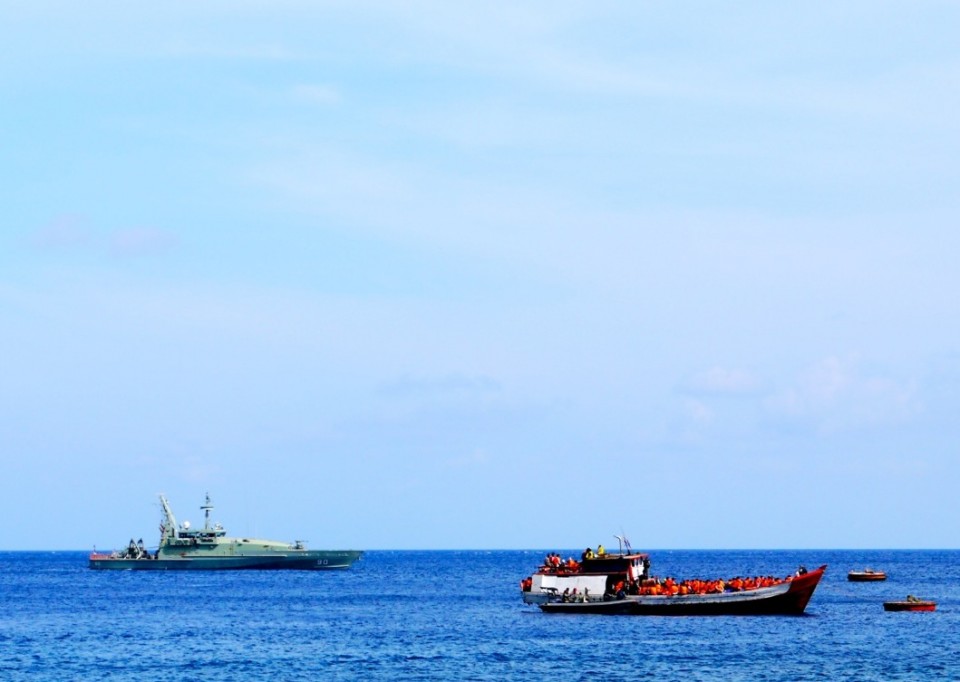 Above being very complicated, the story was awfully sad, especially when you witness, more than once, nationalistic attitude of the Australians cursing the illegal immigrants and telling them to go back to their ships and return to wherever they were from, while, at the same time, the Aborigines were asking the same thing from them. It could be funny, if it wasn't so sad.
I didn't see much of Christmas Island, which doesn't have more than 1500 habitants (the refugees are not to be counted!), 70% of which were of the Chinese origin. The island was discovered on Christmas in 1643, and for the past 50 years it had been under Australian jurisdiction. Since it was basically uninhabited up to the end of the 19th century, Christmas Island is known for a great variety of flora and fauna (2/3 of the island had been declared a national park); however, it is mostly known by the annual migration of red crabs which was due only a few weeks after I'm gone. If you had ever seen popular YouTube video Where The Hell Is Matt?, you may remember the scene with a zillion red crabs moving along the beach. It is estimated that their number reaches up to 100 millions.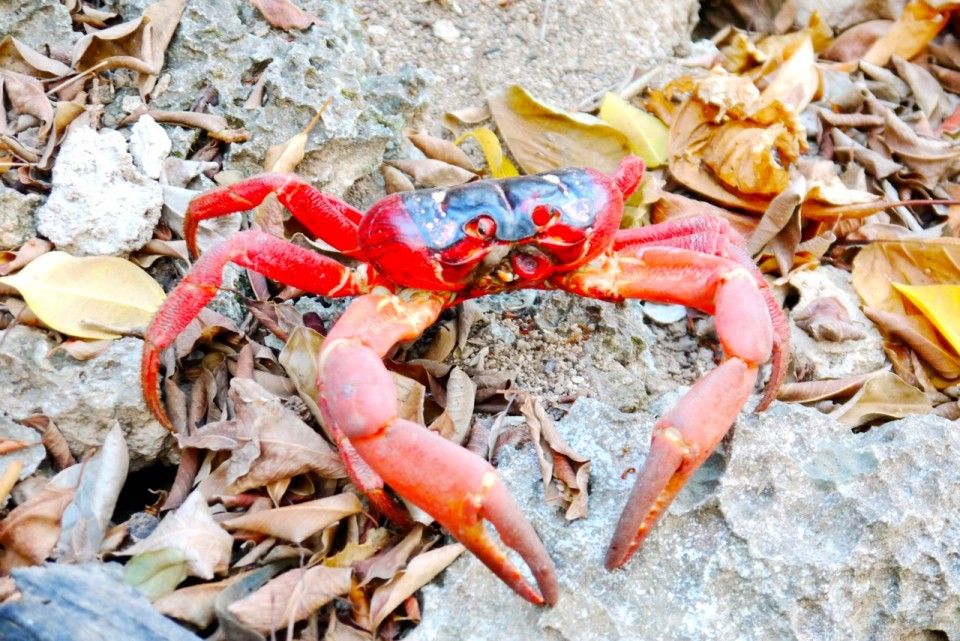 Other than migrating crabs, there were some other things/places worth visiting, but since the island was too big to explore on foot (especially when the temperature was +40 ˚C), there were no cars so hitchhiking was out of question,  and renting a scooter cost 50$ a day I gave it up. I spent my days observing the sea surface, waiting for my ship, just like a woman who was waiting for her husband to come back from sea. The night, on the other hand, I spent drinking rum, like a sailor waiting for his wife to return. It was quite interesting.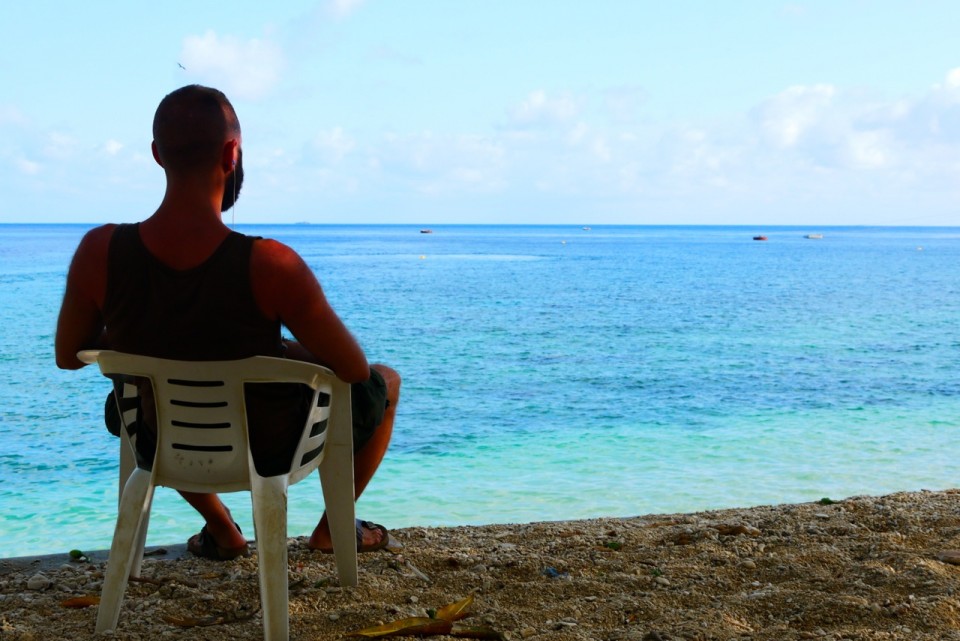 The fourth morning, at the crack of dawn, a sailing ship entered the harbour. It was the first one since I got there. I got this really strange sensation in my stomach – that could be it. I quickly gathered all my stuff, left my little barrack, and went to the harbour. As I was getting closer and closer the ship's name was clear – This Side Up. That was actually it.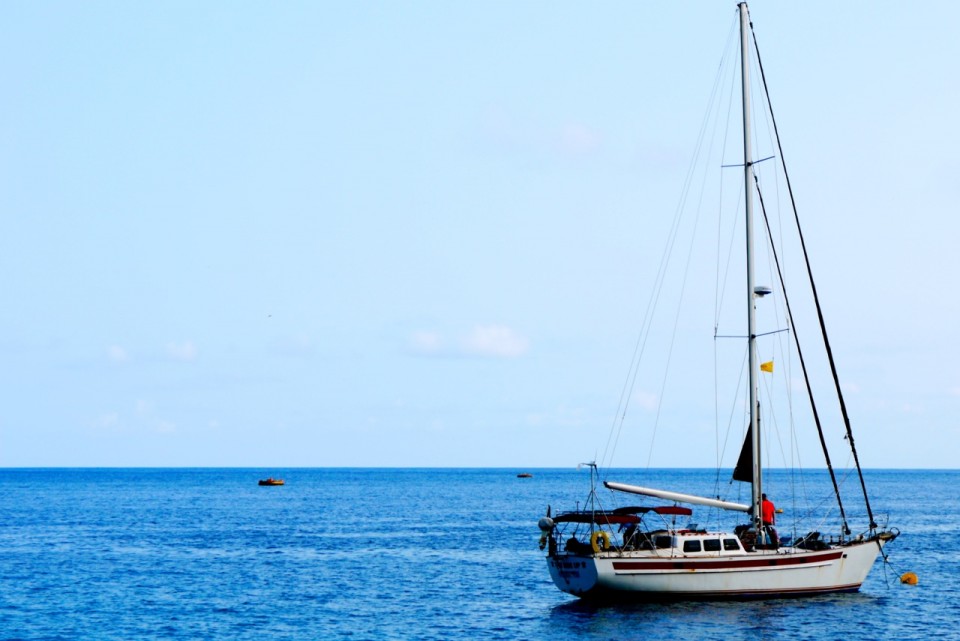 While I anxiously waited for the crew to lower the dinghy into the sea and come to the harbor, I was growing more excited, but also more nervous. Those were the three people I would be spending the following month and a half in that really tiny space, which, among other things, would be swaying left and right, forth and back. And so on and on. I met captain Mike (USA), Sebastien (Belgium) and Li Ti (China). They didn't seem like people who would throw me off the ship in the middle of the ocean, leaving me at mercy of sharks. Such a relief.
After doing the entire procedure on the customs I left my luggage on the ship and I was told some basic information: how the toilet was functioning, where the groceries were stored, how we should cook and stuff like that. Since the thirteen-meter sail boat was quite restricted, at least as the space was concerned (there were only two cabins with beds – on the stern the captain was sleeping, and on the bow Seb and Li Ti); I would have to sleep on a bench in a hall. That was the very moment when I said goodbye to any kind of privacy during the following a lot of days. If I had paid any money for it, I would have made them refund it. However, I had no choice.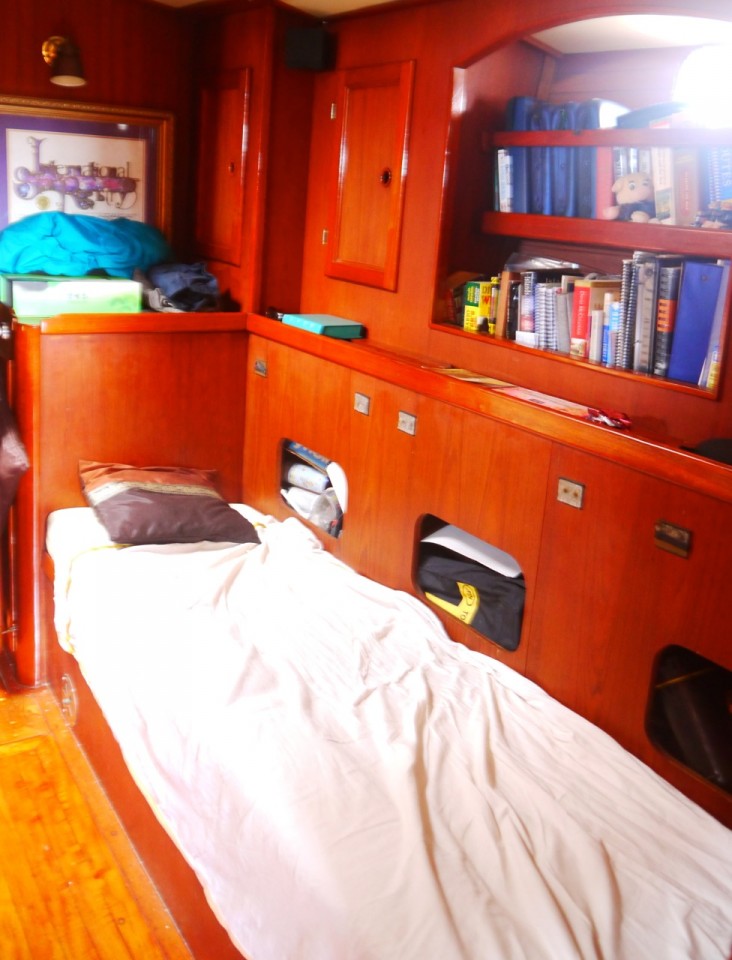 The captain asked me about my experience in sailing, and I had to tell him a white lie saying that I had some while I was still in Croatia (ferry rides do count, right?), but that I had never gone that far so that I wasn't able to see the land. The captain simply smiled upon hearing that: since I didn't know him that well I wasn't sure if the smile meant – kid, you have no idea what are you getting yourself into; or he was sick from having a totally inexperienced crew member when he was about to sail across the second largest ocean in the world.
Seb and Li Ti asked me if I ever had a sea sickness – as if they knew what I had been thinking for the past two weeks.
Sea sickness, about which I'd only heard the worst, seemed to me like a problem impossible to solve which I was very likely to hit upon during the journey (the storms, and accidents that included other ships didn't even cross my mind). Seb and Li Ti suffered from sea sickness the first days, but after that they were all right. I also felt a bit dizzy after a couple of minutes in a cabin, but I hoped that this dizziness would only last a few days. I didn't want to be one of those people from the stories I'd heard: one man threw himself in the sea because he couldn't take the feeling of sickness anymore.
I took the crew to the land where they took a shower for the first time in five days; later I took them to the supermarket to fill our supplies (that was the only thing where I had to actually spend some money during the journey across the ocean: paying for the cost of ¼ of the groceries we bought); to the Internet cafe where I informed my mother that I wouldn't get to her during the following 5 or 6 days, until we reach the next island. I thought about making a video with my last will, but I didn't want to push my luck. Anyway, I didn't have many things to leave behind.
We spent the night in the harbor and after the morning walk in the nearby forest, another shower and lunch on the ship, we heave up the anchor, set up our sails and sailed away towards the setting sun.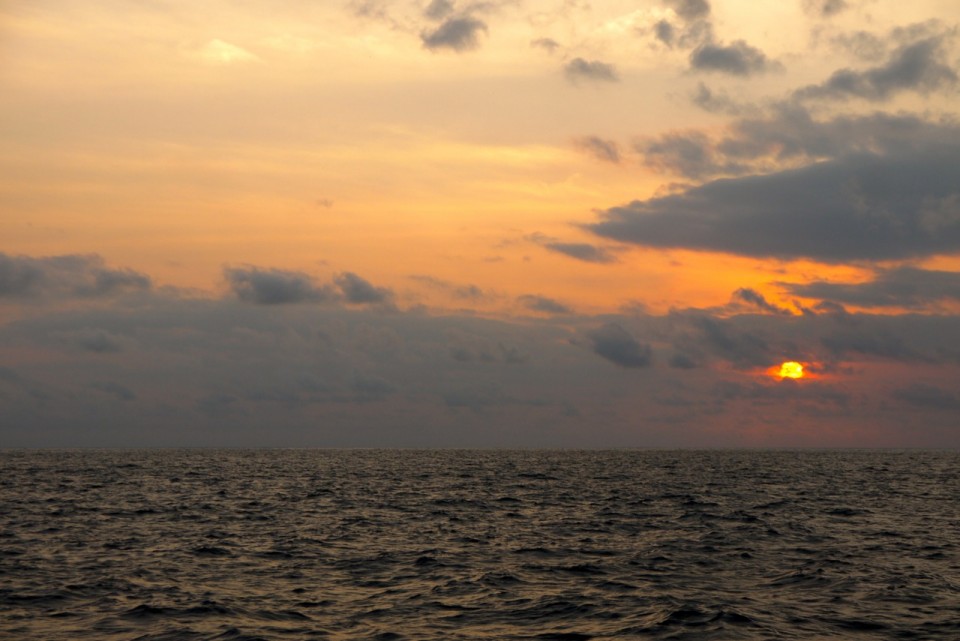 Our next stop: 1000 kilometers distant – Cocos Islands.
—
GALLERY – AUSTRALIA.
—
YT VIDEO – INDIAN OCEAN (1):