The moment I arrived to the farm in the foot of Himalaya, I could easily start writing a new chapter of my journey. Since I got quite exhausted by the two-month-wandering from town to town, I felt the urge for a place I could call home: a place where I could have some peace and quiet to spend a part of the remaining nine hundred and some days there. The Himalayan Farm Project seemed a perfect place to do so – an emerging permaculture farm where I would be volunteering for a couple of hours a day in exchange for a bed while I would be paying only 200 rupees for food which was a reasonable price. Most importantly, my KORAKOR family was there.
I'm sure most of you heard of the KORAKOR project since I've been bombing you with information about it on my Facebook page. In the autumn of 2009 I was travelling across Europe and I ran into Keveen's CS profile. He is a man with a beard who lives in his little camp house in the middle of the forest in the south of France. I sent him an e-mail to which he replied from Mexico where he was in charge of running the IT'SKOOL – an alternative school for poor local kids. I studied his web page for a while and noticed that he was working on a couple of additional programs worth admiring and that's why I decided to stay in touch with him. Accidentally, a couple of weeks later, I ran into Gina's CS profile and she had been in his above-mentioned camp house so I decided to stop by. Having spent several days in the middle of the forest, I decided to get involved more actively into the whole story so I took part in the sponsorship of the school in Mexico but also in Guatemala the next year. Only recently we have raised over 1000$ by selling the KORAKOR T-shirts and the donations on my Facebook page (I thank everyone who participated!). In the past two years we've stayed in contact but, somehow, we managed to pass by each other all the time until I found myself in Iran where I discovered that they were just a couple of thousand kilometers east. I speeded up a bit and I finally gave them a hug.
In the following two weeks, the life on the farm was quite slow and quiet, but also very interesting. I was dying for some peace and quiet and also for some time to relax from the constant journey. Moreover, I needed the physical labor which I had been successfully avoiding for my whole life.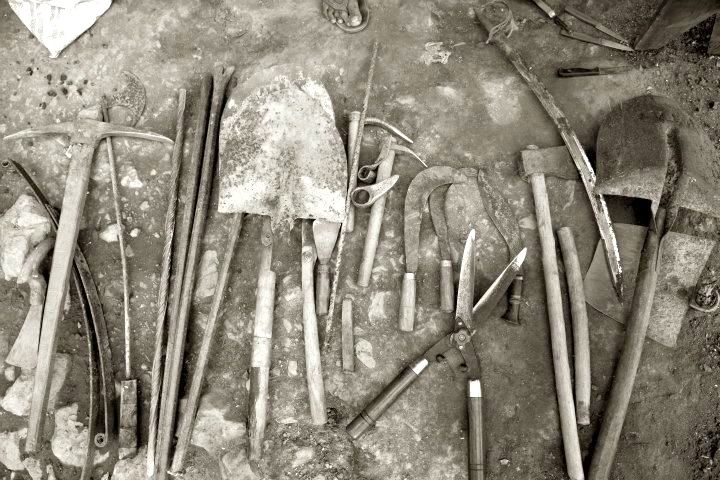 I'm not sure how to explain the difference in my way of thinking and functioning when I'm away from home, but what I do know is that I like it. I like not having idea where I'll end up that day. I like the fact that I have to do some serious thinking what I'll eat that day and where I'll do it. I like being in the unknown environment and in that way being forced to meet new people. I've been surrounded with safety and carelessness for the past twenty years and something, and now I'm getting out of my comfort zone. And I'm having a whale of a time.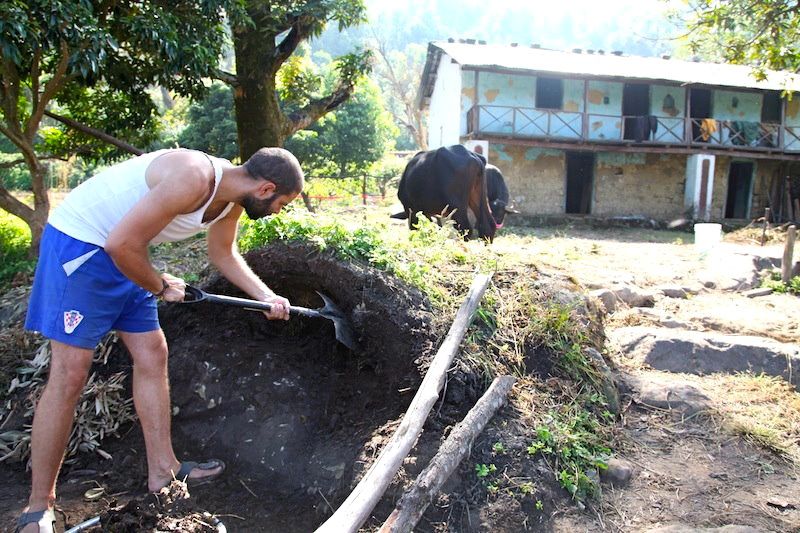 I was having a good time despite the fact that there was no electricity, no hot water and no toilet whatsoever. We solved the problem of the lack of electricity by waking up with the first rays of sun and going to sleep after the sunset. We heated up the water a bit on the fire, and if we had to use the toilet we did it in the good old Indian way – we would dig up a hole and use the left hand as a toilet paper. Yes, I admit, it takes some time to adjust yourself to their way of life, but it's worth trying. If you wanted to charge the battery of your phone or use the Internet, you had to take a walk to the village nearby. However, that didn't prevent me from calling my parents every day. Still, I don't know how I'm going to keep up with the tradition once I'm sailing across the ocean.
The only person who lives on the farm most of the year is Chandan, a local who makes sure that all those who are currently on the farm are full, including bulls and cows and buffaloes.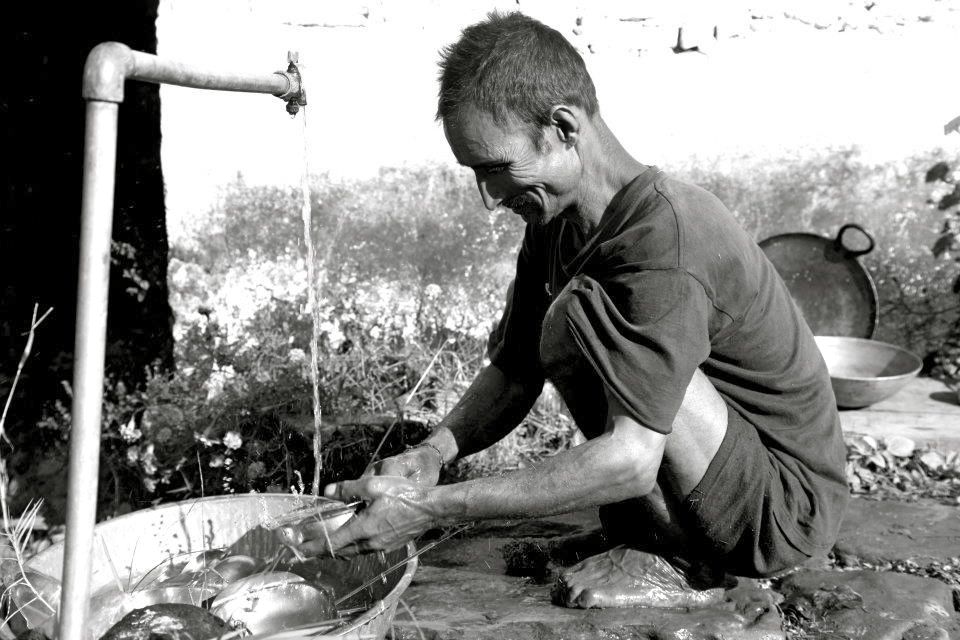 He speaks no English so our communication had to be based on body language and smiles. It worked out just fine. The rest of the crew was made of people who'd heard about the farm and decided to join and help creating something new. Still, I was alone most of the time with Keveen and Gina. Keveen took up the role of the leader of the farm and he handed out the assignments which were done without any complain. It was most probably like that because he himself did worked his fingers to the bone, but also the way in which he held us together was more than fascinating – not once did he raise his voice, he only had words of praise and support for every task that was done properly, he made us laugh all the time keeping the atmosphere highly positive. He also had a lot of patience.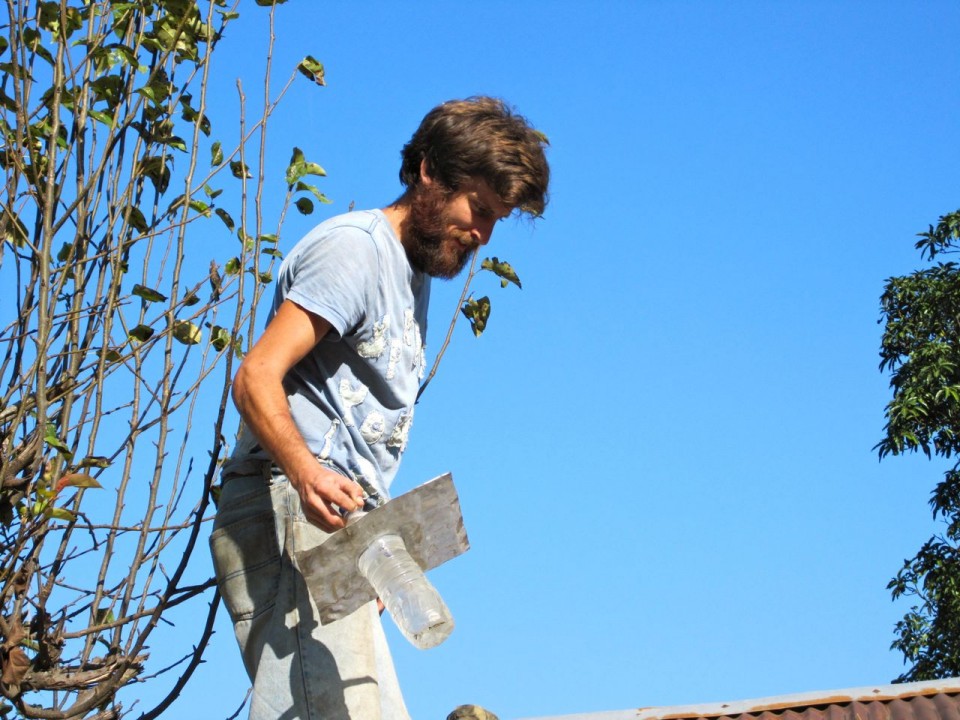 Untypical of me, when I was with him I was awfully quiet. I got back to the days when I was the one to listen other people's stories instead of telling the stories of my own. You can learn a great deal from a person who has been travelling since forever and who managed to obtained two master's degrees in the meanwhile. What makes him an excellent teacher is the very fact that he isn't being a smarty-pants and he doesn't try to enforce his opinion upon others but, instead, he tries to show it on an example. I had to wait just a couple of hours after we'd left the farm to see him practicing spreading love outside the farm – we were at the train station in Lucknow, on our way to Varanasi.
We were waiting for the train for the two hours and the train was late, as usual in the north of India. Then we waited for another hour. In the end it turned out that we waited for four hours. We killed time reading books which was a whole new experience for me on the journeys. Usually I don't have time for books – it would be awkward if I read them while hitchhiking; when I'm in the car I usually talk to the chauffer, and when I arrive to a city, someone from the CS welcomes me so I talk to him/her. In India, the transportation is so cheap that even I could afford it, so there's no hitchhiking. However – reading that was interrupted by someone's whining and the murmur of people standing some 50 meters from us.
Keveen got up to see what was going on, and I followed him. The scene was terrible – a guy with a huge bamboo stick in his hands was yelling and hitting a poor beggar in his head. During the whole time around 30 people were passing by merely observing the whole scene. Even though a couple of years before Keveen got himself injured after trying to save a stray dog from a group of local people who wanted to kill him, he interfered once more. He blocked the hits from the attacker with his body and with the help of gestures he asked for the violence to stop. Instantly, the situation changed dramatically – all those who were, just moments before, only observing the situation without taking any action, now took the bamboo stick and stopped the violence. The beggar, on the other side, with his head covered in blood, pulled himself together quickly, wrapped a piece of cloth around his head and crawled to our bench asking us with his perfect English if we could buy him a cup of tea. Beside tea Gina also gave him a painkiller. The man thanked us from all his heart telling us his sad life story. When we noticed that the train was approaching the platform, we said goodbye to him and he wished us a safe trip. A KORAKOR lesson – sometimes you need to butt in, no matter it may seem that it's not our problem.
We arrived to Varanasi exactly 7 hours later than planned, hopped in the rickshaw and told the chauffer to take us to the central ghat where we would try to find a cheap accommodation. Several days ago we sent a couple of CS requests, but it's hard to find a host when there're three of you and when you're headed to a popular tourist destination such as Varanasi. The awfully kind chauffer kept on suggesting us a hotel which was, according to him, the cheapest and the best. Unluckily for him, Kev and Gina had been there several years before and they knew how the things worked out around there – the chauffer's would get a commission-fee for every tourist who stays at the hotel with the owner of which they had a special agreement. After a while the chauffer finally gave up leaving us on the narrow and dark streets to look for the accommodation. What followed was the late encounter with the cows, bulls, stray dogs and their dung on our way to the hotel where I paid my single-bedded room 100 rupees (approx. 1.5$) while Gina and Kev paid their two-bedded room nearly half as much. Before we hit the bed we went to the terrace of the hotel where we had the opportunity to observe a bunch of monkeys jumping over the roofs, feeding themselves with the flies who were flying around the lights on the roofs. In the background you could see the outlines of the river Ganges, the holiest of the Indian rivers.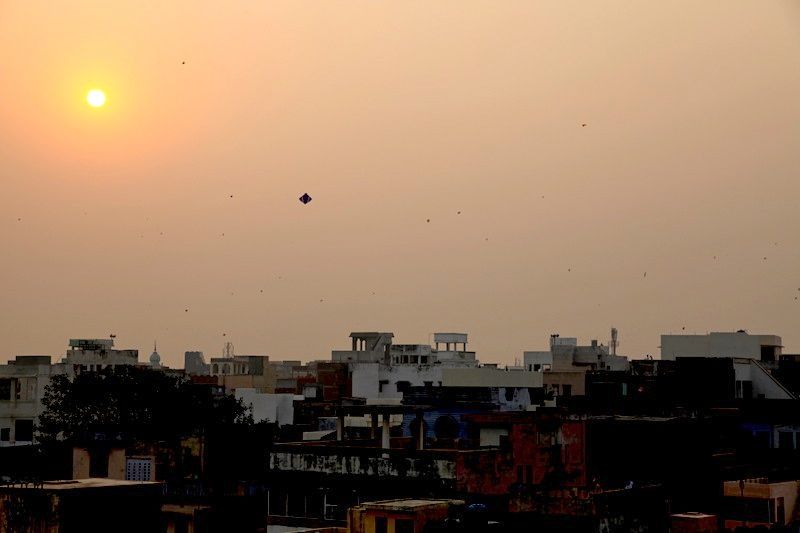 Our first day in Varanasi we went to the ghats, that is to the docks and through the mist we watched the awakening of the day. Also, we observed the Indians taking their ritual bath in Ganges on one side and the tourist taking photos of the Indians while doing so on the other. Varanasi is the holiest of all the Indians cities and each Hindu wants to die there so he or she could be cremated and their ashes could be spread across Ganges which is, in a way, a guarantee that all their sins on Earth are redeemed. If they're not that lucky to get their ashes spread in Varanasi, it could be done in other cities through which the holy rivers flows. Because of that, but also because a great deal of the life in India is connected to that river, Ganges is one of the most polluted rivers in the world. However, this doesn't stop the locals, and a few brave tourists (let's leave this word, although I have a couple of other ones on my mind) from taking a bath in there, washing their clothes and even taking a sip now and then. Good luck with that.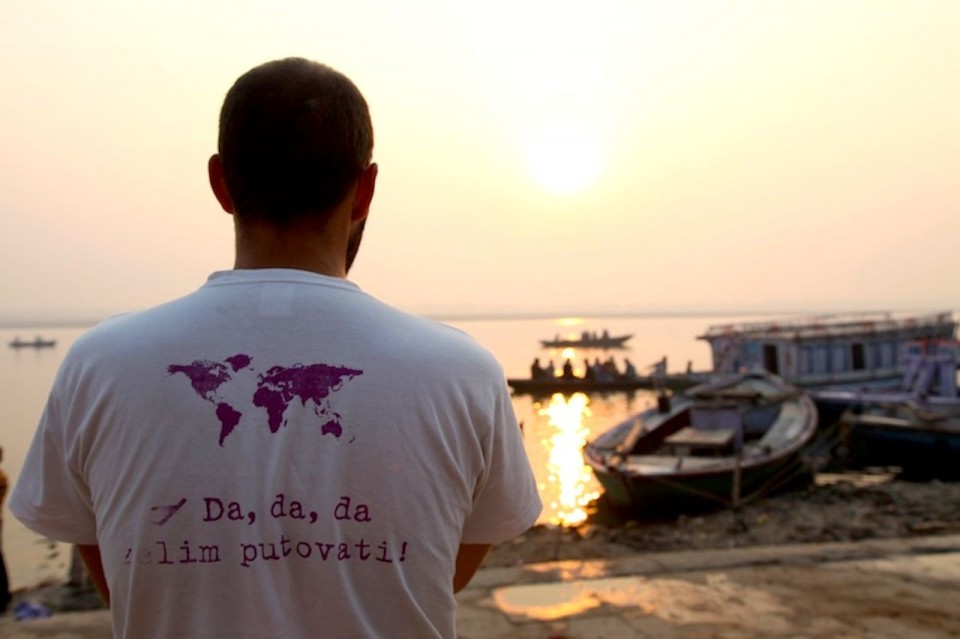 On the hotel roof terrace, where we watched every sunset and numerous kites which went high up to the sky, we met Mario – a German who came to Varanasi planning to buy a couple of hundreds live fish on the fish market and take them to the river where he would set them free. Kev, Gina and I exchanged looks and grinned saying that this was one of the noblest things we'd heard of lately. He explained his motives to us – if you do a good deed on one of four special days in a year, each of them counts thousand times more than if you did those on a normal day. In that way you buy yourself good karma for the next life. By doing so he wanted to bribe The One Who Counts Karma. As it later turned out to be, he didn't do a successful job not only because he died shortly after and reincarnated as a frog, but because…oh, well, just wait for a couple of more lines.
Early in the morning we joined him on the fish market where we helped him carry two trunks with wriggling fish inside all the way to the docks where we loaded the trunks in a boat. He negotiatied with some kid who was the owner of the boat to take us to the midle of the river where we would set fish free while Mario would be saying his prayer to The One Who Counts Karma. The deal was: half an hour – 100 rupees, although the kid asked for twice as much. We said the prayers, set free the fish and returned to the bank of the river. After we did this highly spiritual journey, Mario took a look at his watch and noticed that the kid was at least four minutes early. That is why he refused to pay the full price after which the two of them ended up arguing. Arguing about a couple of rupees. I'm sure that on that day even the bad karma is worth thousand times more, so Mario was probably on a zero.
The whole situation and the food made in Varanasi made me throw up. Shortly after we arrived to the bank, I found a dirty space in an alley (it was too easy) and I threw up my breakfast. That was when it started: stomachache, dizziness and diarrhea. It would all last for the next 48 hours. Room – toilet. Toilet – room. And so on for at least 57 times. Welcome to India, the land of diarrhea.
A lot of things passed through my mind those days. I decided to visit Nepal. On one hand, it was out of curiosity, and on the other one I wanted to see some old friends. I wanted to use the opportunity to make a visa for Thailand because I was planning to go there sooner or later. Finally, I wanted some time for myself. I missed being alone. You don't have to ask anyone anything, you don't have to adjust to anyone, the hotels aren't your only choice but you can also stay at the homes of CSers. Moreover, if you're sad and miserable there's no one around to whom you have to justify everything you do. I admit, it's possible that I blamed everyone around me since I was sick. Everything is possible.
Not only that, but I started asking myself what I was doing there. The fact is that I'd been giving some serious thinking to this journey for the past three years and I'd subordinated everything to it. And now, two months after I took off, I was in a dirty bed in the country I didn't know and I didn't even know why. I kept hearing the same song in my head – …and I still haven't found what I'm looking for… What was I looking for anyway? I went through my memories of all the past journeys and I was thinking about all the moments when I thought that was it. Soon I divided all those wonderful experiences on my journey into three categories: new activities (first hitchhikes, rock climbing, playing badminton in Bangladesh), time spent under the influence and falling in love. My parents were right – all the things I look for on my journeys can be found at home.
But.
I'm different at home. I'm lazier. My eyes are more closed. My heart too. The environment is the same. I spend more money. I cannot write my blog and say how I'm having a good time and how I'm brave and cool and how everything out there in the world is awesome and how.
And then, it hit me. The moment. The illness showed some signs of going away so I somehow pulled myself together and managed to drag myself to the docks. I sat on the curb and observed the world surrounding me. The multiplicity of colours. The hustle. The people. The energy. The health. The freedom. FREEDOM. I was there because that was my decision. Because I wanted it to be that way. Because I had the courage, although I don't think it took a great deal of courage. And no, I didn't have the slightest idea what I was looking for. It didn't even matter. I wasn't sure if I was going to find what I was looking for. However, now I'll have a great time looking for it. I didn't need more. At the moment. I let a tear of joy and got up to my feet without feeling dizzy.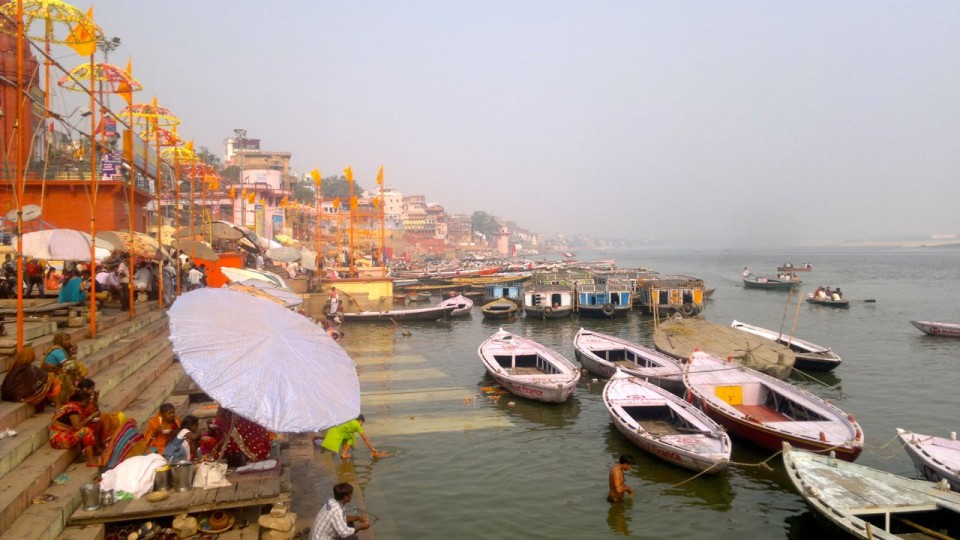 It felt great to be healthy again. So great that I thought of getting sick more often. I took a stroll around the city which was finally presenting itself to me in its full glory – dirtiness, beggars, intense odours…finally it all had sense. Learn, observe, involve your senses. The passers-by look at you more kindly if you walk with your head up high and with a smile on your face. Most probably because they think you're high, but it doesn't matter in that moment. I sat down in one of the tourist (that is more expensive) restaurants and decided to treat myself to a soup (Mom, are you reading this?), with a main course and freshly squeezed fruit juice. I thanked my body for feeling better and made a promise that I would take a better care of it.
During the whole time, Kev and Gina were working on their little love projects: one day they offered the passers-by with a free morning coffee; the second day they repaired the kites of the local children; and the third day they gave our hotel-mates a free massagge on the roof. Always with a smile on their faces. We also organized The Love Carpet – an action of spreading love in which you buy colourful chalks, find a piece of concrete and start writing down the messages of love, peace and friendship. People, children and animals would join in.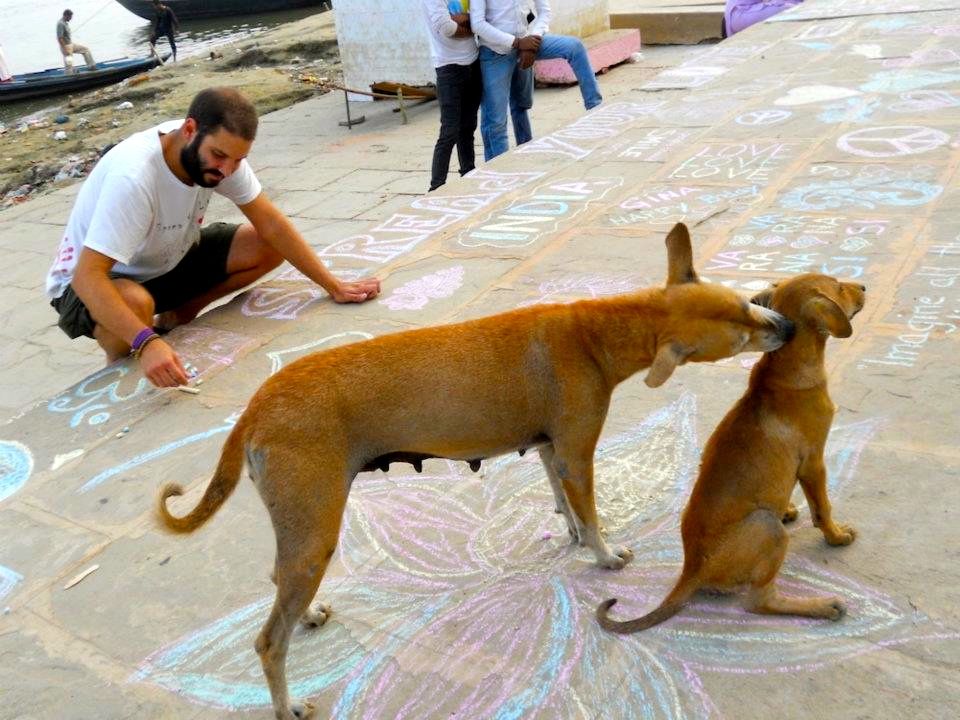 I decided to take a bus to Nepal and to do it by booking a seat via an agency. I was lazy and I didn't feel like organizing everything by myself so I let other people do it for me. A big mistake. I bought the bus ticket in the agency and a breakfast, a direct transportation to the border in the cosy tourist buses (without any local and without stopping whatsoever), the accomodation in a hotel on the boder and the rest of the trip the next day, also in a tourist bus were included in the price. It all cost me approx. 11 euros – fair enough.
I said goodbye to Kev and Gina knowing that we would meet again, somewhere. The first thing I noticed upon arriving at the platform were two pale-faced dudes carrying guitars. Twenty-year-old twins from Sweden with blue eyes and blonde hair – that was something you could see every day in India. We had breakfast together (two pieces of toast and one egg) and waited for the embarkation on the bus. And then – surprise, surprise. The bus broke down unexpectedly so we had to took the local one to the border. When we saw the bus that was supposed to take us to the border we started laughing our heads off, and most of the passengers gave up the trip. The bus was literally falling apart, the seat were made of wood, and more than half of the windows weren't on their place. Finally, a cherry on the cake, the locals were pressed against us. Naturally, the bus stopped in every village, and the worst thing was that the windows, already missing a significant number of them, were falling out each half an hour and breaking on the road. I sure hope that there weren't any deadly injured on the street, even though I wouldn't be surprised if there was someone. So, the lesson is: always plan on your own, without any middleman. Also, travel by trains instead of buses, especially if you find yourself in India.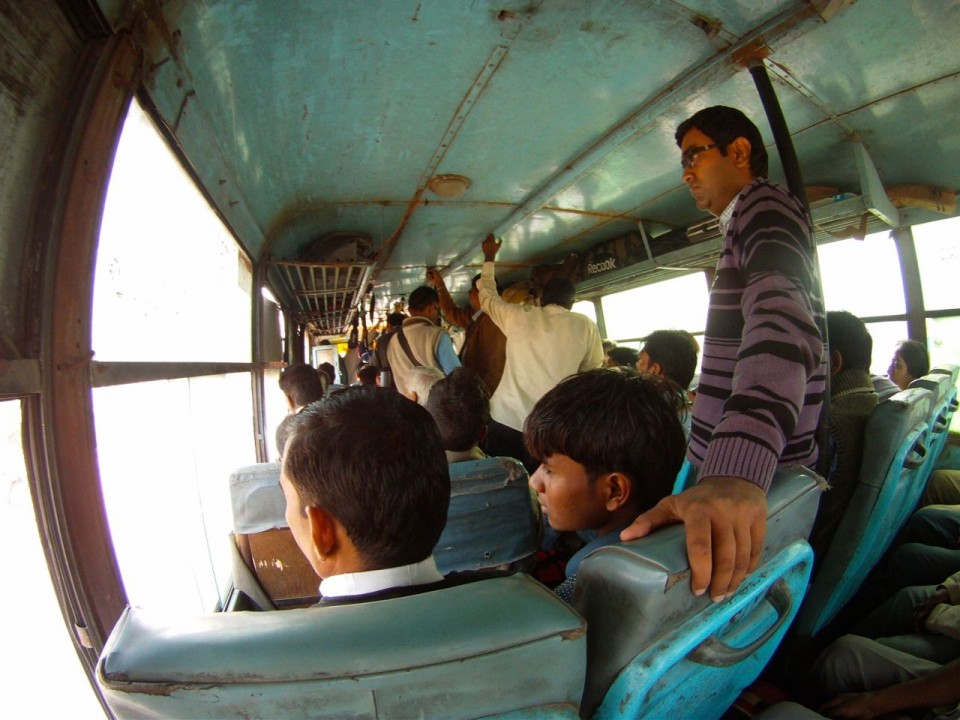 We were five hours late on the border, so we didn't arrive there before 10 p.m. Everything was prepared for another surprise: the hotel in which we booked the accomodation was on the Nepal side of the border, and the border was closed, of course. We were so frustrated that we decided to get to the other side of the border no matter what. In that way we woke up the customs officer who had dozed off and forced them into stamping our passports. And, surely, the last surprise was awaiting for us when we arrived in front of the hotel – the hotel was closed! Since we were freezing and frustrated by the rip off of the agency, we started banging against the closed doors of the hotel, although a neighbour was trying to convince us that it was all for nothing and that we can spend the night at his place, of course with a small additional surcharge. We were so close of starting to hit him instead of the doors.
Luckily for him, and for us, the owner of the hotel open the doors after a few minutes, ushered us to the mouldy room with a bunch of beds. We settled in and started devising a revenge to the owner of the agency, in case we ever came back to Varanasi. We fell asleep while doing so.
—
YT VIDEO – INDIA (1):