Nepal is very cold during November. Since I don't like cold weather very much I didn't stay there for a long time – just enough to visit some old friends, meet a couple of new ones, pick up the visa for Thailand, find out what the future has in store for me and find out some new ways of ripping off tourists.
The first way – you go to a local restaurant and you order food from what appears to be a nice group of people, without asking the price. Then you realize that the bill is somehow too big. However, you don't give in, but, instead, you ask to see the menu. They don't have one. You get out on the street and ask random passers-by how much they would pay for the meal. Your doubts are confirmed: you've payed three times more than it's worth. So, you get back to the restaurant, but they laugh in your face. For the first time in your life you go to the police and return with a broad-shouldered cop. They don't seem to laugh anymore. They return to you the sum of 1.2 euros for that's how much they've ripped you off. I'm stubborn and I always stick to my principles. Also, I feel sad when people try to rip off other people.
The second way – you're walking down the street when, all of a sudden, a guy carrying colourful leaflets in his hands offers you a trekking tour. Even though you say you're not interested he keeps on convincing you without much success. And then, the great finale: he adds nonchalantly that, just a few moments ago, three Swedish girls have taken the tour. You become instantly interested so you pay a couple of hundreds euros hoping for… Then you find yourself with six Germans and two French who are probably, just like you, looking for three blondes, all in vain. There, that is what would happen to me if I was more naive, had more money. And if I fell for blondes.
The third way – a guy walks up to you in a street carrying a local string instrument in his hands asking you if you're interested to buy one. Of course you're not interested but, nevertheless, he starts asking you where you're from, what you're doing there – the usual stuff. Then he generously offers to play something for you with his friends, for free. As a result you get a nice mini concert although you can see by the look in the players' eyes that they aren't putting there heart in the performance and that, after they're done they will ask something in return. Oh yeah, they also have their CD which is being sold at a reasonable price. All the profit goes to the local orphanage. I try to leave saying "Oooooh, I'm sorry. I don't have any cash, just MasterCard…". Beside CD they will offer you drug. It looks a lot like chocolate; I think it's called hashish or something like that. You don't feel at ease because what used to be a nice band turns up to be a group of drug dealers, but you leave their studio  with a smile on your face and get back to the safety of the street.
And so on and on. Luckily I have seen quite a lot on my journeys so there aren't many things that can surprise me. Only the kid in the Pakistani exchange office. And the tourist agency in Varanasi. And the local restaurant mentioned above. And.
During my stay in Kathmandu, I couch surfed with Taya, an Australian whom I'd met a year before in Bangladesh. The girl had been volunteering there for the second year in a row, and she was only 19. She teaches English to the kids. I even helped her correct some tests one evening. And when you think about it: only a couple of months before others were correcting my tests. I was surely improving, there's no talk about that. I gave F's to everyone, as revenge to the world for 8 years spent on the university studying.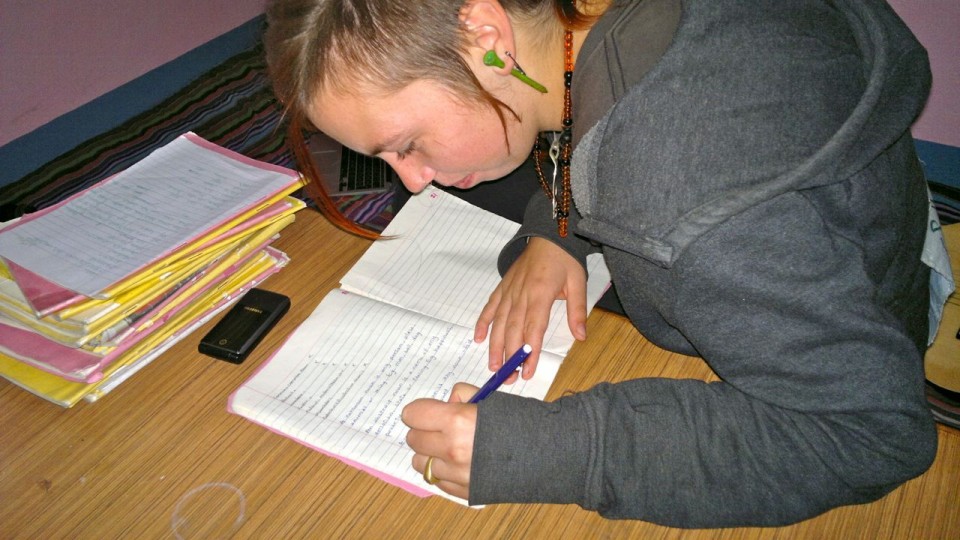 I had two sips of rakija (Balkan liquor) for the first time after Belgrade. The one who was responsible for that was Gruba, a fellow nomad who (let me quote it from his web page) spends every free moment of his life on a rock, in the river, on a bike, in the mountain, whether he's in Croatia or not. He'd been all over the world, mountain climbing on Himalaya, Andes, Atlas, Dolomites, Alps, clambering on the volcanoes in Indonesia, Columbia, Galapagos, wandering through Amazon, jungles of Laos, Cambodia, Borneo, the bush of Australia, Sahara, but, nevertheless, he's head over heels about the mountain Velebit. And about rakija which always accompanies him on his journeys. For all the medical reasons, of course.
Being half local he offered me with a local meal over which we exchanged stories, our experiences and some contacts. A year before I'd directed him to my family in Bangladesh where, according to Gruba, he spent some beautiful time. This time I recommended him Marina who was currently in Kuala Lumpur, Gruba's next destination before he's off to Burma. Or Myanmar. He wasn't completely sure where he would go first. In return he gave me some advice about India, where he spent a lot of time in the past couple of years.
I headed off to my first sightseeing outside of the centre, with Hari and his wife/girlfriend. They also showed me around the village where I was situated. The road led us to Swayambhunath, a popular Monkey Temple, the second of the holiest Buddhist temples. It took 365 stairs to arrive to a stupa at the top of the hill, but we stopped at the forty sixth stair because Hari and his honey had a "date" there with a Buddhist priest and a palm reader. Hari had visited him several years before and claimed that dude was right about everything that later happened to Hari.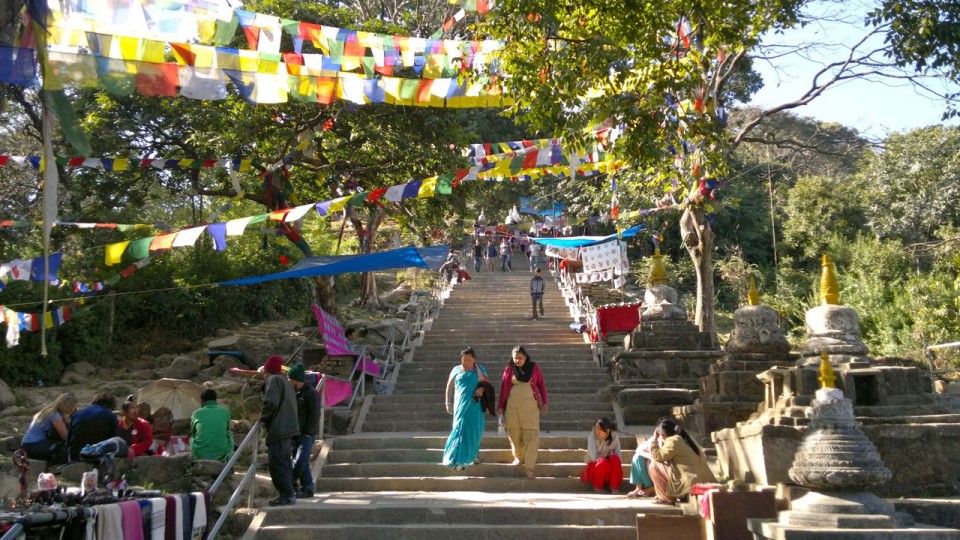 Since the base of the priest's business was give only what you can, I gathered courage and started an adventure called palm reading. I got it all recorded on my camera so that I wouldn't forget it. In that way I can write down, in piece and quiet, everything that the palm reader foretold me. Here we go.
To begin with, he asked me four things: my name and surname (at this point I gave him something to think about since I told him that my name was Tomislav, but my Facebook profile said Thomas Love), my date of birth, my home country. Finally, he asked me to show him my right palm. I did all he asked from me and listened very carefully to his words.
Very sentimental, he said. Ok, so I let down a tear in my last post on the blog – 1:0 to the priest. Peaceful. I got into a fight only once (and I lost), and, basically, I never argue. 2:0. Sometimes I do believe in God, but sometimes I don't. Family and relatives, I'm sorry, but 3:0. I'll spare you the part where I explain who/what/where is God for me. You're welcome. Business line is crossed, I don't have a steady job. Even though that was so hard to conclude, given the fact that I was a bearded man who was visiting a palm reader in Nepal, let him be – 4:0.
8th, 13th and 18th year of my life were problematic. Family, school and health problems. Either he made a mistake, or I wasn't able to remember anything – we were still on 4:0. From the 19th to the 22th year – a good period in my life. He should've been more precise so he doesn't get any point. From the 23th to the 25th year I was on a long journey, kept changing jobs and place where I was. I was a broker, quit my job, tried working in a juice bar, and started off my first journeys – 5:0. 26th and 27th year of my life were quite slow, I tried to do something, find out something, but something kept preventing me from doing so. He may be right, but he may also be wrong. The score remains the same. From the 28th to the 32nd year of my life a long travel, a constant moving, a constant change of jobs, convenient time to get married. We'll see. But I was on a good track – about the journey, not about getting married. From the 33th year to the 35th year – a good time for the finances. Woo-hoo! The 36th year won't be good. Be very careful and pray to God. Okay. The period after the 37th birthday very positive. New home, new land, a happy family. I was holding him on that one.
Life line very good, there were some problems with joints and back; do yoga and meditate. Show me a person who doesn't have any problem with joints and back. Heart line very good, good predispositions to be a writer, a painter, a dancer and a singer. I write, but I don't paint. I sing, but I don't dance. But okay, he deserved it – 6:0. Head line is good, I'm very smart. Being smart is a relative thing. However, I did get my university degree, does it count?  Line of Venus is good, a lot of love in life. Love IS my middle name, 7:0! Line of Jupiter is crossed, problems with marriage life and with living together in general. I didn't hear my room-mate complain – 7:1! A marriage with a woman of another nationality good, but a marriage with a woman of the same nationality bad. What can I say about this one? An odd number of children- 1, 3, 5, 7. It would be a bad thing if a had an even number of kids. If he says so… Line of Mercury is crossed so I shouldn't bet or gamble. Where were you when I lost everything on a stock market?! 8:1. Oh, well, here's an extra point since I gambled even before I entered the stock market. 9:1. Line of Mars is crossed, my family won't be there for me if I needed any help. Well, here he lost at least three points. 9:4. Line of Sun is very good, I have a good memory. Too bad I remember only the things that don't matter much, but okay – 10:4.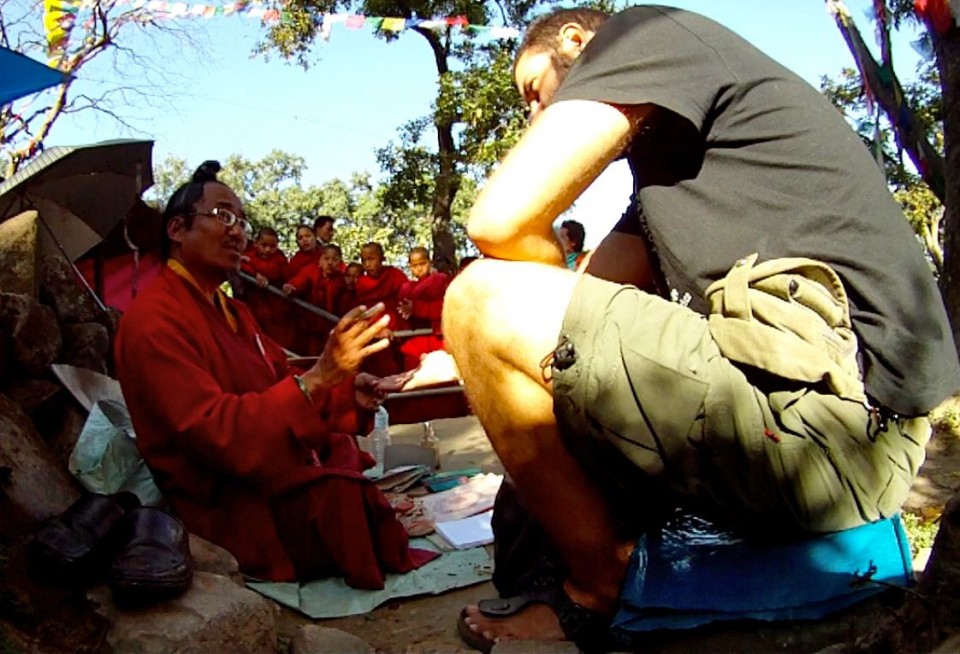 And that was it – all done in four minutes. I've got to say – he did quite a good job. The only mistake he made was about my family support and that thing with living together. However, he may know something I don't. I asked him only one question – will I find on this journey what I was looking for? He didn't give any response. Maybe even better that way. But he did answer when I asked him how much money I should give him. As much as you want, I'm a priest, not a businessman. BUT, your friend gave me 1000 rupees. Yeah, my rich friend. I gave him 200 rupees. Thank you and goodbye.
On all of his travels, Gruba has that humanitarian aura around him. In that way, every time he comes to Kathmandu he visits this orphanage. He donates clothes, shoes, all the things necessary for school, and, most importantly – his time and company. I joined him and a couple of his acquaintances during the visit to the orphanage which gave home to nineteen happy, playful and smiling kids. We played with them, drew, painted and talked a bit. Gruba started throwing them in the air which they liked a lot so they wanted me to do the same thing, but I wasn't feeling like it. Either that or all I wanted to do was talk to the Nina, a blonde who was volunteering in the orphanage. I pretended to have a sore back so I offered my back to the little ones to practice their massaging skills on me while I talked to the girl with a pretty name. Surprisingly, my tactics worked so for the next twenty minutes I had a bunch of kids who competed and exchanged in giving me a massage. Although all the adults that were there accused me of exploiting the kids as a underage labor force I was sure they were only jealous of me because they didn't think of the idea first. Or because I had such a pretty collocutor.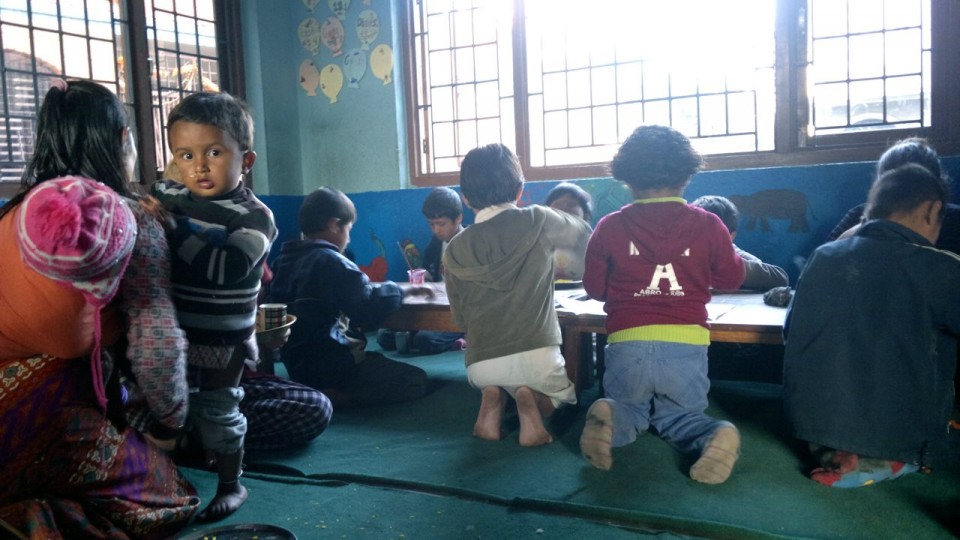 I said goodbye to the children, to Nina, and a bit later to Gruba whom I would meet somewhere in South America, inshallah. It's a small world. I thought about those children and the orphanage while I was driving in an overcrowded minbus which where sometimes you can find more than thirty people (despite it being a mini-van with a couple of rows of seats). I was thinking if that could be the thing I was looking for: charity work, helping those who are really in need of help. Although I'd been a part of Korakor family for two years, maybe I should get involved more actively by going to the place where all the action is and spending some time with a certain group of people. I wasn't quite sure but it would definitely go on my what I'm looking for list, just in case.
I got my visa for Thailand, attended a CS gathering where I treated the crew to my culinary skills (once again a lentil soup!) and where I opened, for the first time in my life, a bottle of wine with a Versace shoe. I don't remember the rest of the gathering, mostly because of the same bottle. And a couple of more.
Then I met with Caro.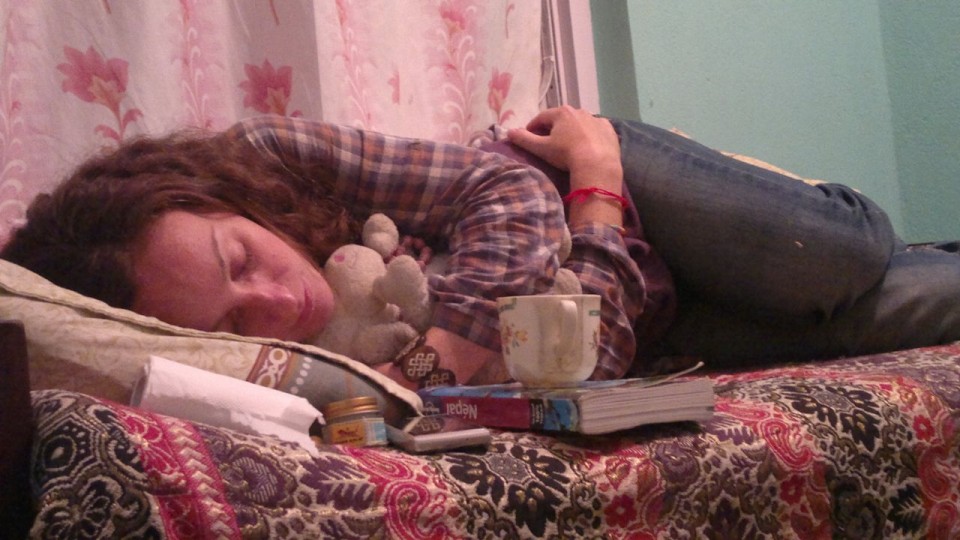 I got acquainted with Caro in 2009 on my first big journey, a two-month wandering through Europe. We spent two days together in Montpellier, we went rock climbing (I still have a scar on my right lower leg; by the way, scars are by far my favorite souvenirs since they don't occupy any space in my backpack) and we stayed in contact during all those years thanks to our dear Facebook. She returned to France a few months before after she had spent a year in New Zealand, Australia and South-east Asia. Given the fact that she didn't feel like going back to work, she came to Nepal. Since we had similar plans, we decided to join our forces and go together towards south, towards India.
Before we headed off to Varanasi (I still hadn't forgot the owner of that tourist agency!), we'd visited an orphanage where Caro had volunteered several weeks before and had practically given life to it by helping Lili and Oman, the managers of the orphanage. Since Caro is a teacher she was also able to give some advice how to work with the kids who lived there. Giving advice wasn't the only thing she did – when she noticed that the orphanage needed an refrigerator and an electric stove, she spread the word across France and in just a couple of days she managed to raise enough money for the purchase of the indispensible kitchen appliances. She is a girl with a big heart.
When ten kids in the age from 5 to 12 began to arrive from school, the fun began. Although it would be a natural thing to expect chaos when there are so many children in one place, those were probably the most polite and quiet kids I'd ever had a chance to meet. Six girls and four boys – their short lives had been marked by a sad story. Most of them were abandoned by their parents because they weren't able to take care of them anymore and were, in one way or another, brought to the orphanage where they wouldn't be homeless, would receive an education and would definitely have several meals a day. They all spoken broken English: the older ones spoke better, while the English of the younger ones was a bit poorer. However, everyone was brilliant at speaking the universal language – smile.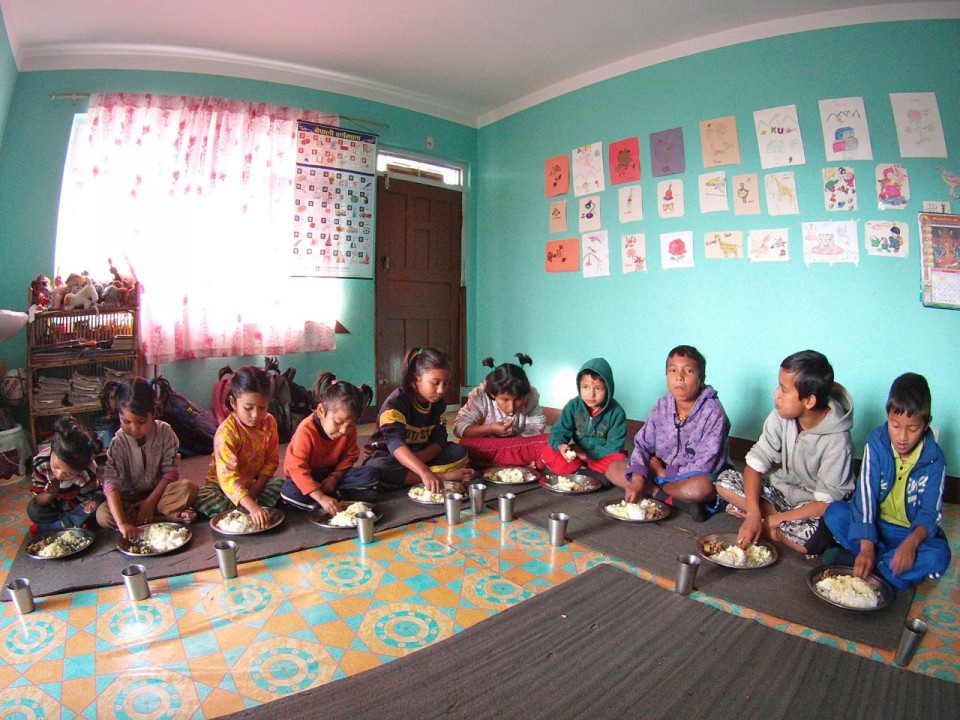 We helped them with their homework, we lunched together watching them lined up as they throw themselves on rice with a bit of sauce. Later, I took my guitar and start playing and singing songs they'd never heard of. However, that didn't stop them from getting up and showing their dance moves which were worthy of the dancers in the disco clubs. Shortly after we played the cassette with the local hits that was in the cassette player and even the adult ones had to let themselves go. I really don't like to dance, but it was a lot of fun to dance for the kids pulling my John Travolta moves to the Nepal-Indian melody.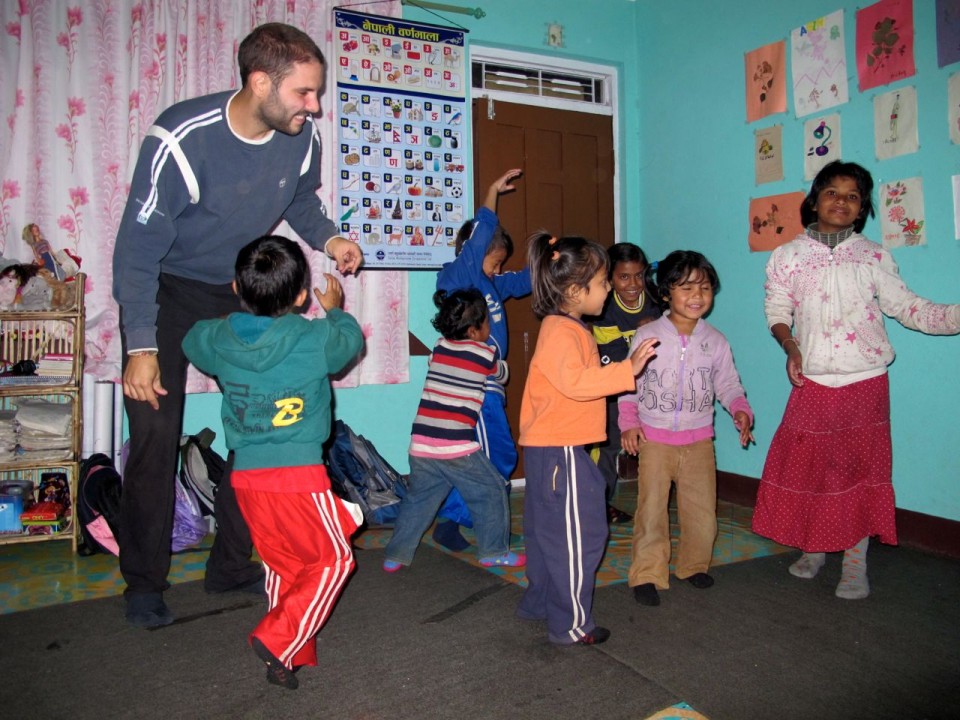 When the sun went down, and the temperatures dropped it was finally the time to bring a piece of novelty to the house – we turned on the electric heater. The scene was incredible – just a couple of minutes after we turned it on, all the kids gathered around it and observed it as if it was the most interesting cartoon in the world. Caro whispered in my ear that normally she read them a story before bedtime, but that I could do that if I wanted to. I took a picture-book Wolf and three piglets and transformed it into Wolf and ten piglets. With a couple of adjustments I made them laugh and sent them to go to sleep. Good night brother, good night sister, good night Sir, good night Miss. After that they went peacefully to their rooms to get some rest.
The following morning we gave a huge hug to Lili and Oman. They gave us a few going-away gifts: a silk scarf and tikka (the red dot typical of Hindu people) on our forehead as a sign of a blessing with which they wished us a safe and a happy journey that was ahead of us. And it was safe: after a 10-hour ride in a cosy bus we arrived to Lumbini, Buddha's birth place and the place where he spent the first 29 years of his life.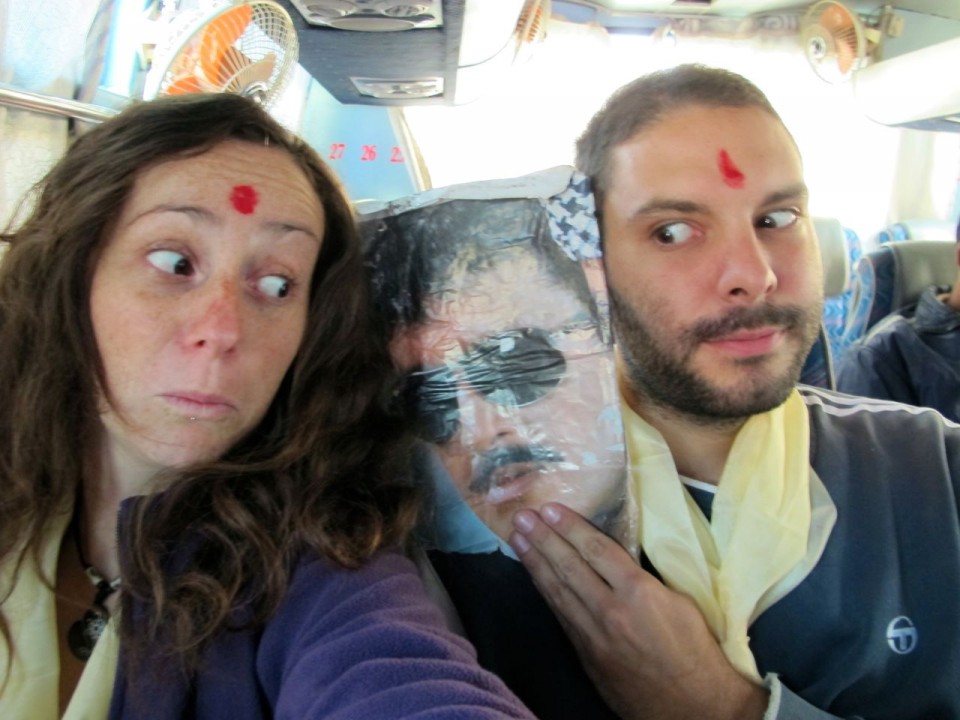 The chauffer tried to help us find an economical hotel room, but we didn't need any help since we were confident with our skills in finding the cheapest possible accommodation. We got off the bus in the center where we experienced an interesting sight – hordes of priests dressed in their orange-red robes were wandering through the city in twilight. Having entered the first guest house we realized what was it all about – the day before some kind of a peace festival began and all rooms were booked. So much about our skills. Damn you, peace!
At the end we ended up at the house of a family who wanted to kick out an old lady from her room on the ground-floor offering us her room for 500 rupees a night. The room, not the woman. The woman didn't seem so sad about the evacuation so we assumed that the extra rupees would be useful so we accepted the offer. Since the room was full of the old lady's odor and big mosquitoes we took all the equipment that could save us from the pests, spread a sleeping net above our bed and watched quite a boring movie on Caro's laptop.
The following day we went sightseeing. The whole time we were accompanied by a bunch of cheerful kids who wanted to say hello and take some photos with us. We had fun saying hello back to them and complying with their wishes and requests. We also visited a few temples built by Buddhists from all over the globe; however, we couldn't help feeling that it was all a big competition who would build a bigger and more beautiful monument to Buddha. The path led us to the place where Buddha was born, but having realized that we had to pay the ticket 200 rupees if we wanted to enter while the non-whites could enter for free, we became defiant. We decided not to enter so we took a few photos from the distance. I think Buddha would be very disappointed if he knew that, even in his birth town, everything revolved around money. This way we sent on a bench and observed the passers-by.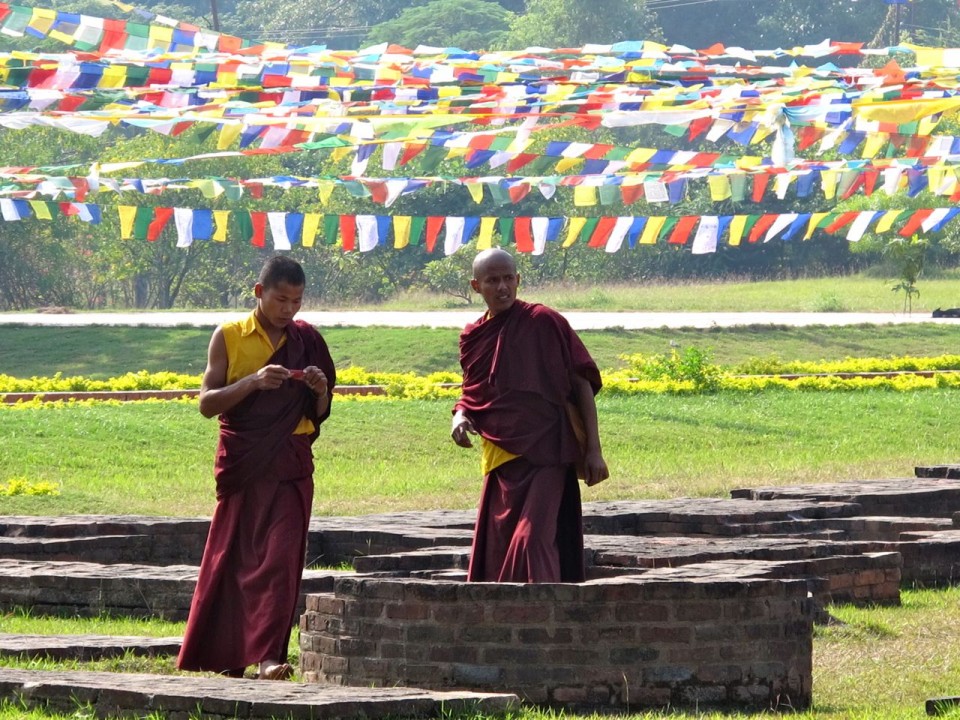 In the morning we checked out from the hotel. Caro left them her mountain shoes since they would be of no use to her in the place where we were headed, on +30°C. We decided to hitchhike to the border which was about 30 minutes away by driving, but we soon realized that there weren't any private cars. There were only taxis and buses. The cars that did pull over were rare and the drivers wanted from us that we pay them more than the taxi drivers would ask. With a clean conscious we got onto a bus and after another short ride in a microbus, packed like sardines, we reached the border.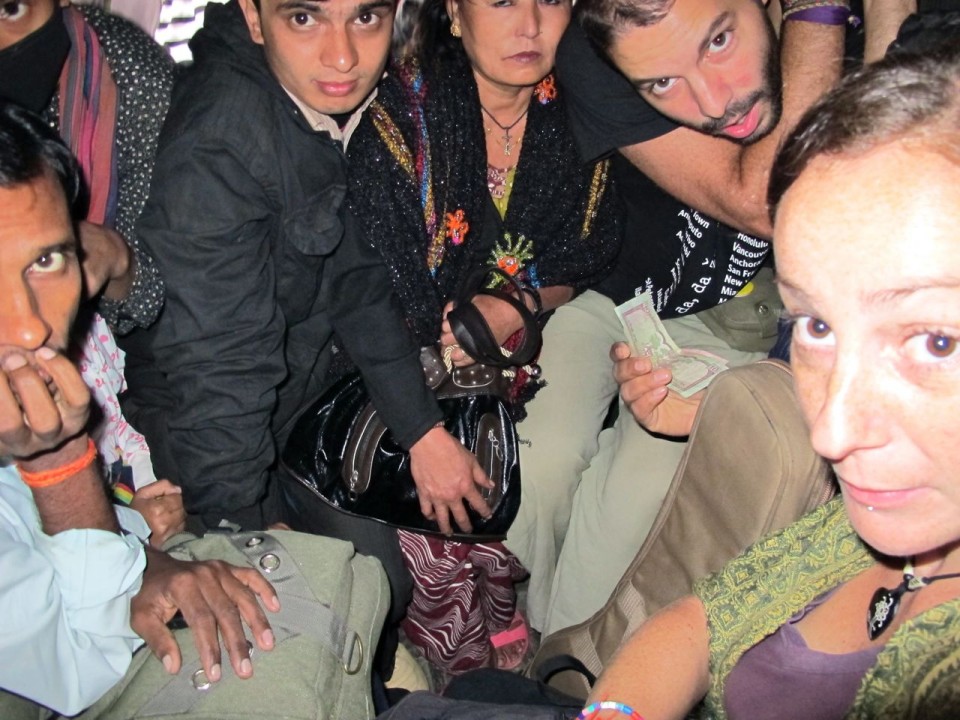 Goodbye, Nepal, I'm sorry I didn't stay longer. Maybe some next time.
—
GALLERY – NEPAL.
—
YT VIDEO – NEPAL: