I met Tanja at the airport in Delhi. Along with her rucksack, she carried a big red bag on her shoulder: a bag had a white inscription that said Dear Santa I've been very, very good. Most of the time. A big hug and a kiss for two months that we hadn't seen each other. We took each other by the hand and headed to Agra.
Since it was Christmas Eve our friends/sponsors gave us a Christmas present – a paid room in a fancy hotel in the center of Agra where we would spend the night, and in the morning we planned to go to Taj Mahal and embark on a train to Jaipur. Since this was our first stay in a hotel that had more than one star, we weren't quite sure what to do when the bell-boy carried our luggage to our room – should we give him a tip or not? And if we give him a tip, how much is it supposed to be? In the end, we gave him 100 rupees – that is how much you would pay a two-bed room in one of the most prestigious hotels in Varanasi. Never mind, it was Christmas, time of giving presents.
The room was clean, the bed was huge, and, also, you could take a shower with warm water after which nicely smelling towels awaited for you. Although I was skipping the alternative way of travelling, I had to admit that, every now and then, it wasn't a bad thing to treat yourself to a bit of luxury, just for a change. Yet again, you mustn't go overboard with luxury – too much of a good thing can become boring.
Tanja took some things from her red bag: a small Christmas tree, some decorations to put on it and a few presents that Santa'd sent me – a Christmas card from my dearest, a gingerbread heart from Zagreb, a new pair of my favorite sneakers, and, most importantly, a bunch of candies. They know me too well. This was my second Christmas that I was spending away from home. Last year I was in Bangladesh completely on my own, without a Christmas tree and gifts, and this year Christmas came to me in India with everything that goes with it – a dear person, gifts, and a Christmas tree. Merry.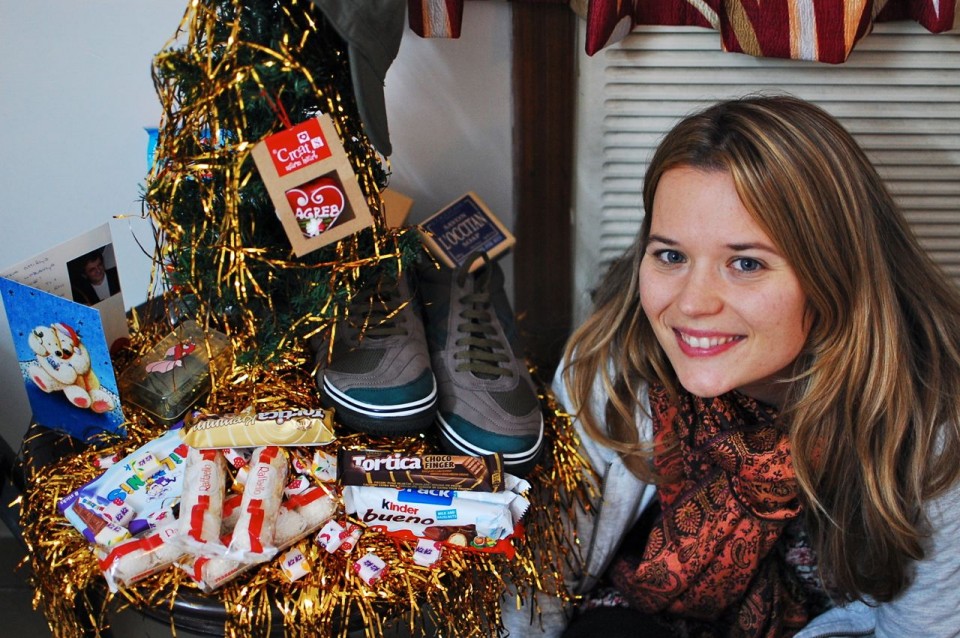 I couldn't eat all of my candies the same night because our stay in the hotel included a paid dinner, and a real Christmas party was organized after the dinner. There were a DJ, two big loudspeakers turned on to the fullest, and, of course, a lightshow. Despite the fact that we were the only guests at the dinner, DJ kept on playing the music and then stopping the song in the middle like he was looking for the right song. And he finally found it – it was one of Justin Bieber's because that one made us laugh the most. Since that moment he kept on playing Baaaby, baaaaby, baaaby, oooh…. We went along, so after a paneer (fresh cottage cheese in God-knows what sauce which was, by far, my favorite meal in India), a delicious chicken and a big portion of rice, we stepped on the dance floor and showed them how to dance to the best song of all times. Luckily, as it always happens in India, the power went quickly off.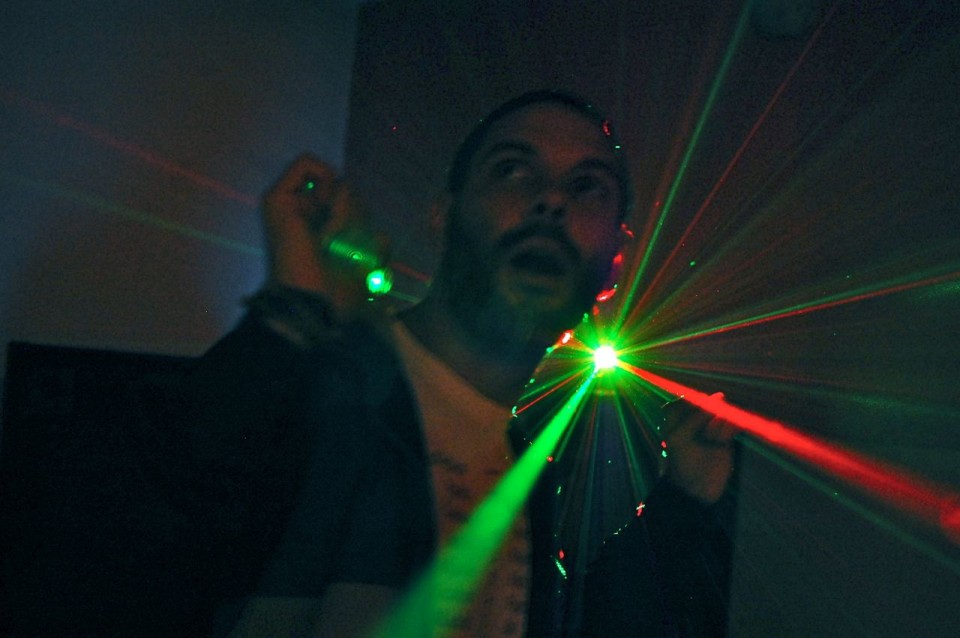 We slept through a recommended early morning visit to Taj Mahal, had our breakfast, left our things on the reception and went to a nearby world wonder in a rickshaw. The ticket for the tourists was 750 rupees (approx. 12 euros), an amount which could last for a whole week in India, if you include the accommodation and food, but this was, after all, Taj Mahal. At least they said so.
You aren't allowed to bring anything with you when you enter the premises, starting from food to the Christmas tree. You probably know the story about Taj Mahal – a long time ago Shah Jahan lived there and he was the emperor of that part of India. Mumtaz Mahal was his wife who died giving birth to his 14th child. He loved her a lot, so after her death he decided to build Taj Mahal as a memory to her. 20.000 workers took part in the building of the monument which had lasted for 22 years. Even today it is known as one of the most beautiful buildings in the whole world. In the same way, it's considered to be the biggest monument to the eternal love.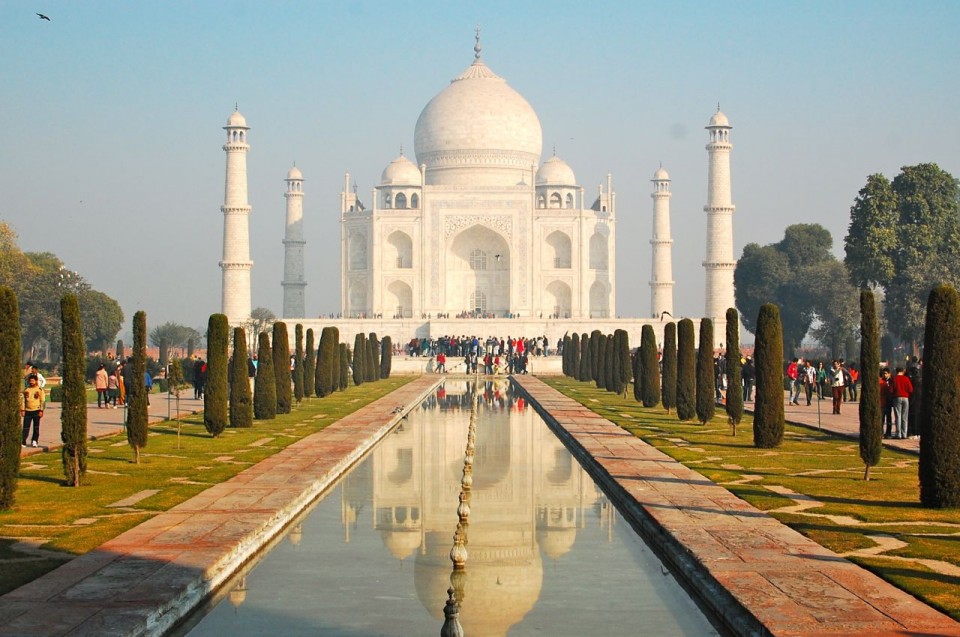 To tell the truth, I wasn't that fascinated by the monument and the whole story about it. The building is amazing, that I admit, but when you look at the energy of the place, a never-ending stream of tourists, the romantic background – I remained aloof. I guess the problem was me.
Or the fact that Tanja and me broke up three weeks after that.
Since this time of the year is very popular for travelling across India, a few week before we got there, we made a detailed plan: Delhi – Agra – Jaipur – Goa. Consequently, we were forced to buy the train tickets in advance because Indian trains are known for the fact that they are booked a couple of months before the departure, especially those on the popular locations like ours. If there's one thing I don't like then that would be planning ahead, but sometimes you just don't have other choice. My MasterCard helped me go through all the planning and buying tickets with minimum stress: with it, all it took were a few clicks and everything was in perfect order.
Our next stop was Jaipur, popularly known as the Pink City. We didn't get to see its pinkness since we arrived in the middle of night. However, we did manage to see an elephant fighting its way through traffic as if it belonged there. Even though we had an arrangement with our CS host, we decided not to bother him in such a late hour, but, instead, we used a gift by Tanja's father who'd decided to treat us to a couple of stays at the hotels by our choice. All the treats and gifts we received lately only strengthen the feeling that it was Christmas time. Despite the fact that that was my first year that I didn't hear George Michael and his Last Christmas, I gave you my heart… I didn't miss it.
The following day we were very active so we went sightseeing – we visited Hawa Mahal whose facade was made of 953 little windows and reminded awfully of a beehive from where the women would observe everything that was happening on the street. We walked down the streets without any particular destination, did some window-shopping and all the shop-assistants threw themselves at us offering us to enter their stores and see what they had in store – and all for free. If they tried to be funny with that offers, they got a point for humor.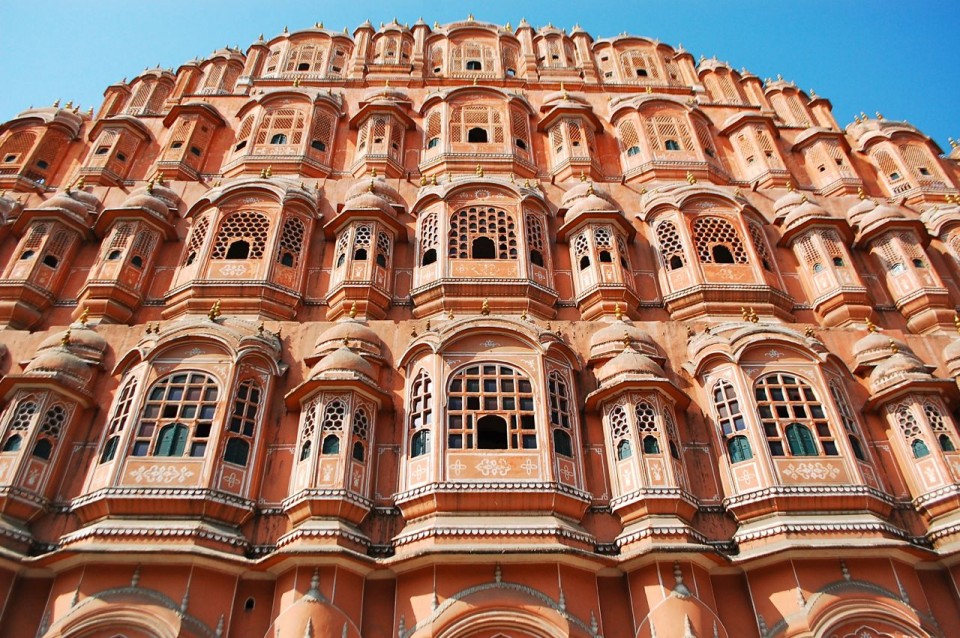 Our pointless wandering was interrupted by a driver of a rickshaw who, all happy and smiled, offered to be our driver and our guide showing us the local monuments for a fairly low price. While we were suspiciously trying to figure out where the catch was, he gave us a little book full of positive impressions from the people all over the world. Two points for self- promotion! We took it!
Our first stop was the Water Palace – Jal Mahal. It's not a common sight to see a palace in the middle of a lake. We took some photos, like all tourists, got a coconut with two straws, fed fish in the lake for a good karma.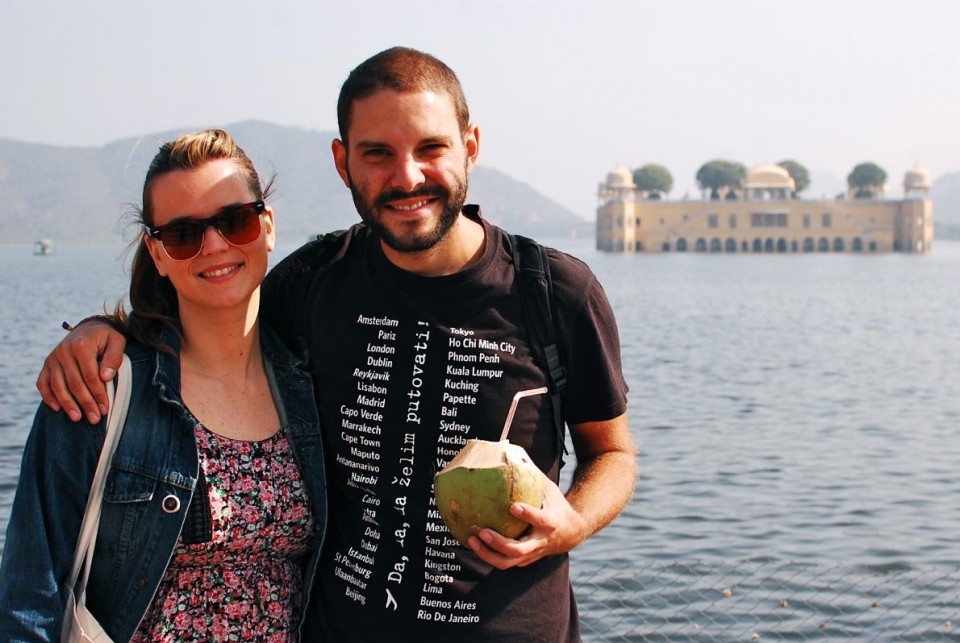 Later, we went on with our tour. The second stop on the Tour of the rickshaw was a textile store with numerous rugs, scarfs, linen and a bunch of clothes  – all home-made. At the entrance one of the shop-assistants took us by the hand and gently offered to show us the most interesting things they had in offer. It took him a half an hour to present to us all the wonders they had in store. Also, they had the answers to all of the questions, they were extremely kind, but they did get a bit angry when we left without buying anything: both the seller and our driver/guide who was apparently bringing tourists there because of a potential commission-fee. So, that's where the catch was.
The third stop where our sulking driver took us was an elephant stable where we took some photos and played with elephants which were back from work – carrying tourists around the city. We felt a bit awkward since elephants didn't seem much happy which wasn't surprising given the fact that they were held in chains the whole day, except when being with tourists. The chains, of course, restrict even their basic moving possibilities. Feeling a bit sad, on our way back we gave the elephant-taker a few rupees so he could treat the elephants to something nice.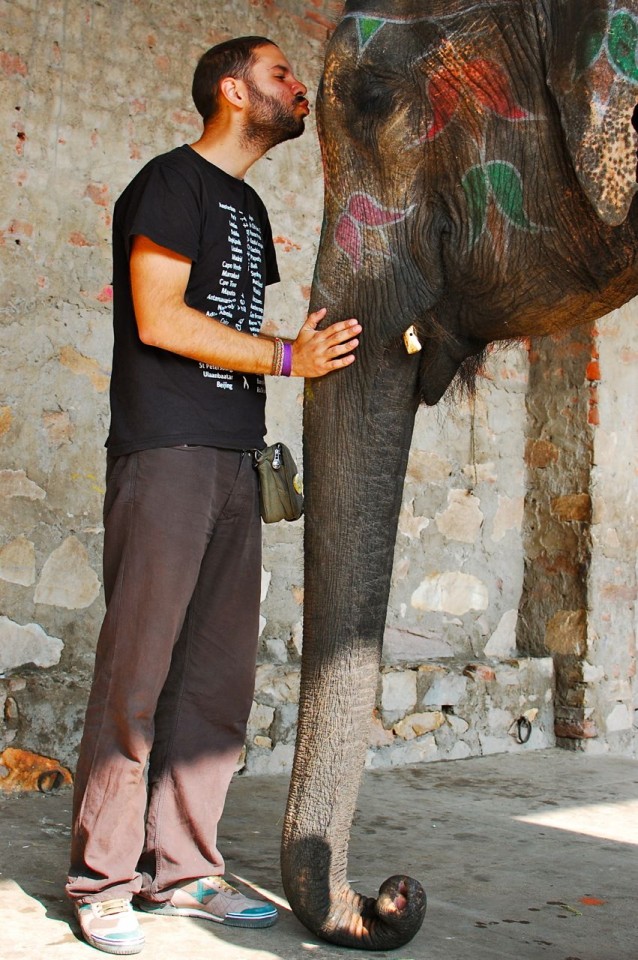 In order to make our guide feel a bit better for not managing to earn his commission-fee on us, we hired him to take us to Amer, a small town ten kilometers from Jaipur, known for its fort, one of the main tourist attractions in that part of India. However, we didn't go there to see the fortress, but to meet Rahul, our CS host.
We managed to find him without any difficulties, left our backpacks in our new room and joined his mother and sister over a cup of tea while Rahul went to check on his elephants – on his CS profile we found out that he had a few elephants and that it was, practically, a family business for generations.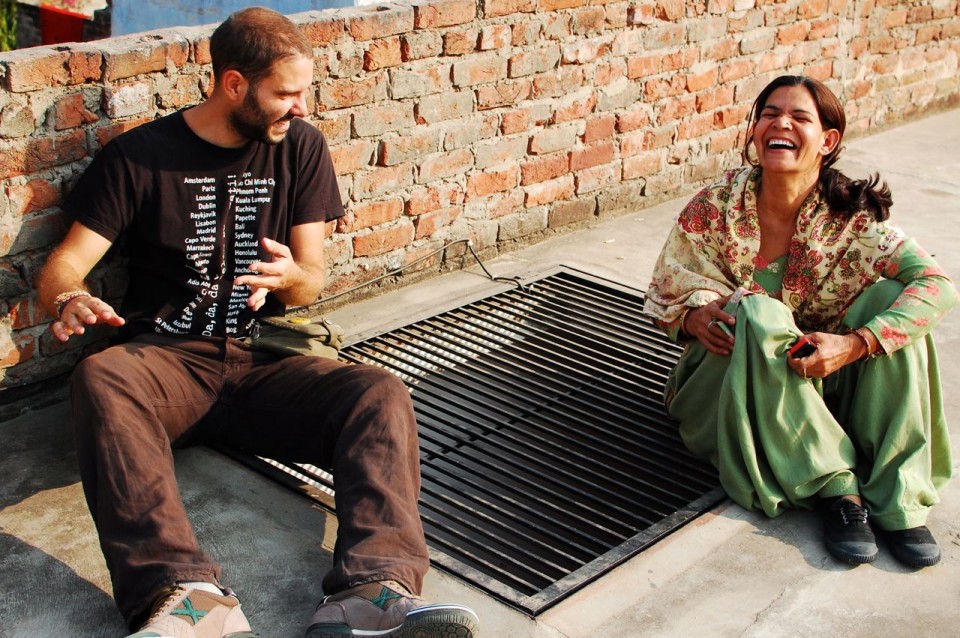 He himself was an elephant-rider, but, unfortunately, a couple of years ago an elephant attacked him, stepped on his foot several times and smashed it so you couldn't even tell whether that's a foot or not. However, doctors somehow managed to save his foot, but to make things even worse, at the time he was expecting an invitation to the Indian cricket team representation which almost 96,4% of the Indian boys dream about. That's life.
When we were done sipping tea, Rahul introduced us to his elephants and friends who ride the elephants every day, feed them and take care of them. There was also the elephant which had attacked Rahul but, due to an obvious reason, we didn't want to hang out around it. Most of our attention was attracted by a baby elephant with which we played and pulled his trunk. Also, Tanja danced with it and it followed. A smart little elephant. As opposed to the elephants we'd seen earlier, these seemed happier and more playful. It was partly because people that surrounded them were also happy and playful. The chains were still there, but not on all body parts, and they were a bit longer than the ones we'd seen before.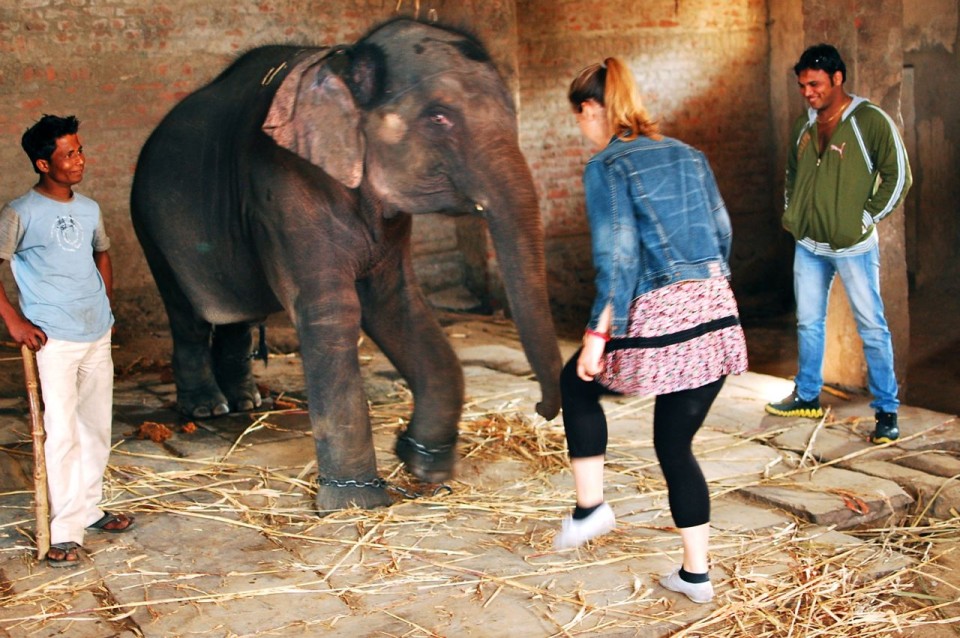 We spent the rest of the day hanging around with Rahul and his friends, and the night was spent over a home-made dinner and a couple of bottles of beer. He heard bunch of stories about the difference in lifestyle and tradition between Indians and Europeans – Rahul was soon to be married to a girl chosen by his parents, and one of his friends spent not less than an hour waiting for a girl he fancied to get out of a school bus, just so he could wave to her. The romance was still alive.
The following day, before we went to catch our train to Mumbai, we met Fabio – an Italian/Swiss who had been living there for the past three years and working as an only white elephant rider. He speaks seven languages, and besides riding the elephants he, also, takes care of their health, despite not being a vet. He had some spare time left, so he took us to see a new elephant farm, and while we were dragging down the road – he was on an elephant, the two of us on foot accompanied by a number of cars, buses, rickshaws and motorbikes. We also had a chance to see another of his talents – he managed to talk on his cell, ride on his elephant and roll a smoke, all at the same time. I wondered what would be the reaction of the cops if they saw him doing all that and what would be the ticket for his multitasking.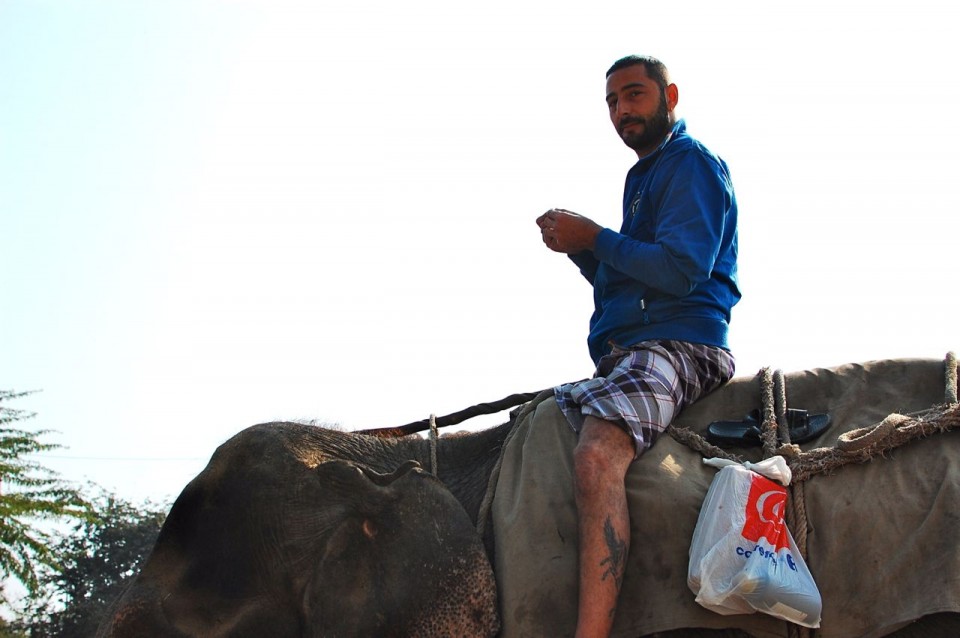 He told us how it was to get accustomed to living there – he was well received for the first couple of months, since he was the only pale one who decided to remain there and occupy himself with elephants. However, a bit later, he got a feeling that there was something troubling them, as if he was an intruder in their community. Now, that he'd learnt the language and started taking care of the health of the biggest mammals on land, he, finally, became one of them. They were all looking for his future wife.
We said goodbye to him, I with a firm handshake, and Tanja with two kisses on the cheek, in the good old Italian fashion. His reply to her salute was – In Switzerland people give each other three kisses. His stay in India didn't affect the good old European flirting skills.
Our ride in train to Mumbai was, as always, very interesting – a lot of curious looks, a bunch of happy kids, and a lot of cups of delicious masala chai which can be bought for only a couple of rupees. Also, just like on my first ride in train in India a couple of months before, we saw a pair of transsexuals clapping their hands and asking money from other passengers. Some gave them some money, others didn't, but still there was nobody who could explain to us what it was all about. However, we had plenty of time to find it out.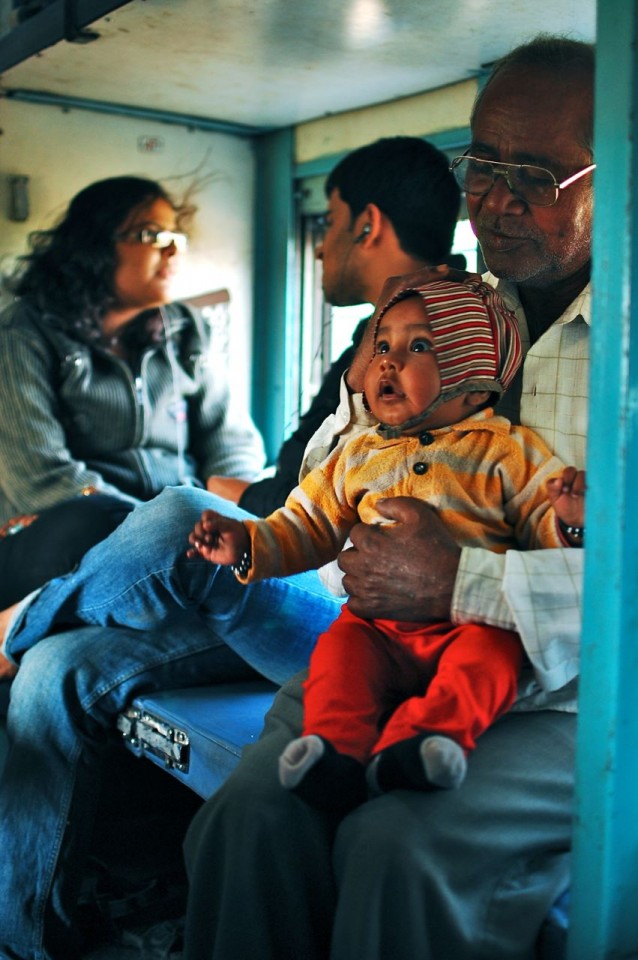 In Mumbai we didn't have much time for sightseeing, so we wandered on the streets of the most densely populated city in the world, we passed by the slums, witnessed the contrast between the extreme richness manifested through the high skyscrapers and extreme poverty depicted in numerous homeless people. We also tried out the extreme sports – a ride in the local metros. On some stations there was a literal life or death battle between the ones who were going in and those that were going out given the stampede of people fighting their way to catch a seat. They would elbow their way in, push other people, no matter the sex, their age, or anything else. It was a complete chaos, that was, apparently, accepted by all the participants.
We spent the night at a hotel (again, a gift from Tanja's dad), and we also managed to meet Caro, my French companion from Nepal and India, and Kedar, an Indian I met while Caro and I stayed in Rangers, and, also, the owner of the photos I'd stolen for my blog. Together we visited Sanjay Ghandi park and all the caves and Buddhist temples there were inside the park. Moreover, we took a night walk on the Mumbai bay, tasted all sorts of local food, and, soon, took our place on the most popular train in India – the one leading to Goa.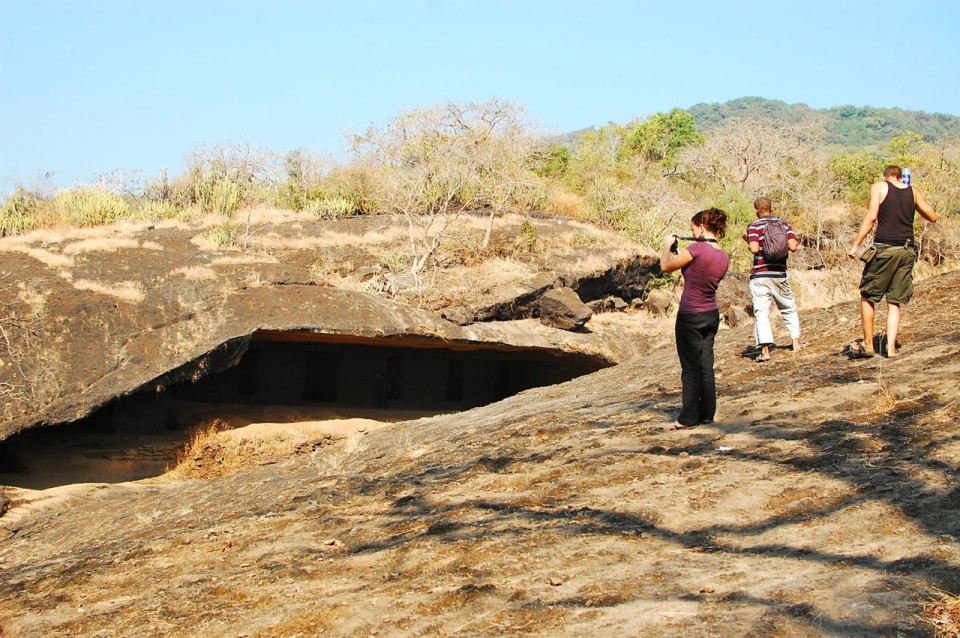 We arrived to Goa early on the New Year's Eve, and since our agreement with our CS host would be valid from the following day we had to celebrate New Year in a random place. Our choice turned out to be Aramboul, just because an Indian we'd met on the train was going there. We left our backpack at this friend's place and headed toward this beach to take the last swim in the sea in 2011.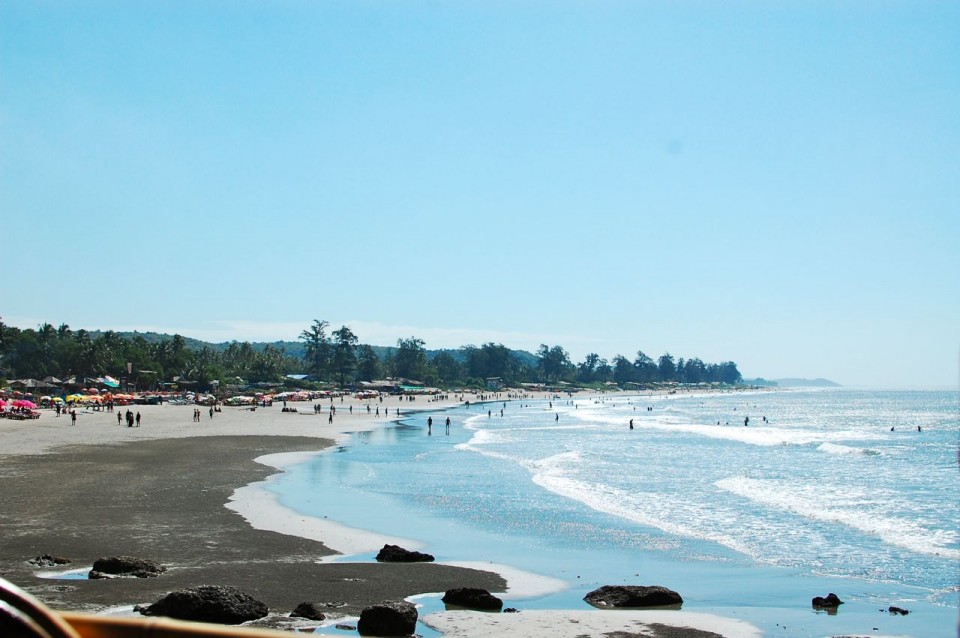 The accommodation was either too expensive or already booked so we were destined to celebrate New Year – homeless.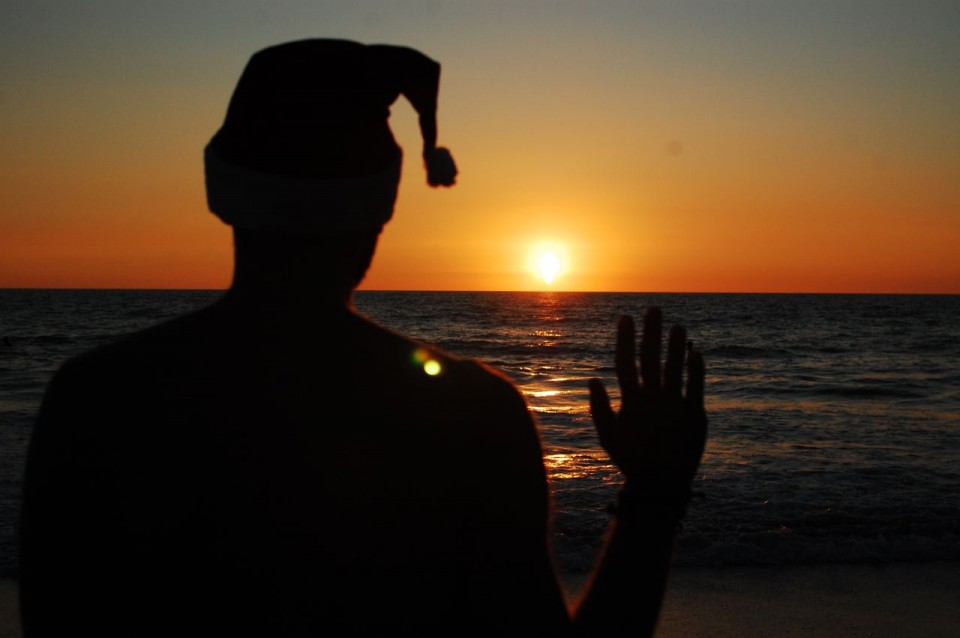 —
YT VIDEO – INDIA (2):