We woke up our first morning in 2012 being homeless, on a sandy beach between two boats that were our only cover from last night's party. We didn't feel like partying – we had some beer, nice fireworks some twenty meters distant from us and a nice company. After all, that night was just another random night. There weren't many things that made it special. Especially if you were in Goa, where people party every day, or, better yet, every night.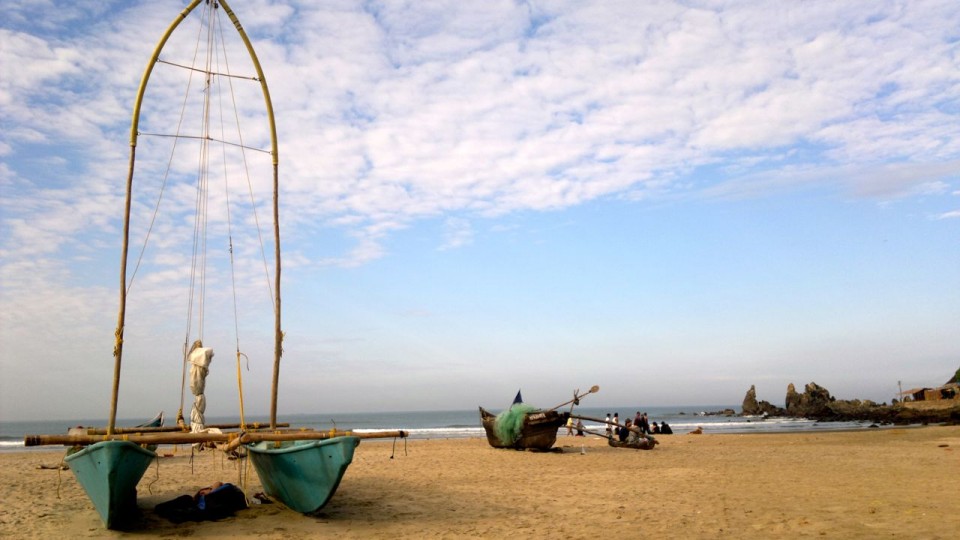 I remembered how I welcomed 2011 – I was in Bangladesh, hosted by a kid whom I'd met two days before in a bus, and who had invited me to spend a few days with him and his family. Given that in Bangladesh New Year is celebrated in April and they didn't have any plans for the celebration (except a dinner at their neighbour's place during which they tried to hook me up with the neighbour's unmarried daughter), all I did was go to their yard somewhere around midnight so that I wouldn't wake up anyone, call my parents and wish that they wouldn't have to worry about their son's travels in the following year. They had only one wish – for me to take it easy with my travels. You see – not all New Year resolutions come true.
We took a first swim in the new year, packed our things, took our backpacks, and took a local bus to a nearby place where Rita, our CS host, was awaiting for us. Rita was from Russia, and she'd been living in Goa for a few years. Soon we noticed that most of the foreigners and tourists living in Goa were from – Russia. The signs on the shops, at the restaurants, in the hotels and motels – all of them were mostly in Russian even outnumbering those written in the local language.
Goa was the youngest, the smallest and, also, the richest country in India – up to 1961 it was a Portuguese colony, and only in that year was it annexed to India. That is the reason why we were able to see a couple of Catholic churches and that was, perhaps, the first time I saw one since I'd left the European land several months before. However, at least I had a good excuse for not going to mass, especially when my grandmothers asked me if I was celebrating the Day of Our Lord.
At Rita's place we felt like home, so we stayed there for five days, a couple more than we'd planned. However, the plans with your host can be changed: everything depends on how well/bad you get on with your host. If you happen to share the same interests, if you can easily talk to each other, if you like to eat what the other one prepares (for instance, Tanja's shrimps) – you stop being a guest and you become a flat mate equal in everything except in paying rent.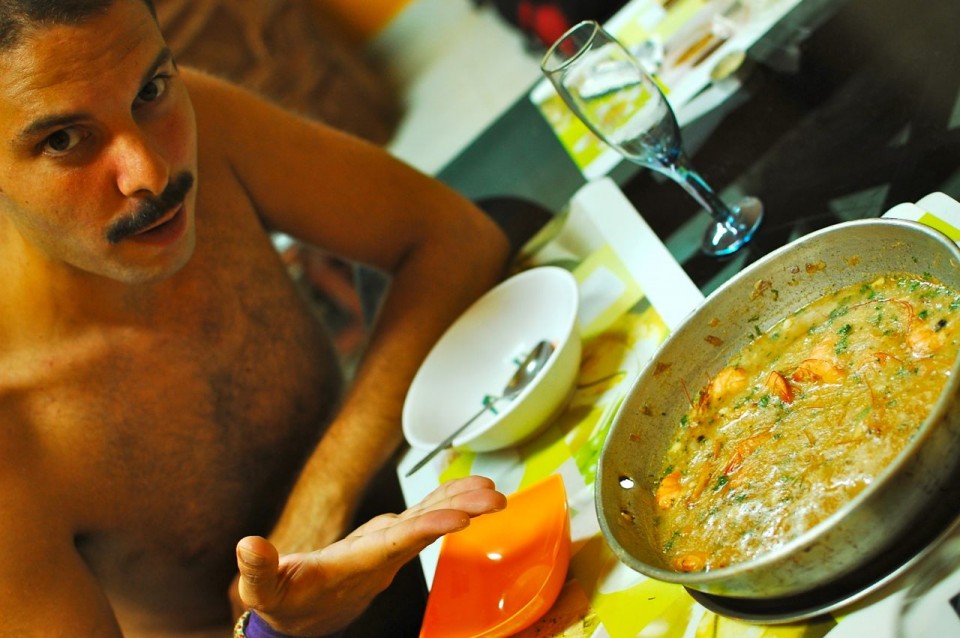 During our stay in Calangute our main occupation was the beach, of course. We would change the location every day and in order to make our transportation from one place to another easier we rented a small scooter at a ridiculously low price (2-3 Euros per day) and in that way we took a peer-to-peer part in the Indian traffic, even though Goa is much less chaotic when it comes to the things you can see on the road than the other parts of India we'd been so far.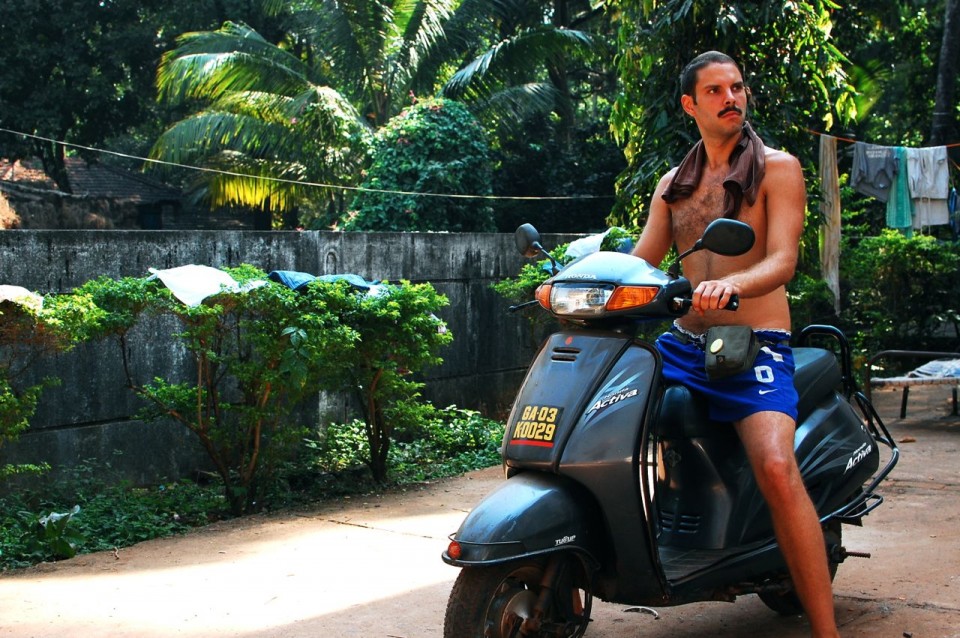 It was a real challenge to find a beach than wasn't crowded with tourists and where you could take a rest from the local people who were always trying to sell you something. After a while, we even stopped trying, and simply enjoyed all advantages that were within our reach – one-hour beach massage for 3-4 Euros, the cheapest beer in India (in Goa beer was tax-free), and sand and waves to which we weren't accustomed. We were on a real vacation. Besides smoothies, shakes and frappes we also treated ourselves to some corn which was prepared in a rather special way – first, it was being cooked, and then seared. After that, they would use a brush to put some melted butter on it. Finally, they would use a half of lime, put it in salt, and rub it in corn. If you don't want to use salt, you can use any kind of spicy seasoning instead. I'm thinking about doing the same thing, once I'm back. Good business idea.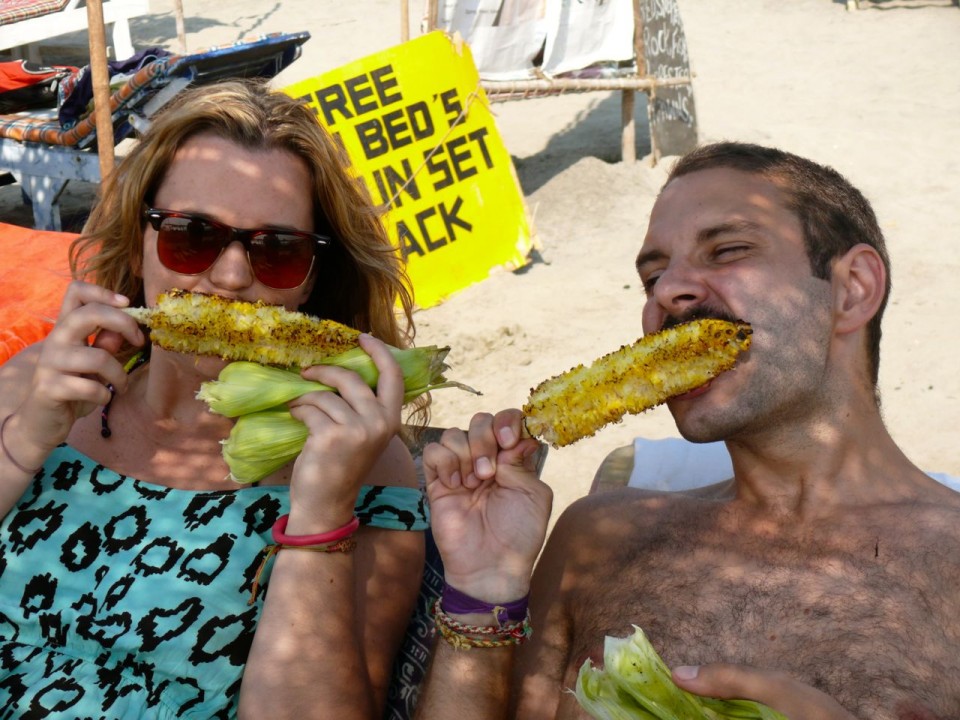 As we'd planned to go further towards south we chose Udupi as our next destination. It was relatively unknown city on the tourist map of India, and the main reason for going there were Ishita and Tushar. Ivan, an unknown guy from Facebook, told me about them and recommended to go there if we wanted to try out surfing. Wave surfing, not couch surfing. So, we sent them a message to let them know that we were coming and they welcomed us with a dinner invitation and cheap booked accommodation in the centre of the town.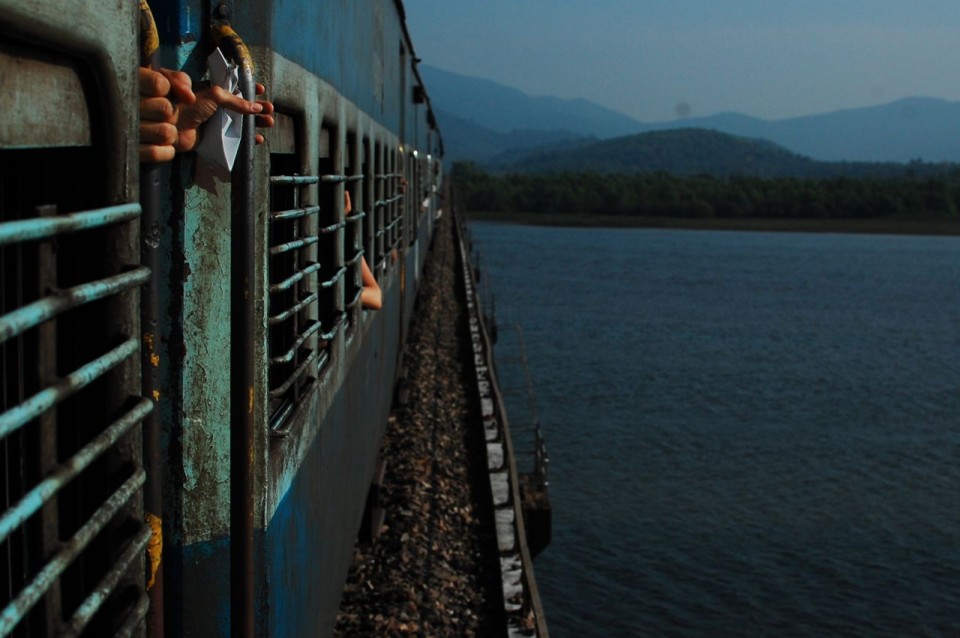 They gave us the instructions about how to find by ourselves a village where Shaka Surf Club, their surfing school, is situated. They had to run some errands so they would join us later. We ended up in a small fishing village where people would give us curious looks and say hello to us half happy half confused. We also made a visit to the fishermen who were just home from work selling their catch. Soon we decided to taste what they'd caught. One fish thali in the only restaurant in the village – far more delicious and cheaper than anything we'd tasted in the town. By the way, thali is an Indian specialty – normally, it's served on a banana leaf, and its main ingredients are rice and dhal (lentil) and several types of vegetables. You can also add fish, which is typical of the area where we found ourselves.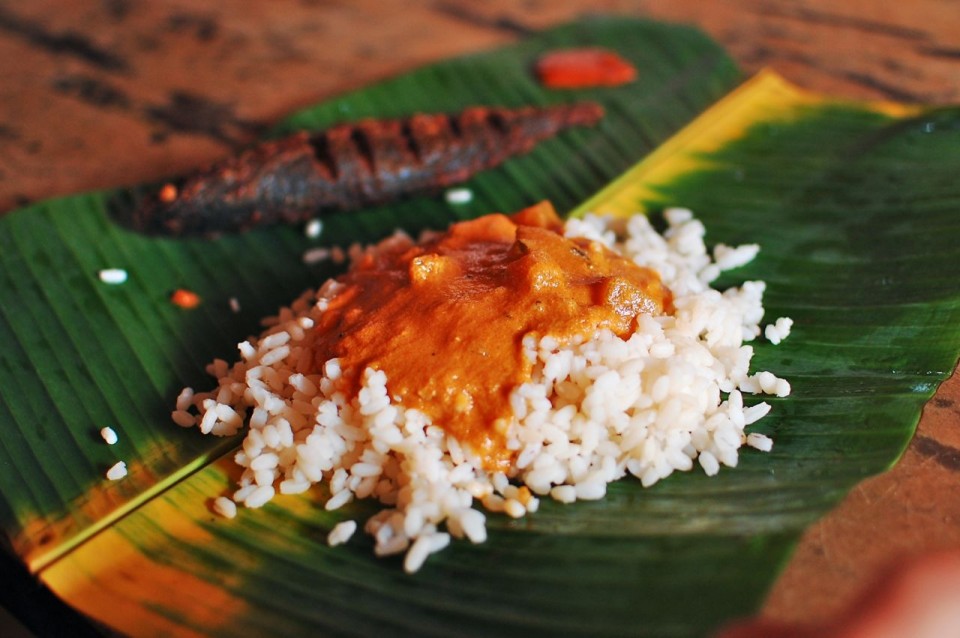 After we've were done with eating (thali is eaten with your right hand) our new friends contacted us and offered us free surfing lessons. Tanja put on her surfing suit because the local people weren't accustomed to seeing girls in their bikinis, and both of us signed a statement which said that our friends wouldn't be responsible if something bad happened to us. As if they knew…We came to the beach where Tushar showed us the basics of surfing – which leg should go first, how we should catch a wave, how to stand upright on the board, how to protect the head with our hands if we happen to fall off the board during surfing and stuff like that.
We surfed for half an hour, at least we tried to. We managed to catch a couple of good waves, but we weren't good at standing upright, so we were content with just lying on the board on our stomachs. However, even that wasn't easy to do because it takes a lot of effort to keep your balance on a board on a rough sea. And then it happened. I caught a slightly bigger wave, surfed for a few meters like a real pro, lost control of the board, fell in the sea, forgot everything what I've learnt about raising the hands over my head after the fall – and a board hit me in the head.
I knew the situation was serious when I emerged and touched the burning part of my head. I felt a cut at the back of my head long a couple of centimetres, and crimson red colour on my palm confirmed all of my fears. I gave a sign to the rest of the guys that I was coming out, and in the blink of an eye Tanja and our instructor swam towards me claiming that we should go to the hospital to stitch me up. A walk to the house, first aid, getting into the car, and, finally, driving to the first hospital. I'm sure most of the people are terrified of ending up in an Indian hospital, but cleanness, the staff, professionalism and their speed are on such a high level that not even an European hospital wouldn't be ashamed of it. We were done with the stitches in three minutes, and they let me go home the moment I paid the bill which was approximately 2 Euros. The bill was so low that I didn't even think about using my MasterCard which they normally take, of course, but, apparently, when they deal with more severe and more expensive injuries. After all I was happy – I had a new souvenir, which, once again, didn't take any space in my backpack.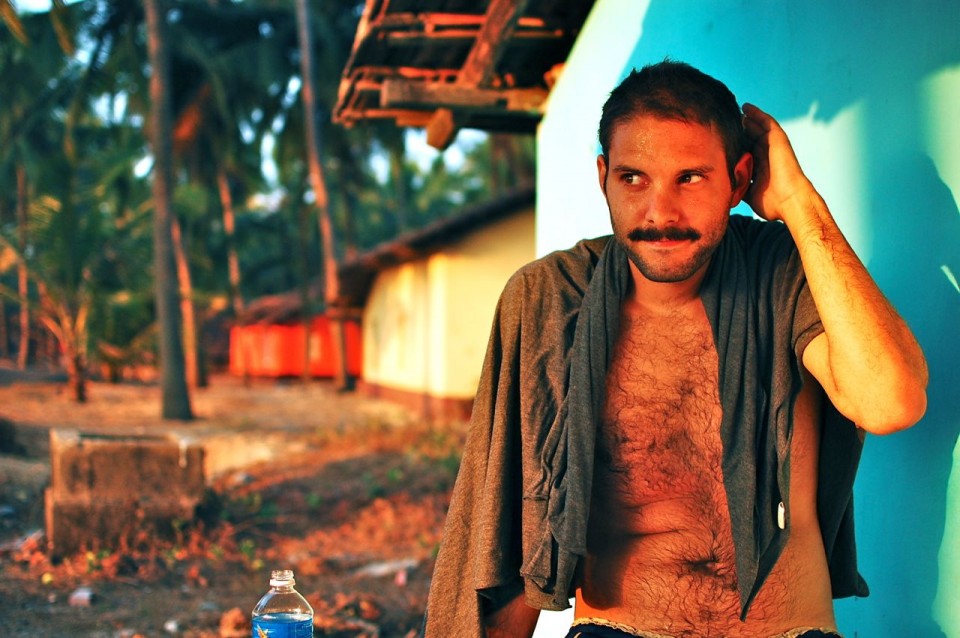 And it would probably be better if I stuck to couch surfing.
Since we didn't feel like surfing again we used our spare time to visit one of the many temples in Udupi. The biggest and the well-known among them is the one dedicated to Krishna. Tanja and her camera did a great job there so we managed to take photos of some local people paying their respect and praying for the blessing some of their favourite gods. We didn't go into a deeper analysis of the temple and the customs.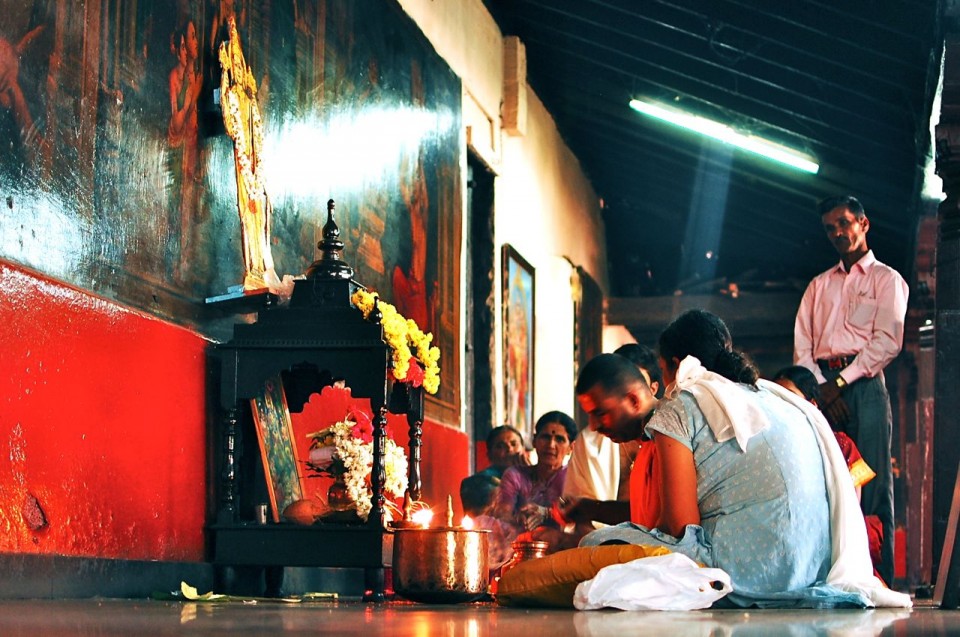 Given the fact that we'd been fed up with the beach (and as my lovely nurse warned me, I wasn't allowed to go to the beach for a couple of days), we decided to visit Munnar, a mountain oasis known for its wonderful landscapes, and the refreshing temperature difference which could be felt by anyone who came from the nearby hot beaches.
We were forced to take a bus to Munnar, where we managed to find relatively cheap hotel and hired a rickshaw driver to give us a ride around the town and show us why people visit it. He did what we asked for so he took us to the nearby tea plantation and the lake known for the fact that when you stand on its verge you can hear the echo loud and clear. The whole sight reminded me of Srimangal, a town in Bangladesh which is also surrounded by numerous tea plantations. We thanked the chauffeur for driving us there, went straight to the hotel, and heard rain bumping on the windows, got out to make sure that it was really raining. There it was – my second rain on this 4-month journey. I'd really missed it.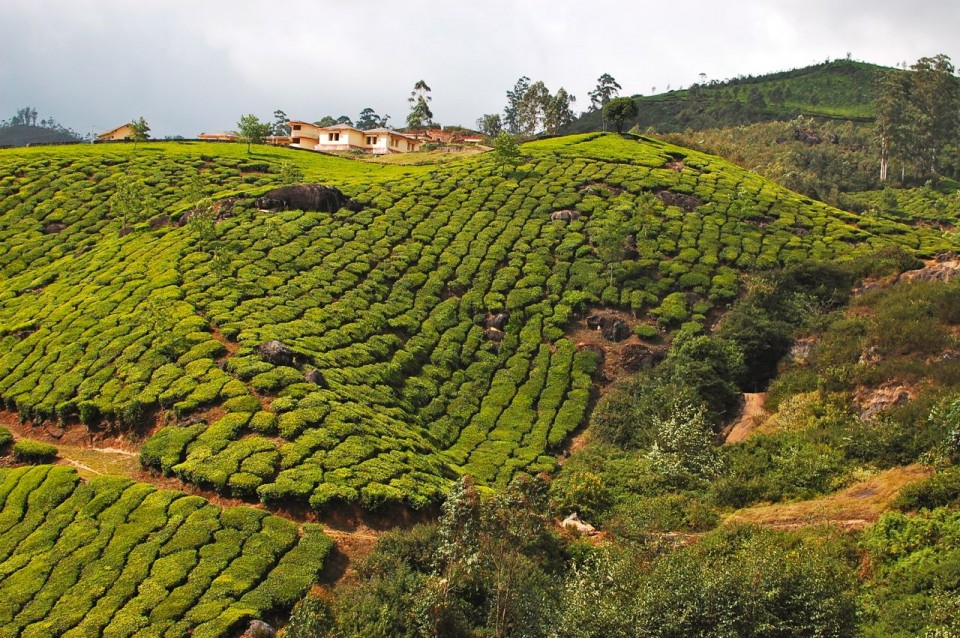 We didn't see any point in staying there any longer so we started another bumpy ride to Alleppey. Everyone was talking about endless lagoons in Kerala, and they said that Kerala was one of the best places to sail on them. Since we were playing tourists at the time, we simply asked ourselves, why not?
I realized that travelling through India can be as expensive as travelling through Europe and some much expensive countries. The bill is pretty straightforward – in India you can afford yourself a ride in the public transportation, hotel accommodation, eating at the restaurants and, eventually,  you end up doing all these things. Although it's all pretty cheap, at the end of the day, you realize that you did spend quite a lot of money. On the other hand, in western countries, you don't even think about doing those things, so you have to hitchhike, sleep in the open or find your CS hosts and buy food in the supermarkets. You are quite limited by the prices, and, consequently, you're forces to be quick witted.
After we'd left Goa, we didn't search for any CouchSurfer who would host us, especially because where we went there weren't many CS hosts. The second reason was that Tanja's father's offer could be used for another few nights. We didn't want to show lack of good manners by not accepting the offer.
We didn't see much of Alleppey, except the ride in canoes on the lagoon. The town was like any other: a few nice streets, a few places where you could have a good meal, one beach where it felt good to spend some time on your own, at the twilight, and that was it. However, we made the most of our seven-hour ride in the canoe – we took approx. 300 photos (mostly Tanja), and enjoyed the landscape. A lot of people rented a boat-house with a private chef and spend there a couple of nights. We couldn't afford it. Besides, boats couldn't pass through some narrow canals, and our canoe could without any difficulty.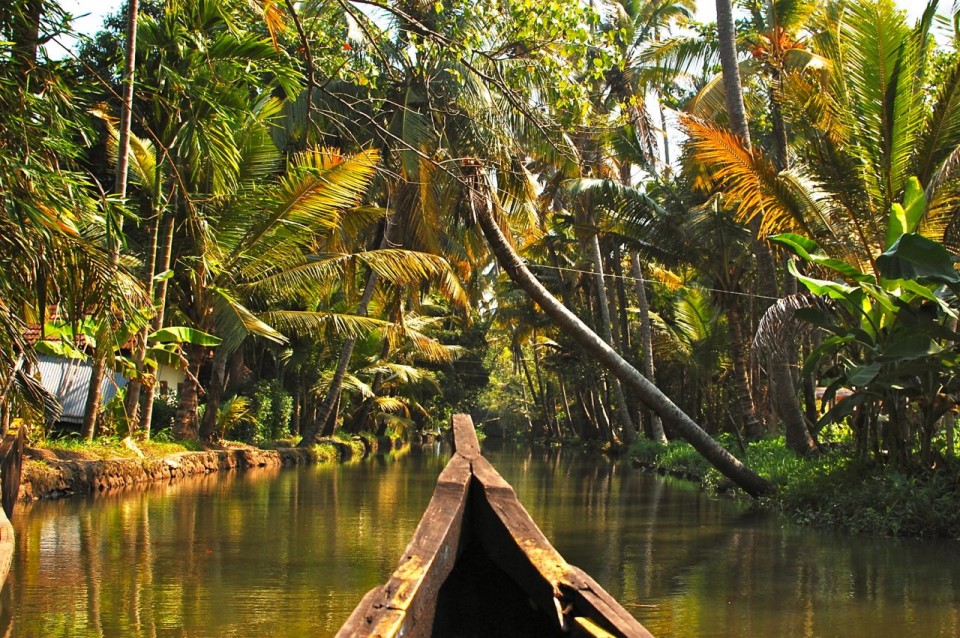 The chauffer was also very nice: besides treating us to a breakfast before the sailing and a lunch after it, he kept entertaining us the whole time telling us the stories from his life and producing all kinds of animal sounds. The most convincing sound he made was that of a frog since we actually believed that there was one somewhere around us. He told us about his life which was more connected to the sea than to the land. Moreover, he added that tourism was the best thing that could happen to him and many of his friends. However, it was slowly starting to show that tourism is taking its toll on nature since it kept changing beyond going back due to the increasing number of tourists and tourist offers. In only a couple of years the number of vessels on the waters of Kerala had tripled.
The last stop before Tanja's return to Europe was Varkala, a nice little tourist place known for the cliff above the city beach. The view from the beach was magnificent and there were a lot of restaurants and places to stay on the very cliff, which was the consequence of the tourist development. However, we'd been told that ten years before there was nothing on the cliff but a small cabin. Today it all looked a lot different but, yet again, nice and relaxing.
And sad – Tanja's last stop in India was a mark of a stop in our relationship. The saddest goodbye ever: a silent hug by a rickshaw driver who witnessed the whole goodbye scene and a walk to the beach before the peace was interrupted by the fishermen and the sunrise.
I was alone. It was the middle of January, 4. a.m., many many kilometres away from anything known with my feet in the sand of the beach in Varkala. I was alone. A fresh start, new challenges – I got what I'd looked for. The numbness slowly went away, and the vibrant feeling of the unknown was starting to engulf me. The shivers. I was alone.
—
YT VIDEO – INDIA (3):
The ideas started piling in my head – I would get myself a bike and start pedalling to Chennai from where I was supposed to fly to Malaysia in a month or so. I would go to the very south of India, end up in some fishing village, and pick up a few tricks about that craft. Or I would stay there. Any option was good; each of them would bring me something positive. It was me who had to make a choice. Or I could see where the destiny would take me…