After Langkawi, we spent a little fortune just to reach our next destination. We disembarked on a small island of Koh Lipe, on the very south of Thailand. Crossing the border by ship was the easiest and the safest way of doing it, although not the cheapest. We would start economizing from tomorrow.
While the girls' hair was being twirled by the wind, I spotted a dolphin jumping out of the water – he stayed in the air just long enough to wish us a welcome, but not long enough for us to take a photo. Everyone agreed it was a good sign: the fact that dolphin showed itself, not its being shy. It was the second time that I saw dolphins on my journey – I still remembered their playful dance in the moonlight on the east of India.
Koh Lipe is very special because it is, practically, under the jurisdiction of Urak Lawoi tribe (also known by the name of Sea Gypsies) who originate in Malaysia, but they replaced their sea-nomad way of life with the life on couple of islands on the south of Thailand. They were engaged in tourism and fishing, and their way of life reminded me of the lifestyle of other people who lived by the coast with their afternoon siesta and days spent on the terraces and in front of their houses/cottages.
The immigration procedure was ridiculous: a cottage on the beach with two customs officers who were putting cheerfully stamps on your passports giving you a permission to stay in Thailand, and patiently explaining you where you can find different things on the island. Since we'd been told that the cheapest accommodation was on Sunrise beach, we took a stroll down the main street of the island and in only a few minutes we were faced with a marvellous sight: heavenly blue sea, soft sand, colourful boats, blue sky and a few remote islands. Everything was peaceful, clean, cars were nowhere to be seen – heaven on earth. We managed to find a cottage that had a bed big enough for the three of us, and we went straight away for a walk to the beach which was some twenty meters from our cottage and took a swim in the warm sea.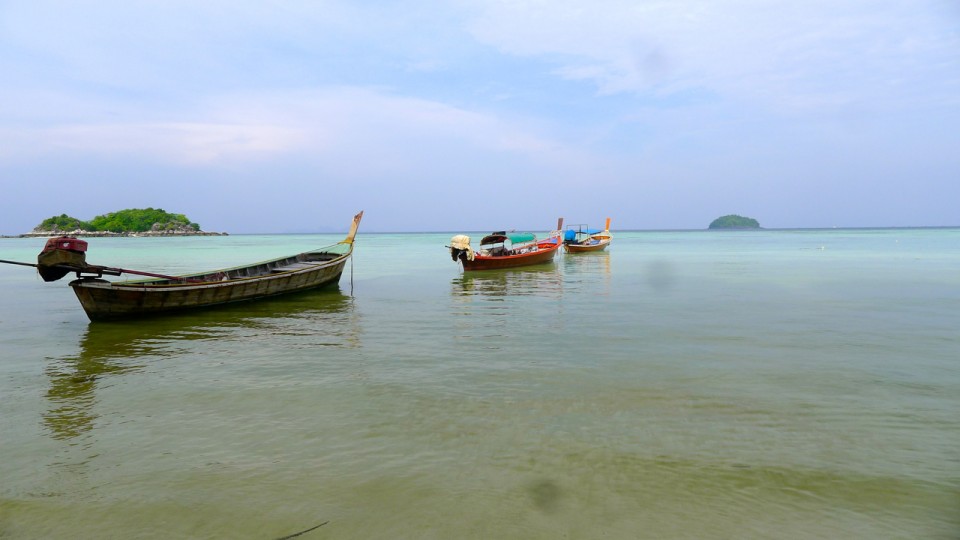 Yes, it was amazing to swim and sunbathe on the beautiful beaches on Thailand. However, I knew that, eventually, I would be bored by the luxury, the beauty, the relaxation. When people arrive in Thailand, they do it mostly during their vacation, after having spent most of the year on a job they don't like in order to recharge their batteries, and not to think about anything. But the things were totally different with me – my job was to travel, enjoy every moment (or at least not wanting to be somewhere else), so I didn't feel the need to relax and recharge my batteries. They were constantly full, and I was looking for a way to empty them.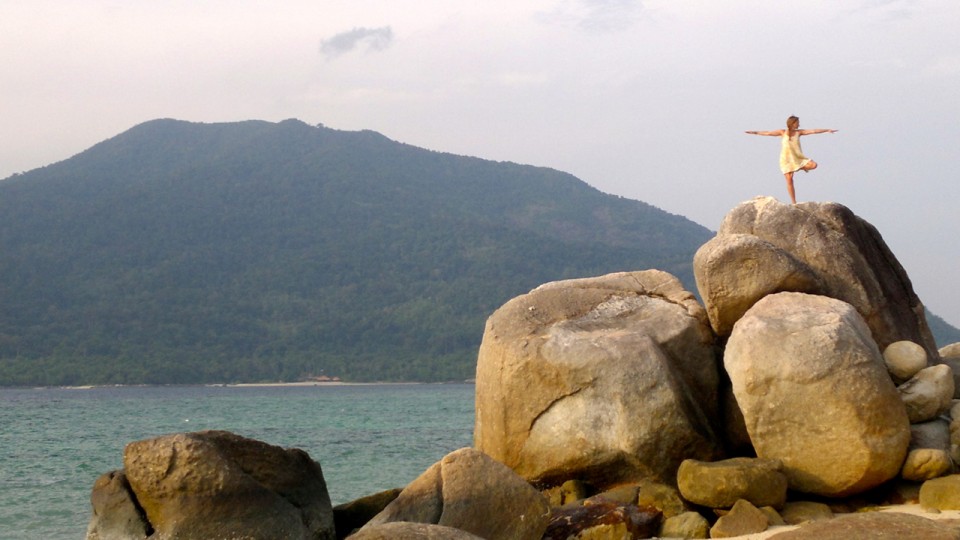 We stayed three days on Koh Lipe, each day tried pad thai in a new restaurant and discovered a completely different thing for a dessert and it would definitely stick with me for the following two months – sticky rice & mango. The recipe is quite simple – it's made of rice, coconut milk, sugar and fresh mango. However, its taste and the feeling it produces on your palate is indescribable.
During the second day we were already sick of lying around on the beach so we decided to take a stroll down the island. Since it it's not very big, we thought we would manage to walk around the whole island in couple of hours. We didn't think that on half way through we would have to trail off the non-existing path and end up in a jungle in the middle of the island. However, we ran into a playful dog there which we hired to be our guide. Our destiny was in his claws. Within a half an hour we were lost.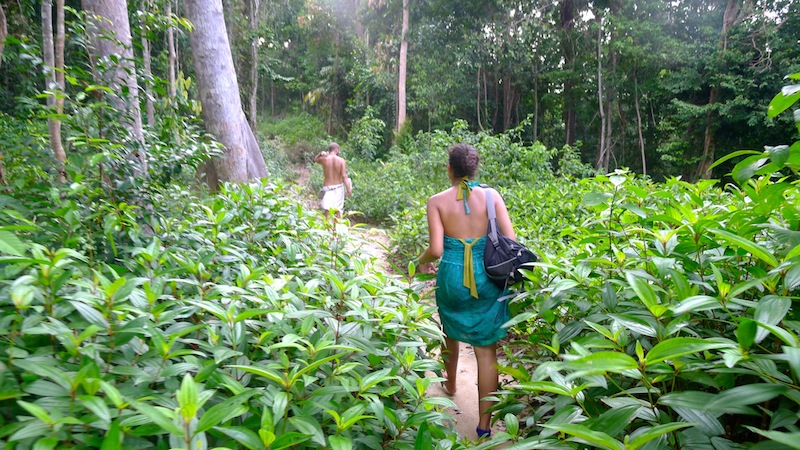 We spotted several monkeys on the trees, even our guide had a small quarrel with them, and we knew we didn't have anything to offer them in case they started terrorizing us – we didn't even bring enough water. After another half an hour we got down to a small beach realizing that we couldn't go neither left, nor right because of the rocks that surrounded us. So, there were two options – go back to the jungle and find another way out of it, or swim around the rocks in order to arrive to another beach, in case this another beach existed. Sun was dangerously starting to set and in that moment we noticed one of the local boats sailing some hundred meters from us. Just to fool around, I stepped into the sea, and raised my right thumb – it was time to hitchhike a boat. While we were laughing at our desperate try, the boat slowly turned towards us and was coming to pick us up. We were laughing not able being to believe our luck, but we got into the boat, said goodbye to our barking guide and soon we were sailing. We tried to communicate with the people on board, but we gave it up and simply enjoyed the open sea. Hopefully, they wouldn't bring us back to Malaysia…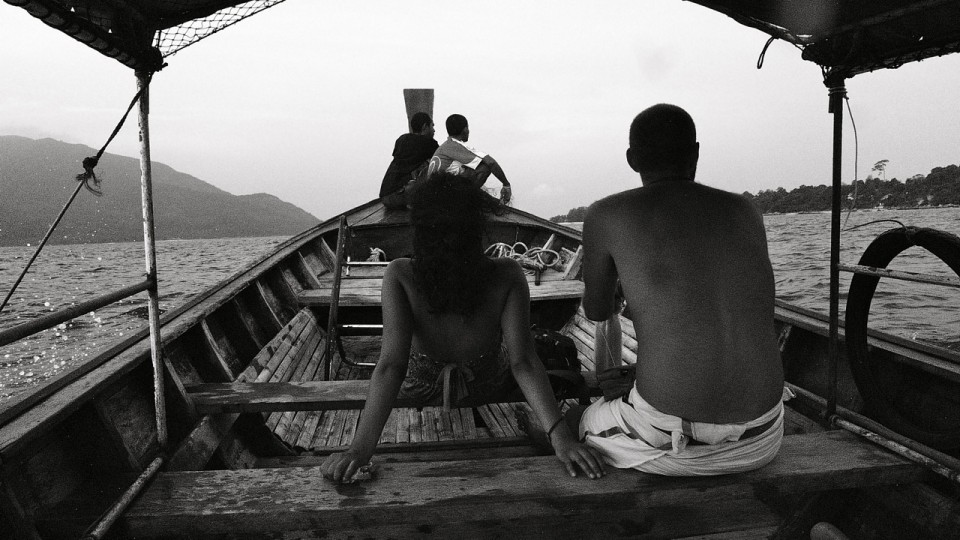 We arrived to an anchored boat where some guys were unloading some wooden cargo. A tattooed owner waved at us and we moved away towards our island. We approached the shore, I gave the guys a little help with the unloading after which we sincerely thanked them and headed back to our cottage. What a successful day!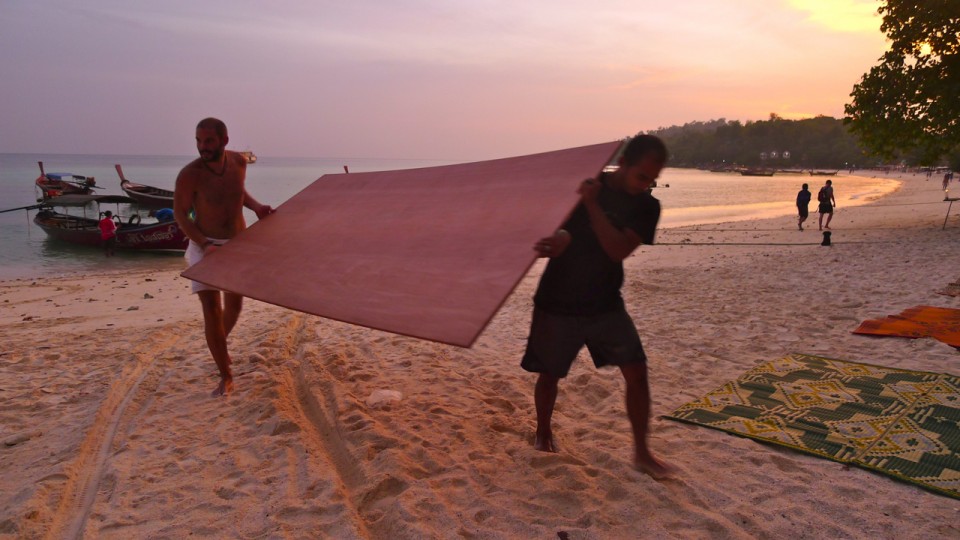 We chose Koh Tarutao as our next destination which was supposed to be more detached and even more peaceful than Koh Lipe – the whole island is a national park and there are only three restaurants and three places to camp. It was time to use my tent for the second time on this journey! Still, we didn't boat-hitchhiked to our destination, but instead we took a speed-boat with which it took us a half an hour to arrive to an almost deserted island where we would be spending the following three days.
Koh Tarutao has been recognized as a national park during the seventies, but its history could be tracked a bit back in time – the island had been used as a prison for Thailand political prisoners during the thirties in the 20th century. During the World War II, when all the connections with the main land had been broken, the prisoners and the guards united and started terrorizing the ships which had the decency to sail on their territory. By the end of the war they managed to sink 130 ships killing all the crew, without any exceptions. After that the British finally managed to chase them off so the island was populated by the fishermen and farmers.
The place we chose to set our camp on was distant some five kilometres, but despite that fact we decided to walk and, in that way, save some money on the transportation, which was, in fact, a big truck that would give a lift to the tourists once a day. We almost regretted our decision the moment we saw the uphill ahead of us, but we knew that there would have to be a downhill which would lead us to a beach, and we were right. Chloe and I slept in my tent, practically for free, while Sara rented one for only a few Euros a day.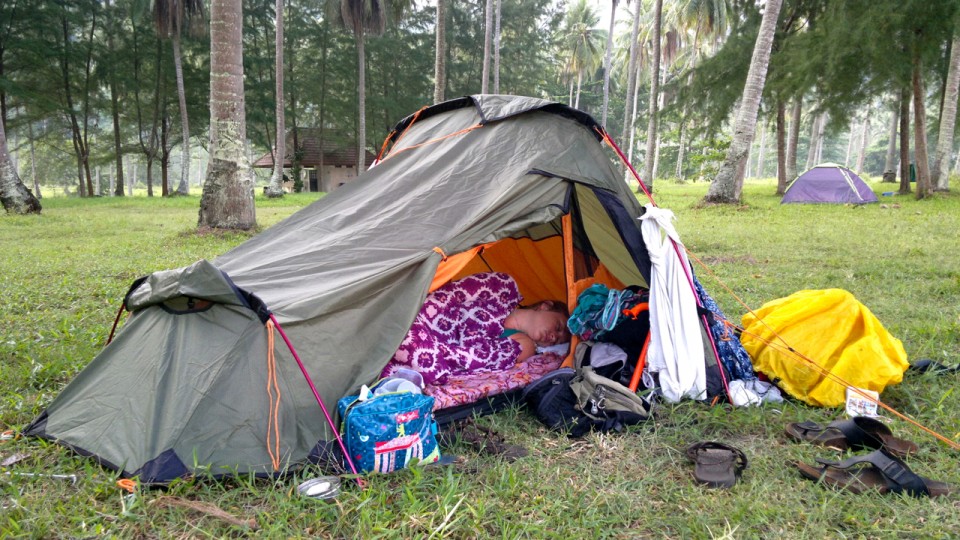 Besides the restaurant which was open a few hours during the day, a common WC and a shower; there was nothing on the island. Only an empty and beautiful beach and nature surrounding us. In the same way we spent the following few days – enjoying the perfect silence, taking a swim in the amazing sea, and, of course, sunbathing in the extraordinary sun. We met other people in our camp, and one of them suggested that we try night swim, because there was a surprise waiting for us. And it was quite a surprise – the sea was full of planktons which, during the night, starts glowing as soon as they get a bit agitated. If you have ever seen The Beach you will know what I'm talking about. Taking a swim under the starry sky while the planktons beneath you glow just like the stars – unique.
The following day I woke up before the girls, and since the night before the sea was very rough, there was a lot of drifted trash on the shore so I decided to roll up my sleeves which, in fact, I didn't have, and get down to business. At the nearby restaurant I asked the staff for some garbage bags so I spent the following hours collecting all sorts of trash on the shore: plastic bottles, pens, candy wraps, flip flops, basically, everything… I really needed it – the feeling that I was doing something real, that I was helping the Mother Earth. As a reward, the Universe gave me a free breakfast. I repeated the procedure every day until the beach was clean, and the bags full, just like my stomach.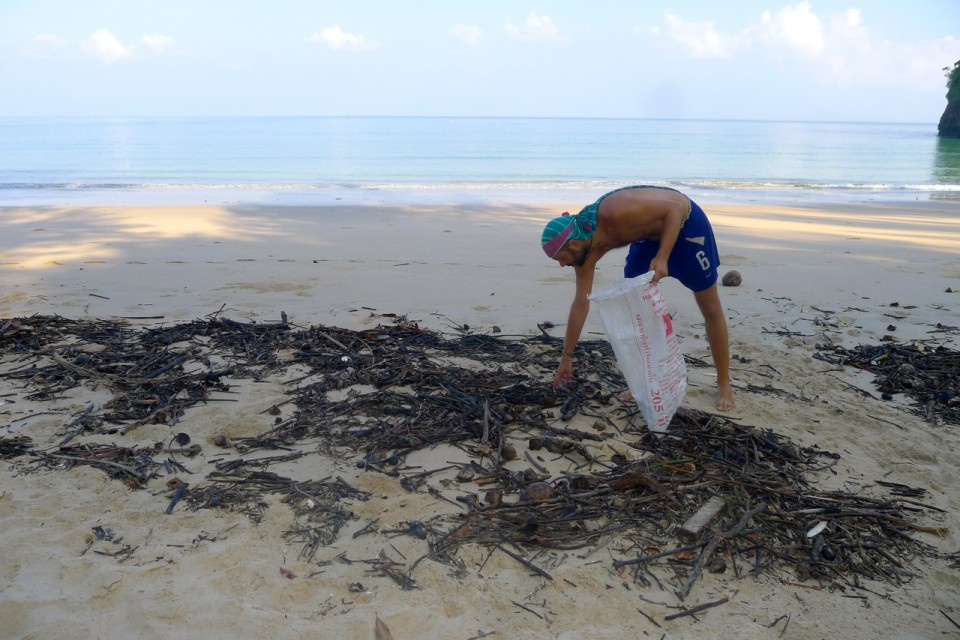 We spent one afternoon wandering on the island and going to a waterfall, which took us almost two hours. Moreover, we really enjoyed the nature, took loads of photos, and refreshed ourselves on the brook which is a source of fresh water for the entire island. We came home during the pitch dark, with the moon and a bunch of starts lighting our way.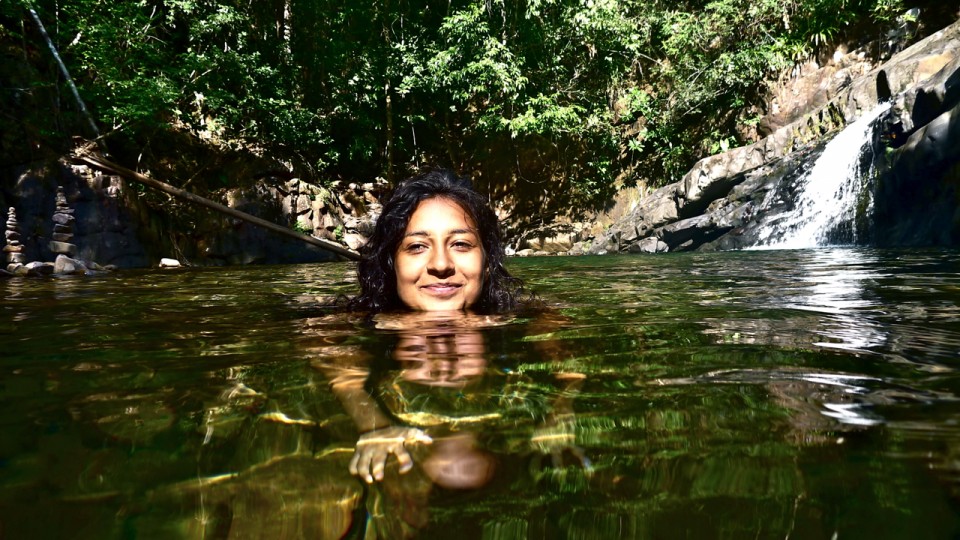 And that was our island rhapsody: two beautiful and peaceful islands in the south of Thailand, too much of lying around, enjoying and relaxing. It was time to get back to the mainland. Since we had no idea where to go next, after we took Thai money from my MasterCard we headed to an Internet cafe. I sent a CS request to a nearby Trang, a town relatively unknown on the tourist map of Thailand. We found out on CS that some pretty cool people lived there so we decided to give it a go. We sent them a mail asking for a last-minute couch, and, after that, started our first ménage à trois hitchhiking. Chloe introduced a new routine: a hitchhiking prayer before the very start of hitchhiking, during which we held each other's hands, wished a happy travel to all those that were going somewhere and asked the sky that we arrive safe and sound to our destination, whichever it was.
After only a few minutes of waiting, heaven awarded us with a first ride, but the chauffer gave us a lift only for a couple of kilometres. However, there was enough time for him to treat me to Lea, a Thailand beer. The girls were polite so they refused the beer. We had more problems with our next ride – a lot of people, seeing us in the middle of the road, gathered around and were giving us instructions how to get a bus, a train and a taxi. A typical situation in a country where hitchhiking wasn't a part of their culture. After ten minutes of explaining what we really wanted we got into a car whose driver agreed on giving us a lift all the way to Trang. Since he didn't speak English, we weren't sure if he was going to Trang only to give us a lift or if he did have some business there.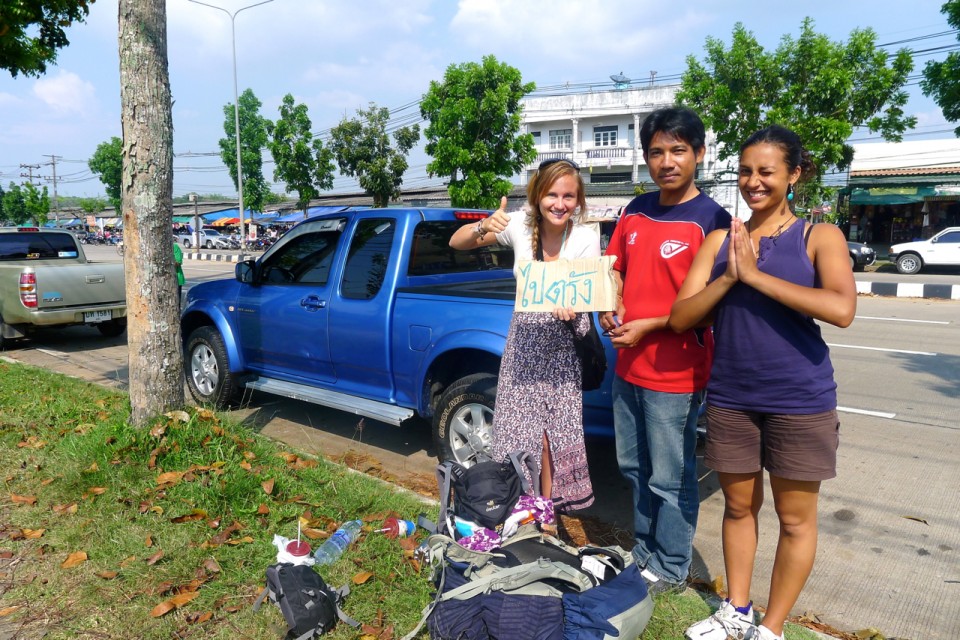 So, while we were driving and watching videos of the most popular Thailand singers on the driver's DVD player I received a text message with excellent news – we found ourselves a host in Trang! I love how the things work themselves out easily, without much planning, expectations, without any pressure. Our volunteer driver practically left us in front of our new home where we were welcomed by Cece, our American hostess, and Lola and Sasha, her dogs. There was also a cat, but I didn't catch her name. Stella?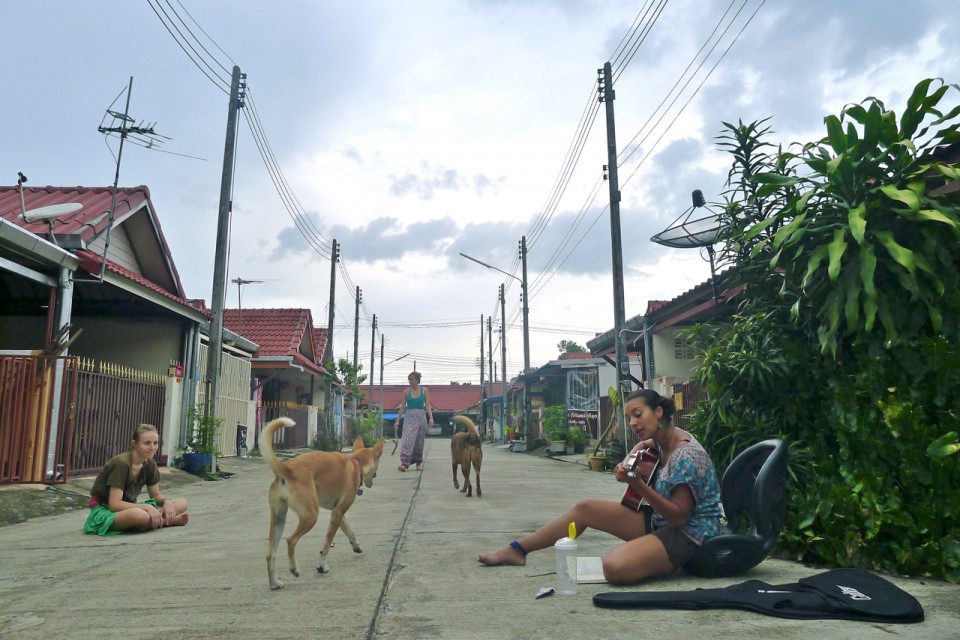 We stayed in Trang for four days. We didn't see much of the town; however we did have a great time. We watched movies, went for short walks during the unbearable heat, bought mango and sticky rice, looked for vegetarian restaurants, learnt how to ask for a vegetarian dish in Thai (just like hitchhiking, vegetarianism is not a part of their culture), cooked, talked and talked our days away. He had a plenty of time to pick our next destination – Krabi.
We also hitchhiked to it, without any difficulty. However, there was Lola who followed us barking after us for a couple of meters: I guess she didn't want us to go away. I had an interesting observation about the Thailand roads: everyone was driving pick-ups. Also, no one spoke English. Consequently, the procedure was always the same – a pick-up pulled over, rolled down the window, we said hello in Thai, told the name of the town we were heading to, and by the look of the driver's face we could tell if he was going in our direction. We smiled and without saying a word hopped into the back part of the pick-up. The sun was scorching, the wind was blowing, and you had your eyes on the road being careful to bang on the roof in the right moment and in that way signal the driver that you wanted to get off. Simple as that.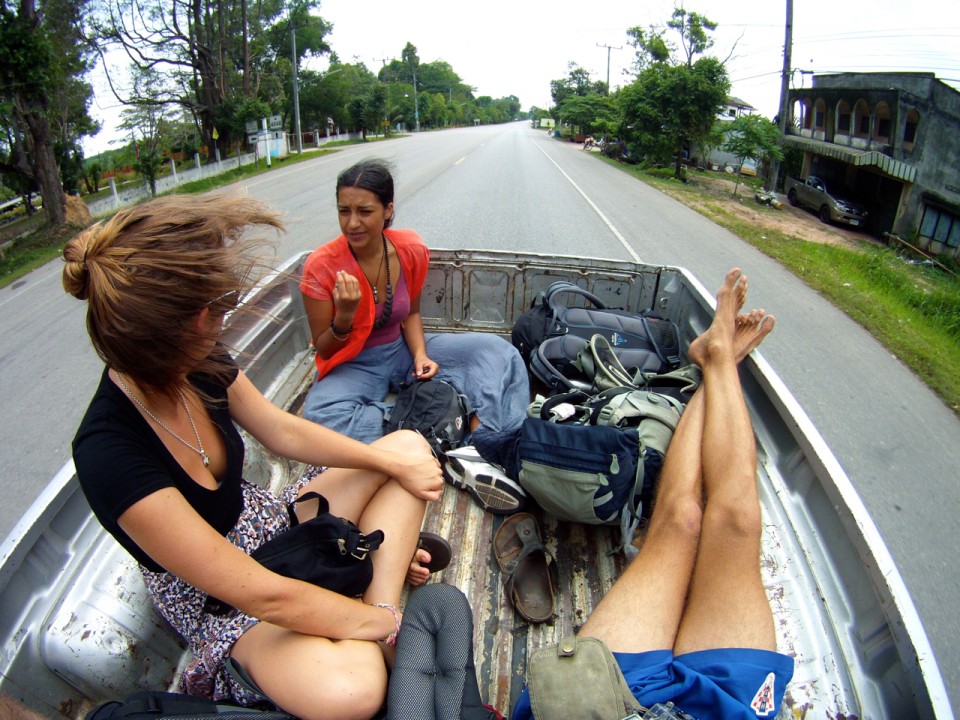 There wasn't anything interesting in Krabi, so we took a boat to Ton Sai, a backpacker place known for its beach which was perfect for rock climbing. We were accompanied by the first rain in Thailand, rented cottages for a couple Euros per night and straight away headed for the beach. When we got there – a major disillusionment. The tide was low so, literally, you had to walk for hundred meters just so the water would reach your knees. Apparently we picked a wrong place to enjoy the Thailand beaches.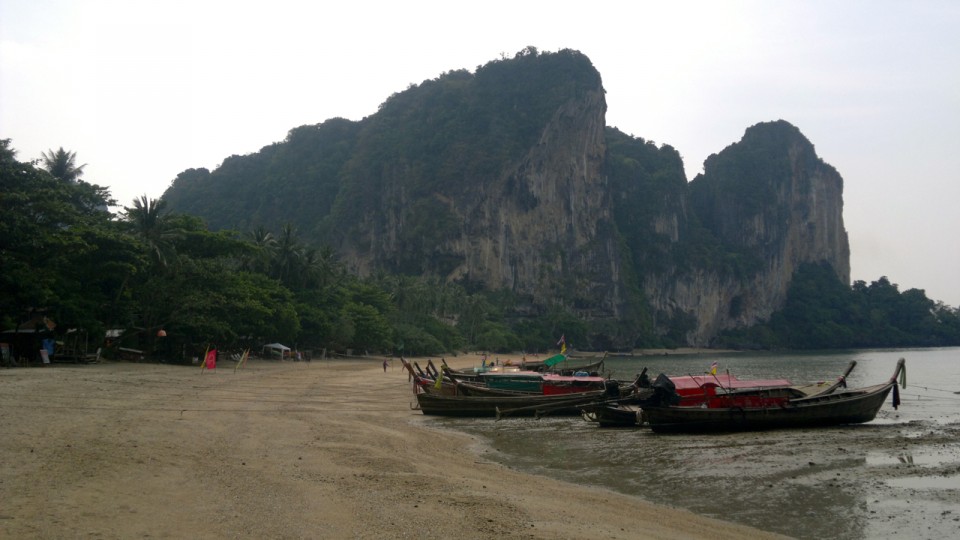 Nevertheless, we decided to give it a chance. Anyway, Sara would leave us soon, so this place would be our last that we visit together. Our biggest discovery on Ton Sai was Mama's chicken restaurant. The name may not be promising, but its menu included all sorts of vegetarian dishes. We enjoyed in pad thai with tofu, green and masman curry with vegetables, and, of course, mango with sticky rice. Once again, it's the best dessert ever!
One day I observed the rock climbers. I'd given this sport a try twice in my life – once in Bulgaria, and the second time on the south of France. And I'd really enjoyed it. But what these guys did was a whole different dimension: superhuman struggle, keeping balance of your body with only two fingers of one hand, defying gravity. Respect.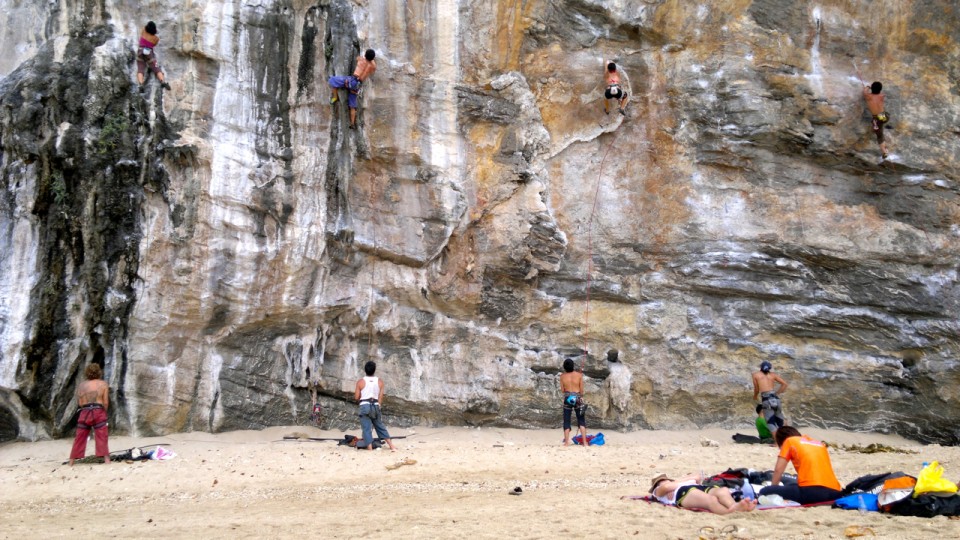 One afternoon, while we were taking a swim during the high tide, the only part of the day when it was actually possible, and sunbathing when a big guy ran towards me, stood half a meter beside me and said: Bok! (Hi! on Croatian)
With a confused expression on my face I turned my eyes to Chloe who only knew this word in Croatian. I said hi back to him, and we continued our conversation in Croatian.
– Are you that Perko guy?
– I guess I am.
– He he, I knew I would run into you sooner or later. Maja, our friend in common, had told me you were somewhere in Thailand.
After we burst into laughing for bumping into each other practically at the end of the world, I found out that the guy's name was Tonči, and that, along with a friend, a few months before he started a journey from Croatia to Papua New Guinea. Unfortunately, their plans had fallen through: his friend's passport had been stolen in Nepal, so he was on his own. He gave up his original plan to go all the way to Papua and, instead, stayed in Thailand for the rest of his journey.
So, what do you do when you bump into a fellow companion who has a T-shirt just like the one you have in your backpack, on a beach in Thailand?
Beer.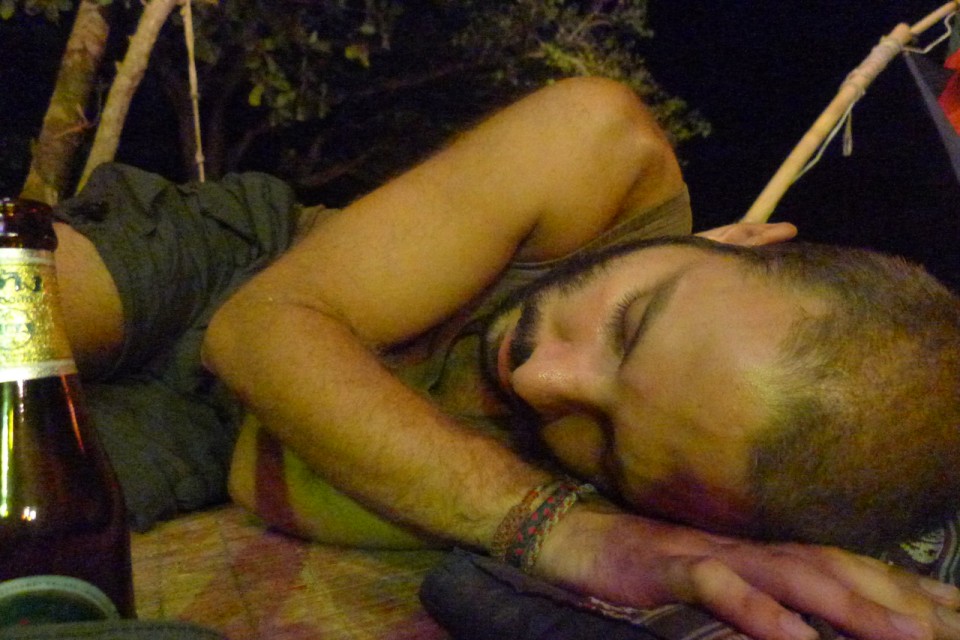 (this is me after a time spent with a Croatian and beer; not a good combination)
—
YT VIDEO – MALAYSIA & SOUTH THAILAND: