After entire six months spent in Croatia, I have reached the verdict – I'm going to New Zealand!
Technical formalities were done, Working Holiday visa was in our pockets, plane tickets bought, we only had to plan rest of the details of our one-year-stay on the other side of the world.
Since we are going to New Zealand primarily to work, and not to sleep on couches of other people, camp and hitchhike all over the country (at least not yet), we had to find a place to live, but a job as well, so we could survive in one of the most expensive countries in the world.
Since we don't like the idea of searching jobs online (also, we are not specialised for some jobs) we decided to pick a place where we are going to start our story, and they think about the job, on the spot.
We needed to find a home. And keep in mind we didn't want to pay a small fortune for it.
On my past adventures I used couple of alternatives to free accommodation – CouchSurfing, camping, sleeping on the road, volunteering in exchange for accommodation (and food), but now was the time to find an alternative to an alternative – the plan was to stay in one place for a longer period.
We discovered:
The name says it all – you get to take care of houses of other people while they're away.
You may ask yourself – why would anyone look for someone to look after their house, instead of renting it and earning some money? The answer is simple – people that look for house sitters are absent for a short period of time (from few days up to few months), and generally with the house comes responsibilities like taking care of animals, pets, watering the garden, etc. So in the end, the exchange is justified – house owners will get someone who will make sure their house stays in the same shape like when they left, and house sitters get – free accommodation.
There are couple of web sites for House Sitting, but since we are heading to New Zealand, we chose specialised and user friendly Kiwi House Sitters. Yearly fee is NZ$65, and you get to contact as many people as you wish and offer them your services as a house sitter.
We filled our profile, wrote down who we are and what we are, uploaded few photos, put a link to my CouchSurfing profile where I have over 300 positive references from my surfers/hosts (I counted that that will play a major role in gaining peoples trust to let you have their home, after all, we were strangers), and we could start searching for our new home!
Which part of the country we would love to stay, in what kind of house? There were bunch of offers. We could choose houses where we'll take care of cats and dogs, or chickens and goats. We could choose between watering the gardens and taking care of the lawns on some farms. There were offers from inland, mountains, beaches…
But we focused of the time frame people were looking for sitters – longer, the better. Quality of stay, not number of visited places – that was our new mantra. Also, if we find a job, we don't want to move every couple of weeks.
There weren't a lot of offers for a period longer than a month, so we sent requests to all of them, and tried to convince them that we are perfect house sitters they were looking for.
We got few no's, couple of them never responded, but then we got an email that made us smile.
Hey Tom,
thank you for your patience, we had couple of offers on our house, but we chose to put two of you on a shortlist. Even though, I have to admit, you are our favourite candidates – most probably because I work in the library and you are a published writer. Who knows, maybe you could write your second book here, haha.
When are you available for a Skype date so we could talk a bit and see are Maria and you our future house sitters?
Cheers,
Adrienne
Few days later we talked via Skype, met with the happy house-owners, and even had couple of moments eye to eye with their cat to see are we going to get along. And that was it – Maria and I got the job! The house is situated near Wellington, and we will spend month and a half there, while Adrienne and her partner Scott will travel around Asia.
We will chill in this living room…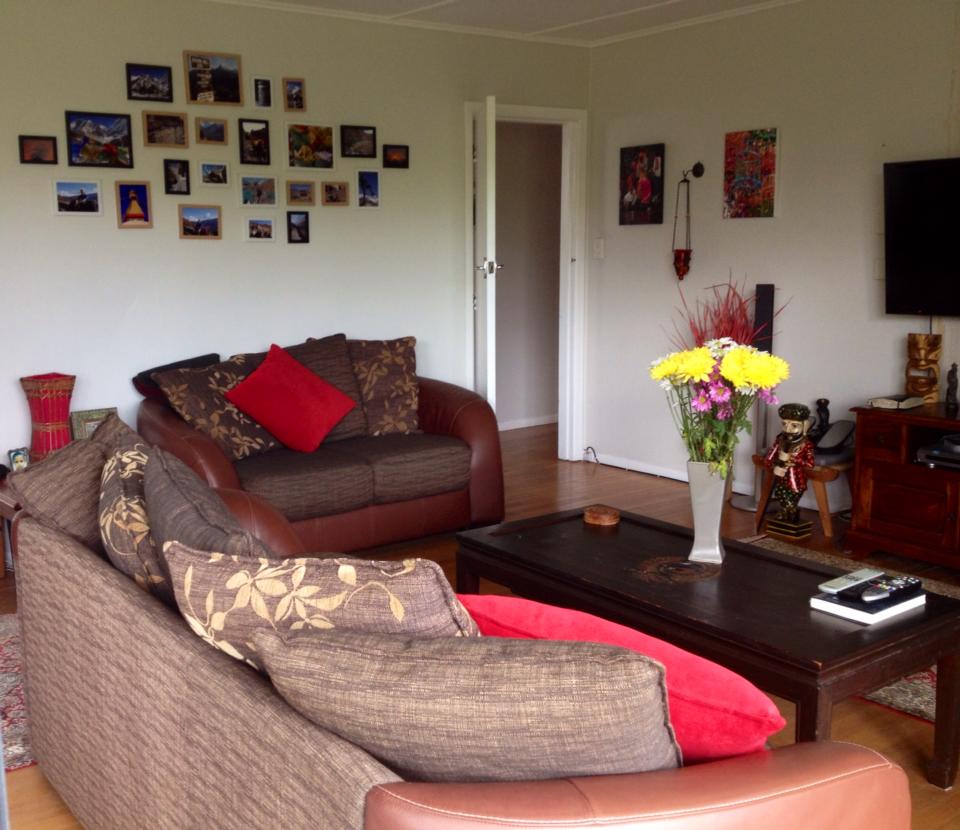 And drink coffee on this beautiful terrace…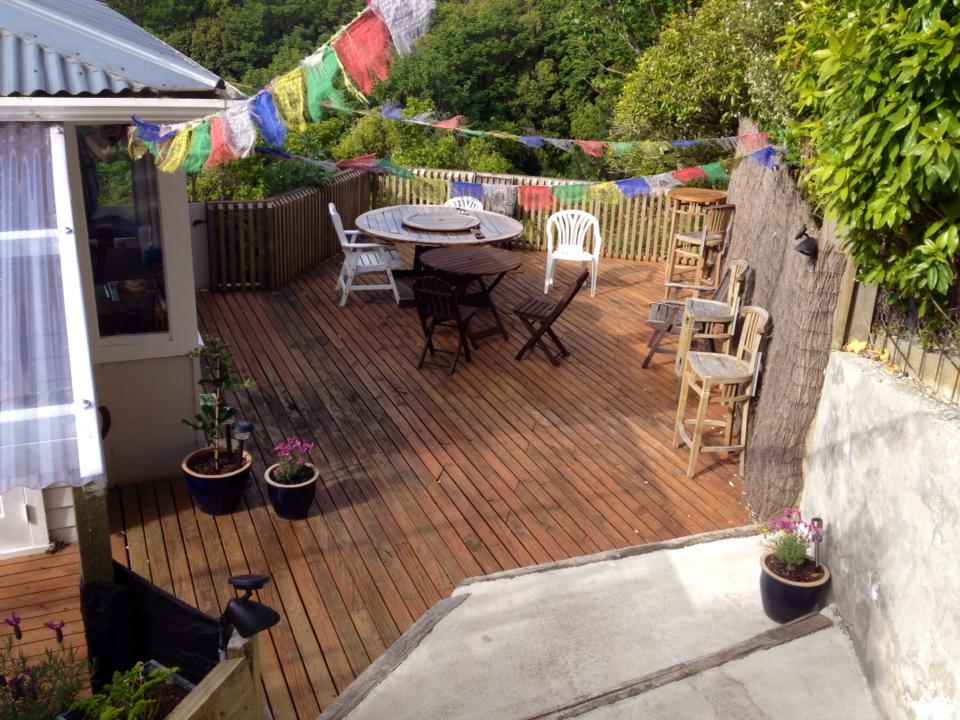 Not bad, right?
—-
And then something else came up:
2. HOME EXCHANGE
The name says it all here as well – its about exchanging homes.
Few weeks ago I met one girl, representative of HomeExchange.com for Croatia. When she found out I'm moving to New Zealand soon, she came up with an idea of some sort of cooperation. We didn't precise anything, but we sent my book to HomeExchange.com founder, Mr Ed Kushins.
Few days later, he wanted to talk with me.
Ed: Why don't you use HomeExchange while you're there?
Tom: I would love to, but there is a slight problem with that – I don't have a home to offer for an exchange.
Ed: Tom, that's not a problem, its a challenge. And I think I have the solution.
Tom: You do?
Ed: I will offer my house for an exchange. And couple of other people involved with HomeExchange, too.
Tom: Errrrm… (that's me being speechless)
Ed: What do you say?
Tom: Let me get this straight – you, along with few other people, will offer your homes in exchange so I can stay in others peoples homes in New Zealand?
Ed: That's right.
Tom: But why would you do such a thing?
Ed: Well, I like your book and your story. And I would love to help.
Tom: Wow.
Ed: Of course, you will do something for me, too.
Tom: You need a kidney or something?
Ed: No. Not yet, at least. I am asking you to do what you do the best – to write.
Tom: Well, that shouldn't be a problem. What do you want me to write about?
Ed: That is entirely up to you. But since you will be staying in homes of other people via HomeExchange, you will probably write a little bit about your experience with it. And that would be a nice cooperation – your words about HomeExchange in exchange for, well, using HomeExchange even though you don't really have a home. And maybe you can put a HE banner on your web page.
Tom: You got yourself a deal, my friend.
And that was it.
It all sounded too easy. We didn't manage to turn around, and we already got 4 houses on disposal – one in USA, Mexico, and two in Croatia. Now its up to us to find someone on New Zealand that will want to exchange with our homes and let us spend some time in theirs.
Like with house sitting, we made our profile, and soon will start our search!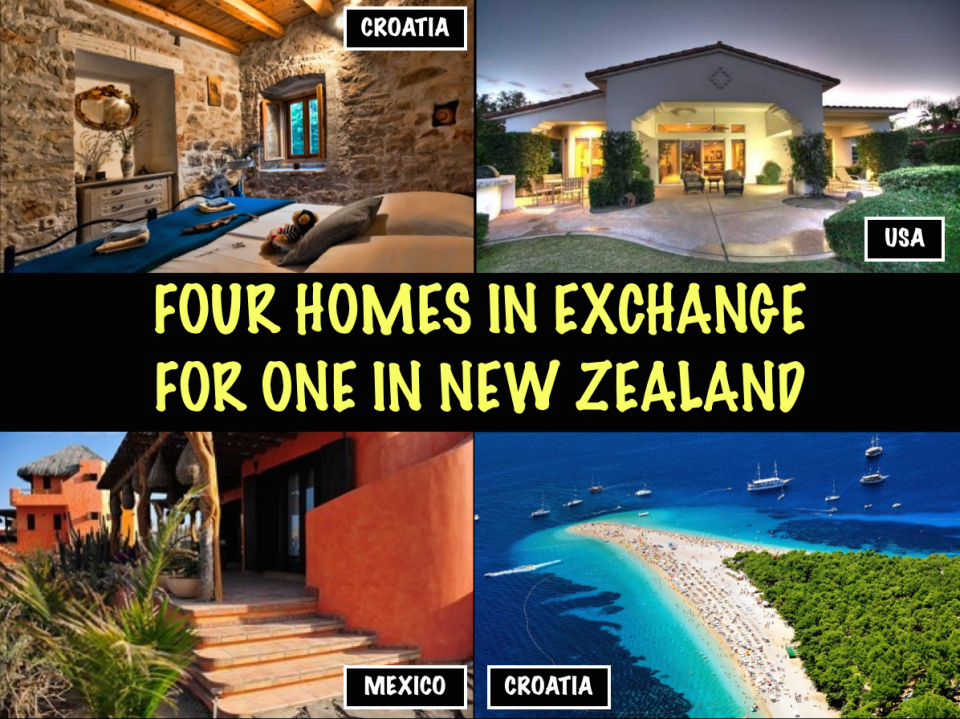 All in all, things are starting to fall into its place, even before we landed.
Yes, I know.
Unbelievable.